The Society for Protective Coatings classifies water cleaning technology according to the following PSI ranges:
Here's an image of a professional working within each range:
But when it comes to everyday use the most popular PSI pressure washers are all less than 5,000 PSI.
Which PSI pressure washer do you think people are most looking for? I went and looked at the data for Google searches and here's what I found are the 10 most popular pressure washer PSI's.
Here's a chart of the 10 most popular PSI's and how many searches each gets per day: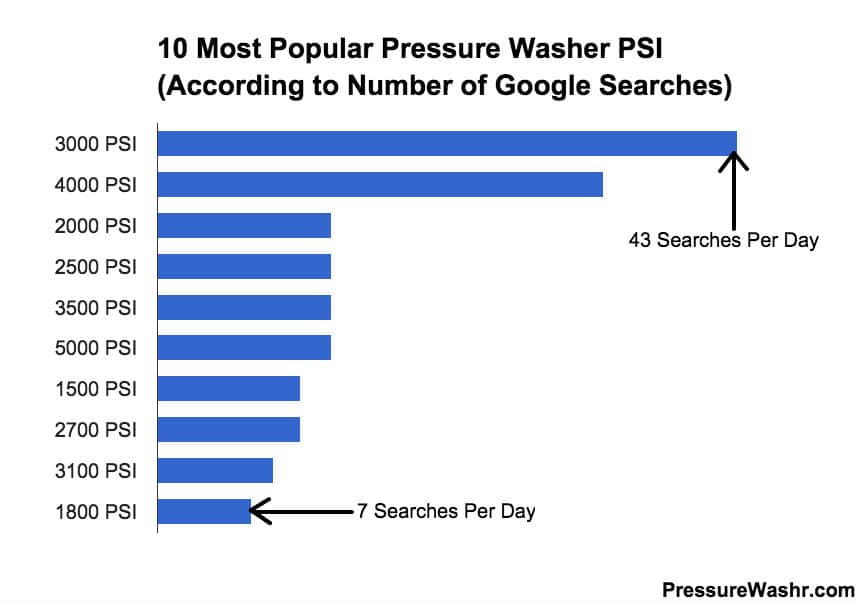 The top 2 of the top 10 account for 46% of the daily pressure washer related searches with "PSI" contained in the search. At first I was quite surprised as I thought the smaller medium-duty pressure washers like 1800, 1900 and 2000 PSI would have dominated…
…Then I went over to Amazon and it made sense.
Here's why:
There are around 600 pressure washer options in the 3,000 PSI and more category. And there are less options in all the other categories less than 3,000 PSI, combined.
Now that we've looked at the top 10 PSI's people are interested in – let's look at the best pressure washer for most people to buy at each PSI.
Best 5,000 PSI Pressure Washer (6th Most Popular)
5000 PSI Simpson Pressure Washer 4 GPM With Honda GX630 Engine
If you're in the market for a 5000 PSI machine then you're probably a professional and want gas powered so this belt-drive model from Simpson is a great option.
It has a large commercial grade Honda GX630 engine with electric start. An industrial grade triplex plunger pump that can be easily maintained and repaired if need be. And a 6 gallon fuel tank to allow operation (at 80% engine load) for just shy of 6 hours before refilling. Note that these machines are made to order and can take 1 to 3 months to deliver.
Best 4,000 PSI (2nd Most Popular)
4000 PSI Pressure Pro 4,000 PSI 4 GPM With Honda GX390 Engine
Here is a direct drive pro pressure washer with a 13hp Honda engine and CAT triplex plunger pump. It is about 1/3 the cost of the 5000 PSI above but has 80% the cleaning power.
Best 3,500 PSI (5th)
3500 PSI Generac 3.6 GPM With 302cc Generac OHV Engine
Generac Power Systems is well-known for their home standby generators. In fact, they have 80% of that market in the U.S. captured. They also make pressure washers and pumps in-house in the U.S.
This one comes with a 3-year limited warranty, polyurethane hose (high quality and flexible hose to prevent kinks) and a commercial quality Generac pump with ceramic coated pistons for extra long life.
Best 3,100 PSI (9th)
3100 PSI Simpson MegaShot 2.5 GPM With Honda GC190 Engine
The Simpson MegaShot is the #3 choice on the 7 best pressure washers page. It offers a ton of cleaning power for a reasonable price. It has a Honda engine and triplex plunger pump to ensure a long life and reliable operation.
Also Great: 3100 PSI Generac OneWash 4-in-1 Adjustable Pressure 2.8 GPM
Here is Generac's newest pressure washer model. It features a dial on the front that allows you to adjust the pressure without changing nozzle tips – it has 4 adjustable settings. This allows you to go from washing your driveway to washing your car windows at the turn of a dial.
The OneWash is meant for residential not commercial-use so if you're looking for a pressure washer for around the house this a top-notch model.
Best 3,000 PSI (1st)
3000 PSI Powerstroke 2.5 GPM With Choice of Honda, Subaru or BriggsStratton Engines
Powerstroke is brand owned by Techtronic Industries, which also own/operate the Ryobi brand.
Their Powerstroke brand sells pressure washers, portable generators, paint tools and power tools that are top-rated across the board. They are affordable pressure cleaners as the brand takes advantage of its wide-range of manufacturing facilities to create economies of scale.
Best 2,700 PSI (8th)
DuroMax is a brand that specializes in selling the most affordable power equipment – including generators and pressure washers. The are a factory outlet company meaning they sell direct to consumers via their online store, other online stores and their warehouse in California.
DuroMax sources their pressure washers from China and further reduces cost by having minimal advertizing. They let word-of-mouth do the marketing.
If you want a great 2700 PSI machine and want to save a little money then check out DuroMax.
Best 2,500 PSI (4th)
2500 PSI Generac 2.3 GPM With 196cc Generac OHV Engine
Here's a great option for around the home because it is affordable and more powerful than the residential electric machines. You'll love how easy it to move around the yard and store in the garage when not using since it has a smaller footprint than the wheelbarrow style.
Best 2,000 PSI (3rd)
2000 PSI Karcher K5.540 X-Series 1.4 GPM With Water Cooled Motor
Karcher's top of the line electric machine comes with a water cooled induction motor for better durability over its longer life.
The K5.540 was ranked 3rd best electric of any PSI on our 7 best page and for good reason. Not only is Karcher an amazing brand that cleans famous monuments for free but also a committed to quality German engineering company.
A residential-use electric cleaner doesn't get much better.
Also Great: Sun Joe 2,030 PSI 1.76 GPM
Sun Joe is a company that started out making snow throwers (Snow Joe).
Now Sun Joe brand sells the summer equipment and Snow Joe sells the winter stuff. Their pressure washers are comparable to Greenworks and AR Blue Clean.
You can the see the picture left that it has a detergent tank and spray gun holder.
Best 1,800 PSI (10th)
1800 PSI AR Blue Clean AR383S 1.4 GPM
The AR in AR Blue Clean stands for Annovi Reverberi. The last names of its 2 Italian founders, who founded it in 1958. It is a pump manufacturer. AR Blue Clean is a brand created to use their pumps in pressure washers and sell them in North America since 1989.
Today, they offer some of the most affordable, popular and best performing electric pressure washers for both home use and professional use.
The AR383S pictured here is their newest model in this range and is one of the bestselling pressure washers in of all.
Also Great: 1800 PSI Karcher Follow Me 1.3 GPM
The Karcher Follow Me is a new model of pressure washer from Karcher that has 4-wheels and is designed for hassle free cleaning.
It follows you around as you clean surfaces and doesn't tip over when you pull on the hose.
Best 1,500 PSI (7th)
1500 PSI AR Blue Clean AR118 Handheld 1.5 GPM
If you only need a 1500 PSI pressure washer then this hand carry model by AR Blue Clean is the best. It is light and portable and still supplies 20x the pressure of a garden hose.
It is perfect small jobs like patio furniture and your small patio.
Sources
Society for Protective Coating PSI ranges found on the hyrdocleaning Wikipedia page with reference to the 1995 Steel Structures Painting Council standard.
I found out TTI owns Powerstroke brand by reading the Powerstroke website copyright details, which list Techtronic Outdoor Products Technology Limited as the owner.
Details of the Karcher Follow Me new pressure washer can be found on its dedicated website here.
---
More from PressureWashr