The Best AR Blue Clean Pressure Washer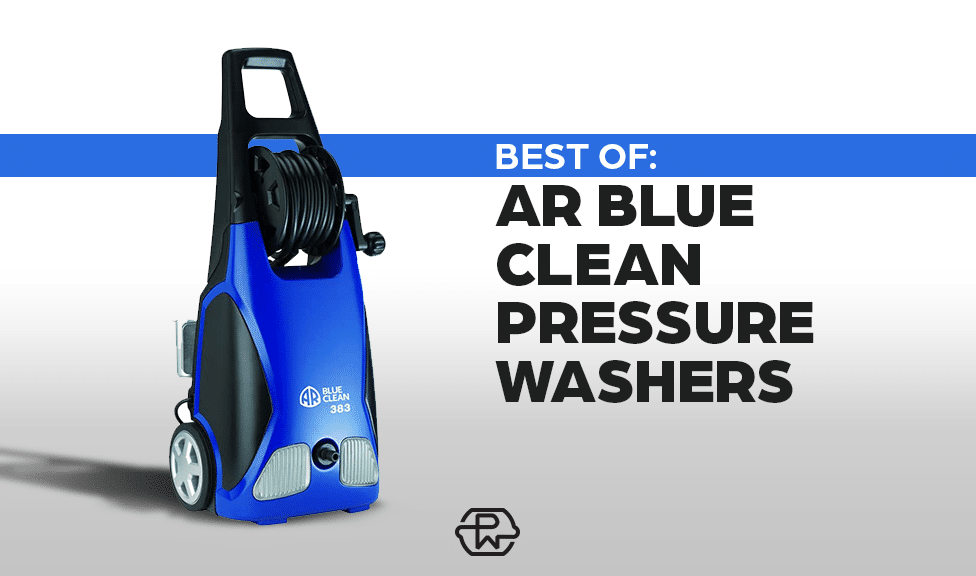 Here you will discover the best AR Blue Clean pressure washer for the money. We'll also look at the history of the Annovi Reverberi (AR) brand and what customers of the product have to say – good and bad.
AR pressure washers are sold using 3 brand names:
AR Blue Clean (North American pressure washer division of pump maker Annovi Reverberi)
Black & Decker (B&D), and
Michelin
All B & D and Michelin electric pressure washers are AR machines, rebadged.
Interesting, hey?
With this deal, AR licenses/pays B & D and Michelin for the right to use the branding/sticker on their machine. It works out for both companies – AR gets immediate sales because B & D and Michelin are strong brands in the tool/car industry. And B & D and Michelin get licensing fees for doing nothing but owning the rights to the trademark.
But do you think such huge brands would risk their reputation without doing the homework? No. No way.
The reason AR won the right to rebadge their pressure washers B & D and Michelin is because they are among the best electric pressure washer manufacturers in the world.
A pressure washer is a pump. Yes, it has a motor to power the pump. And a spray wand and nozzle and valves. But, really, they are high pressure pumps. And AR is a specialist in this area…
…Since 1959 AR has been manufacturing all types of pumps. They make some of the best on the market ranging from 1 to 35 GPM and 1000 to 7000 PSI. In 2006 they started selling AR Blue Clean pressure washers…
…Today, 9 years after releasing their first, their AR383 model pressure washer is THE best seller.
Best AR Blue Clean Electric Pressure Washer
1) AR Blue Clean AR383 1,900 PSI 1.5 GPM Electric Pressure Washer
Quit wasting time, water and energy cleaning your vehicle with soap and sponge. With the AR383 you'll use 5x less water, finish the job in less than 10 minutes and not have to bend or reach to clean the wheel wells or roof top.
This is not only AR Blue Clean's bestselling machine but the best seller on the market in the electric category. And has been for 2 years.
The reason it is so popular?
It combines an affordable price with medium-duty power and AR pump and motor quality. It has an onboard downstream (after pump) detergent tank so that you can add job-specific chemicals to further reduce effort when cleaning.
There's only one area for improvement on this machine and thats the plastic garden hose connectors that you see just below the AR logo on the frontside of the machine. You'll want to upgrade that to brass for $8 at time of purchase. It is suggested to purchase together on Amazon because so many people have recommended doing so.
Benefits Of The AR383 Over Other Blue Clean Models
There are 13 other AR Blue Clean models to choose from.
Of those 13, there are 3 viable alternatives to the AR383: AR390SS, AR118 and AR112.
Maybe you want an even more affordable pressure washer?
Maybe you want more power and will pay?
Check out the alternatives and their benefits:
AR390SS – More Power And Money
Costs more than the AR383
2,000 PSI
Newer model
Different aesthetic design
Gun holster and nozzle storage
Includes 10-foot longer hose.
AR118 – Size And Weight Of A 12-Pack Of Coca-Cola
Half the price
1,500 PSI
Very compact and portable
Wall-mountable
AR112
Costs less than the AR383. A little more $ than AR118.
1,600 PSI
Why The AR Blue Clean Brand?
Quality Control A-Z – Annovi Reverberi manufacture their own pumps in a 157 employee manufacturing plant in Shanghai. They also make their own motors in Italy. From these plants they have their own separate distribution centres in China, Italy and North America. What this means is there is less risk of product showing up faulty – it won't leave the assembly line unless it meets their strict quality assurance/quality control guidelines.
50+ Years Of Pump Design Innovation – AR celebrated their 50th anniversary in 2008. Over the years the company has steadily grown and is now the largest privately owned company of triplex plunger pumps in the world. They designed their first portable pressure washer in 1986 – with the release of their 1450 PSI Blitz unit. Shortly after they developed their Total Stop System (TSS) which allowed the user to control the power to the washer with a trigger gun.
Trusted By Multinational Brands – Black & Decker and Michelin license to AR for their electric pressure washer line. DeWalt has many models that use AR pumps. These behemoth companies have entire departments dedicated to researching the best options for their pressure washers – and they decided on AR. It's safe to say they have quality as their top priority.
They Listen To Customer Feedback – AR has multiple feedback channels to ensure they are giving you the best. They illustrated this with the release of the new S-series of AR Blue Clean pressure washers. With the S-series the following features were added:
A gun holster was added
Nozzle storage on the washer handle was added
The motor and pump were upgraded
The unit was made more compact and streamlined (although weight increased)
Electric cord storage hooks were added
Garden hose adaptor was made aluminium (instead of plastic).
AR383 Constructive Reviews
One of the most common constructive reviews for the AR Blue Clean AR383 is that the garden hose adaptor breaks or leaks and that the hose reel mechanism are not too useful and hard to wind up.
I have been in contact with ARBlueClean customers service to talk about these areas for improvement.
Here's what they say:
First off, there is an imperial brass adaptor that is recommended to be bought along with the pressure washer on Amazon. However, it is a 3/4 inch adapotor (imperial) and needs to be 22mm (metric) to not break the threads. So ARBlueClean offers this metric brass connector. Check it out and buy it here.
Second, the hose reel being not functional. I have found that the hose becomes more flexible over time. Also, if you don't properly flush out the hose of water after each use it will again be harder to reel up.
Wrap-Up
As mentioned AR Blue Clean is a brand Annovi Reverberi created to sell pressure washers. They are originally a pump manufacturer and decided to put their knowledge of pumps to work.
The AR Blue Clean AR383 is a balance of power, quality and price. Being one of the most powerful medium-duty electric pressure washers you'll be pleased with the number of jobs you can tackle and complete without having to deal with gasoline engine fumes or noise.
It's truly the best electric pressure washer on the market.
Sources
Here's the Wikipedia entry for rebadging. I learned more about what it is and its history there.
The ARBlueClean.com pressure washer page is great because you can compare the specs of the different models with ease. I used it to compare the AR383 with the AR390SS, AR118 and AR112.
Although it is in Italian (you can translate it using a Chrome browser) the AnnoviReverberi.it History page was quite useful in learning about AR's long and diverse past in the pump industry. On the same website you can download the Michelin Catalog PDF and the Black & Decker Catalog PDF to view the pressure washers AR makes for them.
---
More from PressureWashr