Best Craftsman Electric & Gas Pressure Washer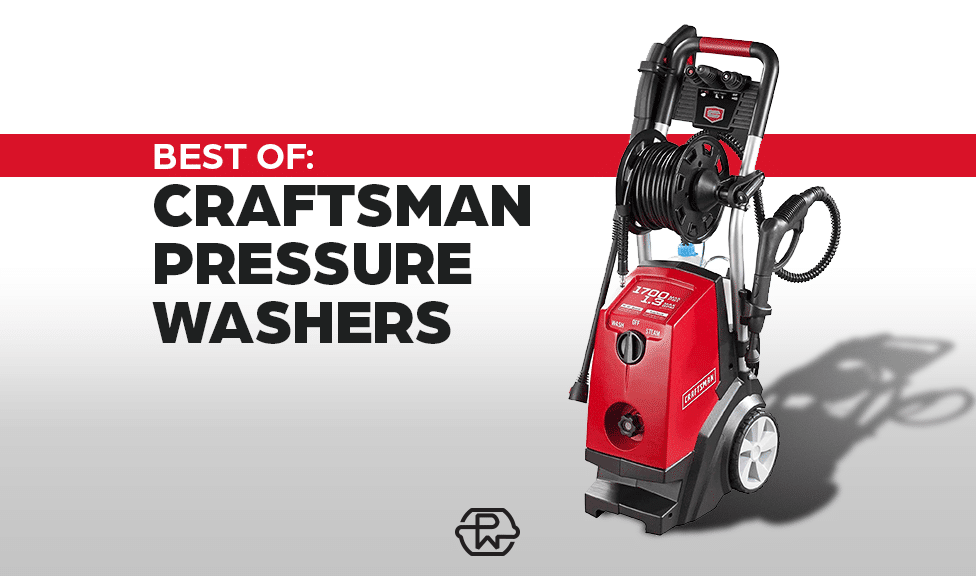 Here we'll take a close look at the best gas and best electric pressure washer from Craftsman. These machines were sold exclusively at Sears until recently and are now available at several online marketplaces like Amazon. They are best known for their value for the money.
(Update: On January 5, 2017 Sears sold the Craftsman brand to Stanley Black + Decker for $900 million and will now be sold in non-Sears retail outlets)
The Craftsman name was created by Sears in 1927 for mechanics who take great pride in their tools. At the time the automobile age was in full swing and Sears saw the brand as an opportunity to move their main customer-base from farmers to mechanics. The move turned out lucrative and helped make Sears a 20+ billion dollar conglomerate company.
Today Craftsman is a very well-known brand and has been rated the No.1 brand among all American brands in previous years. Their main selling point is value for money. Where you might pay $700 for a Honda pressure washer you can get the same spec Craftsman for half the price.
If you're a big fan of the Craftsman brand then you're in the right place. Let's get to it now and see the best electric and gas powered pressure washers.
Best Electric Craftsman Pressure Washer
This Craftsman electric pressure washer has 2100 MAX PSI and 1.2 GPM, which is fine for most occasional projects around the house. For many people this is a good first pressure washer before upgrading to something more powerful. The biggest drawbacks for Craftsman pressure washers in general is that they're on the less expensive side and made in China, which some people have complained about defective parts/poor quality.
For the most part, this is a reasonably priced machine and could be great for homeowners. It's an electric model so while you won't need to worry about maintenance like you would with a gas model, you will need to make sure you're close to an outlet.
Best Gas Craftsman Pressure Washer
Craftsman 2,800 PSI 2.3 GPM With Honda Engine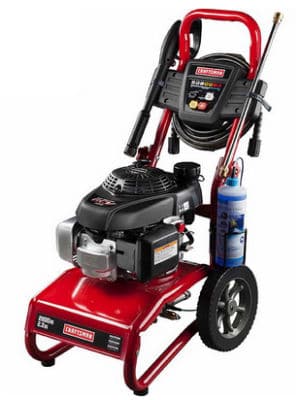 The best gasoline engine Craftsman power washer is the one with the Honda engine. The engine is the crux of a gas washer and Honda engines offer unprecedented reliability.
You can see it pictured there it has two wheels and a fold down handle for easy storage and moving it around from job to job. It has a storage area in the handle for the pressure washer hose and nozzles and wand and spray gun. It weighs 52 pounds.
The Honda engine is the GCV 160cc engine which is about as loud as a small gas lawn mower and should last you 3-4 hours of uninterrupted pressure washing. On the Sears website this is currently the most popular Craftsman pressure washer you can check it in further detail there at the link below.
Everything You Need To Know About Buying A Craftsman Brand Power Washer
Whether you need parts or tips for troubleshooting your Craftsman there is a thriving community of enthusiasts and dealers to help you out. Here are the ins and outs of owning a Craftsman pressure washer.
Also Read: The Best Gas Pressure Washer
Craftsman Replacement Parts
The good thing about buying a popular brand like Craftsman is it's easy to find parts if you need to. Sites like repairclinic.com, pwpump.com and ereplacementparts.com have every part you could need for a Craftsman pressure washer: fasteners, seals, valves, filters… And all for a low price that you can get delivered to your door. You just need to know your model number and that should be enough to ensure you order the correct part.
Craftsman Pressure Cleaner Pump
Above I talk about the Honda engine being the crux of a gas pressure washer but what about the pressure washer pump in the gas and electric models?
The fact is: In terms of full cost of the pressure washer the pump is not as expensive as the engine. Once you know your model number you can visit pwpumps.com to find the replacement pump for your machine. Most pump issues will not be worth repairing… Replacing the pump is often more affordable.
Craftsman Power Washer Hose
The power washer hose that comes stock with Craftsman washers is a 25-foot plastic hose that is not very flexible. You can upgrade to a 50-foot synthetic rubber hose that is easier to deal with for $50-70. Just make sure you have the correct connections.
Craftsman Pressure Washer Manual
Your machine will come with a User's Manual that you should read before operating the machine. If you need to find the manual online then you can find all the Craftsman manuals here at manualsonline.com. Inside the manual you will find all the maintenance requirements and assembly instructions to make starting to use your pressure washer quick and easy.
Troubleshooting Your New Craftsman
If a problem arises with your machine be sure to check the troubleshooting section of the user manual. The 5 – 10 most common issues can usually be solved by making a small adjustment and what that is will be listed in the troubleshooting section.
Wrap-Up
To be perfectly honest I would stay away from the electric Craftsman units and instead, if you're in the market for electric, checkout the Karcher or AR Blue Clean machines.
But if you're in the market for a gas machine the Craftsman with the Honda engine is a great buy. It is affordable and has replacement parts available everywhere if something needs replacing.
Sources
For a full history of the Craftsman brand Sears has put together an archives website detailing the history of their business here.
Full details of the Craftsman lineup of pressure washers can be found on the official brand website here.
---
More from PressureWashr
By now, you have probably heard about the three r's (reduce, reuse, and recycle) that represent the foundation of preserving…