The Best DeWalt Power Washer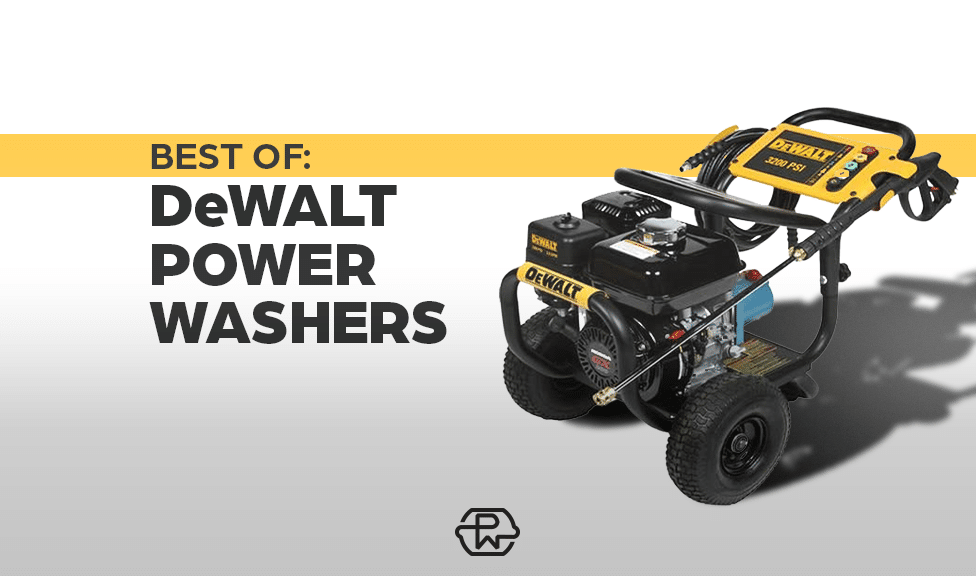 Want to know how to make a lot of money doing very little?
Simple: License the rights to your brand trademark. Then just collect royalties.
This is exactly what DeWalt trademark owners Stanley Black & Decker do in the pressure washer industry (Side note: See this chart who owns what tool brands).
They license the DeWalt trademark to Simpson Cleaning and take a cut of the pressure washer revenue. Let's be clear: Simpson essentially made their own pressure washer and put a DeWalt sticker on it. This is called rebadging and it is very common across industries.
So how does a deal like this take place?
First, the analysts at DeWalt research the best pressure washer manufacturers out there. They do this to identify those worthy of the DeWalt sticker. DeWalt stands for tough, powerful and job-site quality so the manufacturer needs to maintain this brand quality to be allowed the rights to the DeWalt sticker and what it stands for.
Then the two companies strike a deal and the licensee (Simpson) gets to work.
This is exactly what Simpson Cleaning, manufacture of pressure washers, did to increase profits. They licensed the DeWalt name.
Here's some more detail how it works:
Simpson makes the pressure washers in their Decatur, Arkansas facility with DeWalt badging. They also make their Simpson branded washers and the industrial Briggs & Stratton washers on the same assembly line.
The pressure washers are then sold as DeWalt in Home Depot etc. and both companies profit.
Louisville Ladder, Inc did the same thing, and now has an exclusive line of bestselling DeWalt ladders. HeatStar, a portable heater company, benefits from the DeWalt name by selling more portable heaters at higher cost.
And countless other companies in countless industries do the same thing. It's not a secret that this is commonplace, but they also don't yell and scream about it.
So why am I telling you this?
Because the DeWalt sticker carries a premium price. Yes, Simpson maybe sells more units in partnership with DeWalt, but the real benefit is being able to charge more.
Here's a comparison of essentially the same Simpson and DeWalt machine: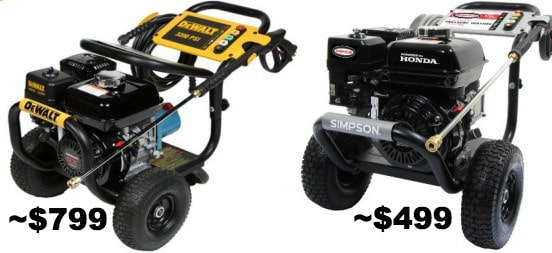 Both 3,200 PSI and 2.8 GPM
Both powered by Honda GX200 engine
Both have triplex plunger pumps (DeWalt has CAT Pump and Simpson has AAA their own brand pump).
DeWalt has the extra bit of bolted on frame above the engine.
DeWalt unit is $300 more in terms of MSRP.
I'll just leave the link to the Simpson pressure washer page here.
But moving along, let's take a further look at the DeWalt pressure washer:
Best DeWalt Pressure Washer
1) DeWalt Pressure Washer 3200 PSI 2.8 GPM CAT Pump Honda Engine
DeWalt has 6 pressure washers on offer:
2 hot water belt-drive gas powered job-site units
1 electric cold water unit
1 belt-drive cold water gas unit
2 direct-drive cold water gas units.
This is one of their direct-drive cold water gas units. And given its the most reasonably priced it's the one best suited for most people's needs.
It has a CAT triplex plunger pump – the top quality pressure washer pump designed for long-life even with extensive use.
It has a Honda GX200 commercial engine. It goes without saying that Honda is a quality engine, and this is their commercial version for power equipment.
This machine has a recommended retail price of $1,149 but has recently been listed 30% off at $799.
Video of DeWalt Power Washer
Check out this video made by Home Depot of the model down 3,000 PSI DeWalt unit. Please note: The machine shown in the video is exactly the same just with a smaller engine and pump.
3 Things To Consider
Noise Level – This pressure washer has a Honda GX200 commercial. It is about as loud as a blender or garbage disposal. Quiet enough to talk to your buddy while washing but you'll definitely need to raise your voice.
Price Point – The DeWalt unit is expensive considering the same exact unit (with triplex plunger pump also just different brand) from Simpson is about $300 less.
Maintenance – You'll need to follow the maintenance plan outlined in the User Manual to keep the warranty valid. The great thing about having a Honda engine is their are tons of Honda service centres around the U.S. if you prefer to get someone to do the work for you.
Sources
---
More from PressureWashr