Learn the Excell power equipment brand history and best pressure washer for around your home. Excell is sold at Home Depot and at various online retailers like Amazon.com. Their are 3 options to choose from.

The Excell brand name has switched hands 3 times since it was first established in 1996 by an air compressor company named DeVilbiss Air Power Company.
The current owner, MAT (Midwest Air Technologies) Holdings, Inc., uses the name for only 3 models of pressure washer and has switched its power equipment branding to Powermate and PROFORCE.
Read about the interesting history in detail below then find out the best pressure washer for most people.
History of the EXCELL (EX-CELL) Power Tool and Equipment Brand
Although the name EX-CELL wasn't trademarked until 1996, the history of the parent company goes back to 1888.
Here's the story:
In 1888, Dr. Allen DeVilbiss founded the DeVilbiss Manufacturing Company to sell his invention – a spray atomizer to more easily spray medicine in patients' throats. The company was successful enough for Dr. DeVilbiss to retire being a doctor.
In the 1920s, the company invented the paint spray gun and it caused a huge revenue boom. Car manufacturing assembly lines were using the technology to apply protective coating to cars much faster than before. In 1926, the now much expanded company started selling air compressors.
Over the years the company has changed its name, merged with others, acquired company's and been acquired itself. As of the 1990s, the DeVilbiss namesake continues on in the medical and power equipment industry.
In 1996, the power equipment company, DeVilbiss Air Power Company, applied for the EX-CELL name to be trademarked for a new line of power tools they had planned. And the EX-CELL brand was born.
In August 1999, Pentair Inc acquired DeVilbiss Air Power Company (and the EX-CELL brand) for $460 million in cash.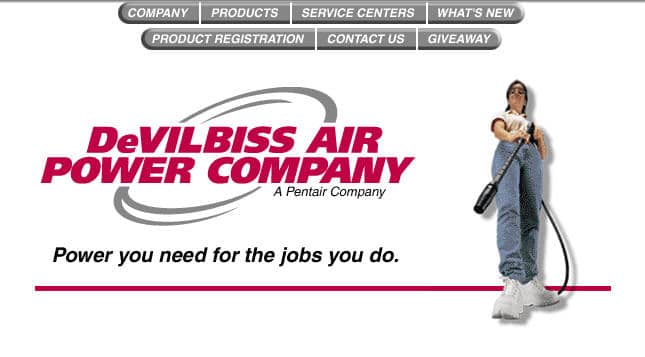 In October 2004, Pentair Inc sold its power tools division (formerly made up of previous acquisitions of DeVilbiss Air Power, Porter-Cable, DELTA Machinery and FLEX brands) to Black & Decker for $775 million.
In March 2010, Black and Decker merged with Stanley to become Stanley Black and Decker.
In March 2011, the company sold on the assets it acquired from Pentair Inc in 2004 to MAT Holdings, Inc (aka Midwest Air Technologies Holdings, Inc) for an undisclosed amount of money.
As such, MAT Holdings, Inc is the present owner of the EXCELL trademark.
Is an EXCELL Pressure Washer = Coleman Powermate Pressure Washer
In short, yes. They are both manufactured by the same company: MAT Holdings, Inc.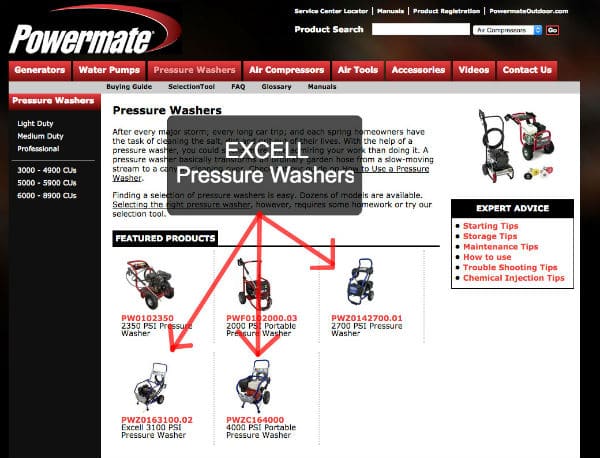 Here's the full story:
In 1994, Coleman Powermate bought Sanborn Manufacturing Company. Sanborn manufactured air compressors.
In 1996, 82% of Coleman Powermate was acquired by Ronald Perelman (billionaire investor). He then sold his stake in 1998 for $1.6 billion to Sunbeam Corporation.
In 2008, MAT Holdings, Inc bought the Sanborn air compressor manufacturing facilities and assets from Coleman Powermate.
And to make the whole who-owns-what question more confusing MAT Holdings, Inc went into partnership (in June 2008) with Pramac America LLC. Why? To provide marketing, distribution and a service network for the Pramac America LLC newly acquired Powermate and Powerstation brand of portable generators and commercial generators.
Then in 2014, Generac Power Systems acquired Pramac America LLC and the Powermate tradename for generators and water pumps.
The gist on Excell = Powermate:
Generac Power Systems now owns the Powermate name for portable and commercial generators and water pumps only.
MAT Holdings, Inc owns the rights to the name for air compressors, pressure washers and other outdoor garden equipment.
Types of Excell Pressure Washers
There are 3 EXCELL pressure washers to choose from:
2,700 PSI 2.3 GPM gas powered
3,100 PSI 2.8 GPM gas powered
4,000 PSI 4.0 GPM gas powered
Which to choose? Here you go:
The Best Excell Power Washer For Around Your Home
EXCELL 3100 PSI 2.8 GPM Gas Power Washer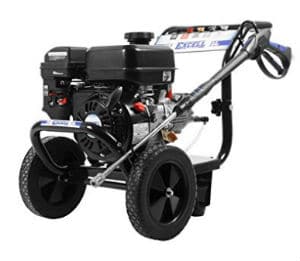 The best EXCELL pressure cleaner is their sweet spot 3,100 PSI 2.8 GPM gas powered machine. It's medium-duty and perfect for cleaning surfaces around you home.
Why is it the best?
Because it is the best value for the money. You get enough power to clean all the surfaces at your home without paying a fortune.
It comes with 5 nozzles, including a soaping nozzle. The soaping nozzle and included siphon hose allows you to mix your own soaps and detergents custom for each job. Next time you want a new looking driveway: just head to Home Depot, buy the driveway cleaner, mix it with some water, insert the siphon hose, attach the soap nozzle and away you go to a clean driveway in no time. It also has the "fan" nozzle so you can safely wash your car without having to worry about damaging the surface.
Under the hood is a 212cc OHV engine and axial cam pump. I personally would have preferred to see a triplex pump on this machine but for the price they're asking it's a fair deal.
Sources
---
More from PressureWashr
By now, you have probably heard about the three r's (reduce, reuse, and recycle) that represent the foundation of preserving…