The Best Gas Pressure Washer: A Definitive Buying Guide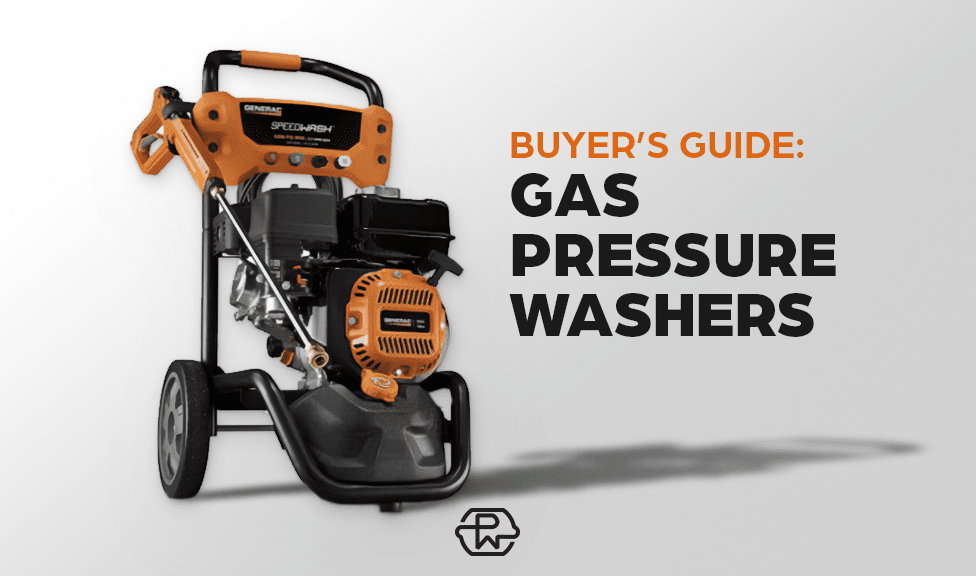 Today you're going to learn everything there is to know about gas pressure washers: the best gas pressure washer brands and models and the three best gas pressure washers of 2022 for most people.
Let's get started.
Gas power washers are more expensive than electric but they offer 3 main advantages:
They are more powerful
They are more durable
They are more suited to job sites and remote areas because no electricity outlet required.
For these reasons, gas powered power equipment has always been, and still is, the go to style for contractors and professionals. However, over the years the gap between gas and electric has closed and now you can get a solid residential-use gas washer for very close to the same price as an upper range medium-duty electric.
If you already own a gas lawnmower, chainsaw, or other gas power equipment, getting a gas pressure washer makes sense.
What To Look For In A Gas Power Washer And Things To Be Mindful Of
Gas pressure washers have internal combustion engines. The engine weighs at least 25 pounds (the total weight of most electric washers). So the most obvious thing about the gas style is they are bigger. Most have storage built-in for the pressure gun and spare nozzles. They have an either wheelbarrow like or hand truck stance and come with varying tire size and style.
Engine Size and Cleaning Power
Cleaning Power = Water Pressure (PSI) x Water Flow Rate (GPM)
Gas power washer engines' size is defined in cubic centimeters (cc). The measurement describes the volume of the combustion chamber. Bigger the number, the more powerful the engine. More powerful the engine the higher the PSI.
The pump is typically described by flow rate in gallons per minute.
An example of 2 units with the same Cleaning Power but different PSI and GPM:
Unit 1:
3100 PSI x 3 GPM = 9300 Cleaning Power Units
Unit 2:
4000 PSI x 2.325 GPM = 9300 Cleaning Power Units
Electric Or Recoil Starter
Small internal combustion engines come with either electric or recoil starters (or both). Engines with the electric starter are more expensive.
Hot Water / Cold Water
Hot water power washers come with a heating element / boiler to heat the water up 140 F (50 C) above its current temp. Hot water easily rips through tough stains and breaks the soild bonds to clean with ease. Think about it: It's why your dishwasher uses such hot water to clean the dishes.
Carriage Frame Construction
The bigger more powerful units take the wheelbarrow stance to make more room for the bigger engine and pump. The frame is welded steel and should incorporate vibration isolator engine mounting.
Tire Toughness
Look for heavy-duty pneumatic tires.
Storage Of Gasoline
Before you store your pressure washer for the winter be sure to empty the gas tank or add stabilizer to it.
Seasonal weather change causes stored gasoline to deteriorate, which can cause ignition issues within the combustion chamber of the pressure washer engine. Use fresh gasoline if you haven't used your machine since last season. Gasoline should only be stored for 3-4 months in your garage in a Jerry can.
Direct-drive versus Belt-driven Pump
There are 2 different ways of driving your pressure washer pump: direct-drive and belt-drive. Both have their pros and cons:
Direct-drive – Compact and more affordable but with extended (4+ hours/day) non-stop use can be prone to overheating the engine. Also tends to vibrate and cause more noise.
Belt-drive – Requires more space to accommodate the belt and adding the belt means more maintenance and less efficiency. However, it reduces RPM and since the belt absorbs vibration it improves the life of the pump and engine. It also allows the unit to run at lower temperature and won't overheat even with extended (8 hours/day) use.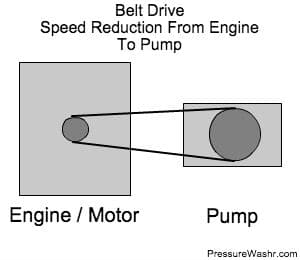 The Best Gas Power Washer Brands
Simpson
The Simpson brand of pressure washer dominates the residential gas pressure washer market. Simply put: they make affordable, powerful and reliable units. In 2009 they reached a deal with The Black & Decker Corp (owners of the DeWalt trademark) to manufacture and sell their washers under the DeWalt name. Yes, this does mean that DeWalt and Simpson washers are exactly the same. In fact, they are made on the exact same assembly line in Decatur, Arkansas.
Generac
Generac has a long history in the residential power equipment market. They were the first to bring small size generators for home use to the market. Today they offer power washers as well.
A unique aspect of Generac washers is they make all their own engines. Simpson et al. use Honda, Kohler or Subaru engines. This gives Generac unique control of the design of their units. They like to brag about their engines being purpose-built for customer needs.
NorthStar
NorthStar is Northern Tool + Equipment's home brand. The brand showed up on the market in 1991 and since then have become known has a high quality and great value.
Their gas pressure washers come in either cold or hot water style and the most affordable option is $549. They all use Honda GC or GX engines or Briggs and Stratton Vanguard.
Ryobi
Ryobi offers 6 different gas power washers ranging from 2,900 PSI to 3,600 PSI. They have either a Honda engine or Ryobi brand engine. Their 3,000 PSI, 2.3 GPM option is the most popular as its the one with the Honda GC engine.
BE
BE is a brand that originated in Abbotsford, Canada, and has now spread worldwide, selling pressure washers, water pumps, compressors, and generators. They offer 50 different models of gas pressure washers all the way up to an 8 GPM flow rate machine with 3,000 – 5,000 PSI. All their pressure washers have Honda engines, with the more expensive machines having the GX commercial engines.
Briggs & Stratton
Briggs & Stratton are the worlds largest supplier of small engines for power equipment, narrowly beating Honda in total small engine sales. They offer 113 different gas pressure washer models ranging from 2,200 PSI, 1.9 GPM to 3,700 PSI, 4.2 GPM.
Pressure Pro
If you're a contractor that does pressure washing chances are you have used a Pressure Pro manufactured unit. Most of the skid mounted and commercial-duty units are Pressure Pro. They cost more than $750 in all cases.
Power And Price
What You Get For Below $300
There are only a few brand-new gas pressure washers that are sold for less than $300. They are from Generac and are medium-duty units.
What You Get For The Price Range $300 – $500
This is the most popular range of gas-powered pressure washers – the heavy-duty units tend to fall into this range. These units are 2x and 3x the cleaning power of the common electric pressure washers.
More Than $500
Most don't need a pressure washer this powerful. But if you do, you'll be getting a premium unit with huge potential. An example of a unit in the category is the 4,000 PSI and 4 GPM Pressure Pro with a 13hp GX390 Honda engine and CAT tiplex plunger pump. It costs $1,379.
Typical Warranty
When it comes to gas power cleaners the warranties are pretty standard across the board. The engines have 2-year limited warranty. And the rest of the unit has 1-year. In some cases things like the hose, pressure gun and nozzles are only covered for 90 days.
A limited warranty means they guarantee the unit is "free from manufacturer's defects in material and workmanship." So if your machine breaks and you take it to an authorized dealer the dealer decides if you broke it or if it was a defect caused from their poor manufacture, workmanship or materials used.
Most Affordable – Medium Duty Gas Pressure Washer
This is one of the most affordable medium-duty gas pressure washers. It is the Generac SpeedWash with 2900 PSI and 2.4 GPM.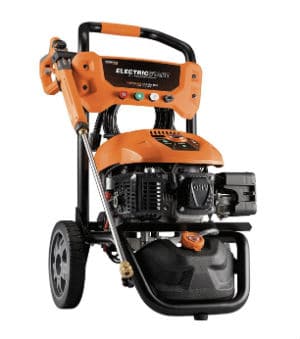 The reason it's the most affordable is because it's actually the least powerful gas powered unit on the market. It is comparable in price to the most expensive residential electric units by Karcher.
Generac is a well-known brand of pressure washers and portable and standby generators. They manufacture and design their own engines and pumps. People love this unit for its large diameter tires and upright, easy to move around design. It's a great entry-level machine to have around the house. Great for all jobs given it comes with quick connect nozzles to vary the water pressures hitting the surfaces you're cleaning.
Best Value – Heavy-duty Gas Pressure Washer
I've talked about the Simpson PowerShot a lot because it offers great value. For the money you get a triplex plunger pump and Honda GX200 commercial engine with a 3.1L fuel tank to last you 2-3 hours of non-stop washing.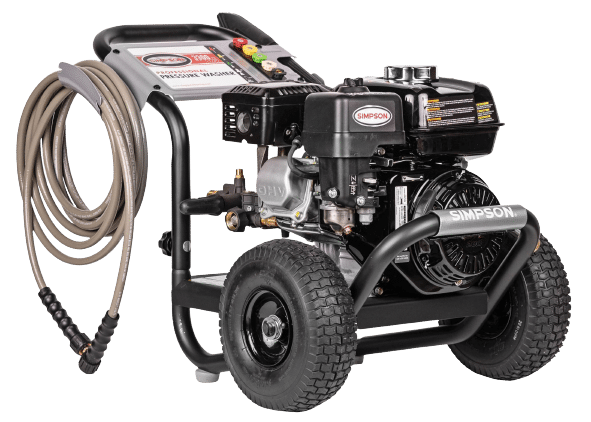 As you can see it has the large pneumatic tires to make moving around terrain easy. It's hard to see from the product image but this machine is quite compact and low profile. It's definitely smaller than your wheelbarrow in terms of storage space required.
Compared to the most affordable heavy-duty it is about 2x the price. But to put that in perspective it also boast 56% more cleaning power and comes with premium parts like the commercial engine and longer lasting triplex pump system. All-in-all this is the pick for the best value for the money in the heavy-duty category.
Best Performance – Heavy-duty / Commercial Belt-drive Gas Pressure Washer
It's not really fair to place the Pressure Pro into the heavy-duty category when comparing for performance. It is simply a machine in another league than the ones above. It has a belt-driven pump. And it's driven by a Honda GX390 engine. Yep, almost double the size engine of the best value Simpson above.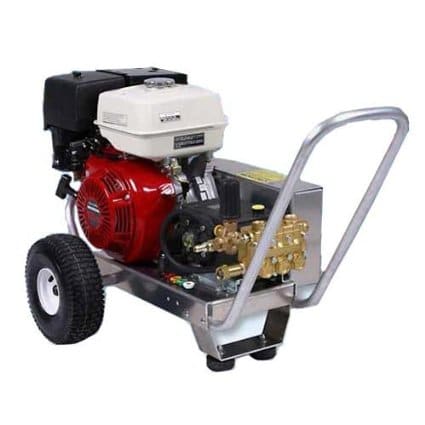 Pressure-Pro makes their washers with either Annovi Reverberi or CAT brand pumps. Both are premium and both will be triplex plunger style. Whichever you choose, you'll end up paying a higher price for this commercial everyday-all-day use machine.
Sources
Hotsy has a useful page on direct-drive vs belt-drive in pressure washers.
---
More from PressureWashr
By now, you have probably heard about the three r's (reduce, reuse, and recycle) that represent the foundation of preserving…