The Best Generac Pressure Washer
Let's take an in-depth look at: Generac Power Systems Inc., the 3 best gas-powered Generac pressure washers and two pressure washer features customers want Generac to improve
Generac Power Systems, Inc. by the numbers:
Since Generac became a public company in 2010, its share price has increased 300%, beating the market by 120% over the same time frame.
Its market cap today (Feb-23, 2017), 7 years after IPO, is $2.55 billion.
Year ending 2015 saw yearly net profit of $78 million off $1.32 billion in sales.
Not bad for a generator company started in 1959 to make home-use portable generators for Sears under the Craftsman name.
Their current President and CEO, Aaron Jagdfeld, has been with the company since 1994, when he started as an accountant. He became CEO in 2007, after serving as CFO for 5 years. He currently owns 1.7% of Generac shares making him the single largest non-institutional holder.
Judging by the share price, his strategy of expansion and generator fortification has been spot-on. During his tenure Generac has expanded with key acquisitions into these markets: generator powered lighting towers, industrial diesel gensets and mobile heaters.
Generac's core focus is power generation products. To support their business focus, they have an extensive in-house engineering, design and manufacturing capability. This allows them total control over the specs and features of each model of pressure washer gas engine and pump, for example.
Their manufacturing facilities are in 8 different locations: 5 in Wisconsin, 1 in Italy, 1 in Mexico and 1 in Brazil. 3 million square-foot of space in total, which is equal to 6.5 football fields of floor space at each location.
Generac Surprising Fact Box
Briggs & Stratton portable generators and power washers are engineered by Generac.
Follow this timeline to see how this can be:
1998 – Generac sells off their portable products division to Beacon Group, which included portable generators, power washers and water pumps
2000 – Beacon sells it to Briggs & Stratton who then starts selling those generators and power washers with Briggs branding
2008 – Generac's 10-year non-compete agreement expires and they re-enter the portable generator market
2011 – Generac re-enters power washer market
Did Generac go out of business during these 10 years? No. They fortified their home, commercial and industrial standby/backup generator business. To this day that is their core revenue stream.
Now, at last, let's look at what Generac pressure washers are best for most peoples needs.
Quick Review of Best Generac Options
Here is a quick summary review of the 3 Generac pressure washers that are recommended on this page:
Generac Pressure Washers In The Wild
Generac is an electric generators company. It is far-and-away their biggest revenue driver: 72% of their 2015 $1.3 billion revenue came from commercial and residential generator products. You see their generators everywhere.
But what about their power washers?
Well, it turns out, they are quite popular too. As Generac makes a push into the power products market with the acquisition of Country Home Products (DrPower.com and Neuton Mowers brands) you will begin to see more and more Generac power equipment in the wild.
Here are 5 pictures of pressure washers unboxed hooked up and ready to clean: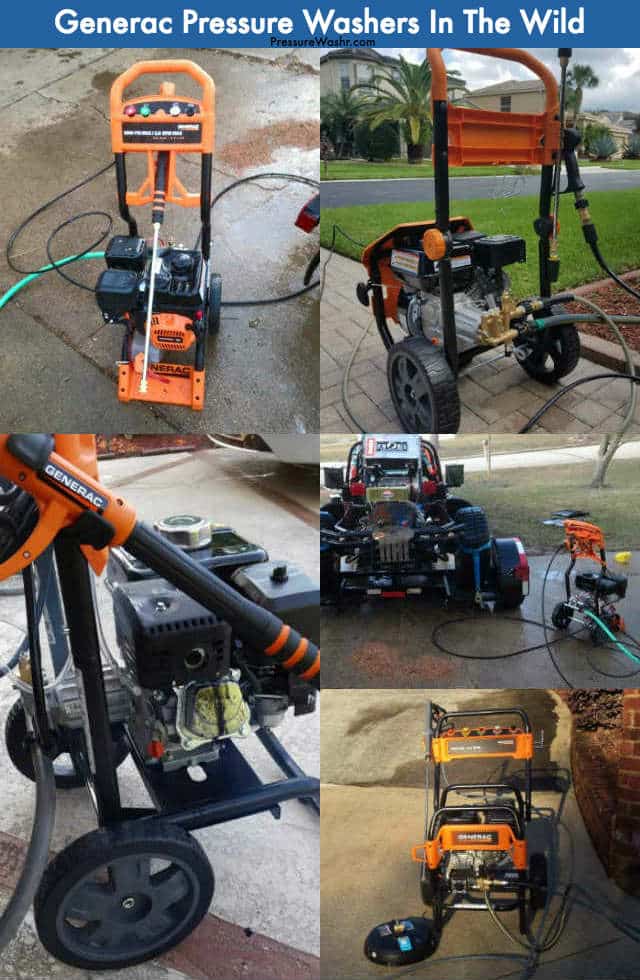 In the residential cleaning category Generac offers 9 pressure cleaner models, see their best 3 here:
Picking The Best Generac Gas Power Washers For Most People's Needs
Adjustable Pressure at the Turn of a Dial – Best Value For The Money
1) Generac SpeedWash 7122 3,200 PSI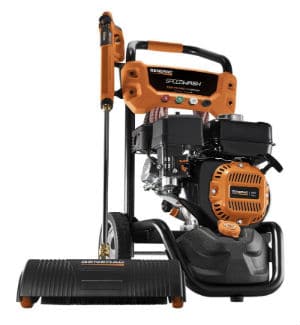 Do you want adjustable pressure at the turn of a dial?
Pressure is the force over an area. You can easily adjust the water force the surface feels by increasing the area between the nozzle and the surface. You do this without thinking. It's also what the nozzles are for – they disperse the water over a larger area decreasing the force the surface feels.
So what's the point of a pressure washer with a dial to adjust the pressure when you can just do it by adjusting distances and nozzles? I'm glad you asked.
Here's Generac's recommended pressure chart. With a variable pressure dial you don't have to do any math or guess work trying to figure out how far you should hold it from the surface… You can just turn the dial. It removes guess work from the equation.
One machine for all these cleaning tasks:

The OneWash has 4 settings between 2,000 and 3,200 PSI. It is effectively 4 pressure washers in 1. You can go from vehicle washing to blasting oil stains from your driveway at the turn of a dial. So if you are willing to spend aThe OneWash has 4 settings between 2,000 and 3,200 PSI, powered by an OHV engine. It is effectively 4 pressure washers in 1, possibly making it the best Generac pressure washer. You can go from vehicle washing to blasting oil stains from your driveway with the turbo nozzle at the turn of a dial. So if you are willing to spend about $100 more (than the cheaper #2 choice below) for the variability (and extra cleaning power) then get it while it has free shipping.
Hits the Sweet Spot With More Affordable Price and Hefty Cleaning Power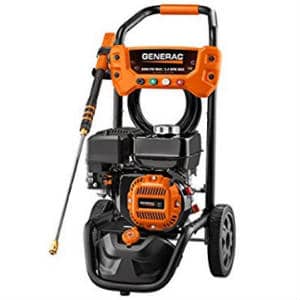 The best Generac for many people could be this one because it is the most affordable medium-duty with 2,800 PSI (1,700 psi to 2,800 psi is medium-tier so just fits in range).
It's about 1.5 – 2x the price of other electric medium-duty pressure washers… But you get the extra power and flow to easily complete big driveways in one-hour instead of three.
Using the 40-degree "wash" nozzle at the correct distance you can also safely wash your car with the ergonomic spray gun, and it comes with a built-in detergent tank and has a specific soap nozzle. People like the big wheels and upright stance of the unit because it makes it easy to move around during or between jobs.
So why is this the 2nd best (not 3rd of 4th) Generac for most?
It hits the sweet spot in price and power – Let's be honest: in terms of choosing within a certain brand you're looking for the best deal…
…The most power for the least price. This model is that.
It is cheaper but only 22% less cleaning power than the OneWash #1 best above. The reason the OneWash is much more expensive is the jump from medium to heavy-duty pressure as well as the addition of the adjustable pressure and required components. Basically, the OneWash needs a bigger engine to support the higher PSI and GPM pump.
This Generac is top-class and if you want to make quick work of your driveway, deck, garage floor, fence, back patio… It is one of the most affordable gas powered pressure washers. And given the durability of a gas engine, you can guarantee this machine will last you 10 years or more with proper care.
See current price on Amazon here…
What About Their New One Touch Electric Start Model?
3) Generac w/ Push Button Electric Start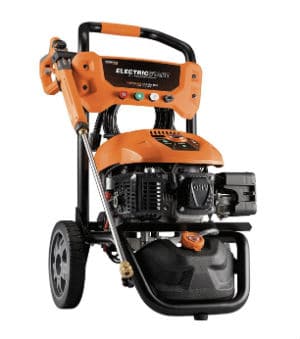 Generac Power Systems, Inc. is currently heavily promoting their Generac Power Systems, Inc. is currently heavily promoting their new model gas power washer with a Lithium-Ion battery – push of a button – electric start, rivaling electric pressure washers. The battery will provide 50 push starts before needing charging.
It has 3,100 PSI and 2.5 GPM and costs about the same as the more powerful SpeedWash model.
Is the convenience of push button start worth it?
If you have a bad back or trouble using the recoil pull start then you'll love the simple starter button technology.
Consider These Two Upgrades
Constructive reviews suggest purchasing a better hose and a surface cleaner for quicker cleaning of large flat areas.
Upgrade Hose
I would agree on advising you to buy the non-kinking hose. Yes, it sucks that that hose isn't the one included. But nothing is worse than a crappy hose. You could benefit from some hose connections, too.
Surface Cleaner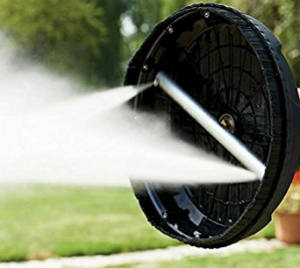 You connect the lance to the surface cleaner and it distributes the spray evenly over a larger area making quicker work of the driveway and other large flat surfaces. It is one of the best ways to increase the cleaning capacity and efficiency of your Generac power washer.
3 More Generac Pressure Washer Parts and Attachments To Upgrade Cleaning Performance
1.) Extension wand and gutter cleaner attachment
A telescoping extension wand allows you to clean second story windows and house siding while keeping safe on the ground. No more ladders required for high-height cleaning jobs. Get a gutter cleaner attachment with easy maneuverability which is a curved lance letting you clean your gutters out while staying safe on the ground.
2.) Rotating scrub brush
A scrub brush lets you clean tough spots without risking surface damage from high water pressure. Your car wheel wells and grill are two areas that come to mind. Also, your garbage can might have tough stains a scrub brush could make quick work of. Try one out they are very affordable.
3.) Floor and stair sweeper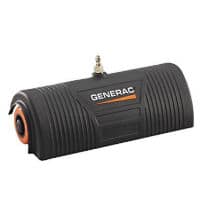 A floor and stair sweeper is a rectangular attachment with 4 nozzles distributing the water flow to increase cleaning area and save you time. It is perfect for cleaning stairs 4-times faster than with the regular nozzle and does a less streaky more even clean. The round surface cleaner is not efficient at cleaning stairs so the floor sweeper might be a better option since it can also do driveways and decks.
How Your Life Will Improve With A Generac Pressure Washer
Effortless, Satisfying Cleaning – Ask any homeowner who owns a power washer and they'll tell you about the ease of use when cleaning surfaces around the house. All you have to do is roll the unit out of the garage or shed, screw in the garden hose, start up the machine and get cleaning. Many people even get excited to use their pressure washer – it's a little like a sport. You have the gun and lance to point and shoot the dirt, grime and grease away. It's oddly satisfying seeing the dirt wash away.
Save Money Next Water Bill – You use much less water with a pressure washer with a high-pressure hose than with a garden hose. The Generac's above use 3x less. Water might be affordable in your area, but still, what you save in water can go towards the gas bill.
Cool Tool – Pressure washers stand out amongst power equipment because you can physically do something with them. A generator is cool but it is more of a supporting tool than a primary one. Everyone should have a pressure cleaner around their house. They're affordable, useful and fun to use.
 Frequently Asked Questions, Answered
1.) How does the Generac 6602 OneWash model with adjustable pressure work? How does it have variable pressure? Does it have a special valve?
It uses a Bowden cable connected from the turning dial to the motor throttle to control the motor speed. Turn the dial clockwise from 2,000 PSI to 3,100 PSI and you increase the motor speed, ultimately increasing the velocity of water out the nozzle. More water velocity out the nozzle means more water force on the surface area. Force over area is pressure (PSI). Generac engineers have calibrated to ensure amount of dial turn equals correct throttle movement for PSI it tells you on dial.
Here is a Bowden cable used to throttle a lawn mower from the handle so you can go from short thin grass cutting to long thick grass without bending over. You just shift from turtle to rabbit speed and the shifter is connected to the throttle by a Bowden cable to do all the work.

A Bowden cable is also used on your bike brakes to connect the brake lever on the handlebar to the brake caliper at the wheel hub. The Bowden cable is used to transmit the pulling force via a steel cable moving inside a hollow rubber/plastic outer protective sleeve.
2.) Where can I find the Generac pressure washer manuals?
Generac's website has a page to find your specific model User Manual. But personally I prefer to use ManualsOnline.com because if you don't have the model number handy you will keep getting error messages. Here is the link to all the Generac pressure cleaner manuals.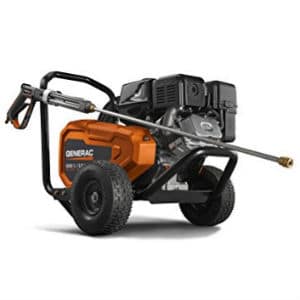 Yes. Generac redesigned their professional offerings in 2016 and now have a belt-drive machine with Annovi Reverberi triplex plunger pump.
It has a suggested retail price of $1,100 and comes with specs of 3,800 PSI and 3.2 GPM.
It looks pretty snazzy too.
Wrap-Up
A great reason to buy a Generac is because they design and manufacture their own engines and pumps. This means they control the quality A-Z. No faulty final product makes it into the distribution warehouse. It's caught by quality control.
Also, with their tight-knit, happy and dedicated team (Generac is one of the top places to work in Wisconsin), they can listen and respond to feedback from customers very quickly, and they offer a warranty for their products. That is how they have improved their pressure washers year-after-year.
So if you're convinced that Generac is best for you – check out the current best prices at the link below:
Sources
Generac's Investor Relations SEC Filings page was used to find the most recent Annual Report 2015. Reading through that document much information about the history of Generac and the current status of their business was found. Also their pressure washer comparison tool was used to find the difference between each.
Generac OneWash Suppot Page. Generac.com. Info retrieved Feb-23, 2017.