The Best Greenworks and Powerworks Pressure Washer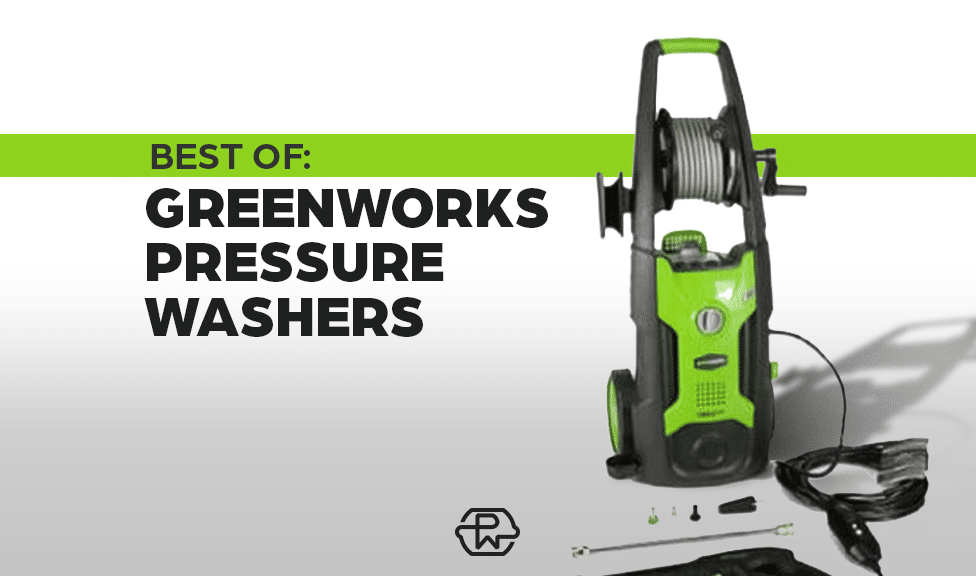 The secret of Globe Tools – creator of GreenWorks and PowerWorks – 55% average annual growth rate since 2002 is their dedication to R & D and quality control… 20% of their staff is focused there. Here we'll look at the best pressure washer made by Globe Tools and sold under the GreenWorks and PowerWorks name…
Before we get into the washers, let's talk about: Why GreenWorks?
GreenWorks believes in zero emissions. That is why they only sell electric.
It's true. Sometimes a gas pressure washer is required because you need heavy-duty power at an affordable price…
…And let's be clear: When it comes to heavy-duty, gas is TONS more affordable. Head to head an equivalent heavy-duty electric pressure washer is 4x the cost ($2000 vs $500 for gas).
So if you don't need heavy-duty, GreenWorks might be for you. Here's there promise to you:
The GreenWorks products that you purchase have a ZERO carbon footprint. We'll say that again – our entire product line will never release an ounce of carbon emission into the air
By the way, Globe Tools seems to be moving away from the PowerWorks brand to focus on GreenWorks. Check out the best pressure washer they offer:
Best GreenWorks Pressure Washer
1) GreenWorks GW2002 2000 PSI 1.2 GPM Induction Motor Powered Pressure Washer
The best GreenWorks pressure washer has an induction motor to power the pump. Induction motors are much less squeaky and have a longer service life than the universal motors most other electric units at this price range use.
This is an extremely affordable model for anyone working on small projects around the house, and it comes with a 1 year warranty. At the price, it's a no brainer.
It has a streamlined detergent tank, all the nozzle tips you'll need including the turbo nozzle and soap tip. GreenWorks delivered!
Best PowerWorks Pressure Washer
1) PowerWorks 1,700 PSI 1.2 GPM
The best PowerWorks pressure washer also has an induction motor. It's also quite a bit more affordable than the GreenWorks machine above.
For around $50 less (at time of writing) you on see a small decline in maximum cleaning power. So what's the catch?
There is no catch. The GreenWorks model above is a newer version. They listened to feedback and upgraded the spray gun from plastic to stainless/brass. They also added the nozzle storage in the handle. Think of this PowerWorks pressure washer as last years model for a deal.
Benefits of Greenworks Electric Pressure Washer
Can Use Indoors – The great thing about electric pressure cleaners is they have no fumes so you can use them indoors. This is ideal if you plan to pressure wash a basement after a flooding or if you need to do a small space like a crawl space.
No Maintenance – All Greenworks machines are electric and have few moving parts compared to gas power washers. You don't have to change spark plugs or oil or deal with winterizing the engine (just the pump).
Easy Winter Storage – The only thing you need to do if you are storing this machine in the garage over winter months is use pump saver to protect the inner seals. It stops the from freezing and prevents any minerals that may be present from doing damage over no use.
Sources
If you're wondering how I found out all that information and came up with some of those figures look no further, I have sources. It took a bit of searching and translating but the majority of information cam from the GreenWorks website, the Globe Tools website and a website called Electronics in China.
The Electronics in China website detailed the ratio of employees at Globe Tools Co in the R & D and QC divisions. Here's the link: Globe Tools Co on electronics-in-china.com.
Some of the sales numbers, dates and history of Globe Tools Co was found on the official Globe Tools website's History page. You'll need to translate it from Chinese using a Chrome browser.
And finally details of the actually pressure washers were researched on the GreenworksTools.com pressure washer page and the PressureWashersDirect.com PowerWorks page.
---
More from PressureWashr