3 Best Karcher Pressure Washers For Around Your Home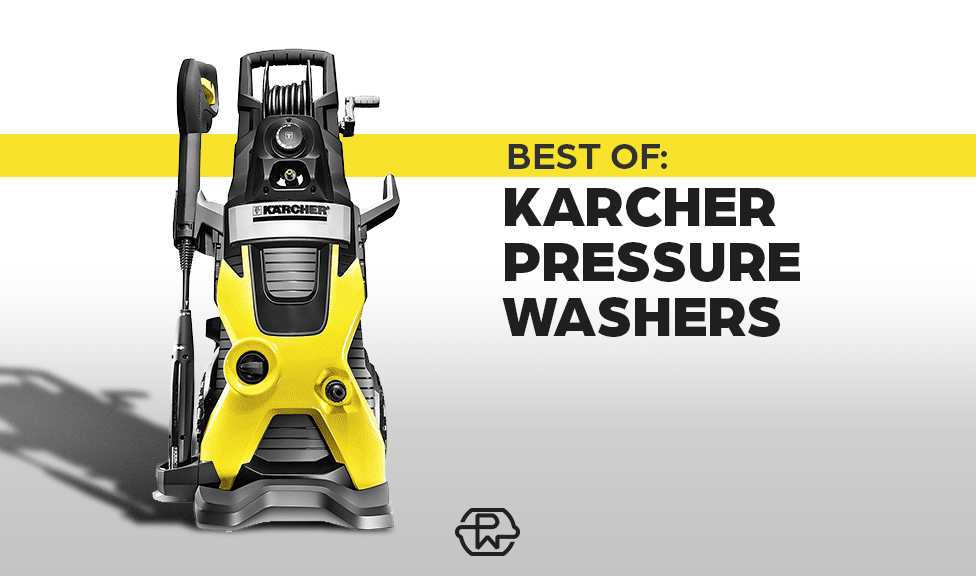 Here we're going to look at the 3 best residential Karcher pressure washers for most people – why they're the best and why and how Karcher is the top company in the cleaning industry...
Karcher has 21 electric and 18 gas pressure washers to choose from. They range from 1.25 GPM and 1500 PSI up to 3.6 GPM and 4000 PSI. And that's not including their professional-grade units.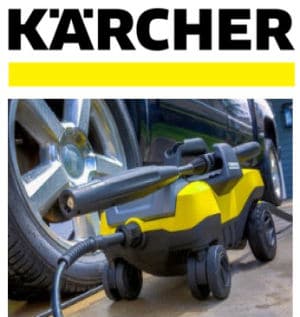 You might be wondering how does Karcher have such a wide range of machines to choose from? Especially considering other electric pressure washer companies like Sun Joe, AR Blue Clean and GreenWorks offer 18 options combined.
The answer: Karcher, a German company, has been in the industry since 1950. Although high-pressure steam cleaners had been invented in the US in 1927, Europe's first pressure washer wasn't invented till 1950 when Alfred Karcher made one in Germany.
In 1962 Karcher expanded internationally. In 1974 they switched their brand color from blue to the current, iconic yellow. As of 2015 they had subsidiaries selling pressure washers in 60 countries accounting for the majority of their $2.3 billion in revenue.
Let's look at how Karcher has been so successful.
Quick Review: The Best Karcher Pressure Washers
Why Buy Karcher? (Karcher Innovation, Expertise and Quality)
Karcher doesn't just sell pressure washers – they show-off what their equipment can do by cleaning some of the world's most iconic buildings, structures and architecture. Over the last 30 years they have cleaned:
Seattle Space Needle
Mount Rushmore
Statue of Liberty
And other famous structures in Prague, Rio de Janeiro, Melbourne, Jakarta, Paris, Berlin, Jerusalem…
Of course, all their jobs are completed using Karcher pressure washers. For example, they cleaned the Seattle Space Needle using hot water and a deployment of medium-duty 2600 PSI electric units.
They combine this in-house pressure washing knowledge with an active customer feedback loop to engineer and innovate their range of washers. In 2013 alone they filed for 500 patents.
It's safe to say you can trust Karcher to continually improve.
How Do Karcher Pressure Washers Compare To Other Popular Brands?
Karcher is easily the biggest electric pressure washer company. In 2015 they sold over 12.8 million units worldwide and had a 2.2 billion Euro turnover.
Does that make them the best?
They have a ton of resources in engineering, research and development. And yes, they can manufacture at scale unlike other companies.
But maybe with their focus on shareholder value/profit they make mistakes in catering to their customers?
Let's compare Karcher quality to 4 of its biggest competitors in the electric pressure washing industry:
1. Karcher vs Sun Joe

Sun Joe's "thing" is value for money. You can get a higher PSI and GPM machine for less money from Sun Joe. This offer makes them irresistible to many first time buyers. And that is why they have 3 of the top 10 bestselling on the market.
Sun Joe's sister company, Snow Joe, started out selling affordable snow blowers and the sibling companies now combine to offer a range of home and garden power tools and equipment.
Is Karcher better quality than Sun Joe?
Yes, we think so. Karcher not only offers a much wider range but they have the resources to offer a better machine at less cost without cutting corners. There is nothing wrong with Sun Joe and their unit will be the best for many people's needs. But Karcher is going to cost less in the long run.
2. Karcher vs Ryobi

The Ryobi brand is owned by a Hong Kong holding company named Techtronic Industries. The company also owns brands like Milwaukee Tools, Dirt Devil and Hoover. All these products are made at scale within TTI's large manufacturing plant's in China.
Ryobi power tools are widely popular including their pressure washer offer.
Is Karcher better quality than Ryobi?
Yes, we think so. Karcher can tailor their offerings to a very specific group – and price accordingly. Ryobi offers a limited range and aims to hit the main price points. By having more units at more price points Karcher doesn't have to cut corners to make profit at each price point.
3. Karcher vs AR Blue Clean

Ar Blue Clean is the pressure washer brand name of Italian pump maker Annovi Reverberi and Italian motor company Ravel. They offer a hugely successful and quality line of electric pressure cleaners offered at many of the big box retailers.
Is Karcher better quality than AR?
Maybe not, we'll call it a tie. AR make high quality pumps and motors in-house and offer large range of machines. For the price they are the best value for the money.
4. Karcher vs Greenworks

Greenworks is the North American garden tools brand offering of a Chinese manufacturing company. Their "thing" is to only offer electric powered garden tools like pressure washers, chain saws and leaf blowers.
Is Karcher better quality than Greenworks?
Yes, we think so. Greenworks is more affordable but we feel in the long run Karcher will be better value.
Karcher's Best Electric Pressure Washer For Most People
1) Karcher K5 Premium 2,000 PSI 1.5 GPM Electric Power Washer
The best Karcher electric pressure washer for most people is the K5 Premium pictured here. It is not only one of their highest performance models, but it is the perfect combination of power, performance and price…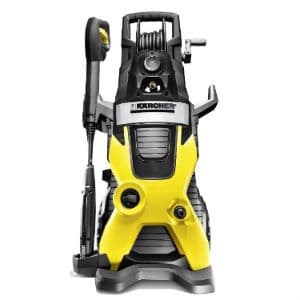 …With 2,000 PSI and 1.5 GPM in cleaning power it should handle any job around the house you throw at it. It is part of the 'Premium' range which means it has a water-cooled induction motor and N-COR (non-corrosive) pump. Why does a water-cooled motor mean 5x the life?
Because circulating water around the motor keeps it cool and cool bearings are happy bearings. You can rest easy with cold water pumping through the matching, you can use your cordless machine all-day Saturday without the motor overheating.
Another great feature is the unit's time-saving quick connect system. All the connections are quick connected – the garden hose connector and the hose to spray wand connection.
Do you have a rainwater tank or want to supply this washer with water from some other water tank you have? Easy. It has siphoning ability with its N-Cor self-priming pump. Check out more details and the current best price at the link below:
Benefits vs Other Karcher Electric Models
The K5 Premium series is the best Karcher for most people because it hits the sweet spot in price and performance. It has a hose reel and 2,000 PSI. The models below it may be cheaper but they offer less benefits. Do you enjoy dealing with a kinked pressure washer hose? No? Then you need a hose reel and our top choice has one.
Karcher's residential line of electric pressure washers come in 3 series:
K5 is the premium
K3 is the intermediate, and
K2 is the entry-level
Let's take a look at the characteristics of each:
*Our Top Choice Above* Karcher K5 Series Pressure Washer: Because Performance is Worth The Price
The selling point of the K5 Karcher pressure washer series is max performance. These units are expensive but you get a premium electric pressure washer like no other. They include:
Hose reels
High-pressure hose
Detergent tank with adjustable detergent flow
Spray nozzles
Large wheels
2,000 PSI pressure washer
Weigh 32 – 37 pounds
All Features of K3/K2 series
Karcher K3 Series Power Washer: *Sweet-Spot* For Some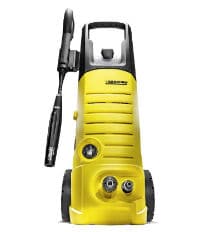 The selling point of the K3 Karcher series is premium features without the price. K3 washers have detergent tanks and larger wheels. 2 models – the K3.740 and the K5.540 (recommended above) – even have water-cooled induction motors to increase performance, durability and reliability.
K3 series machines include:
Detergent tanks with adjustable detergent flow
1,800 PSI
Large wheels
Weigh 15 – 33 pounds
Karcher K2 Series: *Entry-Level*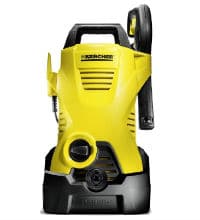 The selling point of the light-duty K2 Karcher series is portability and price. The units in this series are the most compact – perfect for transporting or if you live in an apartment and have small cleaning needs.
K2 series machines are all:
1,500 – 1,600 PSI
Weigh 12 – 15 pounds
Does Karcher Make Gas Pressure Washers?
Yes.
The Karcher company owns the commercial/professional/industrial style pressure washer brands: Hotsy, Shark and Landa.

Hotsy, Shark and Landa are pressure washer manufacturers that have been around for a combined 115+ years. Karcher acquired them in March, 2004 when they acquired the company C-Tech Industries Inc. All 3 brands make gas power washers in a variety of styles and types.
In addition, Karcher makes Karcher branded residential gas pressure washers.
Here's there most popular by a long shot:
Karcher's Top-rated Gas Pressure Washer
1) Karcher G 2700 PSI 2.5 GPM Gas Power Pressure Washer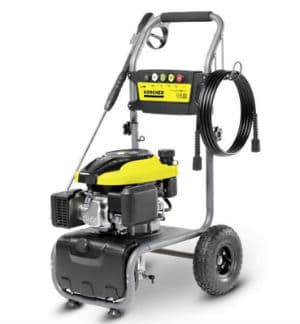 The best gas-powered Karcher pressure washer is their, heavy-duty, 2,700 PSI 2.5 GPM residential-use machine. It is one of the top-rated on all of Amazon with a 4.5 out of 5-star rating.
It is great value for your money and you will be able to use it to make your home cleaning jobs quicker and easier. It has a 196cc gas engine powering a reliable axial cam pump. It will make quick work of cleaning your house siding, work truck, driveway, garage floor, and wood deck or patio.
You're getting one of the most affordable gas machines on the market that will last you many years and save you lots of effort. It is often on sale so be sure to check out its current price at the link below:
Karcher's Best Cheap Option That's Still Good
1) Karcher K3 Follow-Me 1800 PSI 1.3 GPM Pressure Cleaner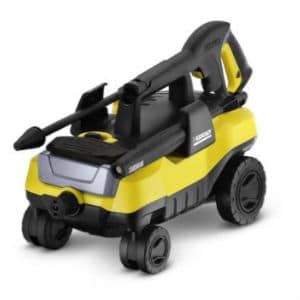 Karcher's new light-duty pressure washer is a great cheap option for you if you only need to clean small surfaces like your car, patio furniture or back patio.
As you can see it sports a 4-wheel design to make it follow you around when pressure washing. It is a zero maintenance tool to help make your outdoor cleaning chores fun and easy.
Next time you need to clean the gutters or house siding or garage floor just wheel this out, plug it in and pull the trigger to clean the surface better and deeper than with a scrub brush and soap. It is often on special on Amazon so be sure to check the current price at the link below:
How To Increase The Cleaning Capacity and Performance of Your Karcher (The Best Accessories)
Rotating Wash Brush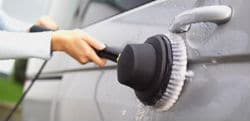 A great addition for cleaning smooth surfaces gently. It allows you to scrub the surface with the brush bristles as the pressurized water pushes the dirt and grime off and away. It's perfect for cleaning your car, house siding and windows.
Extension Wand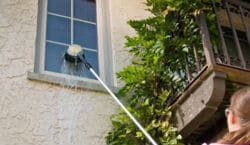 An extension wand for your spray guns make cleaning your second-story windows and gutters a cinch. An extension wand telescopes out so you can avoid using ladders and stay safe with your feet on the ground.
Power Scrubber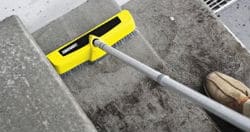 It looks like a broom and is ideal for helping you pressure clean your front stairs and other edges. With one pass you will be able to clean each step making the process effortless.
Surface Cleaner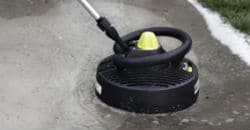 A surface cleaner helps you pressure wash large flat areas fast. It has dual rotating nozzles inside and cleans a 12 inch wide area each pass.
Vario Nozzle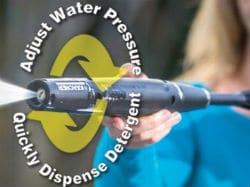 5 spray tip nozzles in one easy to use nozzle. You turn the vario nozzle to go from 0-degree spray, to 15-degree, to 25-degree, to 40-degree spray to make going from blasting your kitchen exhaust hood to cleaning windows fast and easy.
Wrap-up
Karcher has sold more than 50 million pressure washers around the world and they have over 11,000 employees across 60 countries… They are the biggest pressure washer company in the world.
Karcher has a service division that cleans world famous structures around the world showcasing what Karcher equipment can do. Yes, this is a marketing ploy but the famous landmarks get cleaned fast and efficient. And the news coverage Karcher gets helps showcase the best of pressure washing.
Still haven't decided if Karcher is right for you? How about I put it this way: If you want the Toyota of the pressure washer world then Karcher is for you. Be sure to click the link below that matches your needs to see the best price online:
Sources
The official Karcher pressure washer product discovery page was used to find all the Karcher Product Manuals and product specifications. I also read through their Projects page to find out the famous landmarks they have cleaned around the world.
---
More from PressureWashr
By now, you have probably heard about the three r's (reduce, reuse, and recycle) that represent the foundation of preserving…