According to the number of Google searches made within United States for "[brand] + pressure washer" Karcher was the most popular pressure washer brand in past years, but has now been overtaken by Ryobi and Sun Joe.
Take a look at the top 22 in this chart and then read a short description of each brand below: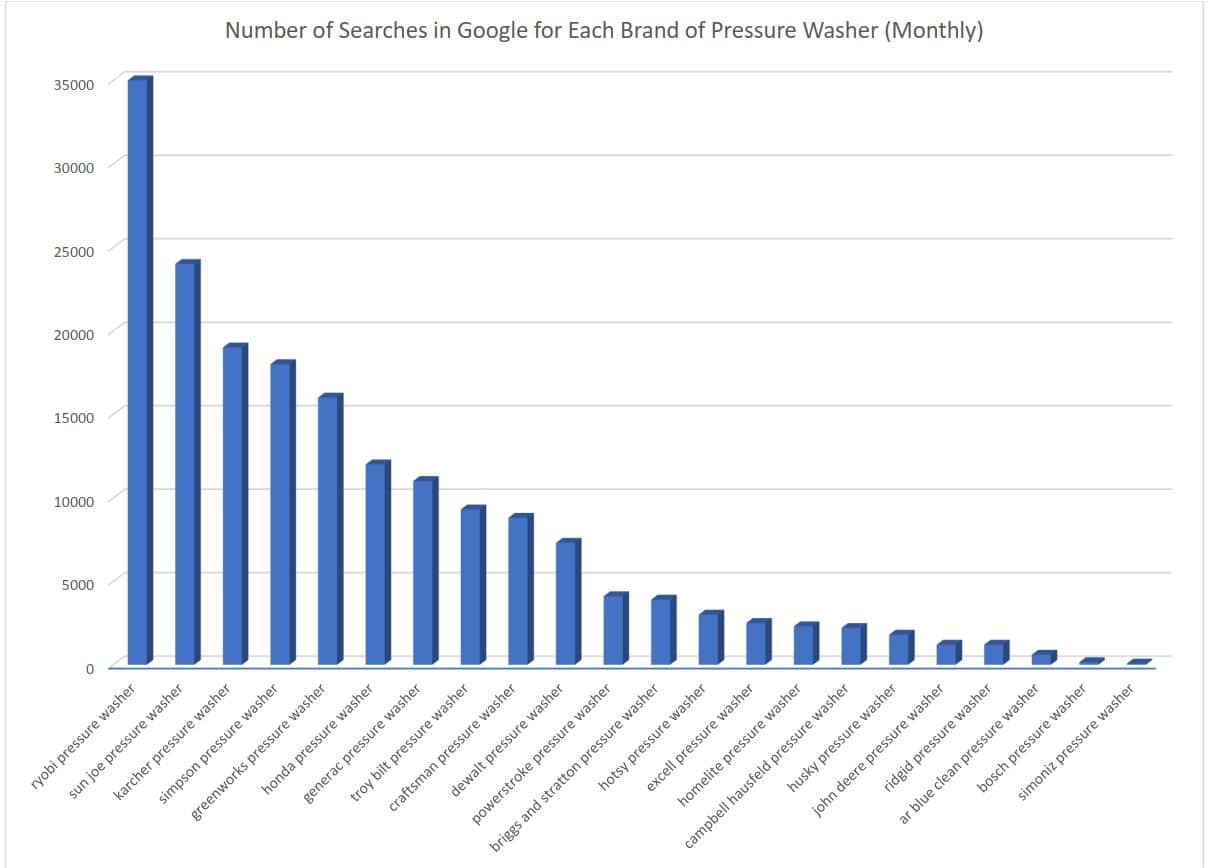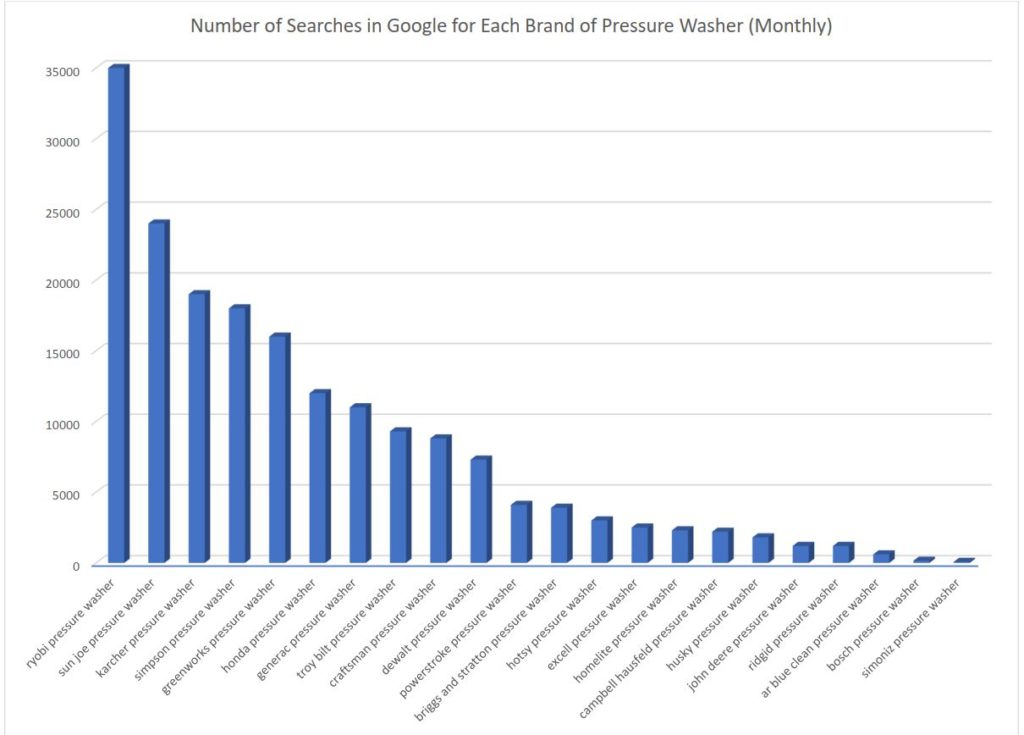 2021 Results
2015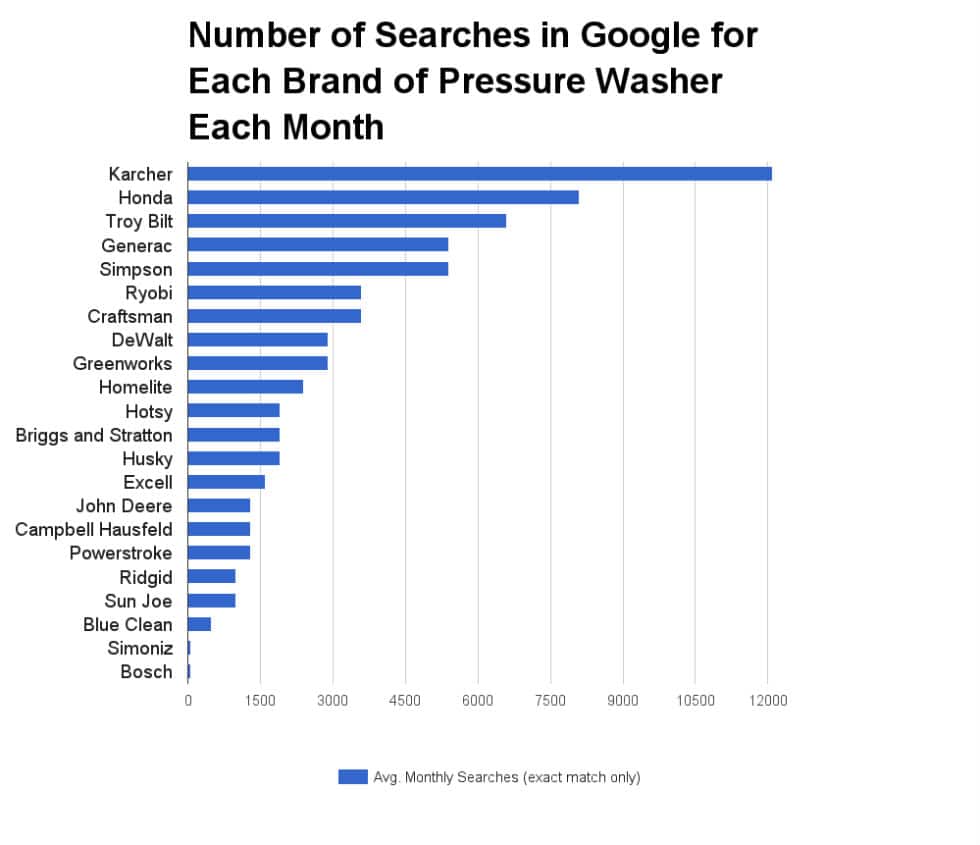 Ryobi and Sun Joe have overtaken Karcher as the most popular pressure washer brands on the market today. Since the last time we researched this topic, both brands have become more dominate in the industry and are producing high quality machines for both residential and commercial use.
What types and styles of pressure washer does each pressure washer brand offer?
All numbers are shown as "searches per month" on Google.
Ryobi Pressure Washer (35,000)
Ryobi pressure washers are made by MTD Products (although the trademark is owned by Techtronic Industries of Hong Kong). There are a range of electric style machines sold at Home Depot and they also have gas ones that look exactly the same as Troy Bilt (same parent company). Ryobi is the favorite tool brand of Maine.
Sun Joe Pressure Washer (24,000)
Sun Joe started as Snow Joe. They marketed snow blowers that were made in China. Since then, their 17 year old founder has grown them to offer more than 20 products in the home garden equipment category. They offer a top selling 2,000 PSI model as well as a lesser PSI model.
Karcher Pressure Washer (19,000)
Karcher is the king of pressure washer brands and offers models in all categories including: commercial, industrial, semi-pro, home-use and in electric and gas powered types.
Simpson Pressure Washer (18,000)
Simpson Pressure Cleaning brand makes their own pressure washers in a factory in Arkansas. They are owned by the FNA Group. DeWalt pressure washers are also made at this plant by the Simpson team. They offer a range of home-use and pro-use gas power washers.
Greenworks Pressure Washer (16,000)
Greenworks is the North American brand of a Chinese manufacturing company. They sell only electric power equipment. They used to market a brand called Powerworks but seem to solely sell under Greenworks these days. These are popular pressure washer brands because they are nice looking, electric and affordable.
Honda Pressure Washer (12,000)
Honda is a world renowned brand for their durable and reliable small engines. Honda make the most small engines of any company. And what is a pressure washer? A pump and small engine. That is why Honda is able to make such a dent in the power equipment market – they have great small engines.
Generac Pressure Washer (11,000)
Generac is mainly an electric generator company. They dominate the US market for home generators. They also make power washers and water pumps and they are a popular brand, as you can see by their position in this list.
Troy Bilt Pressure Washer (9,300)
Troy Bilt is a company / brand that was bought by MTD Products in 2001. Troy Bilt has a long history. MTD also owns Ryobi trademark for outdoor products, Cub Cadet and many other lawn and garden tool brands. Troy Bilt is well known for their outdoor power equipment and offer a range of gas powered models for your needs.
Craftsman Pressure Washer (8,800)
A brand of tools sold at Sears that was first introduced in 1927. The general consensus out there is that Craftsman used to be a top-notch brand in terms of quality but has fallen in recent years has manufacturing has been more taken of shore and the target market has changed from the upper market to the mid market.
DeWalt Pressure Washer (7,300)
DeWalt is a brand trademark owned by the Stanley Black & Decker company. Their pressure washers are made under a license agreement with Simpson.
Powerstroke Pressure Washer (4,100)
This is another brand of Techtronic Industries of Hong Kong. This brand is powered by Subaru engines at least in terms of pressure washers… They also offer generators, paint sprayers, drills and sanders.
Briggs and Stratton Pressure Washer (3,900)
The world famous Briggs and Stratton brand makes some great gas power washers with their well-known Briggs engines. This surprised me that Briggs wasn't higher up on the list.
Hotsy Pressure Washer (3,000)
Karcher acquired the Hotsy brand in 2004 when bough a company called C-Tech Industries. During that buy they also got Landa, Shark, Water Maze, Cuda and Spraymart – all cleaning technology companies. Hotsy is known for their hot water pressure washer, hence the name, which is a play on "hot water cleaning systems".
Excell Pressure Washer (2,500)
Ex-cell is sold exclusively at Home Depot. They have two different types of gas pressure cleaner. One is 2,500 PSI and 2.2 GPM. The other is 2,800 PSI and 2.6 GPM.
Homelite Pressure Washer (2,300)
Homelite falls under the Techtronic Industries umbrella – Techtronic also own Hoover, Dirt Devil, Milwaukee, Ryobi brands.
Campbell Hausfeld (2,200)
This is a brand that has been around a long time and its parent company was acquired by Warren Buffet's Berkshire Hathaway in 2015. They are mainly known for their air tools, air compressors, winches and generators.
Husky (1,800)
Home Depot brand of tools that are made by Stanley Black & Decker.
John Deere (1,200)
Despite being mostly known for their riding mowers they also have pressure washers. Who knew? They have 20+ models to choose from and they all come in the John Deere green
Ridgid (1,200)
A brand owned by Emerson Electric. They also own a ton of other brands.
AR Blue Clean Pressure Washer (600)
The AR in AR Blue Clean stands for Annovi Reverberi. AR is an Italian pump manufacturer and designer and they started the AR Blue Clean brand to sell some pressure washers in North America. These are the top sellers on online stores like Amazon. Their power washers are highly rated and electric powered.
Bosch Pressure Washer (150)
Bosch is a huge German company that started making electronics and now makes many many things. Their 2014 revenue was 48.9 billion Euro. They offer a bunch of different pressure washers in the electric category.
Originally Simoniz is an American brand of car cleaning products but with their success came a brand name that was trusted. A Canadian company called Active Products acquired the rights to sell pressure washers under the Simoniz name and do so solely at Canadian Tire stores in Canada. This is sold in Canada and since this is an American based search results this is very low.
Sources
Ahrefs Keyword Explorer
---
More from PressureWashr
By now, you have probably heard about the three r's (reduce, reuse, and recycle) that represent the foundation of preserving…