The Best Pressure Washer Extension Wand To Help Pressure Wash Your Two-story Home Without Any Ladder or Elevated Work Platform
Last weekend I watched on and off for 25 minutes as my neighbor attempted to pressure wash his second story house siding. From the ground. With no extension wand.
Here's what happened in 3 steps:
He tried standing on his trailer hoping that the extra 2-feet would be enough for the water pressure to remove the grime. Nope, it wasn't.
Although I could see he knew it was dangerous… He put a child's picnic table in the trailer to get an extra foot closer to where the dirty siding was. He was still 5-foot short. Since he was using a 1800 PSI electric pressure washer he needed to get even closer.
After doing some modifications in his workshop he emerged 10 minutes later with a contraption that looked similar to an extension wand but then he turned the water on. And it leaked so much that there was less pressure than a garden hose.
After hearing me laughing he turned to me and said with a huge smile, "I'm going to Home Depot to get an extension wand."
Do you have a 2 or 3 story home to pressure wash? What about a shed roof that needs cleaning? Or maybe you have an RV that is tough to clean with a stock pressure washer? Good, you're in the right place – all these cleaning duties are easy with a telescoping extension wand for a pressure washer.
Benefits of Pressure Washer Extension Wand
1. Wash up high without leaving the ground. The main benefit of a pressure washer extension wand is safety. You don't need to go up a ladder or an elevated work platform to reach high spots. This reduces all risk of a fall from height. Anytime you can reduce a huge risk you win.
2. Clean out your gutters from the ground. The most popular use of a power washer extension wand is to clean second story windows and surfaces. The second most popular use is to clean your gutters from the ground. A hook style attachment is required but it makes cleaning your gutters a breeze.
See a Telescoping Wand in Action:
Notice the flex in the wand when nearly vertical
Video source.
Types of Telescoping Extension Wands
Fiberglass Extension Wands
The more affordable type of extension wand. Fiberglass wands are lightweight and affordable but can only be used with cold water. You will find they flex a lot when fully extended. Be careful when using. Test the wand extension at intervals so it doesn't knock you back when reaching the third story eaves.
Aluminum Telescoping Extension Wands
The professional type of extension wand. Aluminum wands are more sturdy, but heavier and more expensive than fiberglass . You can use them with hot water power washers. Most contractors use their aluminum wands with support belts to help with the weight.
Telescoping vs. Threaded Connection
Some pressure cleaner extension wands are telescoping and some you have to screw them together as you want longer reach. The telescoping variety is more popular in both professional and residential use.
Support Belt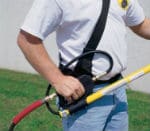 A support belt helps capture some of the weight of the extension wand and torque created from the high pressure water shooting out the tip. They have a pocket attached to a special belt that allows you to leverage for supporting the forces.
Best Pressure Cleaner Extension Wand For Most People's Needs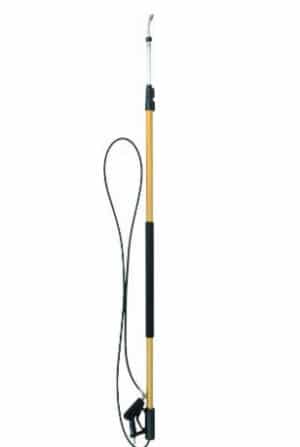 AR North America 6-18-foot Extension Wand
The best extension wand for most people is this fiberglass model by AR North America. It is lightweight, affordable and compatible with all pressure washers up to 4,000 PSI and 7 GPM.
It weighs less than 10 pounds but when you extend that weight out it feels quite heavy. People use it to clean upper level barn interiors, second story gutters and windows that are on the third story.
If you want to wash up high while staying on the ground then check this power washer extension wand out. It will save you time and money by allowing you to do the upper level window cleaning yourself instead of hiring a professional.
Best Power Washer Extension Wand For Pros
The best aluminum pressure cleaner extension wand can handle hot or cold water at up to 4,000 PSI and 8 GPM. It is best suited to pros who need the best-of-the-best.
It is about twice the cost of the fibers wand above but higher quality aluminum for pros.
We trust the value of Simpson products and they've never let us down.