Ryobi Pressure Washer Definitive Buying Guide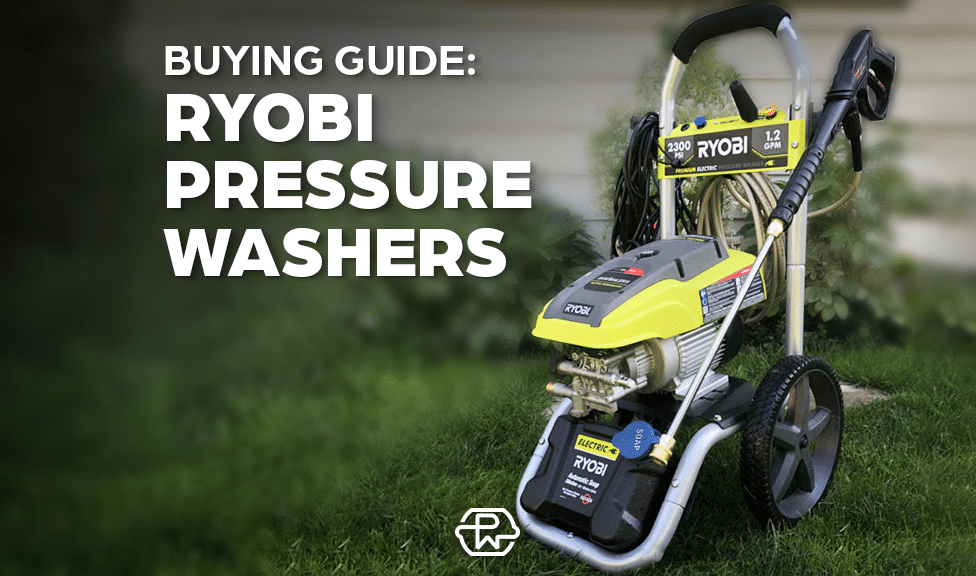 Today you're going to learn everything there is to know about a Ryobi pressure washer…
…Including:
The best electric and gas pressure washers available from Ryobi
The pressure (PSI) and flow rate (GPM) you'll need to clean different surfaces around your house – car, driveway, grill, deck, house siding etc.
The accessories to best speed up the cleaning process
A comparison of Home Depot vs Amazon for buying your pressure washer.
But before we jump into it – and tell you some Ryobi brand history – let's take a quick look at the best gas and the best electric Ryobi's recommended in this guide:
Ryobi's We Recommended in This Guide
5 Little Known Facts About Ryobi
During research we found some interesting facts you may enjoy.
Ryobi is a brand owned by Techtronic Industries (TTi).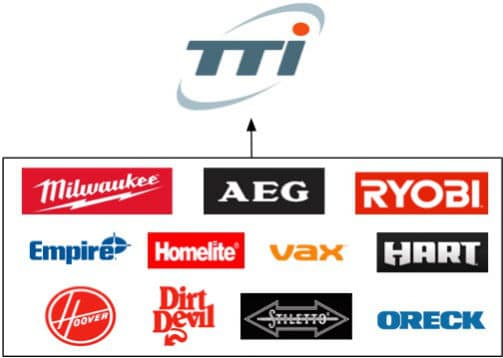 Ryobi's parent company, TTi, also owns and makes Dirt Devil and Hoover vacuums. In fact, TTi is one of the tool industry behemoths as they also own the tool brands: Milwaukee, AEG, Homelite, VAX and Ryobi. But rest easy – they are a huge $5 billion+ company so your warranty is safe.
Ryobi Limited was formed in Japan in 1943. They started as a die casting manufacturer and didn't move into power tools until 1968. In the year 2000 they began selling their power tool businesses in North America, Europe and Oceania. The brand is now owned/licensed by Techtronic Industries.
The current power equipment line includes mowers, portable generators, pressure washers, chain saws, snow blowers, trimmers and blowers in both electric and gas configurations. You can shop for Ryobi in person only at The Home Depot. But online at various marketplaces including Amazon.
The Ryobi electric unit is a little more expensive than similar pressure and flow models from other brands but that's because it has an induction motor, metal fittings and a better quality pressure washer hose. So if you want a machine that is sturdy and durable have a look at the best Ryobi electric for most people.
Ryobi's Pressure Washer Market Strategy
Ryobi's strategy for power washers is to market towards: residential use, home owners and hobbyists.
As you can see in the chart below Ryobi offers a pressure washer for each price point.
They offer many pressure washers in both gas and electric models.
Ryobi Pressure Washer Model Chart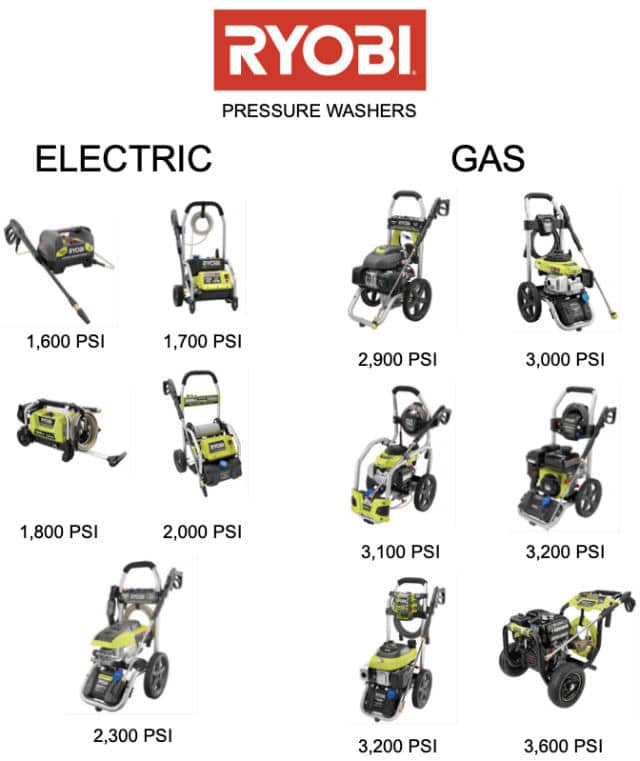 Electric
Electric pressure washers by Ryobi are intended for residential use. They range in price from $90 up to $300. Electric machines are great because they are low maintenance and quiet but the electric cord is annoying and they are lowering PSI and GPM than gas machines.
Gas
Gas power washers by Ryobi range from 2,900 PSI to 3,600 PSI and 2 come with Honda engines. The prices ranges from a low of $320 up to $700.
PSI (pounds per square inch)
When it comes to PSI you shouldn't worry. When using a nozzle you can move away from the surface to adjust the force the surface feels to avoid damaging it.
Here's the pressures you can get from Ryobi.
1600, 1,800 PSI – Good for light jobs like your car, boat, grill
2000, 2300 PSI – Good for your deck, patio furniture
2900, 3000, 3100, 3200 PSI – Good for driveways, farm equipment
3,600 PSI – Good for graffiti removal, paint stripping
GPM (gallons per minute)
You can think of flow rate (GPM) as the amount of work the high pressure water can do.
So let's say 1 GPM can clean 100 square feet of driveway in 10 minutes.
A 2 GPM pressure washer could clean that 100 square feet in maybe 3 or 4 minutes (depending on operator skill).
When professionals buy they look for 5+ GPM machines and most will move towards 8 GPM the longer they are in business.
Ryobi gas powered pressure washers max out at 2.5 GPM. This is great for home-use and smaller contractors but not suitable for everyday-all-day use because it will take too long to complete the jobs.
Where Can You Buy?
The Home Depot is the sole big-box retailer of Ryobi tools.
However, you can also buy them online at Amazon.com.
We have been to 3 different stores in the area to check on the Ryobi selection and only ever saw 4 at max – 2 electric and 2 gas – with the other options requiring you to order them into store ahead of time. Which is no big deal just worth mentioning.
Amazon has most of the options but some are sold out from time to time.
Ryobi Accessories
Ryobi has a range of attachments and accessories for their line of products. In brief they are:
Surface cleaner – Clean flat surfaces faster
Telescoping wand – Clean second story windows and siding from the safety of the ground
Roller broom – Similar to surface cleaner but much better for not so flat surfaces
Turbo nozzle – Rotates a 0-degree spray very fast to create a cone shape spray that can remove the toughest debris from surfaces without the risk of damage
Foam blaster – Increase cleaning efficiency by blasting the surface with soap before cleaning
Other specialty nozzles – Ryobi also offers PSI adjustment nozzle and 5-in-1 nozzle and soap spray nozzle.
Best Ryobi Electric Pressure Washer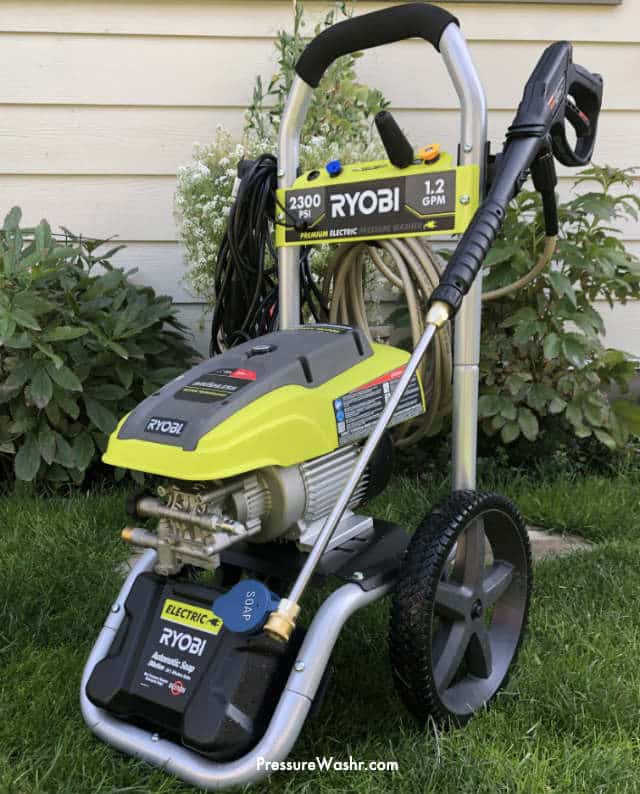 The best Ryobi electric pressure washer for most people is their most powerful electric model.
At 2,300 PSI and 1.2 GPM it provides enough power to clean most anything around your house.
Yes, even your toughest jobs, like your driveway… It'll just take a longer than a gas engine powered version.
5 Things we think you'll love:
1.) It looks (and is) very sturdy and robust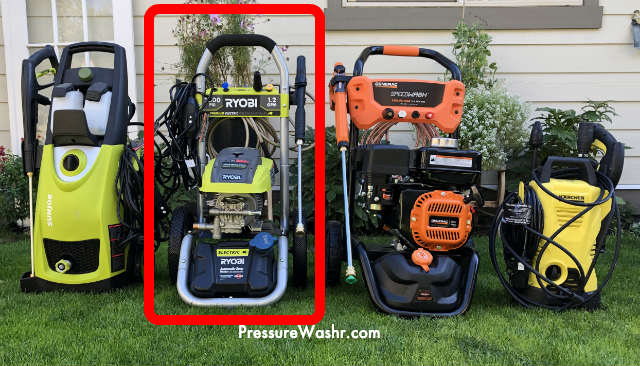 As you can see in the image the Ryobi electric we recommend doesn't look cheap. There is no large plastic cover like the Sun Joe and Karcher. It actually looks like a gas pressure washer…
That comes with some benefits:
It has a lower center of gravity so it will never tip over
It is easier to move around the yard especially over barricades and up stairs
Onboard storage to keep everything organized
Built in detergent tank to help speed up cleaning jobs
2.) Large wheels
Ryobi added a larger wheel size (12 inch diameter wheels) to make for easier maneuvering, like getting up stairs and over obstructions without having to manually lift it over.
It has easily the biggest wheels of all the residential use electric models.
This is a huge plus for ease of use and easy transport around the property.
3.) High quality connections/fittings
All the fittings and connections on this machine are brass not the plastic you see on many of the competitors.
This means less leaks and more time between replacements.
4.) No hose reel
After using pressure washer with and without hose reels for the past 7+ years we find it easier to just roll up the hose by hand and hang it around the pressure washer.
The cheap hose reels that come on these residential electrical are more annoying to operate than just rolling the hose up.
5.) Induction motor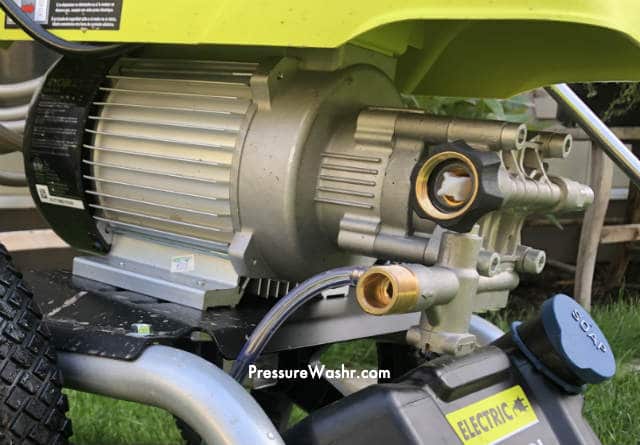 This image is of the induction motor and pump. The pump is the front part with the connection for the garden hose and high pressure hose and the motor is the large cylinder shape behind the pump.
One of the biggest reasons this Ryobi is about the same price as a cheaper gas is because of the induction motor.
An induction motor runs slower (less RPM) than a universal motor meaning:
It is quieter (see video)
Longer lasting and
More powerful.
Not good thing we found:
Pump was full of air and took 20-30 seconds to purge on first use
Something we find with many of the electric machines is the pumps are not tested and purged before being shipped.
It is normal because if they had to do the testing of every pressure washer the cost would increase.
Purging the pump isn't a huge issue. You just get it all setup and start pressure washing and when no water is coming out you just keep holding the trigger and eventually it will purge the air and water will start.
All-in-all
If you're in the market for a top electric pressure washer then this model by Ryobi is perfect.
It is a little more expensive than other electrics but we feel it is worth it: it is quieter, more powerful and will have a longer lifespan.
Best Ryobi Gas Power Washer
Ryobi 3,000 PSI 2.3 GPM w/Honda Engine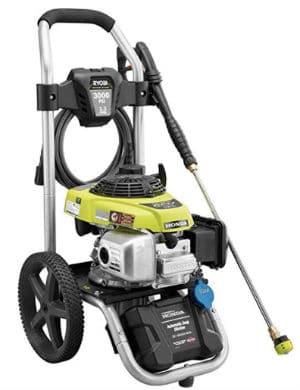 The recommended Ryobi gas powered machine is their 3,000 PSI and 2.3 GPM. It is the 2nd most affordable they offer and we feel the best value for the money.
Why?
In short: Honda engine.
When it comes to gas power washers it's all about the engine and Ryobi has put a Honda GCV160 in this one. The GCV160 is the standard for medium-duty to heavy-duty pressure washers.
This one is comparable to the medium-duty power washer from Generac and cost's in the $350 range like most other entry level gas power washers.
If you're in the market for a great gas powered and really favor one with a Honda engine then this is a great option.
Frequently Asked Questions, Answered
Does Ryobi offer a battery powered cordless electric pressure washer?
Yes. But they only sell it in Australia. We've tested it and it provides great pressure but the battery only lasts 15 minutes. See our full cordless article here.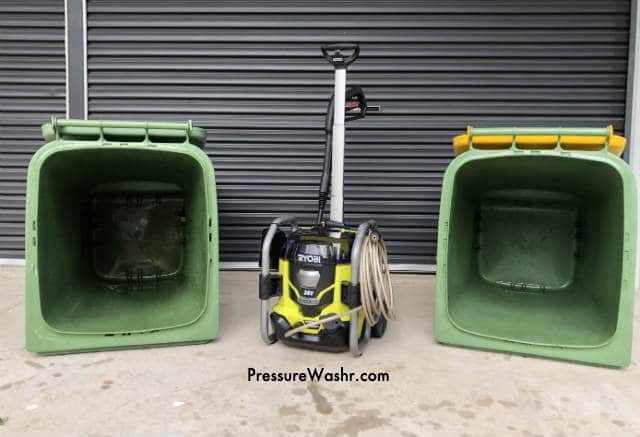 What soap can I use in my machine?
You can use any pressure washer soap, it doesn't have to be Ryobi brand.
How do I assemble my new Ryobi?
Your instruction manual will have the full instructions but the gist is to attach the wheels, the top part of the carry cart frame and then screw in the hose holder and spray wand holder.
How do I actually start using my pressure washer?
Once you have assembled your pressure washer, here are the steps to start using it (assuming electrical):
Attach nozzle tip to end of spray wand lance.
Attach garden hose and pressure hose to pump inlet and outlet.
Plug power cord to electrical wall outlet (if electric).
Turn on garden hose to allow full flow of water.
Pull trigger on spray gun for 15 seconds (you should see a low pressure stream of water coming out the nozzle).
Turn on pressure washer by pushing the on button.
Start pressure washing with full pressure.
Which nozzle should I use for each cleaning task?
Use any nozzle except the red tip 0-degree nozzle (that one will break things because it is a pinpoint jet). Move tip away from surface as needed to decrease force surface feels.
Wrap-Up
Both the electric and gas pressure washer options from Ryobi are good purchases, especially if you're looking for the security of having it be exclusive to Home Depot and thus can get it fixed easily.
The electric unit probably seems like too much money for the cleaning power but you're paying for a few premium upgrades like induction motor.
All-in-all have a look at the links below to see the current prices and read the full manufacturer listed specs.
See full Ryobi 2000 PSI Electric Pressure Washer review
Sources
Pressure Washers. www.RyobiTools.com.
Corporation Information (history). www.Ryobi-Group.co.jp.
---
More from PressureWashr
By now, you have probably heard about the three r's (reduce, reuse, and recycle) that represent the foundation of preserving…