Best Wall Mounted Electric Pressure Washer Buying Guide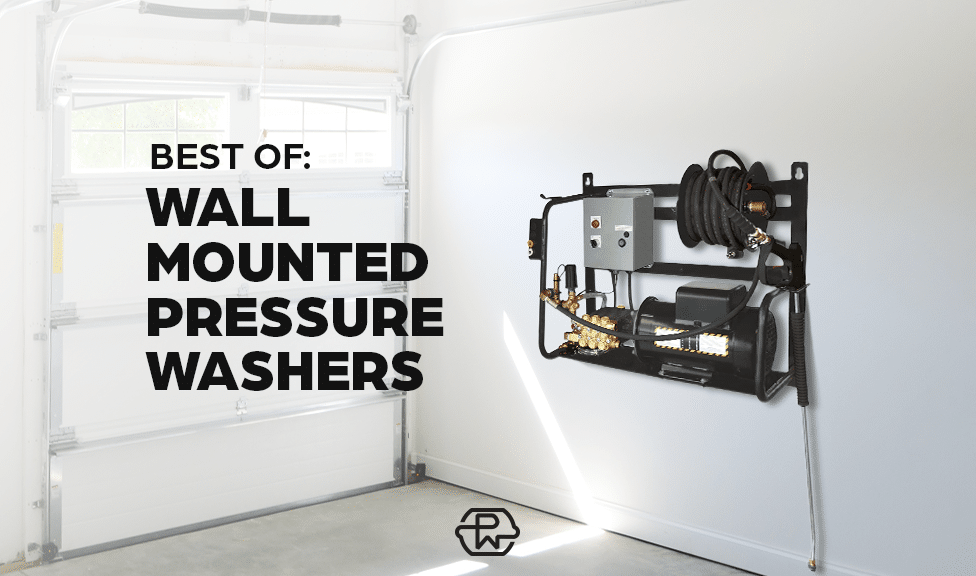 Do you find yourself pressure washing in the same spot over and over?
Then a wall mount pressure washer is for you.
When I designed the two-bay truck wash for a rendering plant I put a wall mounted electric pressure washer in each. It made no sense to have portable pressure washers because the 50′ hose length was more than enough to reach around and on top the trucks. Those wall mount units were hooked up to a heated (160 F / 71 C) water supply, which most wall mount units can deal with.
I've also seen many warehouses, factories and manufacturing plants fitted with wall mount electric pressure washers at strategic points to make cleaning quick and easy.
How were the best chosen?
Reliable and durable.Wall mounted electric pressure cleaners are always industrial grade because they are used by many people everyday. For this reason they need to be equipped with the best pumps, motors and valves to be durable and reliable.
Cleaning power. When it comes to pressure cleaning: flow rate is king, soap/detergent is queen and the pressure is prince. You can easily change the pressure by changing nozzles and the distance you are from the surface. That is why when you buy a wall mount machine for everyday use it should have above 2 GPM flow rate minimum and the ability to siphon soap/detergent.
Design and features. Does the unit come with a good hose reel? Can the power washer pump handle heated water? Is the enclosure sturdy for industrial environment?
That criteria is how the best 2 wall mount electric power washers were chosen. Here they are:
Best 230 V Three-Phase Electric Wall Mount Power Washer
Cam Spray 5 HP, 4.0 GPM, 2,000 PSI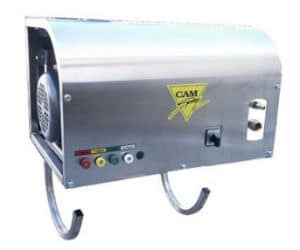 The best of the best wall mounted power cleaner is this 5 HP machine from Cam Spray. It weighs a lot, costs a lot and cleans a lot.
As you can see in the picture, it has a stainless steel frame and racks for the trigger gun and pressure hose. The great thing about this unit is you can feed it heated water up to 160 F (71 C). It also has a down stream detergent injection system. Combine this with its 4 GPM flow rate and you have a total cleaning machine.
This is a three-phase 15 Amps 230 V pressure washer that needs to be hard wired in. It has all the industrial parts including triplex plunger pump with ceramic plungers and stainless steel valves.
If you want the best of the best to help clean everyday this is a great choice.
Best 110 V Single-Phase Electric Wall Mounted Pressure Cleaner
BE Pressure 2 HP, 2.0 GPM, 1,500 PSI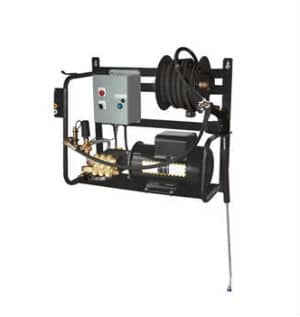 The best value wall mount electric pressure washer comes from BE (Braber Equipment), a Canadian company with origins in the agriculture industry.
This machine comes with a reliable Baldor electric motor and a durable Comet triplex pump – both are well-known and trusted brands.
Also great is the fact this model comes with a sturdy hose reel to make handling and storing the included 3/8″ 50′ steel braided high pressure hose more manageable.
If you want the top value machine on the market this is it.
Sources
Cam Spray product page for their 2000WM/SSM3 machine.
BE Pressure product page for their X-1520FW1COMH model.
---
More from PressureWashr
By now, you have probably heard about the three r's (reduce, reuse, and recycle) that represent the foundation of preserving…