If you're looking for YouTube channels to show you:
Instructional pressure washer repair videos
What the proper technique and detergent is for the surface you're cleaning, or
One of those oddly satisfying videos showing the pressure washer "painting" the surface clean…
…Then you're in the right place because this is your hub for the best YouTube power washing video channels.
Below are the 16 best channels we could find with extensive pressure washer and pressure washing video content.
Keep in mind there are great videos on YouTube from the likes of Briggs & Stratton, Bob Vila and Home Depot on the topic of pressure washing, but the below channels are highly focused and chosen for that reason.
The channels are broken up into 4 categories – jump to them here:
Best YouTube Channels For Pressure Washer Repair, Troubleshooting and Maintenance Videos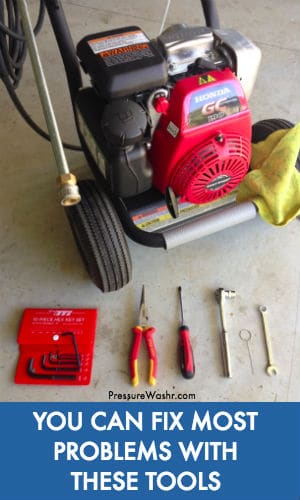 There's countless stories of people throwing out a pressure washer because it pulses between high and low pressure when using. A common problem that can be easily fixed… If you know how.
So the question is: how do you learn how to fix your pressure washer for cheap? And from home with tools you already own…
The answer is YouTube. YouTube has thousands of well put together pressure washer repair videos to help save you time and money getting your power washer back to health.
Here the best ones we could find.
1. Repair Clinic
Subscribers: 175,000+
Total Video Views: 141 milllion+
RepairClinic.com is an e-commerce store with over 3 million replacement parts for sale. They sell power tool parts, home appliance parts, lawn equipment parts, and more.
As a strategy, Repair Clinic has marketed their parts store by providing "how-to repair" content – videos and articles – since they started in 1999. Their videos about repairing and maintaining pressure washers are well produced and informative.
There are over 30 vids – here is a playlist we made:
Our favorite video:
Go to RepairClinic's YouTube page
2. eReplacementParts
Subscribers: 67,000+
Total Video Views: 42 milllion+
Another replacement parts store eReplacementParts.com competes directly with RepairClinic and compete they do. Both websites get between 3-4 million visitors per month. And both have the goal to help people fix things.
eReplacementParts video are less produced with imperfect lighting etc but the content is high quality and easy to follow and understand.
There are nearly 20 vids to watch – here is a playlist we made:
Our favorite video:
Go to eReplacementParts.com channel

Pressure Washing Motivation Channels (That are Oddly Satisfying to Watch)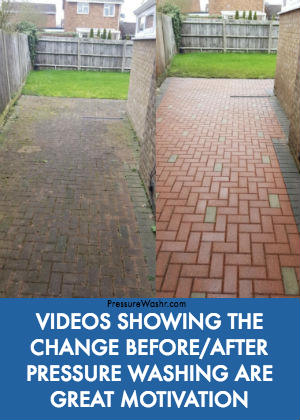 Have you noticed how oddly satisfying it is to watch a pressure washer peel the dirt, algae, debris and mud off a surface?
It's great. Like painting the surface clean with high pressure water.
Whether you've seen one of these vids and are hooked, or have never seen one before, you're in for a treat.
Here are 3 great channels with regular updates of pressure washing motivation:
3. Rossiter Exterior Cleaning
Subscribers: 572
Total Video Views: 125,000+
Rossiter is an exterior cleaning company in Ohio. They use drones to create time lapse videos pressure washing driveways and other large flat surfaces. They also have regular view videos and different compilation ones.
They have 46 videos total for your viewing pleasure:
Our fav vid:
4. Revive Power Washing
Subscribers: 1,068
Total Views: 623,000+
Revive is a power washing company in Pennsylvania, owned by Jon Karmazyn and his wife Michelle. The YouTube channel is for highlighting the work they do and some of their great before/after shots in video form. It works great for them as a promotional outlet showcasing what they can do for your commercial or residential surfaces. Revive does soft washing as well as power washing.
Jon is active in the power washing community associations and organizations being a member of the PWRA and Board Member of the UAMCC.
There are 85 videos so far:
Our fav vid:
5. Pressure Wash Cincinnati
Subscribers: 271
Total Views: 73,000+
The Pressure Wash Cincinnati YouTube channel is run by the ProServe Group, a residential exterior home cleaning business based in the Cincinnati area.
They have a good mix of how-to and motivation videos to help get you started pressure washing the right way.
Check out their 130 videos:
A great video of theirs to check out:
Best Channels To Learn About Pressure Washers and How To Pressure Wash (Beginner Videos)
6. PressureWashr
Subscribers: 32
Total Views: 3,900+
We included our YouTube channel here (despite not having much original content) because we have compiled a bunch of essential videos in playlists. Playlists make it easy to watch a category of pressure washer videos (like pump repair) all in one place without having to keep searching for new videos. And we will continue to make videos and playlists as time goes on so feel it is a valuable resource for you to know about.
There are 5 vids at the moment (lots more coming):
Our best video:
7. Powerwash.com
Subscribers: 4,416
Total Views: 1.22 milllion+
Powerwash.com is an e-commerce store selling pressure washers and accessories. The company was founded in 1973 by Robert Hinderliter and is now run by his son Michael.
Powerwash.com (the online store) is suited more for contractors working in industry as they sell commercial-duty pressure washing equipment and supplies. That said, their youtube channel offers many insights for beginner pressure washers.
With 183 videos up right now you should head over to learn some tips:
Our favorite tips video:
8. Dan's Vlog
Subscribers: 27,190
Total Views: 6.5 million+
Dan's Vlog on YouTube helps people learn how to make money pressure washing or cutting grass on the weekends. He is garbage truck driver that has been earning money pressure washing and cutting grass for over 5 years.
There's reviews of equipment, tips on how-to clean or cut and general business tips for earning money on the side.
There are 445 videos to watch on the channel:
Favorite video:
9. Hotsy Cleaning Systems
Subscribers: 755
Total Views: 522,000+
Hotsy is probably the utmost known brandname in pressure washing in the U.S. as they have been around since 1970. They are now owned by the cleaning equipment giant, Karcher.
With the largest dealer network (175 locations) of any pressure washer manufacturer in North America you can be sure they know their stuff when it comes to pressure washing and the machines that do the work.
They have 48 videos on their channel:
Our favorite video on the channel:
10. Vortexx Pressure Washers
Subscribers: 286
Total Views: 169,000+
Vortexx is a pressure washer maker based in Detroit. They offer machines for contractors and residential prosumer users. All their machines have a custom-built look are of high quality.
There are 34 videos to learn from:
Our favorite vid:
Learn Intermediate and Advanced Pressure Washing Tips From Professionals (And also tips for starting and running a pressure wash biz)
11. Clean Power Wash – Tips
Subscribers: 4,159
Total Views: 1.67 million+
Clean Power Wash is a power washing company located in Salisbury, Maryland. They do residential and commercial exterior maintenance and are part of the UAMCC and PWRA, which shows they are committed to excellence.
Their Youtube.com channel is all about helping new and experienced contractors do a better job more efficiently to make more money and be more successful. Clean Power Wash owner, Rob Anderson, has 12 years experience and expert knowledge.
With 641 videos, the channel has lots to offer:
Our fav vid:
12. First Choice Services
Subs: 4,751
Views: 2.88 million+
These guys are a pressure washing company located in Lexington, Kentucky. They are well known in the industry and are active in associations and organizations industry meetups across the country.
It's one of the most popular pressure washing focused youtube channels with nearly 3 million views. The main focus is how-to advice for contractors and intermediate pressure washing users. There's also videos on repairing pumps, hoses and the other other equipment you'll be using.
There are 210 videos:
A useful vid on replacing o-rings they did:
13. Ron Musgraves
Subs: 1,278
Views: 488,000+
Ron Musgraves has to be the most active member of the pressure washing community. He is a member of and active in the UAMCC, the PWRA and runs a popular industry forum on ProPowerWash.com. He is active in multiple private and public pressure washing groups on Facebook as well. Needless to say: He knows his stuff.
His channel on the tube is great and shares tidbits of knowledge from his vast 30+ year career in the industry.
The channel is 1,124 videos:
Ron has been on Youtube since 2006 – so we thought it would be fun to show one of his first uploads here:
14. Doug Rucker
Doug Rucker is almost as well known in the industry as Ron Musgraves as he runs the Pressure Cleaning School – Teaching people how to start and run a pressure cleaning business. He also runs an e-commerce store for the industry and his own pressure cleaning biz in Houston, Texas called Clean and Green Solutions.
The channel has 94 videos:
Our fav video is a walk around of his company's new truck mounted rig:
15. Pressure Washer TV
Subs: 3,510
Views: 399,000+
Pressure Washer TV has not been active for over a year now but the videos made are still there and still good. With information about how to clean surfaces and what chemicals to use as well as much of other great information. Check it out.
There are 29 videos:
Favorite Video:
16. Dan Swede
Subs: 6,815
Views: 7.8 milllion+
Dan Swede is the head of sales at HydroChem Systems. His youtube channel is chalk full of sales-type videos and also some informative how-to and motivation vids… Really a mixed bag channel to do with power washing.
It has 1647 videos:
His most popular video:
Wrap Up
There you have it.
What we feel are the 16 most useful pressure washer focused channels on YouTube.com.
Hope you enjoy, learn and be safe pressure washing.
---
More from PressureWashr
By now, you have probably heard about the three r's (reduce, reuse, and recycle) that represent the foundation of preserving…