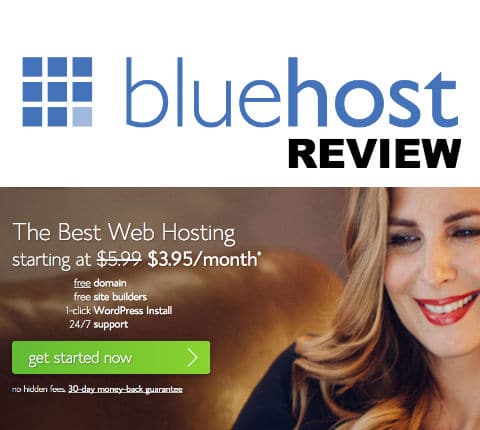 You should know that many hosting company's are top class scammers.
How so you say?
They treat you like a king until you pay then you're just a peasant.
I've run into a few of these company's and I want to help you avoid making that mistake.
BlueHost web hosting company is the best hosting company. I have been using them since July 2011.
They treat you like a king whether you want a refund, want to move your site or simply want to get tech support.
Here I want to give you my honest BlueHost review by telling you about my experience with them, and my experience with other affordable hosting company's. 94% of my sites are with Bluehost now. Including this one: PressureWashr.
Let's dive right in…
I threw my new $2,139 iMac on the tile floor. Almost. I thought better of it.
It was the summer of 2010 in North Western Australia and the air conditioning was busted. It was 41 degrees C (106 F) outside.
And here I was sitting at my computer screen sweating bullets yelling like a madman.
What the heck was I doing?
Setting up my first website hosting. Unfortunately I didn't know about Bluehost yet.
It took me 18 hours to get it up and running that weekend. What. A. Joke.
I mean, seriously, two weeks ago I setup my 28th website with Bluehost and it took me 5 minutes.
After trying hosting with 6 different company's I can now proudly say that 94% of my websites are hosted at Bluehost – including this one.
Let's go into further detail why Bluehost web hosting is the best with my Bluehost review and give you a step-by-step guide so you can setup your website in 5 minutes.
Best Affordable Web Hosting Company
There are 13 different web hosting company's that offer monthly hosting costs less than $5.00.
Of those 13 I have tried these 6:
Bluehost. My favorite affordable web hosting company because they offer premium support and nearly 100% uptime. I have had zero issues with Bluehost. Even when I signed up for a second account they refunded me after I realized I could host multiple domains on 1 account. Bluehost is one of the 20 biggest web hosts on the internet with nearly 2 millions domains hosted. Check out the best price for Bluehost hosting by clicking here.
Hostgator. Hostgator became well known in 2008 when they started offering "unlimited" options. Now they are owned by the same parent company as Bluehost and hosts neraly 9 million domains.
Fat Cow Hosting. Their moto is "Udderly Fantastic Web Hosting" and they offer a $49/year option for the first year. Good option but not at Bluehost level of customer service.
HostMonster. An affordable host with great reputation industry-wide. Located in Utah they provide unlimited disk storage and unlimited number of domains hosting.
eHost. Hosting over 1 million sites eHost offers a very low initial signup fee of only $2.75/month.
GoDaddy. Although the hosting is reliable I'm not a huge fan of GoDaddy the company. Constant up-selling got me to leave this hosting account and move to Bluehost eventually.
Website Hosting Reviews
Bluehost is reviewed, ranked and rated very highly across the internet. Here are the Bluehost ratings from 6 different trusted and respected websites. The point of this chart is to show you that it's not just us at PressureWashr.com that love Bluehost – everyone who tries them never looks back and reviews them favorably.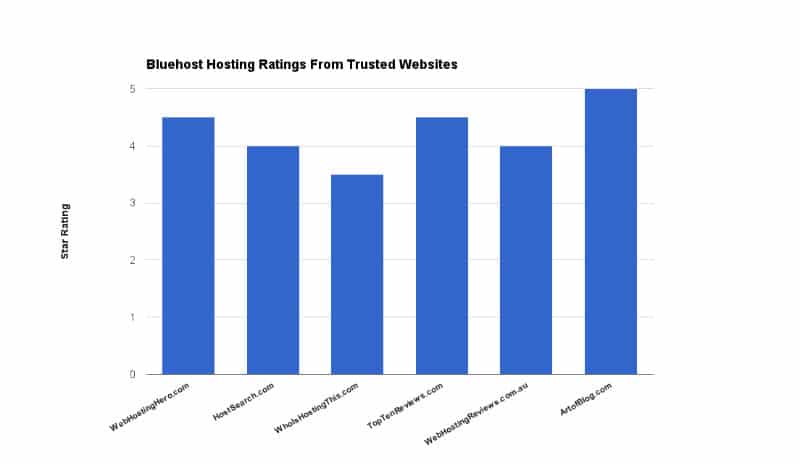 The reviews by WhoIsHostingThis have always helped me.
Some History On Bluehost
Bluehost was started as a company by Matt Heaton in 1996.
Prior to Bluehost Matt owned several different company's, including these in this order:
Computer hardware stores
His own website stats software
A free website hosting service called 50Megs (sold to about.com)
A paid website hosting service called Ocatch
After Ocatch took over Matt and his partners went full throttle into the hosting industry and founded Bluehost.
Bluehost became wildly popular between 1996 and 2010, when it was acquired by Endurance International Group for $100s of millions. Since then Bluehost has improved and improved even more and today they are one of the top 20 website hosting providers in the world.
Bluehost Web Hosting Review
Let me tell you a story.
Back 5 years ago I decided to start a blog about slacking off at work. It was meant to give tips about how to look busy at work – just like how George from Seinfeld mastered "looking busy".
I searched how to do the hosting and GoDaddy kept coming up in the search results so I decided to sign up. The problem was I knew nothing and GoDaddy kept pushing all there services on me as a I tried to get my site live.
I ended up spending way more than I needed to on that initial hosting experience.
A few more websites, a few more hosts, a few more years and I discovered Bluehost.
I found Bluehost after reading a blog post about creating niche websites.
They were cheap and so I decided to give them a crack. My sites sped up, uptime went to nearly 100% and I could now host all my websites within one single Bluehost account. This was a game changer for my side business. Costs are down, sales are up and I'll highly recommend Bluehost to anyone who asks for my opinion on the best hosting provider.
In fact, I've already got 2 family members and 2 friends to host websites on Bluehost as well.
Who is Bluehost For?
Do you have a website idea but don't have a ton of money to get started? Bluehost is for you. They offer hosting for less than the cost of a cup of coffee. And that's for an entire month of hosting.
Do you have a website idea but don't know how to code? Bluehost is for you. They offer a free website builder software solution so you can create your beautiful website by somply dragging and dropping different "image" or "text" boxes to arrange your website.
Do you want real-time advanced customer service in case you can't figure something out? Bluehost is for you. Bluehost has 3 different options for customer service: online chat, email and their knowledge base. I've used the online chat the most and can tell you that you get real-time service that actually works. They helped me when I received a scam email that was pretending to be Bluehost staff telling me to pay or all my sites would be wiped clean.
Bluehost Review – Shared Hosting
There are 3 different options for Bluehost shared hosting: starter, plus and pro.
Starter is $3.49 per month and allows you to host 1 website.
Plus is $5.95 per month and everything is unlimited.
Pro is $13.95 per month and includes a free daily backup service and a secure domain registration (you'll https in stead of http in front of your website url).
I am on the Plus plan because I like the option to host as many different website in my one account as possible.
You can always signup for starter and then upgrade to plus if you end up loving creating websites.
How To Setup Your WordPress Website With Bluehost in 5 Minutes
Let's review how easy it is to get your website up and running.
Step 1: Go to Bluehost.com and click the big button that says get started now.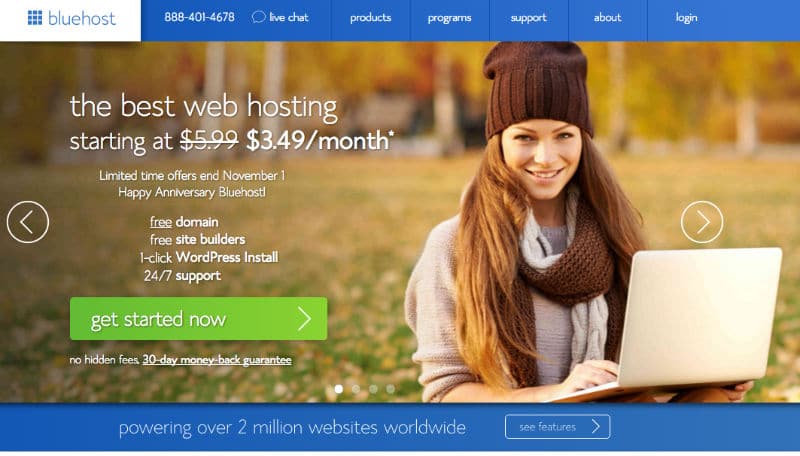 Step 2: Choose your plan.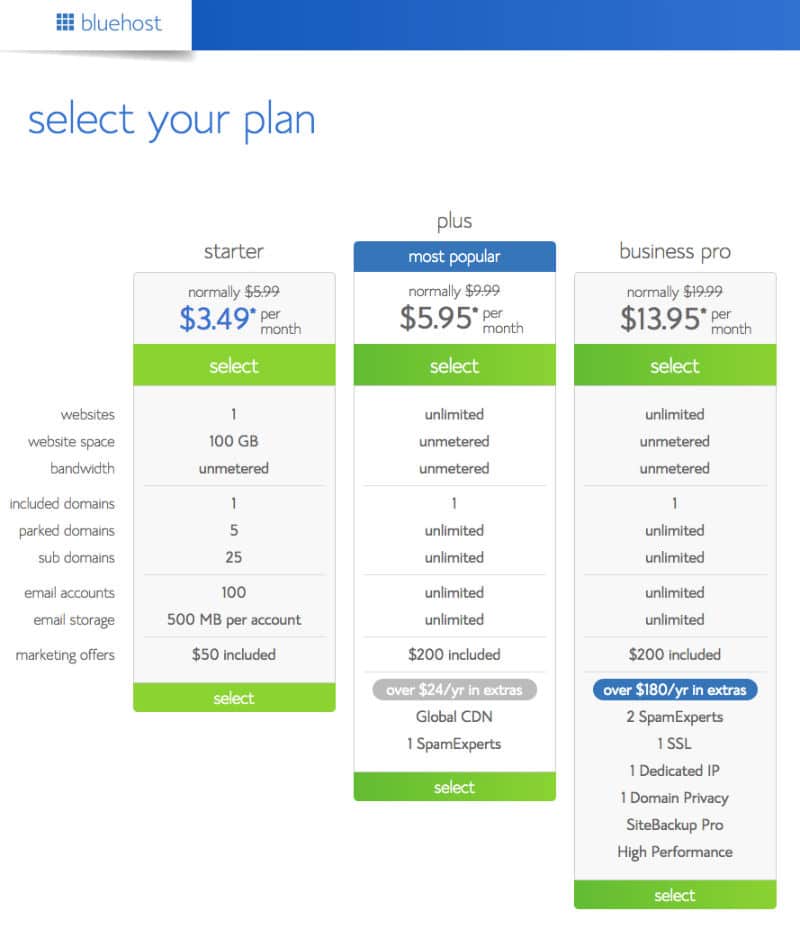 Step 3: Enter your desired domain name.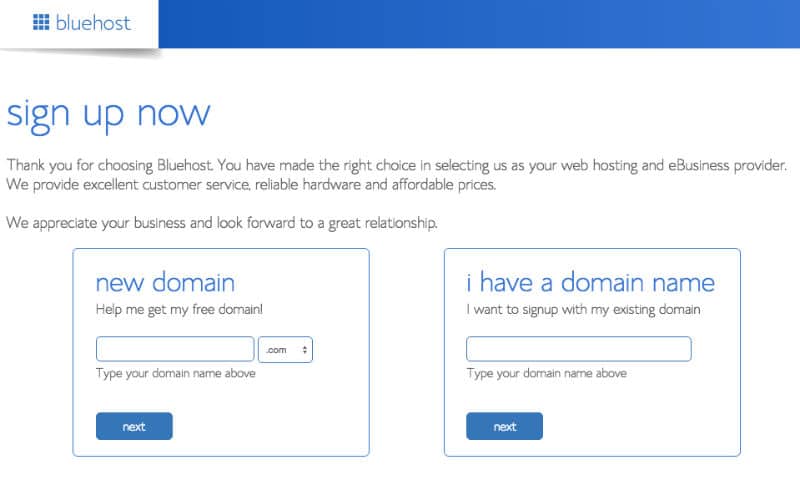 Step 4: Enter your details.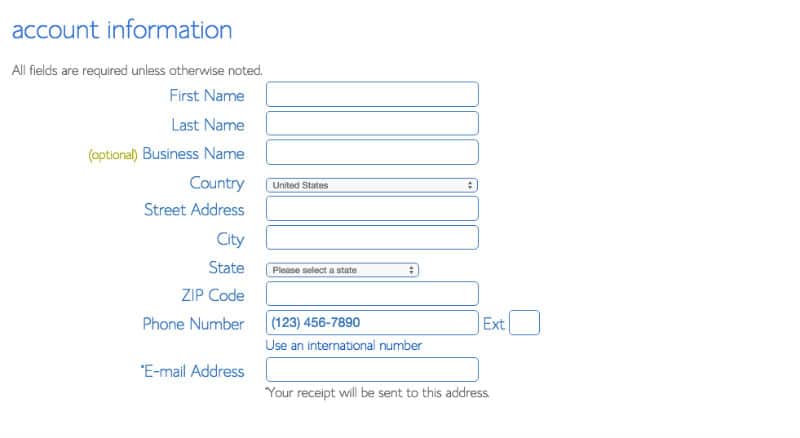 Step 5: Enter your payment details.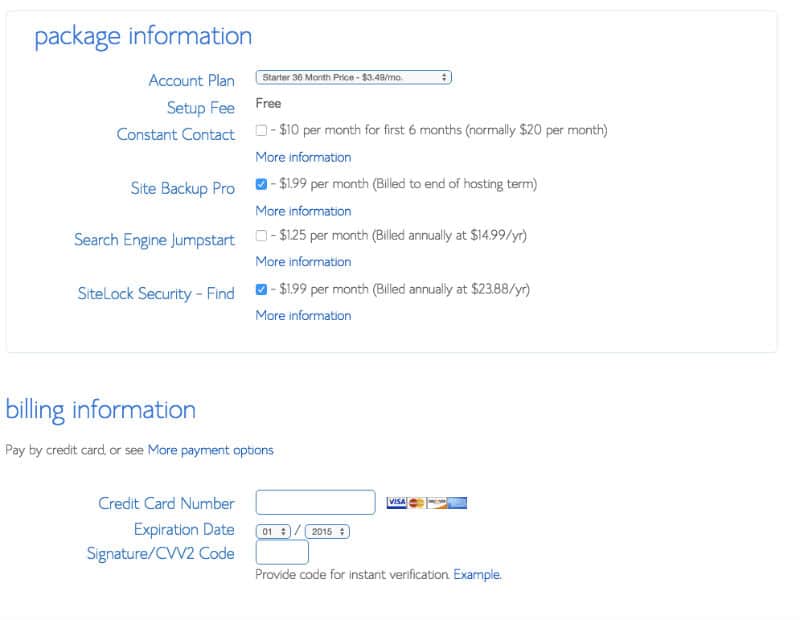 Step 6: Now you will be emailed a username and account login details. Go to your email and grab them.
Step 7: On login to Bluehost you will see this screen. Click on the Install WordPress icon.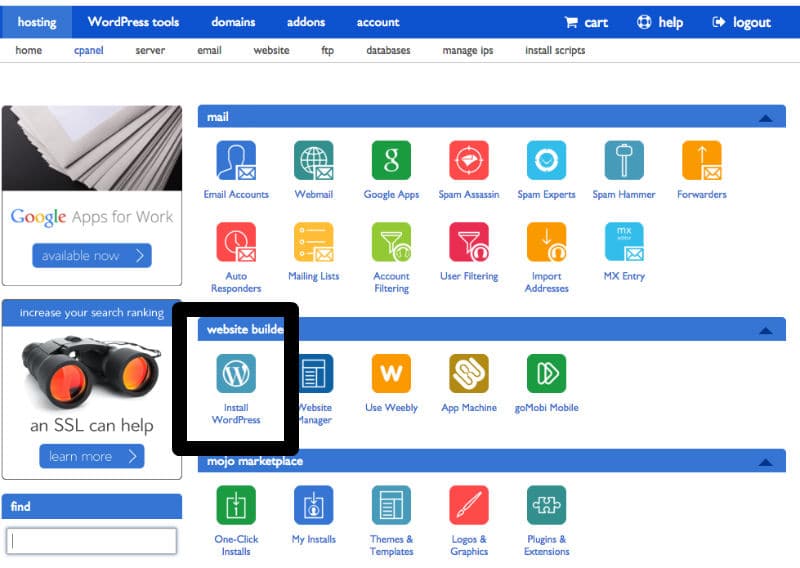 Step 8: Once you press Install button you will then be prompted where you want to install wordpress. Select your domain from the dropdown. Then uncheck all the themes and plugins that it will offer you. Then you are done. Your website will be live in the next minute or so. Log out of your Bluehost account and visit your new website directly.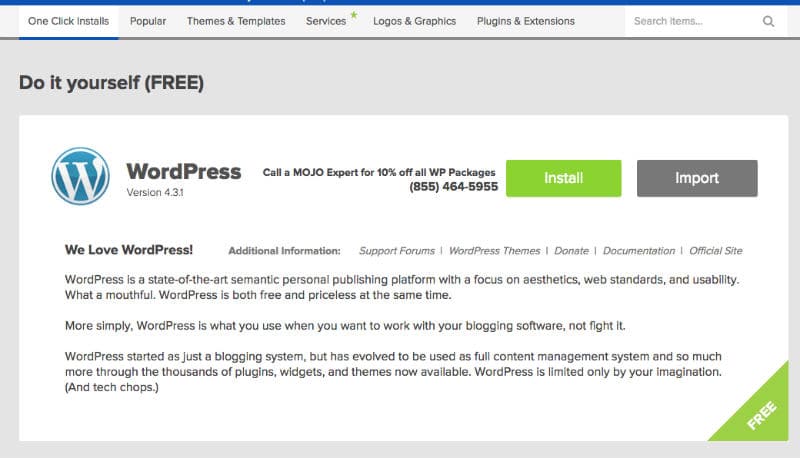 And now you are a website owner. Be sure to tell all your friends about it. Share it on Facebook.
Now That You Have Your Website Up and Running…
Here's 3 Bluehost Tips and Tricks That I've Learned Over The Years:
One Account Only. You only ever need 1 Bluehost web hosting account. Yes, this includes you even if you have 25 websites. You can host unlimited websites on your single $5 per month Bluehost plan. Initially, I started getting a new account for each new website (because I was an idiot). So I was adding tons of unnecessary money to my monthly spend. Once I figured out my dumb move I emailed Bluehost and they gave me a refund immediately and transferred the domain to my original account (this is why I love Bluehost and wanted to write this Bluehost review).
Get Site Backup Pro. Site Backup Pro is about $10 per year and it is an automatic backup of all your websites to the Bluehost servers. If your site somehow gets hacked and erased – no worries. Bluehost will have a full daily backup on their servers that you can literally put your website back live with the click of a button. Thankfully, I have never had to use this. But you can be damn sure I pay the money for the insurance.
Use WordPress. WordPress is like Microsoft Power Point for websites. It allows you to just login and create your website as if you were creating slides in Power Point. You don't need to code. You just need to create. WordPress is free. WordPress is used on 25% of all websites today. That is just mind blowing. But once you use it you realize why so many people use it – it be so easy to install and use. Why waste time with anything other than writing and creating useful information on your website?
5 Best Ways To Start Making Money Off Your Website. That's The Plan Right – To Make Money?
Sell Someone Else's Product or Service. You can turn your website into a sales machine by helping someone else sell their product or service for a commission. Amazon has an affiliate program. So does Home Depot. Also, go checkout Clickbank.com to find some digital e-book products related to your website. You can review these products and recommend the good ones to your website readers.
Sell Your Own Product or Service. Once you have a bunch of traffic to your website you can sell your own product or service to your reader. What should you sell? Well, ask your readers. Do a survey and then try to be creative and create a product that they already want. Then get others to review it and help sell it for you, as well.
Ads. Google AdSense is a popular way to make money on website. All you do is signup and then place some code in your WordPress and when your website visitors click on the ads you make a little money.
Sell Leads. Depending on what your Bluehost hosted website is about you can sell leads to local businesses. Let's say you have a blog about boating. You tell stories of your fishing and your motor repairs and your fishing rods and that sort of thing. Well, some people that find and like your stories might become interested in buying a boat. What you do is target those people as sales prospects and recommend a boat financing company and a boat sales company. Be sure to setup a leads based agreement with the boat company's to ensure you aren't just giving them free leads.
Sponsorships and Donations. This one is simple. You ask people for money. This is what Wikipedia does and it seems to work for them.
Anyways, that's my Bluehost review. I hope that you found it useful and can get started making money with your website very soon.
Best!
(The links to bluehost on this bluehost review page are affiliate links. I make a commission if you signup for Bluehost from one of the links. I am comfortable recommending them because I use them and have been for nearly 4 years.)