Today you're going to learn everything there is to know about Dirt Killer pressure washers.
Including:
Who makes them
If you should buy a Dirt Killer pressure washer and which are the best models.
Sound good?
Okay let's get started.
3 Best Dirk Killer Gas Pressure Washers
All Dirt Killer pressure washers have 3 things in common:
Honda GX-LX (2:1 gear reduced) engine
Kranzle pump
Sold online at DirtKiller.com
So before getting into the best pressure washers they have to offer let's look at the benefits of their most important pieces of equipment: engine and pump.
Benefits of Honda GX Commercial-duty Small Engines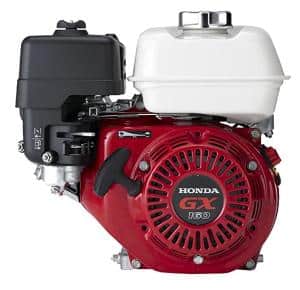 We all know and love the Honda brand for small engines, but what exactly makes a GX version commercial quality?
Let's take a look:
Cylinder sleeve. The GX grade Honda's use cast iron instead of aluminium.
OHC/OHV. The GX is OHV design which has both pros and cons when compared to OHC. For one it is more compact allowing more power in a comparatively smaller package and since we are talking about a portable pressure washer – we want high power to weight ratio.
Low oil protection. When it senses low oil it will automatically shutoff to protect the engine.
Fuel shutoff. You can run all the fuel out of the system to allow easier carb removal and longterm storage.
On/off switch. Instead of having the on/off designed into the throttle control the GX has a dedicated switch.
Materials used. Plastic vs steel in some areas of the engine including the gas tank.
3-year warranty. All the GX engines have a 3-year warranty from Honda for commercial or private use. The GC model is 2 years private or 90 days commercial.
Do you know the The Best DeWalt Power Washer?
Benefits of Kranzle Pumps for Pressure Washers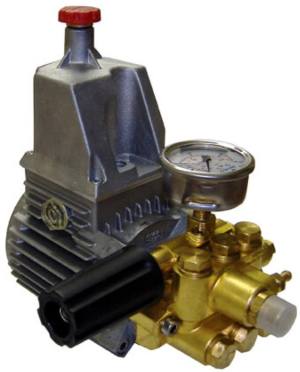 The Kranzle pumps used in the Dirt Killer gas pressure washers are industrial-grade with a 10-year warranty. They offer some unique advantages over other common pump brands (CAT, General Pump, AR Blue Clean) used in pressure washers.
Here are some of the benefits they offer:
Can run dry or in bypass for hours. Kranzle pumps have stainless steel oversize plungers with ceramic coating only where the stationary pump seals are. This allows it to transfer heat to the oil bath extremely well. Normal pressure washer pumps use all ceramic plungers which do not transfer heat good causing both the water and the pump head to get too hot in bypass.
German precision manufacturing. All pumps are manufactured and assembled in Germany under the Kranzle company strict quality control guidelines. This allows Kranzle to use their high-tech CNC machines to ensure every part is 100% matching the design specifications.
Corrosion proof. Stainless steel and special brass construction of everything that comes in contact with water inside the pump allows it to be corrosion proof.
Stainless steel manometer. To help with any troubleshooting that may come up in the system a pressure gauge is fitted to each pump.
Can suck water from tank or pond or even the ocean. Yes, you read that right. You can be on your fishing boat and using the pressure washer out in the bay to clean crab pots sucking water from the ocean. The pumps is self priming with 15-ft of head and since it has only stainless steel and special brass parts internally you can use salt water.
Most Affordable Dirt Killer Gas Pressure Washer
Dirt Killer H357 3,000 PSI 2.5 GPM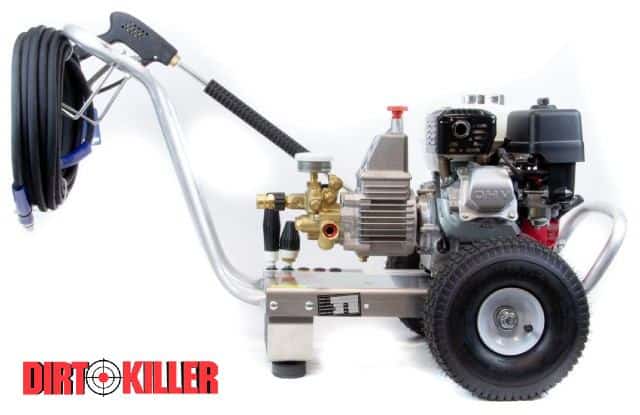 The most affordable Dirt Killer pressure washer is this 3,000 PSI and 2.5 GPM commercial-duty workhorse.
It is currently on special for $1995 at DirtKiller.com and comes with a Honda GX160 engine powering a Kranzle industrial-grade APG15 wobble plate pump. The APG15 tells us it has 15mm plungers.
Can you trust the Dirt Killer brand?
Yes.
Dirt Killer has been around since 1993 servicing the Maryland area and now ships their products nationwide.
They are also the master distributor in the USA of the Kranzle brand.
For both these reasons, they are very well-known in the industry for their commitment to quality and client service.
So if you're in the market for an affordable-for-commercial-quality pressure washer then click the link to head on over to DirtKiller.com shop.
Best Dirt Killer for Starting a Pressure Washing Business
Dirt Killer H360 3,500 PSI 4.2 GPM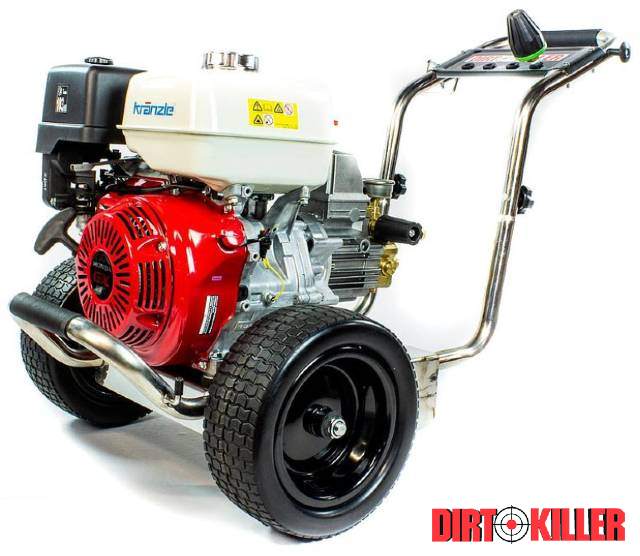 This pressure washer has 2x the cleaning power of the model above and costs 1.7x more. It has a GX390 Honda engine and the Kranzle AQ pump (20mm plungers).
The main qualities you want in a pressure washer to start and maintain your pressure washing business is durability, reliability and high GPM. And this machine has all those – especially for a portable non-skid mounted style. The combination of the GX engine and Kranzle AQ pump and 4.2 GPM should give you confidence in the money making ability of your business without worrying if you'll show for a job and it won't work.
Even though not pictured it does come with:
50-foot steel wire braided industrial hose with quick connects attached
Professional trigger gun and 36-inch steel lance – again with quick connect fittings all out-of-the-box
Pressure gauge
Dirt Killer turbo nozzle and standard 4 other nozzles
Chemical injector with quick connects
Also you should know this model can come with a handle mounted hose reel for an extra $125.
Best Dirt Killer Hot Water Pressure Washer
Dirt Killer Fahrenheit 13 2,700 PSI 5.3 GPM w/ Diesel Heating Coil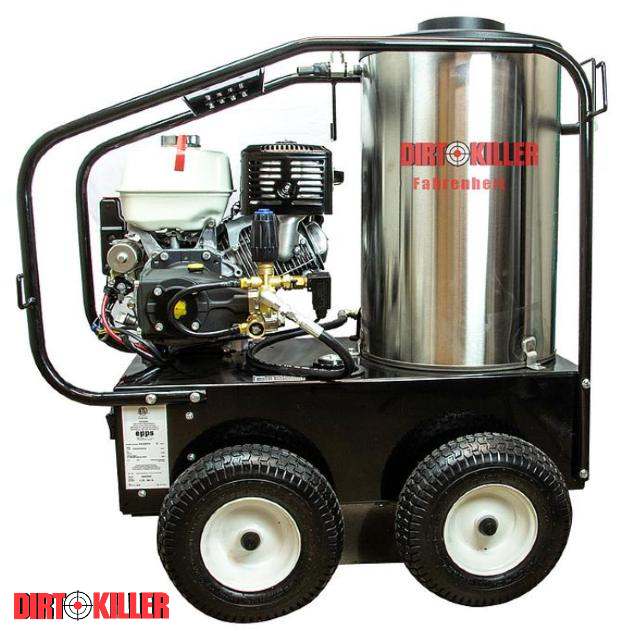 We've talked about the benefits of hot water for cleaning plenty before but let's do it again here.
When cleaning anything the two most important factors are soap and hot water. Soap attracts and binds to the dirt and grime and hot water excites all the molecules bouncing everything off the surface and into the stream of water to flow away. Add in high PSI and high GPM and you have the ultimate cleaning machine.
And that's what we have here: The Fahrenheit 13 hot water pressure washer is the ultimate cleaner. There will be no cleaning task it can't handle – from restaurant hood cleaning to McDonalds' dumpsters – all easy work.
It has a Honda GX390 engine and General Pump brand crankshaft pump to give you 5.3 GPM and 2,700 PSI.
The diesel burner raises the input water 125 degrees F (52 degrees C). So if you input room temp water you'll get out not boiling water but very hot water – much hotter than comes out of any home tap.
With all this cleaning power comes a hefty price tag, but if you own a business that relies on quick cleaning turnaround this will do the quickest and most effective clean.
Does DirtKiller.com Sell Pressure Washer Accessories?
The DirtKiller.com online shop sells third-party accessories of the highest quality.
For example, they have:
9 different surface cleaners. All the highest-rated ones by industry pros.
15 different high pressure hoses of varying lengths brands and PSI ratings. See them all here…
3 hose reels to match your hose length.
They also have water tanks, telescoping wands, trigger guns, fittings, maintenance stuff and everything else a professional or prosumer pressure washer would need.
Check out all their accessories here…
Dirt Killer, Inc.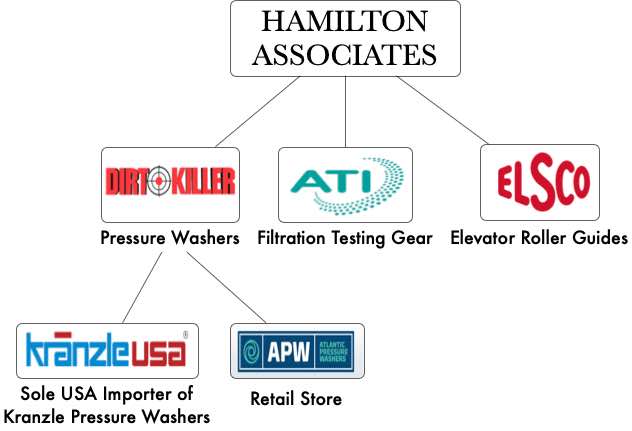 Here's a chart showing Dirt Killer, Inc. parent, sister and child companies:
Hamilton Associates
The umbrella company of Dirt Killer and its sister companies Air Techniques International (ATI) and Elevator Safety Company (ELSCO).
It is a private company and owned by the Hamilton family. Douglas Hamilton is currently the CEO.
Dirt Killer
There's not much online about the founding of Dirt Killer, but it is known it was started in 1993 in Maryland to manufacture commercial pressure washers and to be the sole USA importer of German-made Kranzle pressure washers. It fills the same purpose today and although it has grown they still stick by their founding principles of trying to achieve 'pressure washer perfection'.
KranzleUSA
The subsidiary company that controls and manages the Kranzle importing business. KranzleUSA is the master importer and first port of call for all Kranzle's in the USA. If you buy one from another e-commerce store online – it was distributed there from Dirt Killer, Inc.
Atlantic Pressure Washers
The retail arm provides in-store shopping and also pressure washer repair services. If you want a Dirt Killer machine but want to touch and feel it before buying you'll have to head to Linthicum Heights, Maryland where the physical store is located.
Atlantic Pressure Washers has been around since 1990 pre-dating the rest by 3 years.
Frequently Asked Questions About the DirtKiller.com Online Shop
What's their return policy?
Select items have a 30 day money back guarantee. To know which items do simply go to that page and it will be under the title of the product.
What's their warranty?
All items have a manufacturer warranty for their specific parts. For example, the Honda engines come with a Honda 3-year warranty. Kranzle pumps come with a 10-year warranty on the pump manifold. Dirt Killer has their own 1-year warranty for manufacturing defects.
Is the website secure?
Yes, the website is secured using a hypertext transfer protocol secure (HTTPS) certificate. It is the most common way for a website to secure communication over a computer network. All websites from Amazon.com to Apple.com use this form of security.
Sources:
---
More from PressureWashr
By now, you have probably heard about the three r's (reduce, reuse, and recycle) that represent the foundation of preserving…