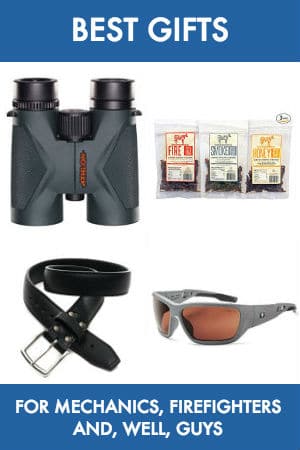 We went through and reviewed this list and made a few changes for December 2020. Enjoy.
You know what gifts firefighters and mechanics want?
Useful ones…
Not mechanic or firefighter tools… But a gift they will use in everyday life, which includes home, gym, park, lake and everywhere in between.
Here's the deal:
My 2 best friends are a mechanic and fireman and we recently spent 3 hours going through all these types of lists:
Gift ideas for guys who have everything
Best gifts for mechanics, and
Best gifts for firefighters.
You know the lists… Gimmicky coffee mugs, slogan tee shirts and weird bottle openers… These lists mostly suck…
So we created a better gift ideas for firefighters and mechanics list and hope you love it.
Spend minutes not hours finding the best gift for your mechanic or firefighter loved-one, friend, sibling or dad who happens to be a guy that seems to already have everything.
What to expect in this list of gifts?
A wide range of gifts so you can find the perfect one for the person you're buying for
33 gift ideas ranging in price from $5 to $3,000 with a focus on usability and interesting
Reason why the gift is good and a suggestion of the best make and model to buy and where.
Keep in mind these are ideas and not every mechanic and firefighter will find them useful so use your discretion and find the best gift for your person.
33 Best Gifts For Mechanics, Firefighters and, Well, Guys
1. Stylish safety sunglasses they'll also want to wear on the weekends.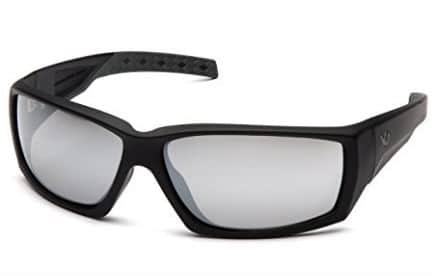 I always found it annoying having to own 3 pairs of eye protection: Clears for indoors, dark safety sunglasses for outdoors and polarized regular use sunglasses for at home.
Then I found a pair to do all 3 tasks – and they looked damn good.
No longer did I have to carry the ones I wasn't wearing in my shirt pocket and then have another waiting in the car for afterwork events like Friday beers – I had a 3-in-1 pair.
Their is no doubt these pair of indoor / outdoor nice looking safety glasses will impress your guy.
2. High quality pen and notepads so they remember stuff and don't have to write on their arms.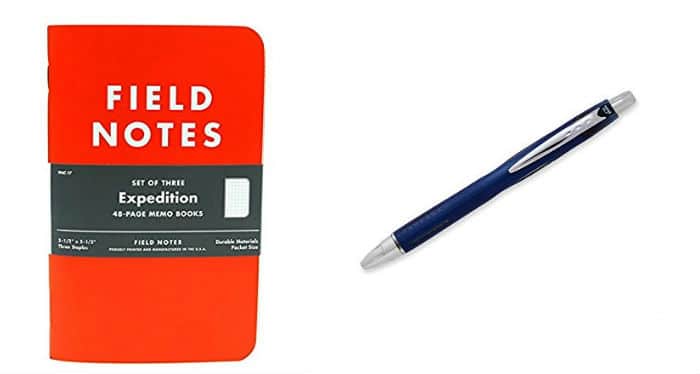 A popular notebook brand called FieldNotes says this on their website: "I'm not writing it down to remember it later, I'm writing it down to remember it now."
I really like to carry a good notepad and pen for this reason. The act of writing helps remember now (and the ink left on the paper helps for later too!)
What are the 3 Best Father's Day Pressure Washer Gifts For Your Dad's 2021 Cleaning Needs?
3. Get them high quality socks (and underwear) because they avoid buying them and will no doubt enjoy them.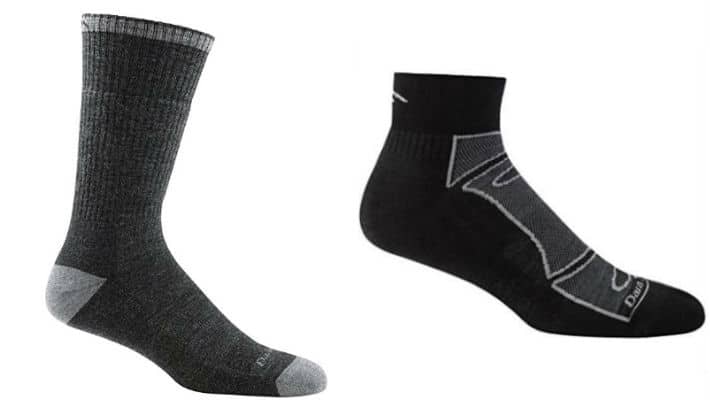 You should not think buying high quality socks and underwear is boring or weird – it's appreciated. Socks add warmth in the winter, comfort in steel toes and padding for the feet when standing most of the day. High quality underwear will last longer and is more comfortable because it is made with great material.
4. Gift your mechanic or firefighter cash (or gift cards) so they can pick out what they want. Use a card if you think the cash isn't thoughtful enough.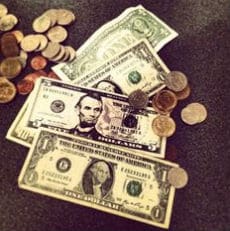 The taboo of a cash gift is stupid. It has more use than any other gift. When you gift cash or gifts cards you are telling your mechanic, firefighter or guy who seems to have everything to decide on his own gift.
Both my buddies (who helped me choose this list and are a mechanic and firefighter) said cash is a top 3 possible gift. And for gift cards go for a grocery or liquor store instead of Best Buy.
5. Save them time, effort and help make washing their car, driveway and gutters fun by giving them a pressure washer for around home.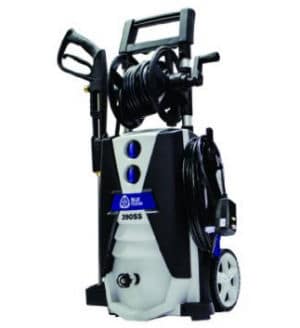 I recommend an electric pressure washer for around the home weekend and seasonal jobs like cleaning the car, fence, gutters, driveway and back patio. It uses less water than a garden hose because it shoots water through a tiny nozzle to create the needed force to remove grease and grime from the surface.
Both my neighbours own one and use it all the time to clear the driveway of leaves and branches after a storm and to wash their work truck every Friday afternoon.
A pressure washer gift is surprising, thoughtful and around $180 for many years of back saving use.
6. A high quality everyday carry flashlight will help them see in tight spaces: Plugging in cables to the back of the TV, turning the breaker switch after a power outage and or avoiding trip hazards taking a pee in the middle of night while camping.

A cool everyday carry size flashlight is a must have for any guy – even if they don't carry it 100% the time the option is there. How often do you find yourself using your phone flashlight? A tactical flashlight is much easier to use (not having to put in code and navigate to flashlight button) and much brighter. It can also be used as a jabbing weapon if needed.
7. A nice looking affordable watch suitable for work and after work.
Take a look: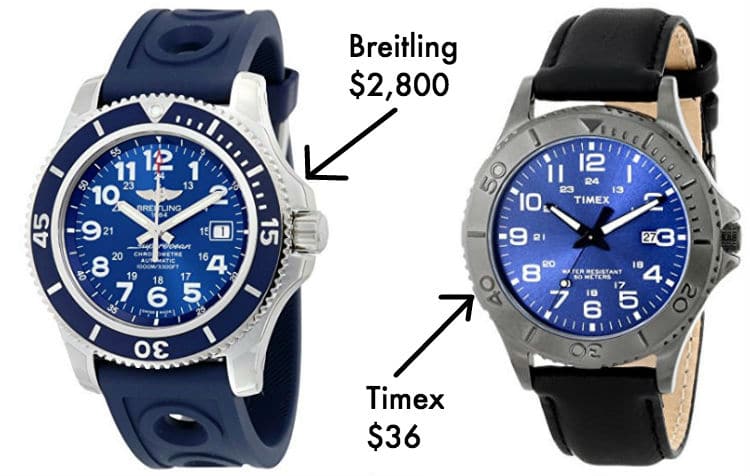 Pretty similar looking watches, yeah? One costs as much as a family holiday and one is similar to a tank of gas. I sent the above image without the costs to a few people and most thought both watches were in the $350 to $750 range. The point is you can probably afford gifting an impressive watch. Here's a big album guide of affordable alternatives to expensive watches.
8. A nice leather belt to last many years of abuse.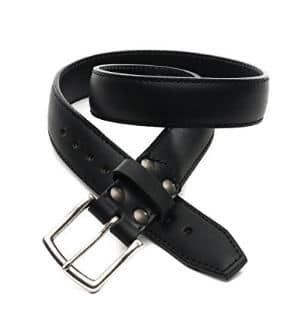 For many years I bought nothing but $15 "leather" belts from K-Mart type stores. They lasted a few months – maybe 6 – and I went back and bought another.
No big deal….
Then I decided to spent $90 on a nice 1″ wide brown premium leather belt. And guess what. That was 9 years ago and I still use it almost every day. Here's what it looks like after 9 years of near daily use. I now also own a more dressy slimmer black belt of the same quality. I absolutely love them and would never buy cheap again.
A nice leather belt will cost close to $100 but will last a lifetime. The one shown is recommended, and made by Saddleback Leather – it comes with a 100 year warranty.
9. Gift them a bottle of whiskey they wouldn't normally splurge on.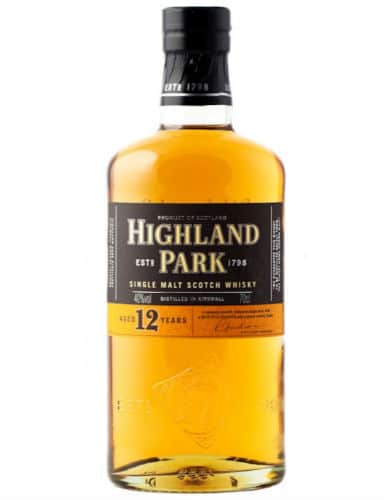 Guys prefer the liquid that goes in the cup as the gift – not the cup or whiskey stone. If they drink whiskey get them some whiskey. If they don't: Get them some unique beer from Belgium or Czech Republic.
If it's whiskey then go for the Highland Park 12-year old… It's under $50 at most stores and is beautiful inside and out.
Find at your local liquor store…
10. A durable duffel bag is infinitely useful and a great gift for mechanics, firefighters and guys in general.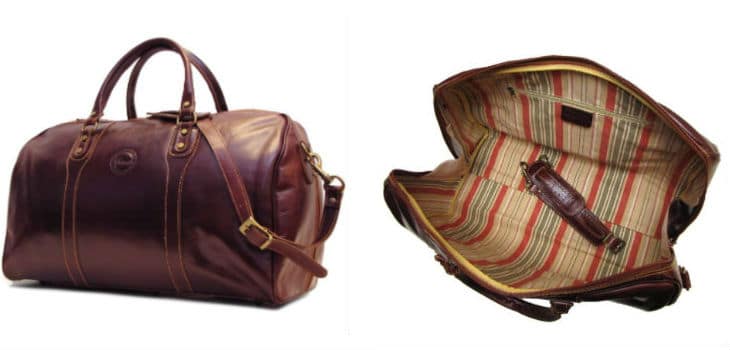 Duffel bags worth gifting are $75 to $1,000+ (the one shown here – Cenzo Duffle Vecchio Brown – is $200). No joke the single best gift I ever received was a high quality leather overnight duffel bag. At first I used it as my main travel bag because I went on frequent short trips and love bringing just barely enough stuff. Now I travel less but still use the bag all the time… I've even seen the more hardy ones being used by mechanics as tool bags on construction sites.
11. Nice comfortable desk/office/shop chair.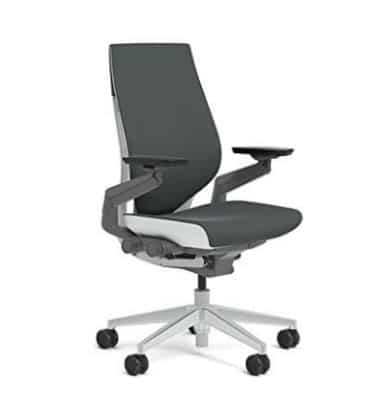 Now don't jump to conclusions on this one. My buddies insisted that both at home and at work a comfortable desk chair would be a welcome upgrade to their current setup.
12. Durable radio that is dust proof, water resistant and actually has good sound for around the shop, at home and while at the lake.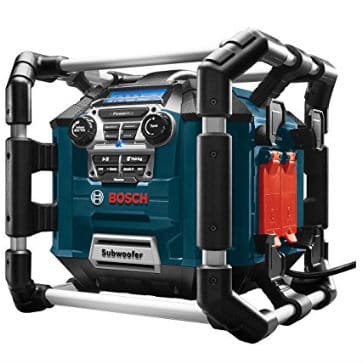 A good work radio needs to have Bluetooth, be MP3 compatible and have USB charging at a minimum. This one has all that and much more including subwoofer, 360-degree sound, 2 electric outlets and impressive heavy-duty roll cage (you can chuck this thing around without worry). There are many different options for a durable radio and they range in price from $35 up to $200 so find the right one at your price range and your guy will love it.
13. A fireproof, decent size home safe to rest easy knowing the valuables are safe next time away on vacation.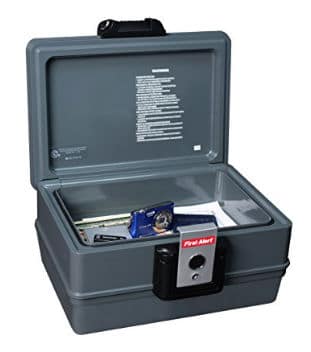 Every guy has something worth storing in a safe. Whether passports, cash for a rainy day or an inherited watch. And it's not everyday you expect a safe as a gift. The one shown is compact and can fit a good amount of documents and other belongings. It's the most popular one on Amazon right now and is less than $40.
14. Camping gear: Zippo lighter, mosquito repellant bracelet and or hatchet will all make the trip better.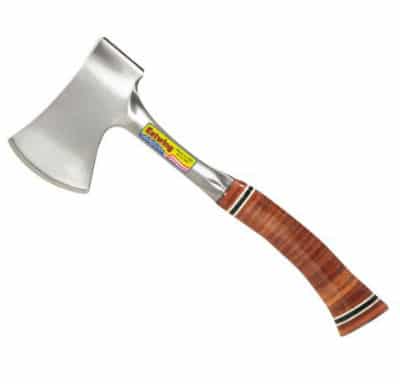 Zippo lighter is like a swiss army knife: Even if you never use it it's still nice to own. A mosquito repellant bracelet is a no brainer – a useful affordable gift that everyone wishes they owned sooner. And a hatchet is a cool gift that every camper or outdoorsman will find a use for.
15. A jacket that isn't too thick because most guys already own a winter jacket but not a good soft shell for spring rain and summer camping.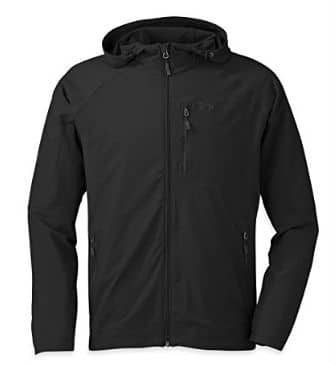 No matter where you live a good light jacket is great to own. This one is lightweight and uninsulated making it ideal for active use outdoors. It's the perfect jacket to take on holidays as well because it doesn't take up mech space.
16. A functional, great looking, collared shirt suitable for all occasions from Saturday afternoon BBQ at the park to Sunday dinner out at a fancy restaurant.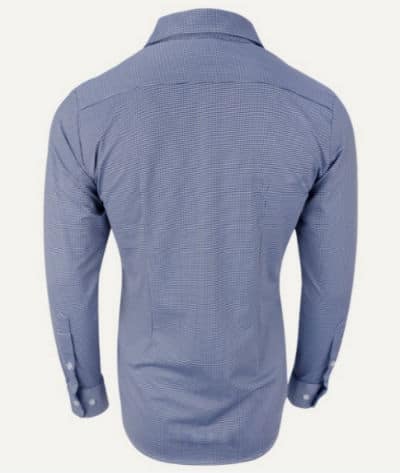 Mizzen + Main is my personal favorite brand for the type of shirt I'm talking about. Their shirts are perfect to take if you've only got room for one nice shirt. The shirts are moisture wicking, have a nice stretch factor and are machine washable all while looking stylish with a slim fit. All this is achieved with a material mix of: 46% nylon (strong and wrinkle resistant), 46% lycra (very stretchy, strong, rubberlike) and 8% polyester (moisture wicking). Be sure to consider this gift as it is a must own even if they never dress up.
17. Good headphones with studio quality sound that won't fall out when moving around and exercising.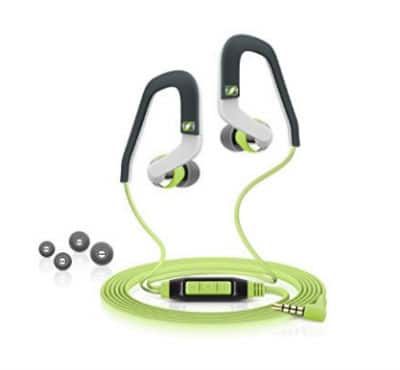 I only use headphones for 3 things: Movies on the plane, public transport and while mountain biking. For many years I settled with the white Apple headphones (even though they always fell out with the slightest movement). Did I ever regret not getting a good pair purpose built for how I use them earlier. I bought a pair of in-ear headphone that also have a thin wrap around the ear for holding them on even when on bumpy trails mountain biking. I still sometimes use my stock white ear buds but only if sitting still.
18. Here's an interesting and unique gift we came across: Good binoculars or hobbyist telescope. Does your mechanic / firefighter go hiking, sailing or enjoy having a closeup view of the world and beyond?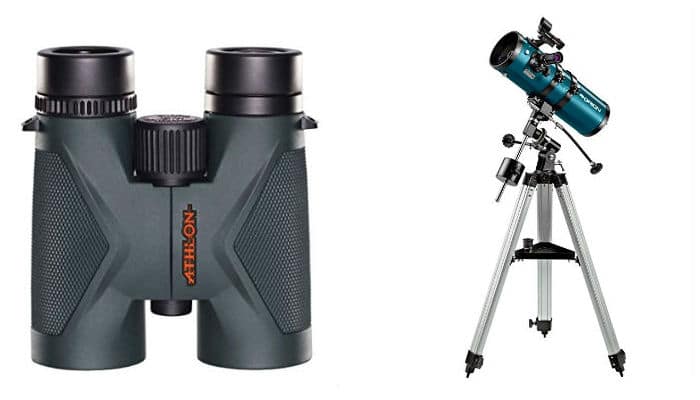 A nice pair of binoculars is something you own for many years and then give them to your grandkids – they last for ages. And they are darn fun to use in wide open places. It's a gift worth considering. The pair above are recommended by The Wirecutter so they're a good bet.
19. High quality polyurethane garden hose so they avoid punching a hole in the wall next time they have to unkink their $15 crap hose.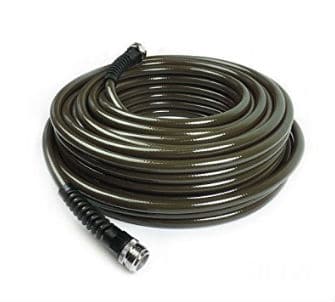 A premium garden hose is a great gift because every guy could use an upgrade to their crappy plastic hose. It's one of those didn't know you needed it till you use it type of gifts.
20. A course or class: Beer brewing, cooking, sailing, flying or archery are all interesting ideas.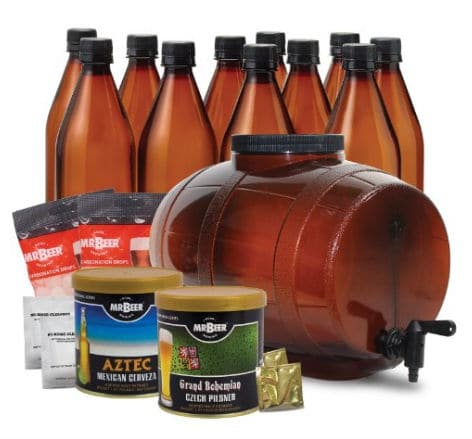 Why not give the gift of knowledge and figure out a course they'll love and force them to take it by giving it to them? Sure, you can learn to brew beer on your own (starter kit above is only $40) but why not start right and learn from a pro?
21. Hunt down some coffee they wouldn't normally appreciate.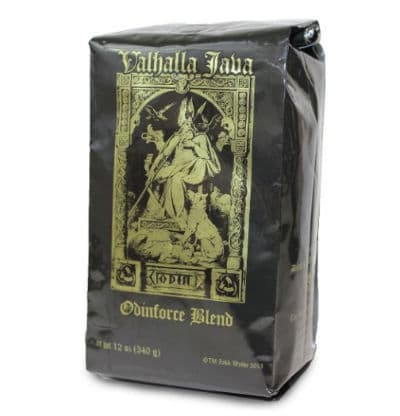 It doesn't have to be expensive. But it should be unique and have a cool story behind it. Like I mentioned in the whiskey idea – get the liquid not the cup it goes into.
22. Glow in the dark USB cable and or USB battery pack charger are unique and useful gifts guaranteed to surprise.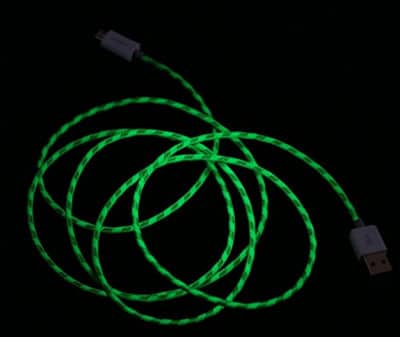 Very affordable and useful, a glow in the dark USB cable is something you didn't know you needed till you use it. Easily find it to plug your phone in before going to bed.
23. Tickets to an event: Concert, sports, comedy….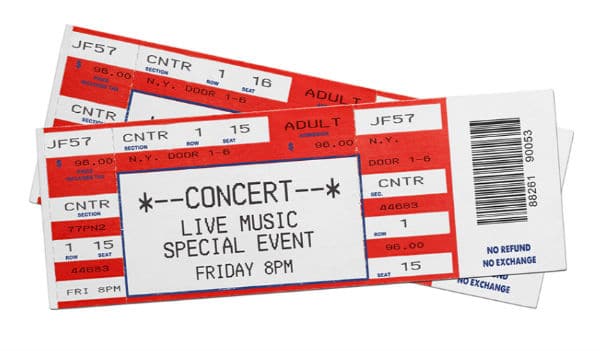 Find a local event happening soon and buy them tickets to it. Live music, comedy or a sporting event are all good ideas.
24. Drone or remote control helicopter because only kids fly kites.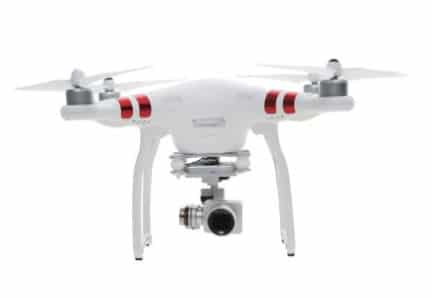 You can now get drone quad copters for $49. They're fun to play around with at the park and if you own a GoPro or similar camera you can make some awesome video. The one shown is a more expensive options and goes for $500+.
25. Some of the best steaks you can find. Head online and search for a local farm that delivers weekly. Order your mechanic or firefighter a good assortment of good quality local grass fed beef.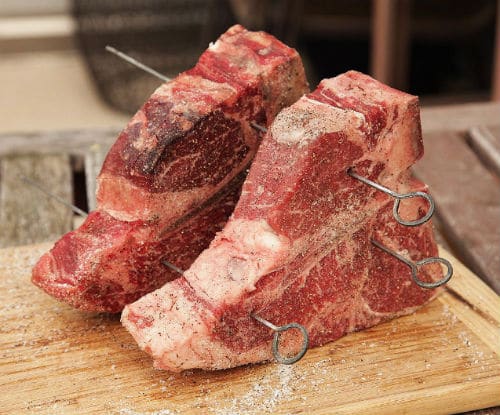 In the same vein as whiskey and coffee, gifting something eaten is a great option. And what better thing to eat than a good assortment of great local beef? They might even let you have some…
Ask around for a good butcher or a local farm that delivers…
26. Selection of beef jerky or a monthly jerky delivery subscription. No snack is better than great jerky.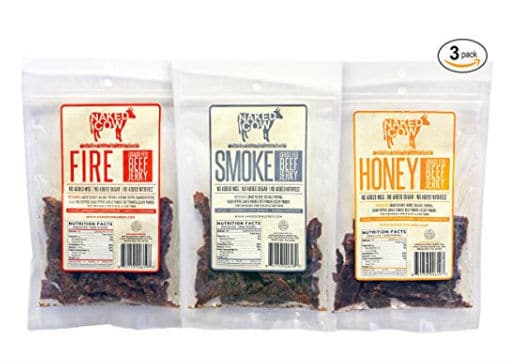 My mechanic and fireman buddy's wanted me to put this gift idea up at #1… They said there is no better gift than a huge box of different jerky packs. They both agreed on 10 – 15 new packs a month being the ideal (if it's a subscription gift).
27. Quality chef's knife they are bound to use but would never buy themselves.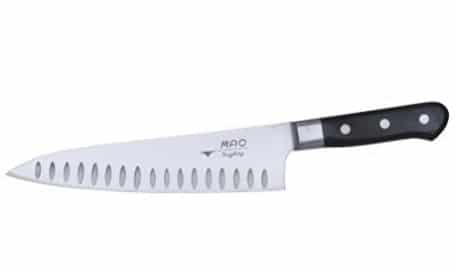 A good chef's knife is as essential as a pair of jeans and a nice leather belt in every man's arsenal. A good chef's knife will help impress whether cooking steaks or a full curry. This one is perfect size and weight to be the go to knife in any kitchen.
28. New wallet. Wallets are tough buys. Most guys are *very* particular about the type, style and function of their wallet – a huge gift win if you get it right.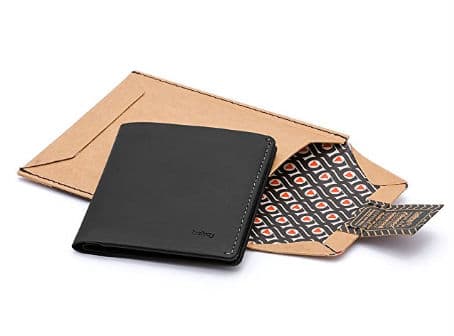 I've never heard a guy say, "I wish my wallet was thicker and bulkier." Every guy is on a life long pursuit to thin their wallet and have it as empty as possible. This wallet by Bellroy is as thin as you can get while still having the fold over. It fits 11 cards, cash and coins – more than enough for anyone.
29. An extremely useful to a small portion of guys gift is a smartphone tripod mount. A game changer if you know your person owns and uses a tripod for photography.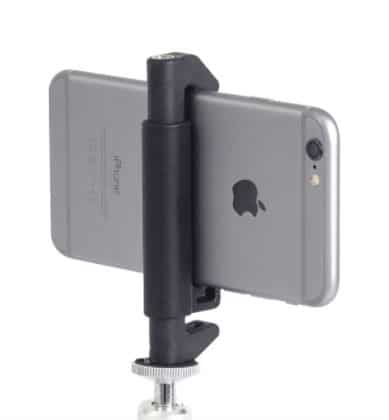 Use your judgement. Does your mechanic or fireman friend, dad, partner or brother do photography? If yes, and if they use a tripod they would surely love this smartphone tripod mount accessory. It's $35 and can also be used to prop up a phone to watch a video while eating breakfast.
30. Nice varying-size cooler set for lunch, tailgating and camping trips. Another boring gift that will be appreciated for many years to come.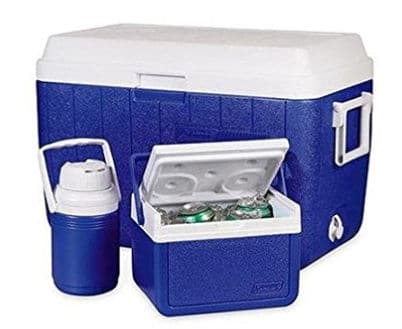 A good set of coolers is not your usual gift suggestion but one that deserves some respect. It's useful and will last almost forever (my parents have owned the same cooler set for 20 years). I recommend buying the set since short day trips will only require the smaller one and you can always find a set alongside the single buy option for not much more.
31. Briefcase-size electric generator or small solar generator to make tailgating, camping and power outages more enjoyable.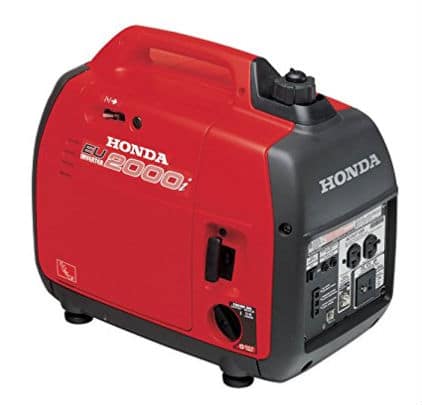 The most expensive gift idea on this list is this inverter generator by Honda Power Equipment. It is perfect for tailgating, camping and around the house to provide enough electric power for lights, music, phone and laptop charging, electric blanket and much more. With 1,600 running watts it won't power a dryer but it will power essentials like charging up a small battery fridge. It's around $1,000 and can run for 8 hours at 1/4 load off less than a gallon of gas.
32. Leatherman multi tool. Yes, kind of cliche as a 'guy-gift' but still useful and fun to own.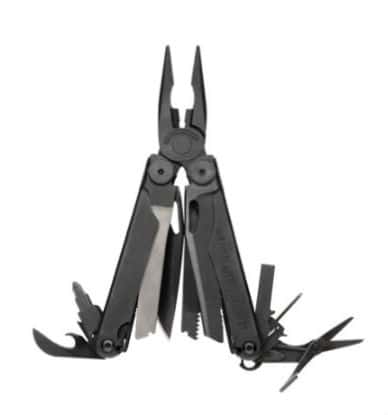 Leatherman makes the most popular multitools and for good reason: They're well made and have just the right tools within. You can't go wrong with a multitool gift.
33. Kettle bell weights to help them stay functionally strong in minimum time.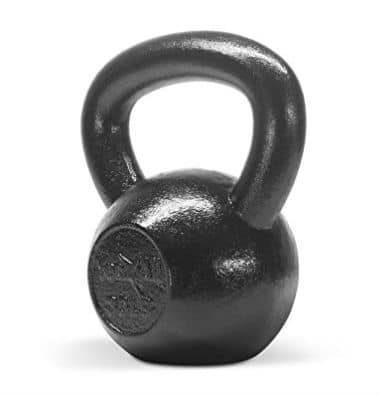 The great thing about a kettle bell gift is it will last forever and is easy for everyone to use (it also acts as a perfect door stop when not in use). You buy this as a gift and I can guarantee it gets used for something.
That's it. 33 gift ideas for firefighters, mechanics and guys who seem to have everything.
Use the list as a gift guide and hopefully it helps you find the perfect gift in a hurry.
---
More from PressureWashr
By now, you have probably heard about the three r's (reduce, reuse, and recycle) that represent the foundation of preserving…