The Complete Guide To Honda Powered Pressure Washers
Honda has come a long way since its early days supplying piston rings to Toyota.
In fact, in 2016, Forbes ranked Honda Motor Company the 23rd most valuable brand in the world with a brand value of $25.2B.
Vision of the Honda red engine on power products is often all the convincing we need the product is reliable, good quality and great value.
For this reason, 51 power equipment companies choose Honda engines to power their equipment…
… And in total, 16 pressure washer brands choose Honda small engines to power their pressure washers.
It's interesting to note: Honda doesn't make their own brand of pressure washer for sale outside of Japan. Their American Power Products Division instead focus on small engines, lawn mowers, generators, water pumps, tillers and snow blowers.
Here you will find the 6 best Honda powered pressure washers, some interesting facts about Honda and why brands choose Honda engines instead of other popular small engine brands like Briggs & Stratton, Subaru, Kawasaki or Kohler.
Our Picks for Best Honda Powered Pressure Washers
Residential Options
Our go-to choice for residential and DIYer pressure washers is Simpson. There's a few primary options we lean towards, but for most buyers the MegaShot is the perfect balance of performance and price.
If you're a homeowner looking for a gas pressure washer powered by a Honda engine, you won't be disappointed.
Image
Product
Features
Price

Homeowner Favorite

Premium Residential Performance
Easy-to-assemble and easy-to-start
Honda GC190 Premium residential engine
Great for cleaning decks, patios, outdoor furniture, house siding, and prepping home exteriors for painting
3200 PSI at 2.5 GPM

Check Price

Better Option

HONDA GX200 engine w/ Oil Alert provides powerful clean for years (includes 3-year engine warranty)
Commercial engine great for cleaning siding, driveways, fences, concrete/pavement, painting prep, graffiti removal and mildew removal
3300 PSI at 2.5 GPM

Check Price

Most Powerful

HONDA GX200 engine w/ Oil Alert
AAA Industrial triplex plunger pump w/ PowerBoost Technology
Aircraft grade aluminum frame w/ brushed extruded aluminum tubing.
3600 PSI @ 2.5 GPM

Check Price
Commercial Options
Image
Product
Features
Price

Entry Level

Aircraft grade aluminum frame with lifetime warranty
Large flat free tires
Dual padded shock absorbing feet- no walking
Gun/wand holder
Easy access to inlet/outlet fittings
2,700 PSI 3.0 GPM Honda Engine

Check Price

Better Option

Uses 1/2in. schedule 80 extra-heavy pipe
Forged brass manifold gives improved strength over cheaper aluminum
Easy Start stops pressure build-up during start-up
Adjustable pressure for job versatility
Sight glass lets you quickly check pump oil
3000 PSI, 4.0 GPM, Honda Engine

Check Price

Best Option

24 HP Honda Engine
General Pump Belt Drive
5 GPM @ 5000 PSI
12 Volt Oil Fired Burner - 500,000 BTU
10 Gallon Poly Fuel Tank
Rugged Heavy Duty Frame - Fully Welded and Powder Coated

Check Price
Before we look in-depth at the best pressure washers that use a Honda engine let's step back and look at Honda overall. First some interesting history, then a look at Honda's brand power.
10 Interesting Facts About Honda Motor Company's Rise
Soichiro Honda's early life included assisting his father in the family bicycle repairs business and then becoming a full time garage mechanic in Tokyo at the age of 15.
Soichiro avoided military service because he was diagnosed color blind.
At 21, after 6 years work as a mechanic in Tokyo, Soichiro returned to his hometown to start his own auto repair business.
When Soichiro Honda was in his early 30s, he decided to form a manufacturing business (moving away from repair work) to supply piston rings to Toyota.
During World War II he helped automate processes at factories of Toyota, Japanese Navy and Nakajima Aircraft to help the war effort. During this time he met and became friends with many senior executives in Japan.
It wasn't till he was 41 (in September, 1948) that he formally established Honda Motor Company with 1 million yen, which is roughly equivalent to $150,000 USD in 2015. The goal was to be the best motorcycle maker in the world.
In 1959, American Honda Motor Company, Inc. founded with $250,000 investment and 3 employees. It was the first international expansion for Honda.
Honda (a motorcycle and engine company at its heart) moved into these markets as the company grew: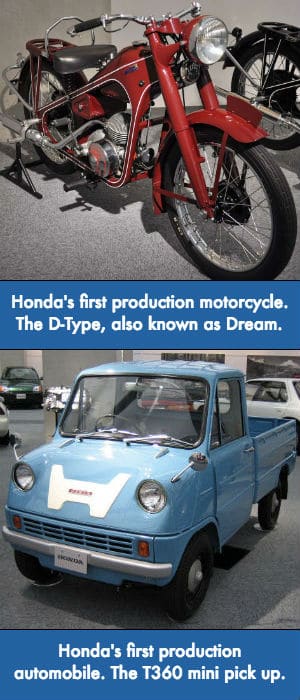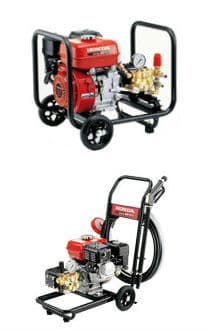 Tiller market in 1959
Cars in 1962
Marine outboard engines in 1964
Electric generators in 1965
Water pumps in 1976
Lawn mowers in 1978
Snow throwers in 1980
Ride on mowers in 1985
Pressure washers in 1986
Tractors in 1988
In 1986 Honda began exporting soybeans from Ohio to Japan as a way to cover the costs returning their auto parts containers. The soybeans are used to make soy sauce and tofu in Japan. Then Honda would fill the containers with auto parts for delivery to their American car assembly plants. In 2005 they became the largest exporter of soybeans
In 2003 Honda launched a commercial to promote its 7th-generation Accord Euro that has been called the best commercial of all time. "Cog" as the advertisement is called has received more awards than any other commercial in history.
Watch the most awarded commercial of all time: Honda – The Cog
This commercial cost the equivalent of $15 million US to make and promote.
What do you think, a success?
It was a huge success and brought more traffic to the Honda website the day the commercial first aired than all other competing car brand websites in that entire month, combined. It also drove over 10,000 purchase inquiries for the Honda Accord it was promoting. Honda does advertising right.
The Power of Honda Branding
Pressure washer companies choose Honda engines because it instantly makes their product reliable, durable and great value because Honda has impressed us (brainwashed?) for 50+ years. It feels like second nature to assume best in class when you see their logo and iconic red on a power product. But are they best in class? (We'll explore that in the Honda vs. other small engines category below)
Here are some early advertisements American Honda Motor Company ran in Popular Mechanics. You don't see copywriting like this anymore.
From Popular Mechanics, May 1962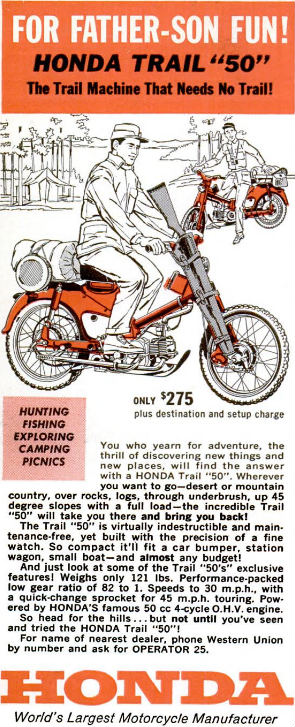 From Popular Mechanics, April 1978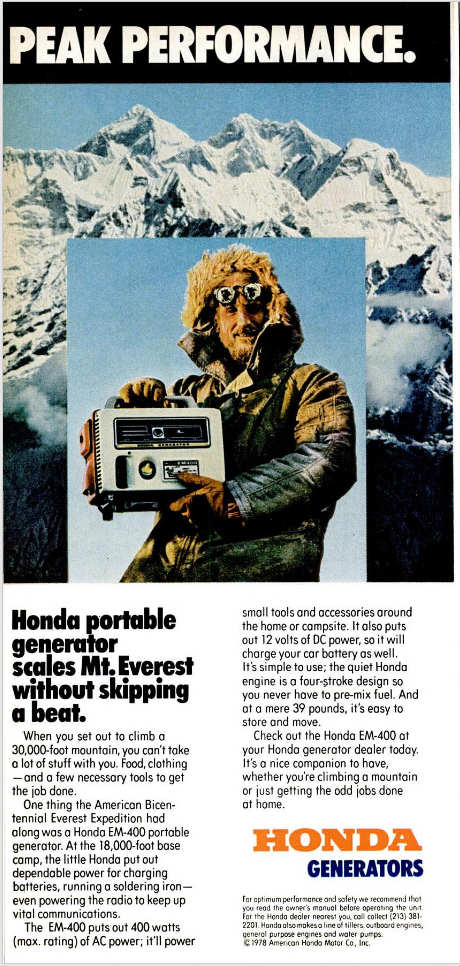 From Popular Mechanics, April 1988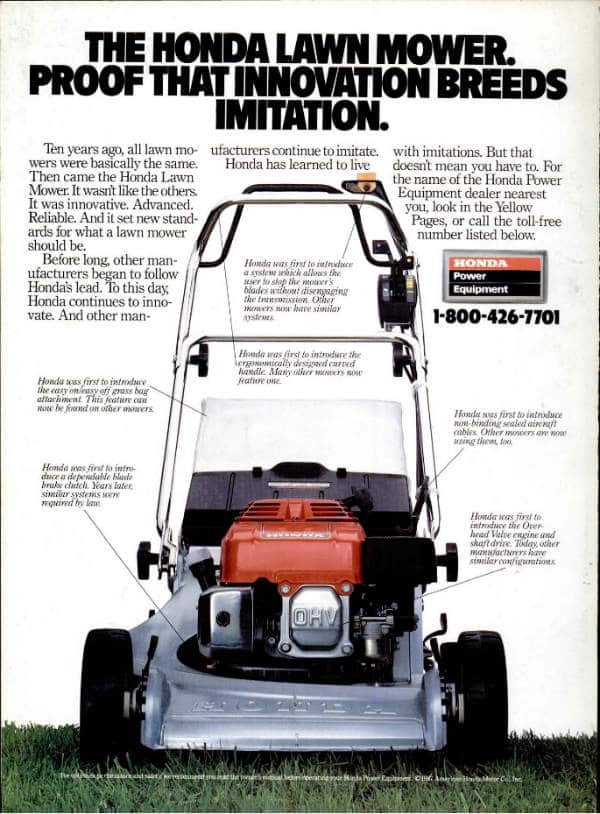 All 3 of these adverts are subtle yet powerful. The images and headlines draw you in. The first sentence gets you reading and you keep reading more learning about each Honda product like it's a story. Honda has always had powerful branding – mainly because they know who they are talking to.
Honda's Target Market
Honda targets middle income families and up. They have different models of each motorcycle, car, boat motor, mower, generator etc but the gist is they target the people with middle income and up.
Timeline of American Honda Motor Co's Ad Budget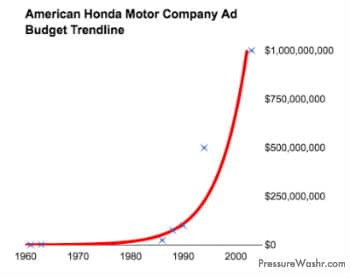 According to AdAge, Honda's ad budget rocketed from $250,000 in 1961 to over a $1 billion in 2003. Here's how it went:

1961: $240,000 (motorcycles ad budget)
1963: $2.18 million (motorcycles)
1972: $2 million (cars ad budget)
1986: $24.5 million (cars)
1988: $75 million (motorcycles)
1990: $100 million (cars)
1994: $500 million (Total United States ad budget)
2003 – Present: $1 billion+ annually
And to move closer to present day… According to Statistica, between 2007 and 2015, Honda advertising spend in the United States peaked in 2012 at $1.33 billion and was lowest in 2009 at $950 million. So the red trend line in the graph has now gone flat, or you might say Honda's ad budget has reached maturity.
The point of all this ad spend?
Honda spends this much money to skilfully control their brand image and reputation.
Company Focus on Brand Image
"Honda's brand adds value to your product, instantly."
That is the very first thing it says on Honda's page telling manufacturers why they should choose Honda small engine to power their products.
Honda knows their business is dependent on their reputation of quality and reliability. They won't risk losing credibility and will quickly issue recalls when required…
…One of main risk factors listed in Honda's 2016 Annual Report is:
"Honda success depends in part of the value of its brand image, which could be diminished by product defects

One of the important factors behind corporate sustainability is trust and support for the Honda brand from our customers, society and the communities in which Honda conducts business operations. With respect to the quality of our products, which serves as the pillar of our brand image […] if for some unforeseeable reason a product defect does occur, from the standpoint of assuring the safety and security of our customers, it is possible that Honda will issue a recall […] Honda brand image could be damaged […]"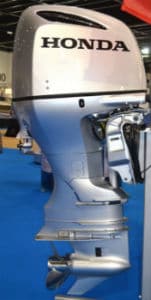 Two Fun Facts About Honda Colors
Iconic Red
Honda has used their iconic red ever since they advertized their 1952 motorized bike as the bike with "the red engine". And then in 1959, their first tiller, the F150, was released painted fully red. At the time it was unheard of to paint agricultural equipment – let alone paint it red. It was hugely popular. And it became known that Honda was the company that made the red reliable products.
A few years later, when Honda was designing their new portable generator for young outdoor enthusiasts, they decided to paint it fully Honda red. It became a bestseller and further cemented Honda as the red power products company.
Sparkling Silver
There is a product niche where Honda is not known for red.
In the marine industry, Honda are known for their silver outboard motors. In addition to the color, Honda outboards have a unique shape and design.
Masayuki Ohsumi was tasked with the redesign of Honda's outboard in the late 1980s. He traveled to many marina's in the U.S. looking for inspiration. He ended up with an idea for a design the mimicked dolphins at play. As you can see in the picture it is curvy and streamlined unlike the square shape original Honda design.
The color of silver came to Masayuki when looking at photo from his trip. There was one of his silver Honda Accord that looked gold with the sun reflecting off it. He realized that silver accented perfectly with the blue ocean and bright sun while out at sea.
Honda Small Engine Styles Powering Pressure Washers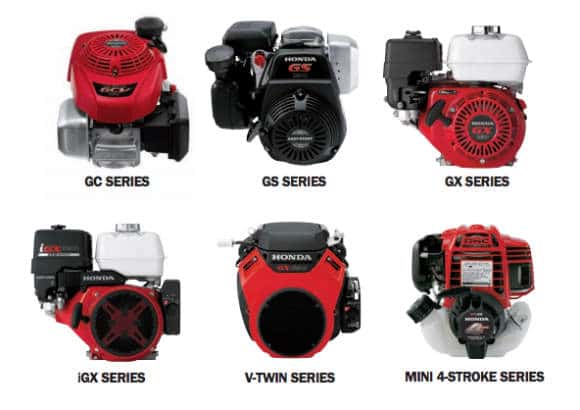 Image sourced from Honda small engine brochure
Honda makes small engines with displacement from 25cc to 688cc for power products as small as water pumps up to vehicles like dune buggies and tractors.
Pressure washers fall in the middle with common engines being in the range of 160cc to 390cc. All of which are emission compliant to EPA and CARB standards.
Let's look at the differences between the engines seen on Honda powered power washers and what the engines look like.
6 Main Differences: Honda GC (Residential) vs. Honda GX Series (Commercial) Small Engines
There are more than 5 differences between the GC and GX Honda engine series. The gist is GC is for residential use – meaning not everyday all-day use. The GX is a commercial duty engine designed specifically for everyday all-day use on the job site or in a rental capacity. The warranties of the engines reflect this fact with the GX carrying a 3 year commercial use warranty. If you use the GC in a commercial capacity the warranty goes to 3 months.
Cylinder sleeve: GC has aluminium cylinder sleeve and GX has cast iron. Aluminium is lighter but cast iron will last longer because it is harder and better resists the piston ring wear.
Low oil protection: The GX will automatically sense and shutoff the engine when it detects low oil. The GC you need to check each use to make sure enough is there.
Fuel shutoff valve: GX yes, GC no. A fuel shutoff valve allows you to properly run fuel out of the system for storage and if you have to remove the carb. Without the shutoff valve, a small amount of fuel will remain which can cause damage over time to the carb (also will cause smell in storage area from evaporating gas).
Material used: GC has plastic fuel tank and many plastic casing and parts. The GX has all steel.
On/off switch: GX has a direct on/off switch allowing fuel to be drained from carburetor. The GC's on/off is designed into the throttle control (can't drain the fuel from the carb but you have a simpler operation with one step removed).
OHC/OHV: All GX engines seen on power washers are pushrod overhead valve (OHV). All the GC ones are overhead camshaft (OHC). Why?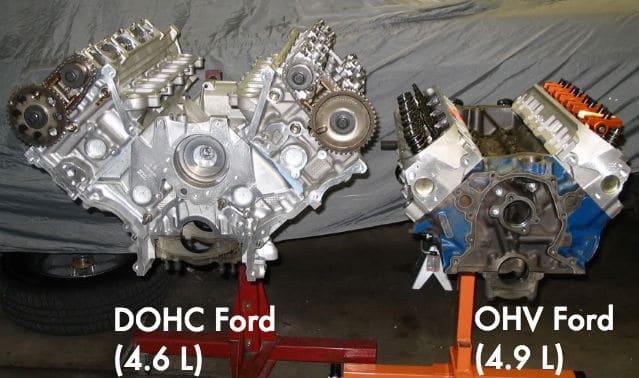 OHV offers a smaller, lighter and more compact engine for the power that's required by industrial high flow rate triplex plunger pumps.
OHV's main disadvantage (bad at high RPM) isn't brought into question in commercial use pressure cleaners because triplex pumps operate at low RPMs (as they have 1 crankshaft powering 3 plungers).
OHC's increased size and weight doesn't matter in the GC engines because the largest GC engine is 190cc (residential power washers are lower PSI and GPM and use axial not triplex pumps).
OHC is better at high RPMs and the more affordable lesser flow rate pumps used in residential pressure cleaners operate at high RPMs.
Now let's see these engines in practice:
The Residential Use Engine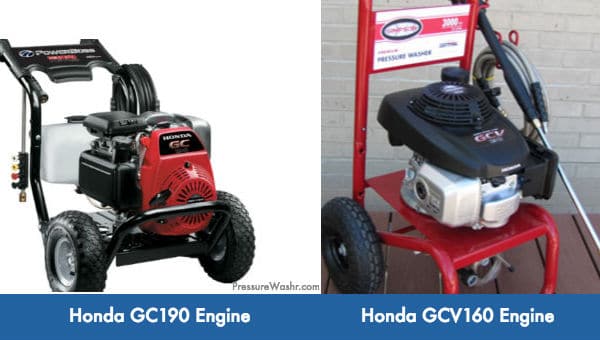 Honda offers 4 residential use engines (2 types and 2 sizes):
GC (160 / 190cc) – Horizontal shaft. Larger fuel tank (2x). Most popular in the larger wheelbarrow style power cleaners.
GCV (160 / 190cc) – Vertical shaft. 13% lighter. Mostly used in the smaller footprint upright style models.
The Heavy Use Commercial Engine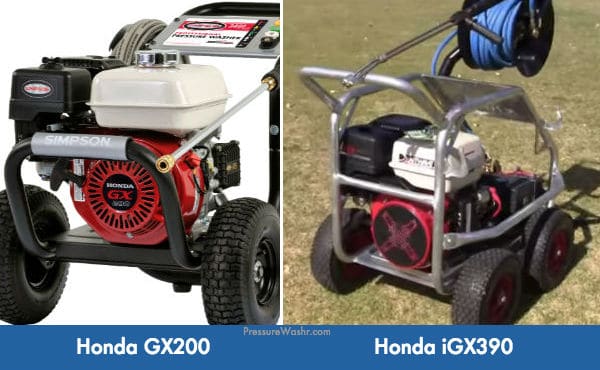 All the Honda 'GX' series engines feature much larger fuel tanks than the residential counterparts. There are 3 types and sizes ranging from 25cc to 690cc:
GX (25, 35, 50, 100, 120, 160, 200, 240, 270, 340, 390, 630, 660 and 690cc) – Horizontal shaft. Wide selection of sizes. GX390 and GX630 are very popular among power washing contractors.
GXV (50, 160, 340, 390, 630, 690cc) – Vertical shaft.
iGX (340, 390cc) – Horizontal shaft. Designation 'i' is self tuning regulator to adjust RPMs to requirements. Most expensive series.
Honda vs. Kohler, Briggs & Stratton, Subaru and Kawasaki Small Engines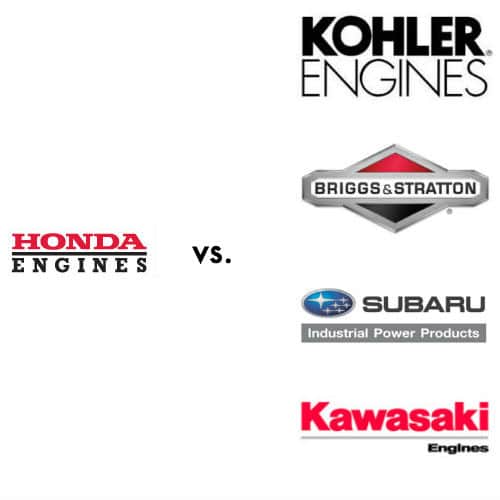 All these companies make several small engine types and sizes. To compare, similar size and function engines will be looked at and these 3 things will be discussed:
Dealer and support network density. We want local support when needed.
Engine design and engineering. We want it to start first try, even in the winter. And not require daily maintenance and fiddling to get it to work.
Price. We want top value. We'll use SmallEngineWarehouse.com for prices.
Honda GC190 vs. Kohler RH255 – Residential Series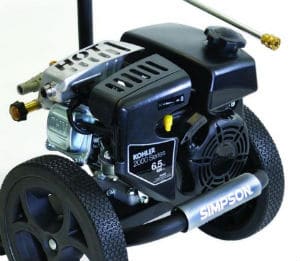 Support
Both Honda and Kohler have extensive support network density in the USA. After checking 5 towns with populations 40k – 80k, both have 4+ tool shops to take your engine for repair, service or warranty. Small town repair shops are usually authorized to provide support for all of the main engines: Honda, Kohler, Briggs, Subaru and Kawasaki.
Engine Specs
Honda GC190 (OHC):

Displacement = 187cc
Power = 5.2 HP (@ 3,600 rpm)
Torque = 8.3 lb-ft
Weight = 29 lbs

Kohler RH255 (OHV):

Displacement = 196cc
Power = 5.5 HP (@ 3,600 rpm)
Torque = 10.5 lb-ft
Weight = 28.8 lbs
Kohler has noteworthy more torque. Both are residential series not designed for extensive daily use.
Price
Summary
Kohler has a reputation of starting better than Honda in cold weather. However, for every 10 people who claim Kohler starts better in cold, you'll have 10 more who believe Honda does. And no one can verify with actual data. As mentioned above both these engines are not designed for commercial use.
Slight edge to Kohler on this one because it has more grunt, is cheaper and has equivalent support to Honda in most areas. However, in the pressure washer industry you will see more than ten models of machine with the Honda GC190 (and only 2 with the Kohler) so Honda gets the edge if we step back and look at power washers instead of solely engines.
Honda GC160 vs. Briggs & Stratton 750CR – Residential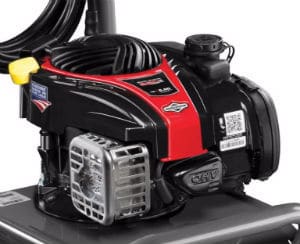 Support
Briggs & Stratton has better dealer density than Honda. Big cities have plenty of options and small town tool shops are always authorized in repair and warranty of all the big brand engines.
Engine Specs
Honda GC160 (OHC):

Displacement = 160cc
Power = 4.6 HP (@ 3,600 rpm)
Torque = 6.9 lb-ft
Weight = 25.4 lbs

Briggs & Stratton 750CR (OHV):

Displacement = 163cc
Power = 5.1 HP (@ 3,600 rpm)
Torque = 7.5 lb-ft
Weight = 33 lbs
The Briggs has more grunt than the Honda because it is OHV design. Honda is quieter and better on fuel. Both have forged crankshaft for increased strength over cast parts. The Briggs has a superior cast iron cylinder sleeve for improved wear resistance. The Honda GC series has inferior aluminium sleeve. Honda has OHC design for improved performed at higher revs. On paper the Briggs engine is winning so far.
Price
Honda $195
Briggs & Stratton $220
Summary
Briggs & Stratton produces more small engines than Honda each year. In terms of revenue from small engines Briggs makes an estimated $100 – $250 million more a year from their small engine sales.
Briggs have a great engine design and Honda's are also great. And at this category Honda can offer a more affordable, lighter machine with comparable specs. There was also overwhelming consensus this Honda runs smoother and starts better from cold than this Briggs.
The argument of Honda vs. Briggs & Stratton will never have a definitive answer as you will hear endless arguments from both sides. I'd give Briggs the slight edge in the GC160 vs. 750CR category based off the fact the price difference is negligible, Briggs has cast iron cylinder sleeve and it has more grunt (which is nice to have at 160cc).
Honda GX160 vs. Subaru EX17 – Commercial Series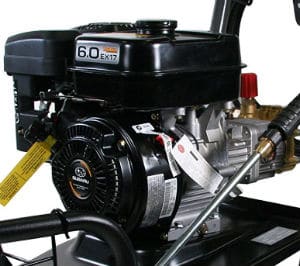 Support
Subaru service centers are present in all but the tiniest of towns. So no worries for 95% of owners. However, Subaru does not have the support network density of Honda in sparse areas.
(Update: Subaru Power Products division acquired by Yamaha in December 2016. All Subaru small engines will be supported by Yamaha dealers)
Engine Specs
Honda GX160 (OHV):

Displacement = 163cc
Power = 4.8 HP (@ 3,600 rpm)
Torque = 7.6 lb-ft
Weight = 33 lbs

Subaru EX17 (OHC):

Displacement = 169cc
Power = 5.7 HP (@ 4,000 rpm)
Torque = 8.1 lb-ft
Weight = 33 lbs
These commercial grade small engines are both popular for use in industrial pumps, generators and pressure washers. Both have industrial grade parts as they are meant for extensive daily use.
Price
Summary
Both engines are comparable in all categories except you'll probably find better support for the Honda even considering Subaru small engines are now supported by Yamaha. During Subaru's Power Products Division transition to Yamaha the Honda GX is the better option.
Honda GX660 vs. Kawasaki FX651V – Commercial Series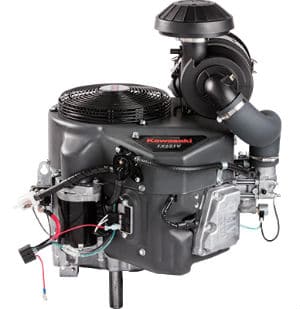 Support
Checking Kawasaki authorized dealer locations in 7 small towns shows it to be very similar to Subaru and less than Honda, Briggs and Kohler in support network density. However, no issues for 95% of owners.
Engine Specs
Honda GX660 (OHV):

Displacement = 688cc
Power = 21.5 HP (@ 3,600 rpm)
Torque = 35.6 lb-ft
Weight = 97 lbs

Kawasaki FX651V (OHV):

Displacement = 726cc
Power = 20.5 HP (@ 3,600 rpm)
Torque = 39 lb-ft
Weight = 101.4 lbs
Both of these engines are top spec with commercial grade parts from each brand.
Price
Honda $1,375
Kawasaki $1,557
Summary
Kawasaki's smallest small engine is 15 HP. The FX651V shown here is most used on zero-turn mowers. You can't go wrong with a Honda GX commercial engine, especially considering you'll save $200 vs. the Kawasaki.
Quick Look at The 6 Best Honda Engine Pressure Washers
First you'll see the 3 best residential consumer machines and then the 3 top commercial ones.
Best All-Around Honda Engine Pressure Washer
Simpson MegaShot
The most popular Honda powered pressure washer is this Simpson Cleaning Megashot powered by the Honda GC190 engine.
It has 3,100 PSI at 2.5 GPM making it perfect for your home outdoor cleaning needs. Use the right nozzle and it'll make cleaning your car, truck, patio furniture, house siding, back deck and driveway a breeze.
The Honda engine is powering an axial cam pump, which is the most common pump type for residential pressure cleaners. If you are in the market for a reliable and affordable home-use machine then this is your best bet.
Level Up from the Simpson Megashot
Simpson PowerShot
Another Simpson pressure washer is on the list because of the durability, the warranty, and the power. The PowerShot comes with a GX200 Honda engine, which is a step up from the MegaShot. Like the ALH3425, this is likely for residential power users, so it might not make sense for everyone.
The upgraded performance is definitely worth the price jump if you plan on extended use.
Power Needed for Heavier Jobs, Great Mobility
Simpson ALH3425
Yet another Simpson pressure washer that's powered by an upgraded GX200 Honda engine makes our list because it's the step up from residential to small commercial jobs. This is slightly more powerful than the MegaShot and PowerShot, but also has an upgrade model that goes up to 4200 PSI/4.0 GPM.
At a higher price point, we would typically see a model like the ALH3425 used by residential power users or solo entrepreneurs working on neighborhood jobs. It definitely has the upside of commercial projects, so it's extremely versatile.
Affordable for Heavy Use
Pressure Pro
Power washing contractors trust Pressure Pro power washers to help them earn a living. Their most affordable machine is powered by the Honda GX200.
The 6.5 horsepower workhorse is able to power a triplex plunger pump to provide 2,700 PSI at 3 GPM – enough for most commercial jobs – but probably used mostly as a portable backup as contractors like their main machine to have 5 – 10 GPM flow rate.
If you want an entry level commercial / industrial unit then this is a superb option by a trusted brand.
Superior Quality, Ultimate Performance
NorthStar Powered by Honda Engine
NorthStar brand is manufactured in-house by Norther Tool + Equipment. Northern Tool is the upper Midwest's largest distributor of Honda small engines. They are a Minnesota family run business that started out making money mailing how-to guides for log splitters…
Today Northern Tool is a trusted brand in the power equipment industry and their power washer offering is top notch. This one has a Honda GX390 powering a premium CAT triplex pump. This combination offers you the ultimate in reliability and durability – CAT pumps are well known as the Honda of pumps.
This model is for true commercial and fleet jobs. It is one of the more expensive machines because unlike other models listed here, because it allows for hot water power washing.
Commercial-Use Hot Water
Easy-Kleen Professional
Another hot water power washer makes the list because it's ideal for cleaning through the dirtiest situations. Easy Kleen Pressure Systems makes some of the longest lasting and best performing pressure washers on the market. They are more expensive than most pressure washer we cover, but would be worth the investment for heavy equipment cleaning.
Only downside that we've seen is that it can be a little difficult to maneuver. Beyond that, it does what it's made to do – clean the worst dirt and grime you can find.
Sources