What if I told you choosing a pressure washer is quick and easy?
You probably won't believe me since there are 902 of them.
But it is. It comes down to these 4 steps:
Home or pro-use? You either want a home-use machine for occasional use or a professional-use machine for everyday use. That decision quickly divides the group into different price ranges – less than $1,000 and more.
How much cleaning power? You either want: light duty for patio furniture, bbq grills and other small jobs like wheelie garbage bins; medium duty for patios, small driveways and decks; or, heavy duty for large jobs like washing semi-trucks, large parking lots and restaurant drive-thrus.
Gas or electric? Gas is more affordable power. Electric is more quiet, less maintenance and can use indoors.
Brand preference? This is the point to think about what brand you want to support.
Before getting into a more detailed explanation of the above 4 steps let's look at what pressure washer brands produce the most models of pressure washer.
After surveying 27 of the top pressure washer brands' product pages, 902 different pressure washer buying options were found.
Here's the number of pressure washer models to choose from by brand: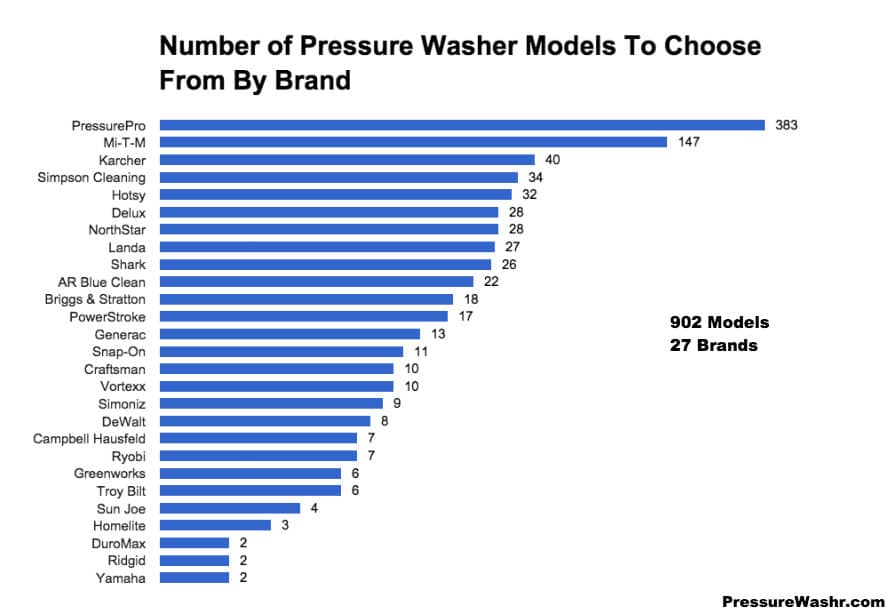 The top 2 brands – PressurePro and Mi-T-M – service mostly industrial/commercial customers. The reason they have so many options is because you can customize your order… You can choose your engine brand and size, your pump type and brand etc. Those options have been included as separate models in the chart (because they are separate models).
Now let's get back to how to choose if you want home-use or pro-use pressure washer.
Which Pressure Washer Style: Home-use, Semi-pro or Professional?
Picture Comparing Gas Styles – PowerStroke, Simpson and Pressure Pro Models: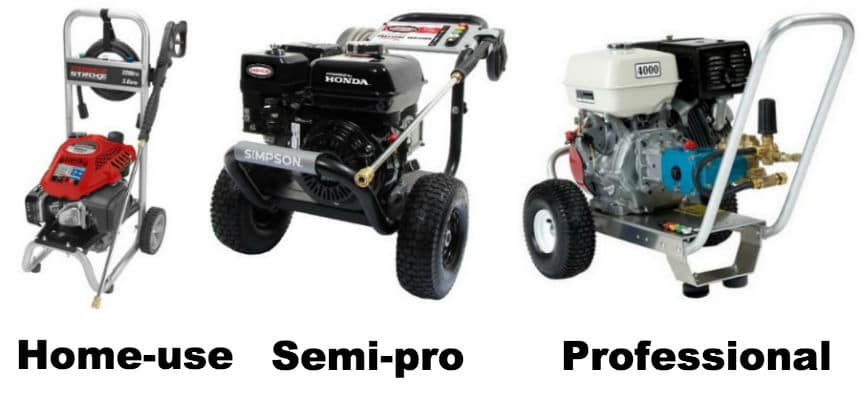 Picture Comparing Electric Styles – Sun-Joe, AR Blue Clean and Mi-T-M Models: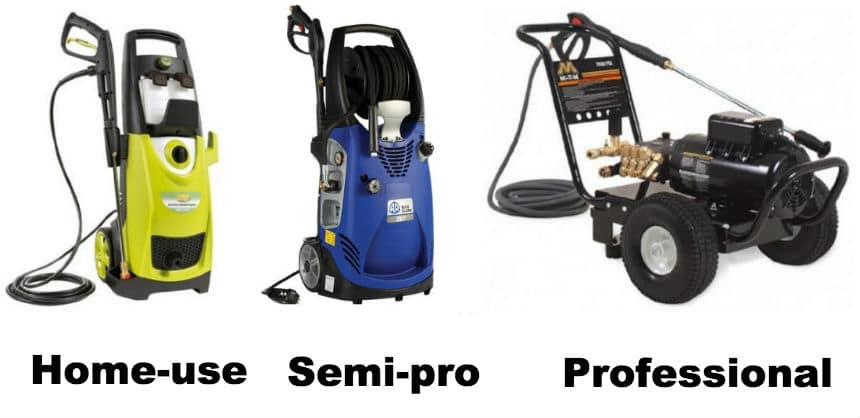 If you're only planning to use your pressure washer on the weekends then home-use will do the trick. If you plan to use it daily you should get a professional machine.
Here are the price differences in electric and gas powered home-use and professional pressure washers.
Electric – Home vs Pro Prices
You can get home-use electric pressure washers for $100.
To get an electric suitable for professional use (even at the same cleaning power) you will have to spend an extra $800 or more. Better pump, motor and all metal no plastic parts.
Gas – Home vs Pro Prices
You can get home-use gas powered pressure washers for $300.
To get a gas suitable for professional use you will have to spend an extra $900 or so.
How To Choose Your Pressure Washer Cleaning Power
Professional pressure washing contractors typically only care about the flow rate in gallons per minute (GPM) of their pressure washer. They know that you control the pressure at the nozzle. Usually pressure washer manufacturers will list their machines with the machine maximum PSI and GPM. When pressure washing in real life the GPM and PSI will fluctuate with the GPM lowering as the PSI increases to max (or the other way round with max GPM being at lower than the rated-max PSI).
There isn't any official definition of pressure washer cleaning power but here's the gist:
Light-duty (5-6x Garden Hose Cleaning Power)
Generally less than 1,700 PSI and 1.5 GPM.
These are the small electric machines that are light, portable and affordable.
Great for cleaning the BBQ grill, patio furniture and other small not pressure intensive jobs.
Medium-duty (~2x Light-duty)
Generally in the range of 1,700 – 2,800 PSI and 1.6 – 2.5 GPM.
These are the bigger electric and small gas power washers. They have two wheels to roll them around and often hose reels and soap dispenser built in.
Great for small driveways, patios, and decks around the home.
Heavy-duty (~2x Medium-duty)
Generally more than 2,800 PSI and around 3 GPM.
These machines look like wheel barrows with front wheels and back stumps to lift when moving it around. They are bigger and heavier and somewhat less portable than light and medium-duty pressure washers.
Great for handling any job around your home so long as you use the right nozzle and distance technique. Easily handle your suburban driveway, fence, house siding and oil stained garage floor.
Commercial-duty (1.5 – 2x Heavy-duty)
Generally anything from heavy-duty and up (3,000+ PSI and 3+ GPM) and with belt-drive pumps and automative grade parts.
These machines vary widely from looking no different than heavy-duty up to machines as big as a small car. They often come on trailers with hot water burners or or skid mounted to be placed on your work truck.
These workhorses can help you run your pressure washing business. They are meant to be used everyday to clean large parking lots, tennis courts, skyscrapers, national monuments and more.
How To Choose Between a Gas and Electric Pressure Washer
Most people choose gas or electric based on price. In the home-use category the most expensive electric is the same price as the least expensive gas… And that same gas unit is 1.5x the cleaning power. Here are some other pros and cons of electric and gas powered pressure cleaners:
Electric
Pros: Can safely use and store indoors, it is quieter so your neighbours or family won't even know you're washing, it tends to require less maintenance, upkeep and it's easier to winterize, you don't have to deal with refuelling it every few uses – just plug it in.
Cons: They are limited in cleaning power unless you pay into the $1,000s for one, they are less portable and where you can use them is limited because they're tethered to an electrical outlet.
Gas
Pros: You can get a very powerful pressure washer for an affordable price (~$350+), they are very portable because not reliant on electricity and that means you can take it to the cabin to pressure wash or to your job-site and not have to rely on electrical outlets.
Cons: They are louder than electric machines so when you're using it your neighbours and family will know, it has exhaust fumes that might bother you, because of these fumes you can't use it indoors safely and they generally require more upkeep and care.
Which Pressure Washer Brand Should You Choose?
It's hard to directly tell you which brand to get because it is mostly opinion and based on past experience. You can see trends in reviews but even Honda engines, which are well-known to be reliable and durable, have negative reviews. So instead of rating the brands I'm just going to list where each brand generally fits into these categories: Home-use electric/gas, Semi Pro-use electric/gas and Pro-use electric/gas.
Home-Use
There's more people buying home-use pressure washers in the $80 – $500 range than any other. Supply and demand kicks in and this space becomes the most crowded. This list isn't exhaustive it just lists the most popular few.
Electric
AR Blue Clean – AR stands for Annovi Reverberi and they started as an Italian pump manufacturer. Now they make pressure washers under the AR Blue Clean brand.
Campbell Hausfeld – One of the oldest companies in Ohio, founded in 1836. More known for their air compressors.
Sun Joe – Started selling snow blowers under Snow Joe brand now Sun Joe sells garden equipment.
GreenWorks – A Chinese manufacturer that sells only electric power tools under the GreenWorks brand.
Ryobi – Well-known power tool brand owned by Techtronic Industries (TTI), which is a Hong Kong company that also owns Dirt Devil and Hoover brands.
Simoniz – A Canadian company sells this brand in Canada. They license the brandname from the well-known Simoniz USA cleaning products company.
Gas
Generac – An American company that dominates the residential generator market. They manufacture all their own pumps and engines.
Simpson Cleaning – The only make pressure washers and make them well. Usually with Honda engines and CAT pumps.
Craftsman – Brand owned by Sears that sells a wide range of tools and equipment.
Troy-Bilt – Owned by MTD Products which also owns a few other garden equipment brands like Bolens and Cub Cadet.
PowerStroke – Another brand owned by TTI under the One World Technologies name.
Briggs & Stratton – World's largest manufacturer of small engines for power equipment.
Semi-Pro
Semi-pro is for you if you like owning the best-of-the-best but know you won't use it more than a few times a week (at most). Semi-pro or as some call it, prosumer, range in price from $700 – $1,400.
Electric
Karcher
AR Blue Clean
NorthStar – A brand owned by Northern Tool and Equipment, which is a power equipment retailer with over 65 retail locations.
Gas
Briggs & Stratton
Simpson Cleaning
DeWalt – I'm sure you've heard of DeWalt. They're owned by Stanley Black & Decker.
Vortexx – A company out of Detroit they manufacture electric and gas pressure washers that are reliable and durable.
NorthStar
Professional Use
Electric
PressurePro – Commercial pressure washer manufacturer.
Mi-T-M – Industrial and commercial power equipment manufacturer.
NorthStar
Gas
Shark – Bought by Karcher in 2005, Shark is known for their industrial pressure washers with lifetime warranty.
Hotsy – Hotsy's name originated from the blending of the words hot and systems. They are well know for their hot water and steam pressure cleaners. They were also bought by Karcher in 2005.
Delux – Although I can't find much information on the Delux brand, you can find them on PowerWash.com. They look quite similiar to Pressure Pro machines so I am thinking PowerWash.com buys them from Pressure Pro and labels them as Delux (but that's a guess).
Some Sources
Here is the source that talks about companies/brands that TTI owns.
Here is the source how I know Karcher owns the Shark, Hotsy and Landa brands of pressure washer.