How Do I Return My Pressure Washer if I Bought it Online? [FAQ17]
So you bought your pressure washer online at Amazon, Home Depot, Walmart, Costco or Lowe's and want to return it…
…No big deal.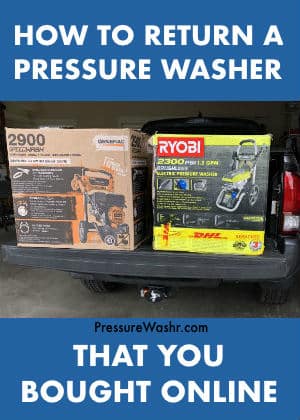 There are many valid reasons to return your pressure washer – here are a few:
It doesn't work properly and vibrates more than you thought
It is damaged on arrival with scratches and dents
You are not satisfied with how it works. Maybe the hose is not the quality you expected or the spray wand is too difficult to attach.
Whatever your reason to return your online power washer purchase, all the big e-commerce stores have policies stating they will accept your return within a reasonable timeframe (usually up to 30 – 90 days).
In this article you'll learn what you need to do to complete the return for each website.
Let's get started.
Here's How to Return Your Pressure Washer to Amazon:
You have 30 days to return your pressure washer if bought from Amazon.
Once the box with the pressure washer arrives and you open it, use it and realize you want to return it…
All you have to do is make sure you put it back in the box properly and tape the box shut. Then go into the Amazon account you bought it from and go to the returns centre (you'll find the link at the bottom of the page).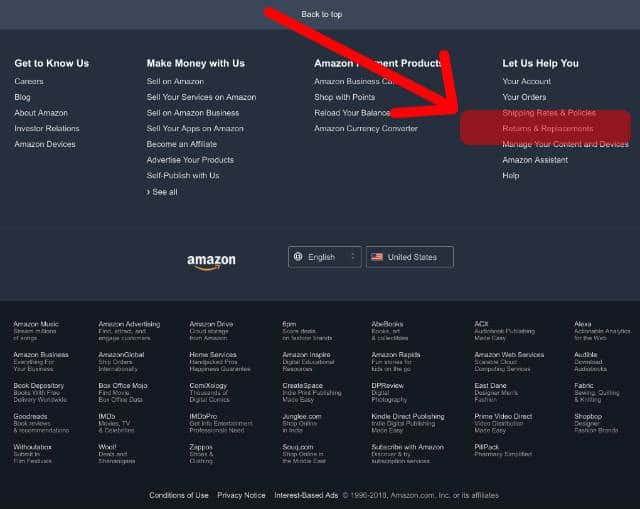 From there you'll be taken through some steps to print the prepaid return label.
Here's what the return label will look like: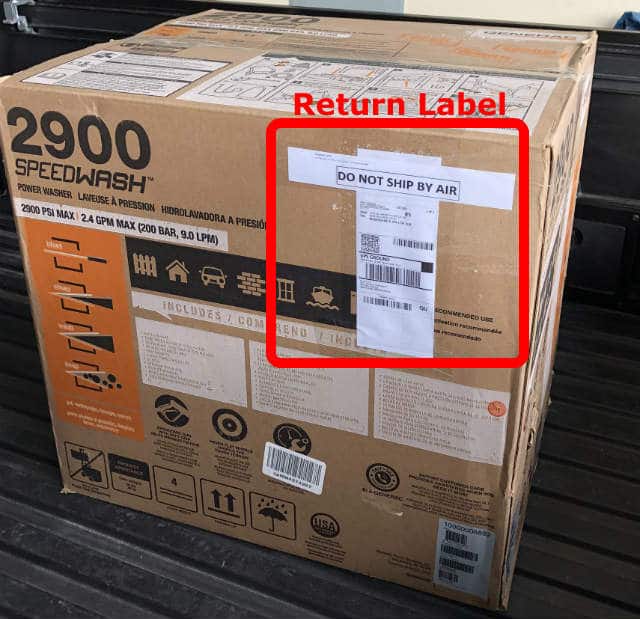 If you decide to return your pressure washer after a single use then there are some differences to know returning gas or electric.
To have used the gas machine you would have added gas and oil. You'll want to run the machine until you use all the gas (or dump it out by turning the machine over). And you'll also want to drain the oil. Don't worry too much about if you got all the oil or gas out because the pump is full of oil (that you can't empty) anyways. Also, Amazon's return label will say 'DO NOT SHIP BY AIR' so there are no hazmat type issues across ground freight.
Note: Home Depot and Lowe's only allow pressure washer returns in-store because of this hazardous materials issue. Not sure how Amazon can do it but not the others.
3 Tips:
If you want to drop the pressure washer off at a UPS store, you should know they only accept packages up to 44 lbs. Anything above that they won't accept in-store. The options for you will be to drop it to a UPS depot, which is usually near the airport and has odd drop off times. Or you can schedule for a UPS truck to come pick it up from your house.
Amazon pays for same day UPS pickup. You call them and they show up in a few hours.
Make sure you have a printer and some clear tape as you need to print and affix the return labels yourself.
How to Return Pressure Washers to Home Depot
You have 30 days to return a gas power washer (must return in-store) and 90 days to return an electric pressure washer (can be returned through mail) bought from Home Depot online.
Walmart Online Purchase Returns
You have 30 days to return your pressure cleaner to Walmart. Upon return you will receive a in-store shopping card and not a full refund.
Costco Returns
You have 90 days to return a Costco.com bought pressure washer.
If you have a Costco warehouse near you it is easiest and quickest to go there and return it.
The other way is through your Costco.com account that you purchased from. Go to the 'My Orders' section and then click on the 'Return Items' link. From there you will print a return label, affix it to the box and send it off through UPS or similar.
Lowe's Returns
A pressure washer bought at Lowe's Home Improvement can be returned up to 30 days of purchase.
A gas power washer must be returned to a Lowe's store because it may contain flammable liquids.
An electric pressure washer will arrive with a prepaid return slip. Attach the return slip to the original box and drop off at shipping carrier as per instruction on return slip.