Interview With Jon Karmazyn, Owner of Revive Power Washing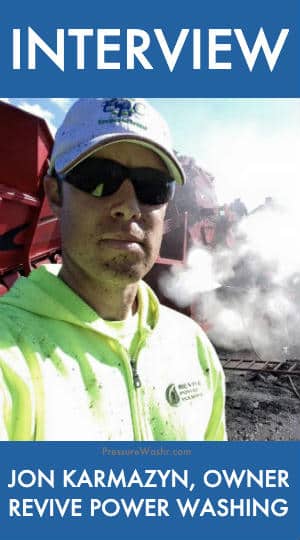 Here we take you behind the scenes of Revive Power Washing – A professional power washing company located 61 miles North of Philadelphia.
There's a series I love on lifehacker.com called How I Work. They interview writers, founders, designers and programmers, and focus on how they work. Everything from their computer setup to if they listen to music while working.
I decided to create the same thing but for power washing contractors.
Revive Power Washing is one of our recommended pressure washing contractors in Pennsylvania. Jon, Owner at Revive, was excited to be the first power washing contractor featured in our version of how I work: How I Clean.
Below are his written answers (links added by me) to the questions we will ask in every How I Clean interview moving forward.
Jon's answer to "What would your dream power washing setup be?" is my favorite.
Website: RevivePowerWash.com
Location: Lehigh Valley, Pennsylvania
Services: All types of residential and commercial pressure cleaning.
Work Truck: See picture below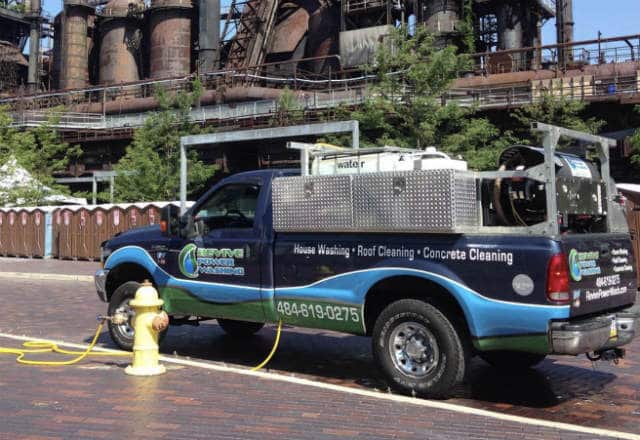 Tell us how you became a professional power washing contractor and business owner?
I used to be a construction manager for a large commercial general contractor. The industry lost its appeal to me when the economy fell so I was looking for something to start on my own. I was actually looking into the carpet cleaning industry, and came across power washing through my research. I found a local contractor who was selling a complete commercial set up, hot water machine, water thank, hose reels, and guns, all mounted in a box truck. I stopped by and talked to him about the business and I heard lots of potential. I purchased the truck and equipment and since then have built a successful business.
What's your power washing equipment and go to accessories (pics would be awesome)? How did you decide on these?
This is an ever changing topic and sometimes depends on the type of job we are doing. We have 3 different machines in our fleet currently, 1 Hot water Landa machine @ 5.5GPM and 3000psi. A cold water belt drive Pressure Pro machine @ 8GPM and 3000psi. And a cold water direct drive machine @ 5.5GPM and 3000psi.
The hot water Landa machine is needed for doing any commercial concrete cleaning. The water is heated up to 180 degrees through the diesel fired burner. The hot water helps cut through food grease, oils, and safely melts away bubble gum. This is our go to machine for commercial flat work.
The 8GPM pressure pro cold water machine is great for building washing or house washing. The high volume of water helps speed up the entire washing process. This machine is also used for concrete sidewalks when there is not the presence of food grease, oils, or bubble gum. Again, the high flow volume allows us to work faster.
The 5.5 GPM cold water unit is great for residential house washes. The machine is compact and can be fit in the bed of a pick up truck with room for a water tank, hose reels, and anything else you would need like chemical containers and buckets. We did like using the 8GPM machine for residential, but found in our area that most homes do not have enough water flow to keep our water tank full when using 8 GPM of water. This is why we use the 5.5 GPM for residential.
Accessories: We have 2 surface cleaners: A 20" whisper wash classic, and a 24" A+ surface cleaner. Both are great machines. There is a rule of thumb when purchasing a surface cleaner, you do not want to go TOO BIG! It is best to go 4"of surface cleaner for every GPM of your machine, so for example: 8GPM machine x 4"/GPM = 32" max surface cleaner. Anything larger than this will spin too slow and you will actually loose productivity. So if you have a 3 GPM machine, do not purchase a 30" surface cleaner and expect to be productive. Match your accessories to your machines.
Hose reels: I love Titan brand reels. They are constructed of aluminium or stainless steel. They are on the higher price point, but they will not rust away to nothing on you like steel ones. Remember, we are working with lots of water and sometimes corrosive chemicals.
What about the work truck or van… Do you have a water tank that comes with you job to job and is your power washer – truck mounted or in a van (pics would be awesome)?
We have an enclosed trailer, 7' x 14' with BARN DOORS. Barn doors are key as opposed to a ramp door for ease of access. This houses the hot water landa, cold water pressure pro, 300gal water tank, hose reels, wands, a ladder, and misc tools and fittings. We usually carry about 75-100 gallons of water in our tank from job to job, and hook up to the customers water on the job to provide a constant supply of water until we are finished with the job.
If money was no matter what would your dream power washing setup be like?
This depends on what work we are doing. I would probably have 3 separate set ups: 1 for commercial flatwork & buildings, 1 for straight residential work, and 1 for fleet washing. I would prefer a flatbed truck mounted set up for all of these, but it is not ideal in our area because of the colder temperatures we get in the fall and winter.
What does a typical work day look like from waking up to arriving home?
Days when I am in the field working, we arrive at our shop at 7:30am, load up the truck and are on the road by 8:00am. Usually we like to arrive to the job by 8:45 and get started by 9:00. This is so we do not disrupt neighbors with the noise of the machines. For residential days, we can typically get in 3-4 houses depending on the route and size of the homes. So we will return to the shop between 3:30 – 4:00pm, re-fuel machines for the next day, re-stock on any soaps, and make sure the equipment is ready for the next day.
Is there a surface you prefer to clean, a surface you hate cleaning?
I like most everything. One I would say I do not enjoy is wood. This is because I am very picky and there is a process to properly doing a wood deck. I have not been educated on the proper process to restoring wood so we pass on any deck jobs.
I see you are a member of the UAMCC (United Association of Mobile Contract Cleaners) and PWRA (Pressure Washing Resource Association) – do you think it is important for other power washers to be members of these associations? How have these associations helped you?
If you want to be successful in your business, it is critical to be a part of an association. They have been priceless to the growth of our business. The networking alone that these organizations bring is huge. If I am stuck on something, I can literally have an answer within the hour because of the network. The associates don't just help you with the technical items such as equipment and how to clean certain surfaces, they help you with sales, and how to run and grow a business. I can not say enough about the importance of joining one of these organizations.
Are there yearly convention meetups for these associations? Are they fun events?
Yes, they have multiple events across the country each year and they are packed full of great information, discounts on equipment and supplies, giveaways, and they are SO MUCH FUN!!
Do most people book your service through email/online or through the phone?
Majority is through phone, but we have been seeing an increase in online with our online instant bid feature.
How do you manage your business? Home office…?
It nothing to brag about!!! We run it in our office which is in our bedroom on a tiny desk with a computer, printer/ scanner, and a file cabinet. However, we have systems in place so we don't need a big fancy office. That is key, build systems into your operations so you don't need a huge set up. Keeping overhead expenses down helps the bottom line.
What goals do you have for you power washing website?
To be #1 in our service area. We have been working on boosting our SEO and over the past 4 months it has been climbing.
Is there anything else you'd like to add about pressure washing/owning a pressure washing business that might be interesting?
You should determine up front if you want to be an owner operator, or a business owner. You can be successful doing both, but I have heard stories of guys that got started and wanted to be a business owner, but never made the jump. They have been stuck doing the work, along with the sales, bidding, invoicing, accounting, payroll, mechanic, and anything else that comes up. You need to have a system or plan in place to make that jump so you can work ON your business an not get stuck IN your business.
Is there anyone you'd love to see answer these same questions?
I have a guy in Minnesota who I think would enjoy this. He is heading out of town this week but I can give you his info and you can touch base with him. He is on Facebook