Today we are going as deep as you can on the most practical, durable and high quality electric pressure washer on the market – the Kranzle pressure washer.
At PressureWashr there is no question we get asked more than, "What is the best pressure washer?" It's a tough question to answer because the best pressure washer for you might be different than for a professional car detailer.
But we understand what they're getting at. People want to know "the best" all things considered: the price, the quality, the benefits, the specs…
And even with price considered, the Kranzle 1122TST pressure washer, is right near the top electric pressure washer on the market because it will last you many decades with proper care.
Let's understand how Kranzle has accomplished their goal of "Better Perfect… Than Cheap!"
Is a Kranzle Pressure Washer Right For You?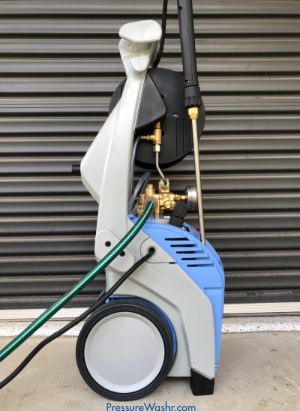 Do you take pride in owning the best products?
Yes. Okay then Kranzle is for you.
Kranzle makes the best electric pressure washers. It's as simple as that.
They design, engineer, manufacture and assemble all pressure washers to precision specifications at their main factory in Illertissen, Germany. There's no cost savings outsourcing manufacturing to China. Everything is done in-house in Germany.
However, a Kranzle is not for everyone. The cost puts them out of reach for many.
Also Read about: Simoniz Pressure Washer Reviews
Real World Kranzle Pressure Washer Enthusiasts
Garage based car detailers who rely on a pressure washer to get the job done on a daily basis.
All types of tradespeople (painters, concreters etc.) who require a robust cleaning machine to help make them money each day.
Homeowners who consider themselves part of the "buy it for life" crowd who would rather buy nice than buy twice. Kranzle's are great for any cleaning task around the home and yard.
Small business owners who need to perform cleaning tasks often. For example, Kranzle pressure washers are popular in dog kennels and the pet motel industry to clean when the animals are outside for playtime.
Screen printers who are reclaiming a lot of screens each day rave about the Kranzle in online forums.
Now let's take a look at the most popular Kranzle's you can buy:
Best Kranzle Pressure Washers
Most Popular Kranzle

Most Affordable Kranzle

Kranzle 1122TST
Kranzle 1322TS
– Best electric pressure washer on the market
– With proper care will last you decades of use
– Specifically designed for garage based car detailers
– Easily transportable if not wall mounted
– 1,400 PSI
– 2.1 GPM
– 1,300 PSI
– 2.1 GPM
DirtKiller.com

ObsessedGarage.com
Amazon
Kranzle Makes These Different Products:
Cold water electric powered pressure washers (10 models)

Here we will focus on the best, most practical models of the cold water electric powered pressure washers.
Kranzle's Most Popular Pressure Washer
Kranzle 1122TST 1,400 PSI, 2.1 GPM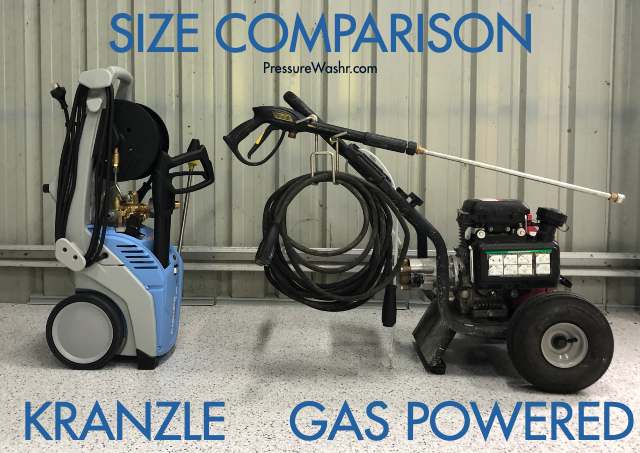 You can see the Kranzle 1122TST size compared to a gas pressure washer in the above image. It is a beast and because of its larger induction motor and pump, weighs more than the gas one by 15 pounds (80 pounds for Kranzle, 65 pounds for gas). All the steel and copper in the motor adds up.
Why is the 1122TST the most popular?
Probably because it is the second most affordable and has the highest GPM flow rate of any other Kranzle below $2,260.
Flow rate equals work rate so the 1122TST allows car detailers, homeowners, business owners and others using it to get more cleaning jobs done per hour. And like mentioned it is the 2nd most affordable.
What sets this Kranzle apart from cheaper electric pressure washers?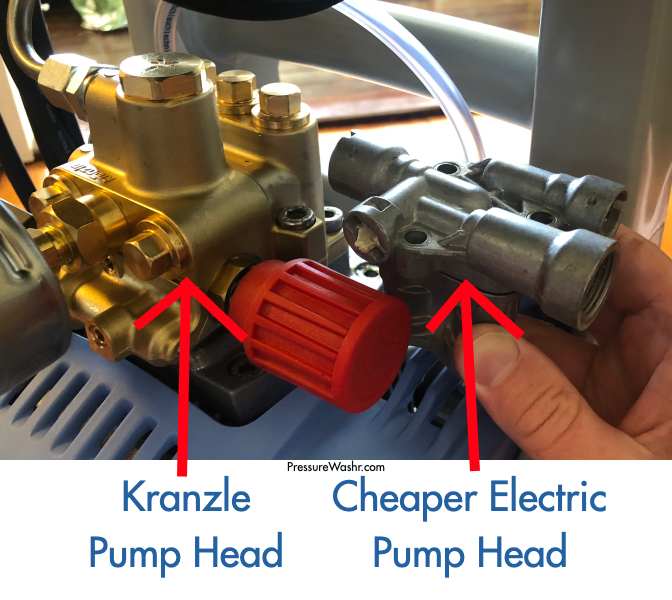 Quality control. Kranzle pressure washers are 100% German-made and engineered. Since they manufacture and assemble everything in-house the quality control is off the charts. The Kranzle we bought came with a Final Safety Inspection sheet that shows the electric testing they did before boxing and shipping. It details the individual unit's measured PE conductor resistance at appliance, required proof voltage, visual inspection and functional test, voltage and current measuring and the date and name of the test and inspector.
Heavy duty pump and motor. The induction motor and axial wobble plate pump set this pressure washer apart. It really is like comparing a Ferrari to a Honda Civic when comparing the Kranzle to a cheaper electric pressure washer like the Sun Joe or Karcher. You can see in the image above how much structure there is to the Kranzle pump head. And inside the pump is bigger stainless steel plungers to transfer heat from the system to the oil well.
Adjustable pressure. See that red knob in the picture above? That's the unloader valve. You can adjust the pressure down and up while watching the pressure change on the gauge fixed tot he front of the pump head.
Self priming. The Kranzle pump can suction water from any source: lake, water tank, ocean. And use the water to pressure wash. The water source can't be more than 3 ft (1 m) below the pressure washer.
Can run dry. The 1122TST is idiot proof and can start and run dry if you forget to turn the garden hose water on.
Auto on/off gun control. When you release the trigger gun the motor turns off. When you pull the trigger again it auto turns on. This saves the pump from running too hot and adds lifespan to the electric pressure washer.
10-year warranty. Kranzle offers a 10-year warranty on the pump head.
What are the downsides?
3 of the flaws (but not dealbreakers) of the Kranzle pressure washer are listed below:
High cost. The fact the Kranzle 1122TST cost double what a residential heavy-duty gas powered machine costs scares some people from buying. However, the reason for the cost is the German quality. Everything on this pressure washer is to unwavering German precision. When you consider this may be the last pressure washer you ever buy the cost/year makes it a bargain.
Weight. An industrial quality pump and motor makes the Kranzle heavy at 80 pounds. Luckily it comes built on a sturdy roto-mold (same material as kayaks) frame and wheels. The weight could be seen as a benefit because it gives this pressure washer a stout feel and makes it sturdy – it won't tip no matter how much you tug on the hose.
Doesn't come stock with quick connect fittings. The professional quality steel lance and nozzles do not come with QC fittings – you must screw them in to the hose and trigger gun. Makes the connections more leak proof but takes a little longer (extra minute or so) to connect and disconnect everything.
Estimated cost breakdown
We don't know the exact cost for each line item of a Kranzle pressure washer. But we can make an educated guess based on replacement part prices. The reason to do this is simply to show what makes a Kranzle expensive.
Pump: $400
Motor: $200
Gun/wand: $50
Frame/chassis: $40
Manometer: $40
Hose: $35
Total before shipping and handling: $770 (These retail for $1,190 leaving room for 35% company profit, staff payroll and factory costs)
Kranzle's Top of Class Electric Pressure Washer
With 1,400 PSI and 2.1 GPM this model is perfect for car detailers, homeowners and business owners alike.
It has a best in class pump – which is what really matters in a pressure washer – and is 100% German-made.
It comes out-of-the-box with a hose reel that actually works (you'd be surprised how crappy some hose reels are).
And a pressure gauge attached front and center.
It is hands down the best electric pressure washer we have used since 2013 running pressurewashr.com – you will love it.
Best for Car Detailers that Work from a Garage. Best for Wall Mounting. Most affordable Kranzle.
Kranzle 1322TS 1,300 PSI, 2.1 GPM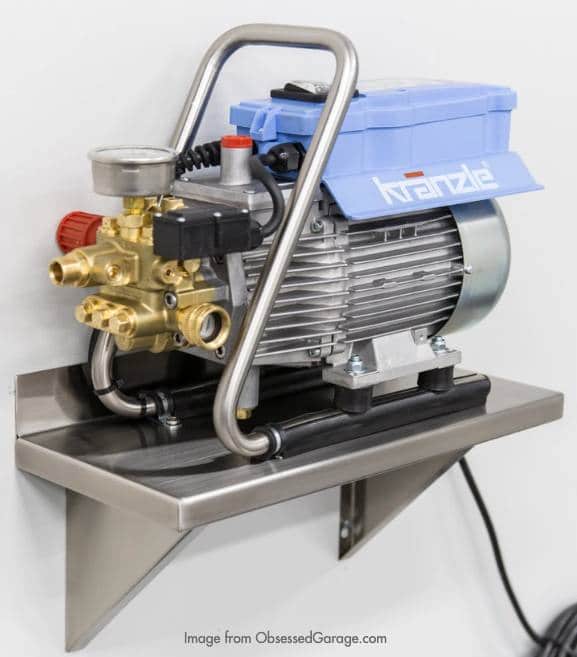 This pressure washer is specifically designed for car detailers (and obsessed car owners) to be mounted in the garage as shown in the image above. It could also have a permanent hose reel below it and be plumbed in to a water filtration unit. You could also use it solo and carry it around.
It is high flow with 2.1 GPM and comes with all the benefits of Kranzle.
Best Pump. Kranzle pumps come with a 10-year warranty on the special forged brass head for a reason. They are solid, heavy and durable. The engineering goals for many years has been to efficiently transfer heat from the pump head to the oil well in the transmission section of the pump (where the pistons and wobble plate are). They achieve this with stainless steel plungers with a section of smooth ceramic coating where the plungers move over the backing ring. Stainless transfer heat well and the ceramic coating reduces friction lowering heat generated.
Best Motor. All Kranzle pressure washer come with a long-lasting 4-pole induction motor. Some run at 1400 RPM and some run at 2800 RPM. Induction motors are more durable than universal motors (which most electric pressure washers use).
Most Affordable Kranzle Pressure Washer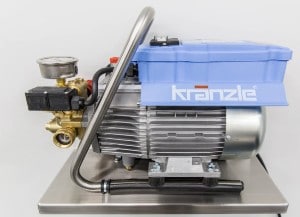 The lightest Kranzle is versatile and can be wall mounted in your garage for car washing or you can carry it around from job to job.
It has the same pump and motor as the 1122TST but comes without the 2-wheel carry frame and hose reel.
It is perfect for homeowners and especially car detailing hobbyists.
Best for Heavy-duty Industrial Cleaning
Kranzle 700TST 2,500 PSI, 3.3 GPM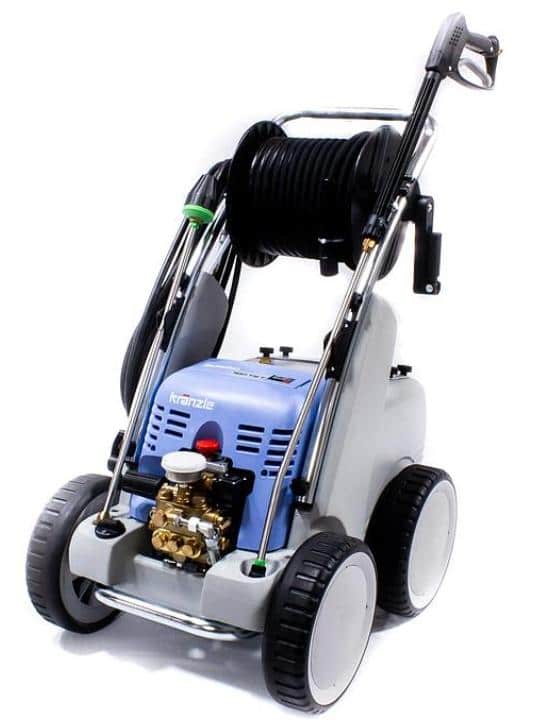 The best heavy-duty Kranzle electric is part of the quadro-series (4 wheels) and has special electrical requirements to power its 5.5 kW motor. It requires a 220V, 23A circuit. So it's not a home-use pressure washer.
This beast is designed for tough industry cleaning jobs like rendering plants, butcher shops, paint shops, fleet companies, taxi operations and other places requiring the higher flow and pressure machine.
It has the best in-class pump and motor and comes with an onboard 10L water tank.
If you're int he market for an industrial strength Kranzle then be sure to click the link below to see its full specs and current price.
Best Gas Powered Pressure Washer w/ Kranzle Pump
Dirt Killer H357 3,000 PSI, 2.5 GPM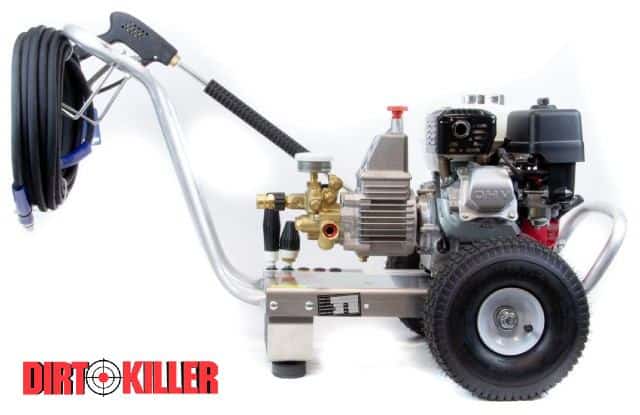 Dirt Killer is the sole and exclusive USA importer of Kranzle products. They also make their own line of gas pressure washers fitted with high quality Kranzle pumps. These pumps cost $550 – $800 alone so when you add in the Honda GX engine you get a pressure washer of high quality with no expense spared.
Dirt Killer sells these online at DirtKiller.com and also in-store at Atlantic Pressure Washers in Maryland.
Dirt Killer is a well-known brand in the pressure washing industry and this one is designed for commercial operators who clean for a living.
See more info at DirtKiller.com here…
The History and Evolution of Kranzle Pressure Washers
Josef Kranzle started making pressure washers from his garage in Illertissen, Germany in 1974.
In 1986, Kranzle introduced their first mobile pressure washer called the Kranzle Profi-Jet.
The Kranzle shuttle series was introduced in 1994. Here is a video showing an original shuttle series coming in for its second service in 25 years.
In 2007, a new line of mobile pressure washer was introduced – the Profi series.
In 2010, the K2000 electric pressure washer series was introduced.
Since 2011, Kranzle is 100% family owned. Ludwig Kranzle (son of founder Josef) is now managing director alongside his father.
Understanding The Kranzle Worldwide Distributor Network
Josef Kranzle GmbH & Co., the German company owner of the Kranzle brand only partners with one authorized dealer per country. They do this to ensure you receive great support and service from verified Kranzle trained and approved companies.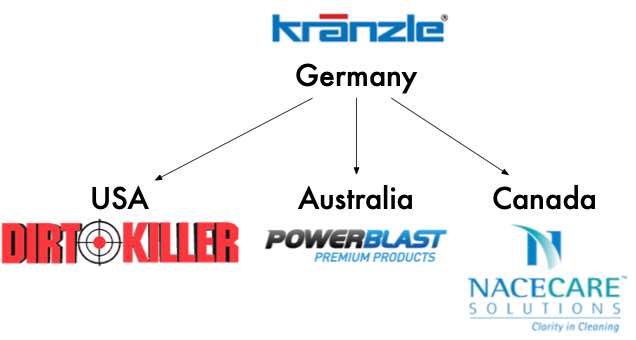 Kranzle ships products to each country partner who then distributes the Kranzle products across their dealer network within the country.
In the USA the sole importer is Dirt Killer.
In Australia the sole importer is Power Blast.
In Canada the sole importer is NaceCare.
Every country has a sole importer.
You can find your countries sole Kranzle importer here.
What Everybody Ought to Know About KranzleUSA – The Exclusive USA Importer of Kranzle Pressure Washers
KranzleUSA is owned by Dirt Killer Pressure Washers, Inc.
You can see the full corporate structure in the flow chart below: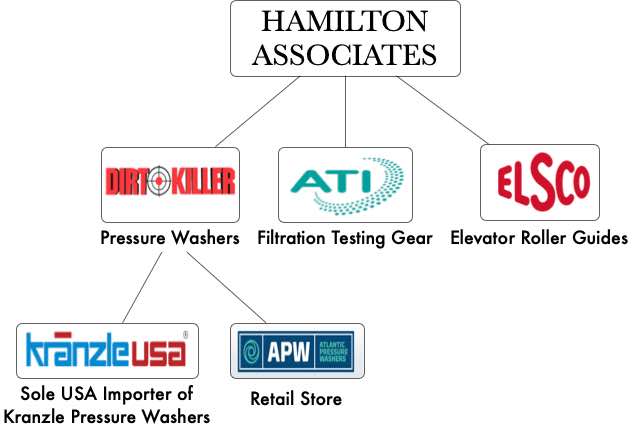 Who owns Hamilton Associates, the parent company of Dirt Killer?
As far as we can tell Douglas Hamilton who is the CEO of Hamilton Associates is the owner of everything in the organizational chart above. You can see his LinkedIn page here.
Bonus Pictures of Kranzle 1152/1122 TST Pressure Washer
The Kranzle 1152TST is the same pressure washer as the 1122TST but modified for European/Australian electric circuits. Meaning the 1152TST is operating at 230 volts and the 1122TST at 120 volts.
Here is what the box it comes in looks like: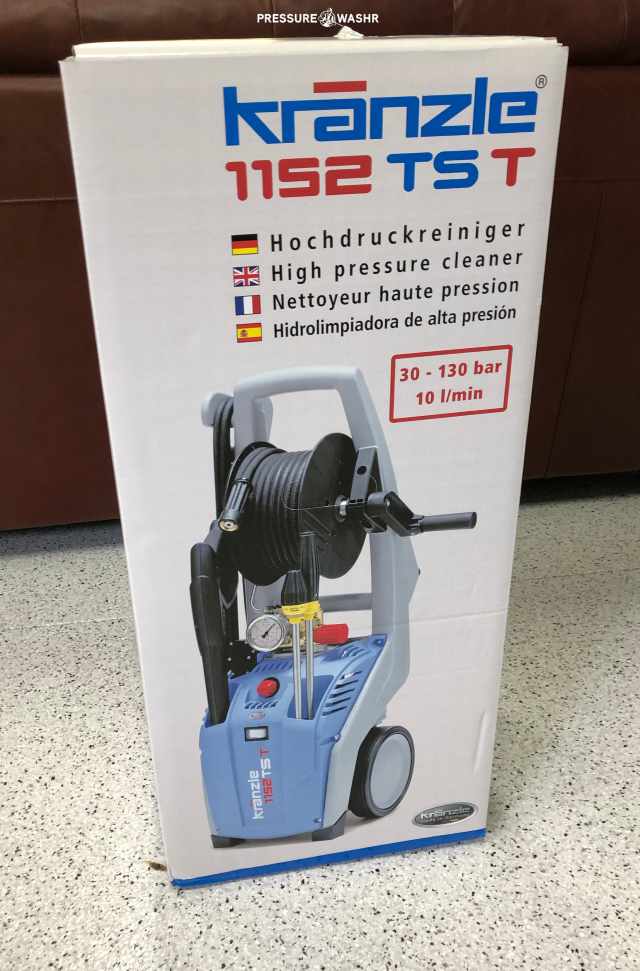 Here it is lying on its rubber stops (recommended in-use position):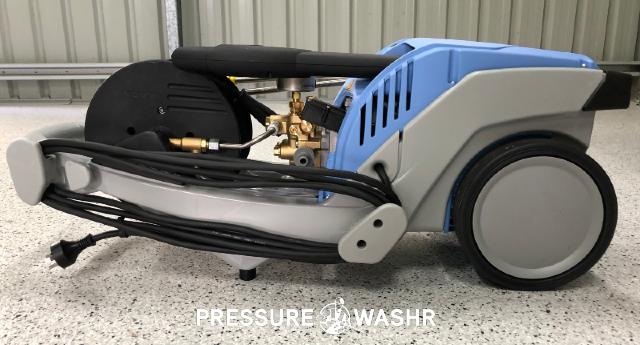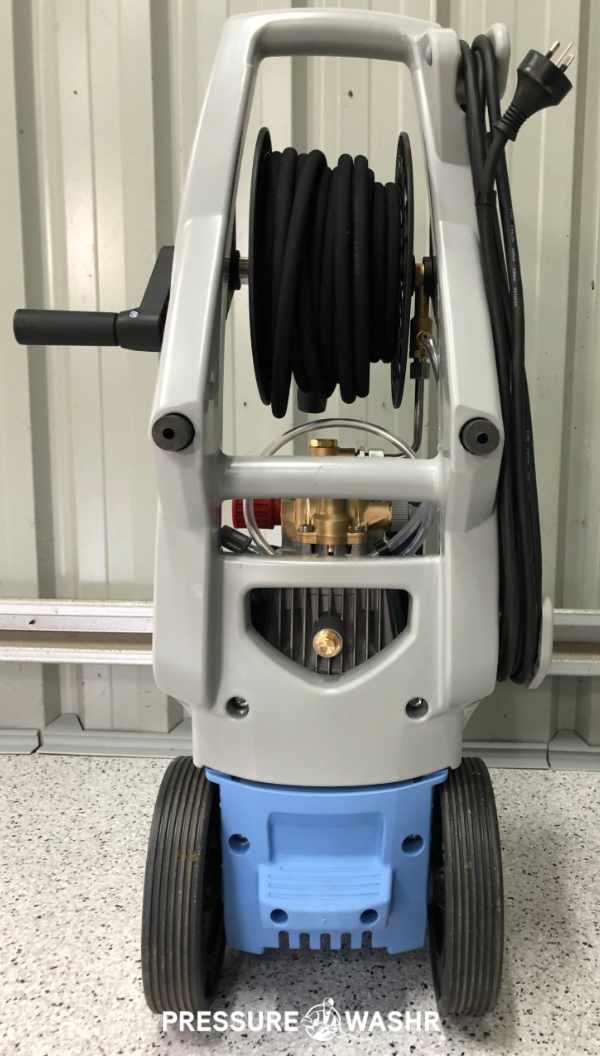 And here it is from behind showing the transmission section of the pump (below the brass pump head):

If you're interested be sure to check out the Kranzle electric pressure washer at the links below:
Most Popular Kranzle

Most Affordable Kranzle

Kranzle 1122TST
Kranzle 1322TS
– Best electric pressure washer on the market
– With proper care will last you decades of use
– Specifically designed for garage based car detailers
– Easily transportable if not wall mounted
– 1,400 PSI
– 2.1 GPM
– 1,300 PSI
– 2.1 GPM
DirtKiller.com

ObsessedGarage.com
Amazon
Sources
---
More from PressureWashr
By now, you have probably heard about the three r's (reduce, reuse, and recycle) that represent the foundation of preserving…