10 Things Everyone Ought To Know About NorthStar Pressure Washers Before Buying at Northern Tool + Equipment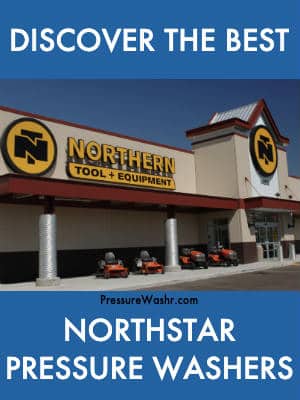 Today you'll discover the 4 best NorthStar pressure washers sold at Northern Tool & Equipment.
But first:
Did you know Northern Tool & Equipment is the largest distributor of Honda small engines (in the United States) through their sister company – Great Northern Equipment Distributing (GNED)?
It's true. And they (GNED) do it with only 125 employees. The operation is an efficient machine just like the Honda engines and pressure washers, generators, log splitters etc. they sell…
…Efficiency has been there from the start: Don Kotula, founder, started Northern Tool as Northern Hydraulics in 1980 – from his garage – selling how-to manuals for log splitters. It quickly grew to other equipment and tools.
Then in 1991 Northern Tool started manufacturing their own brand under the NorthStar name. NorthStar branded products – like NorthStar pressure washers – now account for 20% of sales.
Okay here's 10 more interesting facts you should know before buying a Northern Tool pressure washer:
Quick View of 4 Best NorthStar Pressure Washers
Best Around the Home on Weekends
Best for Consistent Daily Use
Best Hot Water Machine for Contractors
Best Electric for Most People's Needs
3,000 PSI
2.5 GPM
4,000 PSI
3.5 GPM

3,000 PSI
4 GPM
1,700 PSI
1.5 GPM
Learn more
Learn more
Learn more
Learn more
10 Things You Should Know…
Quick jump:
History | Owners | Uses | Types and styles | Engines and motors | Pumps | Shopping experience | 3 best gas | Best electric | Best accessories

1. How Northern Tool became a billion dollar company.
Let's look further at their 3 revenue streams: Catalogs, retail stores and their website/ecommerce.
Catalogs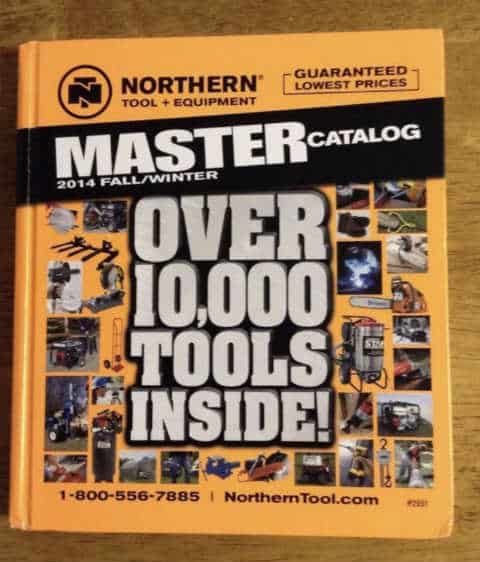 It all started with a catalog.
When Don Katula started Northern Hydraulics from his Minnesota garage he was selling hydraulic cylinders, valves and a log splitter how-to manual – all by mail order.
As the product line grew to include pressure washers, air compressors and more so did the catalog.
At one point in the mid 2000s the Northern Tool catalogs (there were around 10) reached 80 million copies/year, making it one of the most printed books. To compare: each individual Harry Potter book did 65-75 million copies.
The Northern Tool catalog was a cool tool in itself, with son and dad often going through it together not unlike Guinness Book of World Records. It was a picture book of opportunity. And it was the foundation of growth for Northern Hydraulics and later Northern Tool & Equipment.
Retail Stores
Kotula quickly moved out of the garage and opened a Northern Hydraulics retail store and warehouse early-on, in 1981.
By 1990 there were 8 Northern Hydraulics retail stores and 2 warehouses.
As both the catalog and retail stores became more popular the company started manufacturing its own brand NorthStar, in 1991.
In 1998 the name changes to Norther Tool + Equipment.
There are 31 retail stores by 1999.
In the height of the .com boom (late '99 early '00) NorthernTool.com is opened for ecommerce business.
Website
Here's the original NorthernTool.com: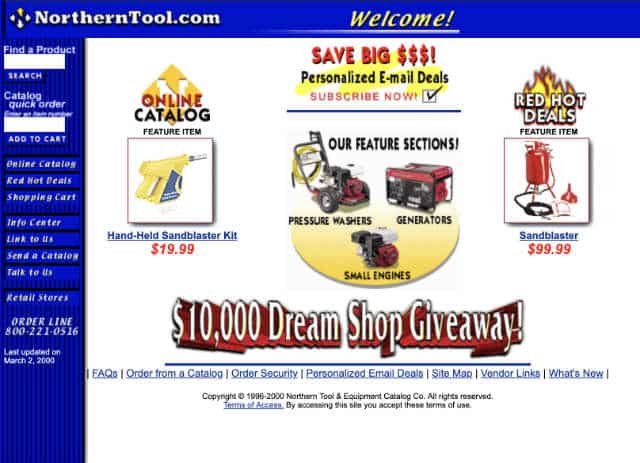 Today the NorthernTool.com domain gets over 4 million visits per month and is ranked in the top 14,000 websites in the world by traffic (top 2,500 in USA). It has around 12,500 websites linking to it including the likes of NYTimes.com, Bloomberg.com, Cnet.com and Wired.com.
Northern Tool today: A website + catalogs + over 100 retail stores + multiple subsidiary brands
By 2007 there were 61 Northern Tool retail stores and they were outperforming the catalogs and website.
Today (Aug-2019) there are over 100 stores with 29 in Texas alone and they outsell the website/catalogs by a fair margin.
However, they are still well behind The Home Depot and Lowe's in terms of per store revenue. This could be down to many factors: Average floor space, average customer value and average equipment cost. Here's how they stack up:
The Home Depot. Total revenue = $108 billion. Total stores ~2,000.

Revenue per store = $54 million.

Lowe's Home Improvement. Total revenue = $69 billion. Total stores ~2,000.

Revenue per store = $34.5 million.

Northern Tool + Equipment. Total revenue = $1.1 billion. Total stores ~100.

Revenue per store = $11 million.
Northern Tool & Equipment, Inc. has acquired brands and companies along the way including but not limited to:
The Sportsman's Guide
The Golf Warehouse
So with all this success who is reaping the rewards?

2. The company is still privately owned by the Kotula family.
Even though Northern Tool & Equipment Company, Inc. is a private company we can still check the key people involved in the corporation. It's impossible to know the exact ratios of shares owned but it is safe to assume the Directors of the company are the majority shareholders.
Here are the key people as shown in corporationWiki.com: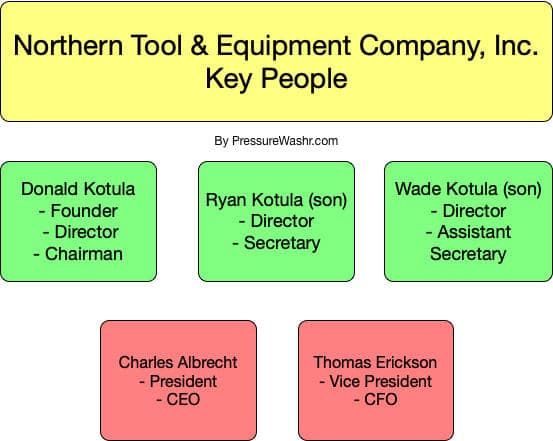 Donald Kotula and his two sons own (most likely) 100% of Northern Tool & Equipment Company, Inc.
In addition, Donald's brother Alan is the President of Great Northern Equipment Distributing, Inc. which is Northern Tool's distributing arm. He is also likely a minority shareholder.

3. What Northern Tool power washers can be used to clean.
They can be used to clean anything: Your car, house siding, BBQ grill, fence, back patio, lawn mower, boat, driveway…
…Really only your imagination limits you.
But there are guidelines.
The more sensitive the surface – windows, shingle roof etc. – the lower PSI (pressure in pounds per square inch) should be used. The more stubborn and tougher the surface – gum or graffiti on concrete – the higher the PSI used.
Here we made this chart to give you a better idea what we mean:
Note: North Star makes pressure cleaners from 1,700 PSI up to 5,000 PSI.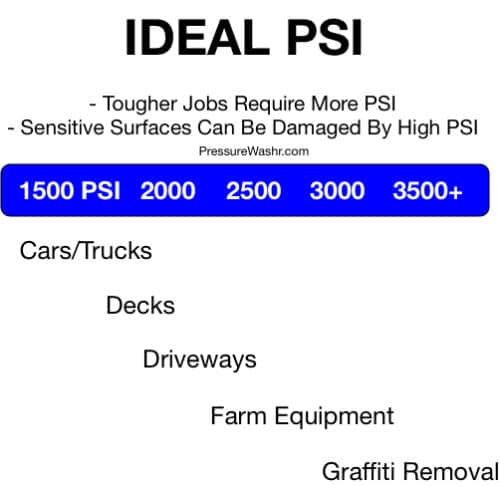 In addition to PSI, GPM (flow rate in gallons per minute) plays an important role in how fast you can clean a surface. Northern Tool sells power washers with GPM in the range of 2.5 GPM up to 5 GPM.
Here's a chart to show how much faster you can clean the same surface with higher GPM machines: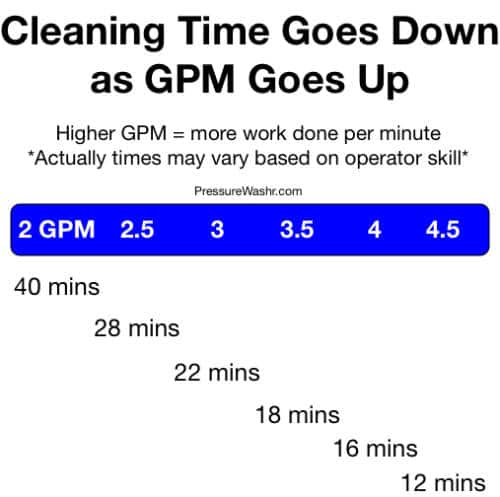 What's more important: PSI or GPM?
Power washing professionals will focus on high GPM because it means they can complete more jobs per day and earn more money. Weekend warriors will focus on cost/value meaning a good balance of PSI and GPM.
Quick Tip
: You can have a 4,000 PSI machine and manually decrease the PSI the surface feels to 2,000 PSI by using a
40-degree nozzle
and stepping back 1-foot from the surface. This technique could be used to clean a car with a high PSI machine
without damaging the surface
.
4. Exactly what types/styles of NorthStar pressure washers are on offer at Northern Tool.
Northern Tool offers the full range of power washers: gas and electric powered cold water machines and gas and electric hot water machines. See what each looks like in this graphic: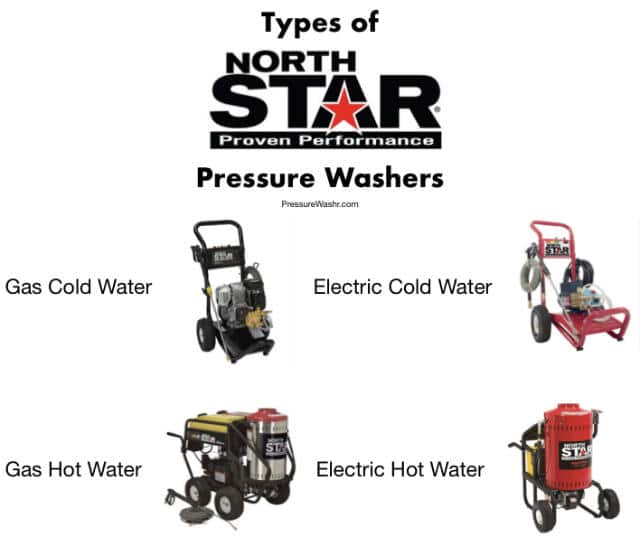 Ranking them from most affordable to most expensive:
Electric cold water: $589 to $1,400. Lowest average cost.
Gas cold water: $549 up to $3600. Average is higher than electric cold water.
Electric hot water: $1,600 to $2,500.
Gas hot water: $2,500 up to $15,000+ for trailer and skid-mounted ones.
5. The quality of engines & motors used.
North Star pressure washers are more expensive than the average brand because they use higher quality pumps and electric motors. They use the same Honda GC and GX engines as other brands.
Gas engines
Honda GC and GX engines – GC are the residential use and GX are commercial use. Power washers with GX engines will cost at least $700.
Briggs & Stratton Vanguard engines – Vanguard is B & S's answer to 'GX' and is its commercial engine.
Most NorthStar machines are the higher quality Honda GX. You'll only find 1 GC and 1 Vanguard. This is good for you as the GX is reliable and durable with a long usage life.
Electric motors
Leeson induction motor – All the electrics use a Leeson brand induction motor. It is an industrial motor of high quality so no worries there.
6. The quality of pumps used.
Northern Tool manufactures Northstar pressure washers with 3 brands of pumps in 2 styles:
Brands
CAT pumps – 5 star pumps well known in the industry as one of – if not the – best.
Comet pumps – Similar to CAT with 5 star reputation in the industry.
NorthStar pumps – Northern Tool's own brand of pump. Not well known in the industry.
Styles
Triplex – Highest quality with longest life span due to lower operating speed.
Axial – Harder to maintain. Operate at higher speed/temp. Fraction of the life span as triplex.
7. How the Northern Tool power washer shopping experience compares to Home Depot, Lowes and Harbour Freight.
Retail locations
Home Depot and Lowe's are home improvement warehouses. They offer kitchen remodels, paint products, lighting solutions, building supplies and they happen to have some power equipment isles…
…Maybe an isle or two dedicated to lawn mowers, chain saws, hedgers, trimmers, weed wackers and a few pressure washers when they're in season. Over each of their 2,000 or so locations in North America the retail floor space of your typical Home Depot or Lowe's is 100,000 square-feet. But a very little is dedicated to power washers.
Northern Tool and Harbour Freight retail locations are 20,000 – 30,000 square-feet. It's plenty of space because they specialize in tools and equipment.
However, even with this decreased floor space Northern Tool has easily triple the retail space for pressure washers than the others.
…The focus of a Northern Tool store is tools and equipment. And along with compressors, generators, log splitters and snow blowers – pressure washers are one of the main power equipment needs.
Here's a quick look inside a typical Northern Tool store for reference:
Online
NorthernTool.com is a comparable shopping experience to HomeDepot.com and Lowes.com.
The websites all offer a good selection with information and specs for all the pressure washers. We typically prefer Amazon for online shopping because they will usually ship faster and have better deals than other sources.

8. The 3 best NorthStar gas pressure washers.
Best for around the home on weekends
NorthStar 3,000 PSI, 2.5 GPM (Model #15775440)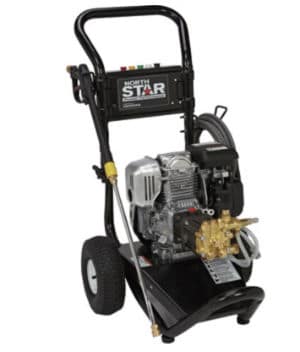 We feel the best NorthStar for around your home on weekends is the 3,000 PSI, 2.5 GPM pressure cleaner with Honda GC engine and Comet axial pump.
North Star offers 3 gas powered machines for less than $900. This one is their most affordable, which is a big reason why we chose it…
…We figure if you're only using it around the home on weekends you don't need a commercial Honda engine and triplex pump for an extra $400.
Be sure to check out the full specs link below to see if it matches your budget.
Best for consistent daily use
NorthStar 4,000 PSI, 3.5 GPM (Model #15782020)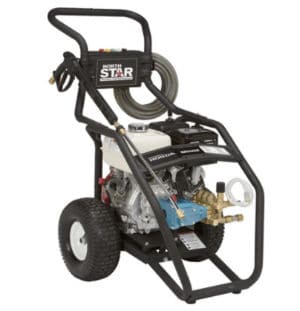 The best gas pressure washer for consistent daily use from NorthStar is the model pictured here.
Here's 5 reasons why:
Best engine: Commercial-duty Honda GX engine with superior parts and performance to the GC engines.
Best pump: CAT brand direct drive triplex pump. Okay so ideally you want belt-driven for consistent daily use but we have to take value for money into account and belt-drives are much more expensive. This CAT triplex pump is as good as it gets.
High PSI and decent GPM: The GPM of 3.5 leaves something to be desired but it's a happy medium of affordable and cleaning speed. And the PSI is higher than you'll ever need. 4,000 PSI is very powerful and the kickback will surprise you.
Long warranty: Between 2 and 4 years warranty is offered depending on if you use it commercial (to make money) or consumer (around home). The pump and engine have 3 year warranty.
Rugged and thoughtful design setup: The frame design is good and well thought out. The big tires help get over bumps and steps. The high push down handle creates leverage to make moving it around easy even if you're lazy. The lack of hose reel is a non-issue as most create more problems than they solve.
All in all this is a top first buy for a pressure washing or painting business and an upgrade buy for a weekend warrior.
Best hot water NorthStar for construction sites and commercial-use
NorthStar Wet Steam/Hot water 3,000 PSI, 4 GPM (Model #157310)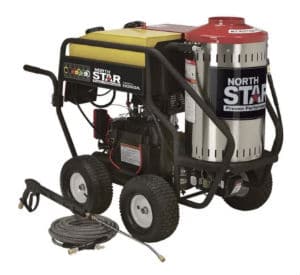 For the best NorthStar hot water power washer we debated going with this one on wheels or the skid-mounted version you lay in a trailer or the back of your truck.
We ended up going for the 4-wheel cart version because it has more versatility on the job site…
…Even though it is 550 lbs it is quite easy to move around with just one person so long as it is relatively flat ground. Think of it as 3 average size men in a shopping cart.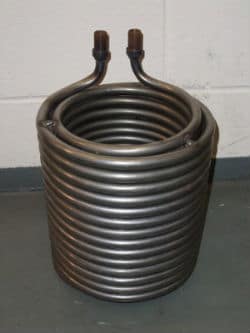 The cylinder on the back is the schedule-80 heating coil. If you remove the cover it'll look like this image. At the bottom is a diesel/kerosene burner you can adjust the temp up to 250 F (121 C).
On the pressure cleaning side of things it has a Honda GX390 engine and a CAT triplex pump.
All and all this is a high quality commercial-duty pressure washer… The best of the best for cleaning efficiency.
9. The best NorthStar electric pressure washer.
Best for most people's needs
NorthStar 1,700 PSI, 1.5 GPM (Model #1573001)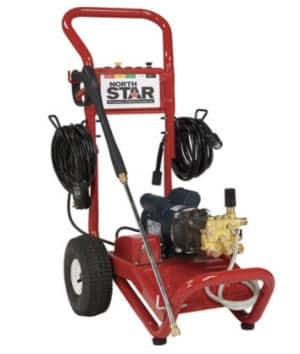 Here's the deal: NorthStar offers 3 electric pressure washers. Some quick specs of the 3:
5 HP, 230 Volts, 30 Amps
2 HP, 120 Volts, 20 Amps
1.5 HP, 120 Volts, 15 Amps
All 3 are commercial quality with induction motors and triplex pumps.
The 5 HP one would require you to hire an electrician to create a dedicated high voltage plug-in just for the pressure washer. For this reason we axed it from the ranking.
The 2 HP one is 120 Volts like most houses in North America but it still requires 20 Amps. Most home wall outlets will be connected with a 15A breaker circuit. This adds hassle and since this is a 'best for most' we axed this one as well.
The Winner
Since you don't need to make any modifications with your home electrical system the winner for best North Star electric is the 1,700 PSI and 1.5 GPM.
Although those specs may seem too low for your needs it is adequate for most jobs around you home. The jobs will just take longer. But since you don't need to do any maintenance compared to a gas engine you'll have the extra time.
10. The best accessories and replacement parts to increase cleaning speed and make your life easier.
North Star offers some high quality accessories to make your pressure washing experience better.
Surface cleaner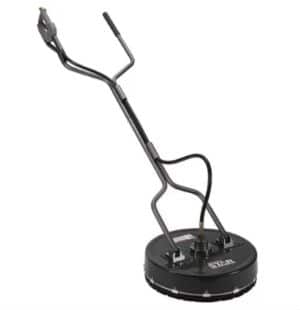 A surface cleaner is a must-own if you're doing large flat surfaces.
A large driveway that takes 1-hour with a turbo nozzle will take 10 minutes with a 20-inch surface cleaner. It works by rotating nozzles in a circle to clean a large area at once.
The image is of a 20-inch North Star brand surface cleaner. You attach the high pressure hose at the right handle and then walk forward cleaning the flat surface. It's a great accessory.
Hose reel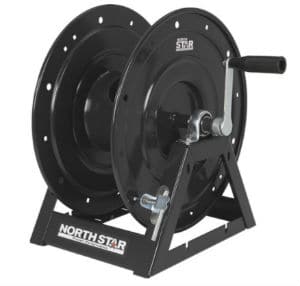 Hose reels attached to pressure washers typically suck. They are cheap and cause more trouble than they solve…
…But a high quality reel attached to your work bench, pressure washing trailer or truck is a must own.
The key with hose reels is to go high quality. This one has a hand crank to make rolling up the hose a cinch.
Hose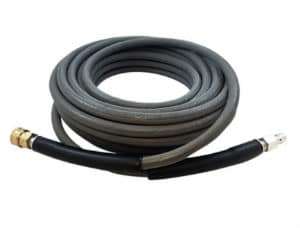 Every power washer under $300 comes with a crappy hose.
You'll want to upgrade.
This NorthStar upgrade hose is about $80 for the 50-foot or $150 for the 100-foot.
It comes with quick connect fittings and is steel wire braid construction to resist kinks. We highly recommend it.
Nozzles
If you need to replace lost nozzles then rest easy knowing Northern Tool offers a replacement 5-pack for $30.
Wand
You can find a variety of telescoping and different length wands/lances on NorthernTool.com.
Spray gun, Fittings and Filters
Search for what you need here.
Sources