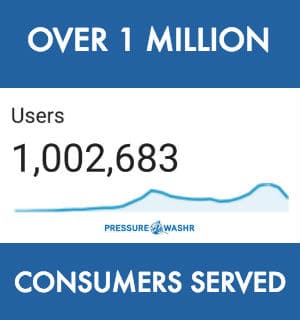 In March 2015, PressureWashr.com was started to help you find the best pressure washer for your needs.
Never did we imagine that 2 years later we would have helped over 1 million consumers find their perfect pressure washer.
But here we are.
Yesterday our analytics ticked over to 1,002,683 users.
This is from Google Analytics showing the unique users that have visited since March 2015 to July 20, 2017.
That's over the entire PressureWashr.com website… Now let's take a look at the single pages that are most popular.
5 Most Popular Pages To Help You With Pressure Washing 
On the theme of sharing analytics – here are the 5 most loved pages on PressureWashr.com:
This page far-and-away help more people find their pressure cleaner than any other. It is concise at only around 1,000 words and shows you the 7 best machines as chosen by nearly 4,000 buyers.
Whether it be size of movie popcorn or power of pressure washer, medium is always the most popular. It hits the sweet spot in size and price.
A pressure washer cleans with more cleaning factors than just PSI and GPM. There is heat. There is nozzle spray pattern. And there is chemicals. Which is the most important is up for debate. But. Since soap/detergent is easy and cheap to add – it becomes popular to know how much and which type is best. Enter this page to help.
If you want to take your pressure washer and make money on the weekends… This is your page to learn the ins and outs of how to do it.
Coming in as the 5th most popular page is this heavy-duty buyer's guide. Heavy-duty machines are to complete bigger jobs faster with their higher PSI and GPM to force and remove dirt and grime from the surface.