6 Reasons to Pressure Wash Before Putting Your Home on the Market
Did you know that pressure washing your home before putting it on the market can help you sell your home fast AND increase your home value by 5 to 10 percent?
Before selling your home, you'll make basic improvements to appeal to buyers. Should pressure washing be part of your pre-sale to do list? Yes, and here's why.
#1 Improve Curb Appeal to Sell Your Home Quickly
In this competitive market, first impressions matter! 76% of buyers say first impressions are everything when purchasing a home, and 84% of home buyers want a good feeling when they walk through the front door of their potential new home
Pressure washing your siding will make your home look clean and polished, improving your curb appeal.
If the outside of your home has years of caked on dirt and grime, buyers may move on without ever touring the inside of your house. Pressure washing the exterior of your home will attract buyers that may not have been interested otherwise.
A clean exterior signals to buyers that you take care of your home, and it shows buyers that the home is structurally sound.
Buyers don't want to think about hidden damage that may exist under dirt and grime. A clean home exterior shows this lack of damage from the start.
Pressure washing your siding
We've put together some tips to help you pressure wash your siding safely:
Set the PSI of your pressure washer between 1,300 – 1,600

Add detergent

Attach a 25 degree spray tip

Do a few test sprays on a small area to make sure the stream is forceful enough to remove dirt and grime from your siding

If the stream is not forceful enough, adjust your nozzle accordingly

Start in a small area and keep the wand steady until the dirt or grime is removed from the siding

Use smooth sweeping motions to work your way around your house

Switch to a lower pressure and run clear water through your machine

Move in a top to bottom motion to rinse the detergent off the siding

Let the siding air dry
Nothing is worse than when a transaction falls apart because of a stand still over repairs. With a freshly pressure washed exterior, you and the buyer are in for a smooth transaction!
Pressure washing the siding isn't the only task that will improve your curb appeal.
Sellers often forget the other areas of their house like the roof and gutters.
Roof Cleaning
Roof cleaning makes your roof look brand new. Experts say that a shiny new roof increases your home's value and makes it easier to sell. Roof shingles can be damaged easily, so it's important to use the right tools and technique to prevent damage.
Set your pressure washer to the lowest PSI

Attach a 25-degree (green) spray nozzle

Add a compatible detergent

Aim the pressure washer down at the roof

Keep the nozzle tip 12 inches away from the shingle surface

Work in small batches so you can make sure that the shingles aren't damaged

Stay on dry roof for safety
Gutter Cleaning
Gutters are one of the first features a buyer's eyes are drawn to when viewing the outside of your home.
You can use your pressure washer to clean dirty gutters and remove clogs.
Add an extension or telescoping wand to your pressure washer hose

Put a gutter cleaning wand attachment on the end of the wand 

Rinse the gutters with water, starting at the downspout to remove clogs 

Fill your detergent reservoir and wash your gutters with the detergent

Rinse the detergent with clear water 

Attach a water broom to sweep away the debris that fell to the ground 
Buyers want to spend their hard-earned money on a home that looks new, even if it isn't. Cleaning your roof and gutters can elevate your home to a like-new condition.
See for yourself the difference power washing your driveway and patio can make for curb appeal!
#2 Upgrade The Listing
Home's with high-quality photography sell 32 percent faster. A professional photographer can only do so much if the exterior of your home has years of caked on dirt and grime.
Real estate listing photos can make or break a sale, and a pressure washed home will look better in photos.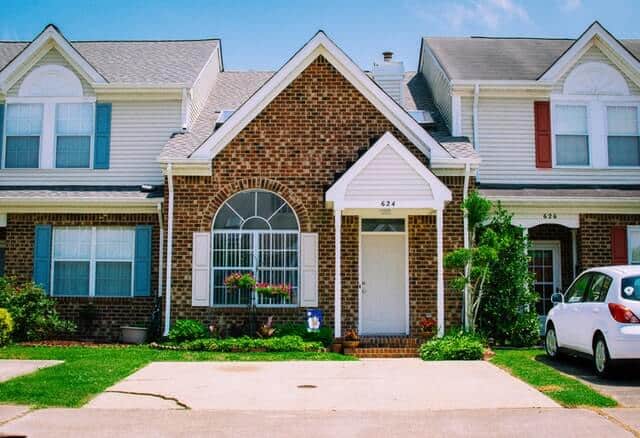 Buyers now, more than ever, are searching for property online. In fact, the National Association of Realtors recently put out a survey that explains that 99% of millennials, 90% of older boomers, and 70% of the silent generation are searching online for their new house.
A clean exterior will help your home stand out amongst the masses of listings and similar looking homes.
You don't want to miss out on potential buyers because your listing photos look dull!
If you're not sure whether your home needs a pressure wash, peruse currently-listed homes and see how their photos compare to your home. You may notice that higher-priced homes look clean and fresh compared to lower priced, grime-covered homes.
First impressions are everything in this market; you can make sure that your home stands out from similarly priced homes with a fresh and clean exterior.
#3 Increase Natural Light
Increasing the natural light in your home will do wonders for your home sale.
Pressure washing your windows can increase the natural light in your home by removing dirt, grime, cobwebs, and wasp or bees' nests that are blocking natural light.
The dirt and grime on your windows may not be noticeable to you at first glance. You may be used to the obstructed light coming in through your windows over the years.
Buyers will notice immediately if your home is dark! Professional real estate agents say a dark room is a complete turn off for buyers.
Natural light can lighten buyers' moods as they tour your home, and home buyers want a positive feeling when they walk through the front door of their potential new home. Natural light can facilitate that good feeling!
Another added benefit of natural light is that it can highlight and enhance your home's natural features.
More natural light will also signal to your buyers that they'll spend less money over the course of home ownership if they buy your home. Natural light can reduce energy costs by up to 13%, because it can help heat or brighten a space without using electricity.
If you choose not to hire a professional, be very careful when pressure washing your windows. You could break the glass if you use too high of pressure.
Follow these easy steps to pressure wash your windows damage free:
Set your pressure washer to below 2000 psi, 1500 psi is the best.

Grab a 40 (white) or 65 (black) degree nozzle.

Fill the detergent reservoir.

Don't spray directly at the windows, spray at an angle starting at the edges and working inward.

Spray the windows with clear water after the initial pressure wash
If you don't want to worry about causing damage before putting your house on the market, hire a pressure washing company to blast away the buildup on your windows.
#4 Create a Healthier Home
Pressure washing removes allergens like mold and pollen from the surface of your home.
Trapped-on mold, algae, or allergy-inducing material can cause your family members and potential buyers to cough, sneeze, have watery eyes, or complain about allergy related effects.
#5 Prevent Costly Injuries and Improve Curb Appeal
Over the years, dirt and grime can build up on your stairs, patio, or driveway. That grime can become slick and slippery, and cause slip and fall accidents.
Pressure washing the driveway, patio, or outdoor stairs can prevent costly injuries from occurring and improve the overall life and quality of the structure.
There are multiple ways you can clean heavily stained and dirty patios or outdoor stairs. Here are the basic supplies you will need if your patio or stairs are made of concrete or brick:
High GPM pressure washer

Yellow tipped nozzle

Cleaning solution

Protective gear
If your deck or outdoor stairs are made of wood or vinyl material you will want to use a lower GPM pressure washer and a green tipped nozzle for a 25-degree spray.
Remember to switch out the nozzle if you're going from concrete to wood. The nozzles adjust the water stream for a particular type of material.
Using a yellow-tipped nozzle on wood or vinyl material could cause serious damage, and using a green-tipped nozzle on concrete might not break through that tough grime.
If you're pressure washing a large concrete area like a driveway or concrete patio, we suggest using a surface cleaner instead of your wand.
A surface cleaner will cover more area, quicker and is strong enough to cut through grime, dirt, and stains.
After you're finished you'll see a huge improvement in the curb appeal of your house and can rest knowing you won't have any costly slip and falls on your property thanks to dirt and grime.
Take a look at the difference pressure washing makes to an outdoor step that was covered in dirt and mud and was a hazard to the occupants. Not only did the pressure washer remove a costly slip and fall hazard but it gave these steps a much needed face lift!
#6 Give Your Home a New Life
Selling your home is a fresh start. Power washing your home's exterior prior to listing it will boost your chances of a sale and attract the best buyers.
Removing years of dirt, grime, mold, and algae can breathe life into your home. Before pressure washing, you may have thought that you needed to replace the siding, windows, roof, or apply a new coat of paint.
The bottom line is that buyers don't want to buy a home that looks like it hasn't been maintained for years. Well-maintained homes sell faster.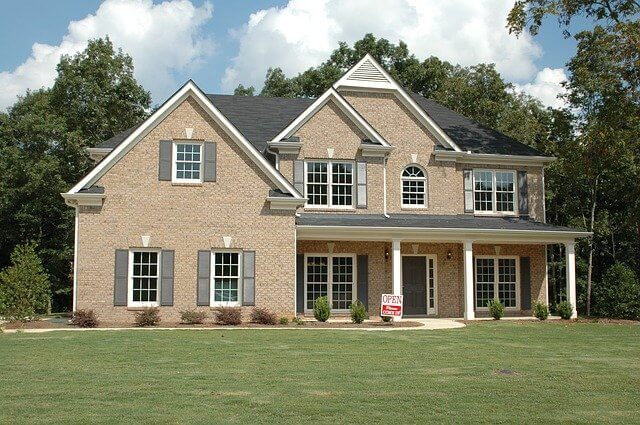 After a professional pressure washing service, you may be surprised at the condition of your home. You may find that all the areas you thought needed replacement look good as new.
Not only will you have saved yourself hours and hundreds to thousands of dollars completing potential buyer's repair requests, you will have increased your home's value by 5 to 10 percent.
Don't you want to get the most out of your investment? A home is the biggest investment most people make in their life.
For more tips and tricks on things you can do to sell your home quickly, check out this amazing infographic from our friends at Creative Home Stagers.
The Wrap Up
Getting your home ready for the market takes time and effort, but pressure washing your exterior is worth the extra steps.
A solid pressure wash will boost curb appeal and draw the right buyers in, so you can close the sale quickly. It will keep you and buyers safe by removing allergens and slippery dirt and grime.
Not only that, but a clean home means less work for buyers, and buyers don't want to spend time or money catching a home up on neglected maintenance!
Did you enjoy these seven pressure washing tips? Share your thoughts with us, and share this post with your friends and family on social media. We can't wait to hear how professional pressure washing improved your home sale experience.