How To Leverage Pressure Washing Organizations and Associations To Launch, Build and Grow Your Power Washing Business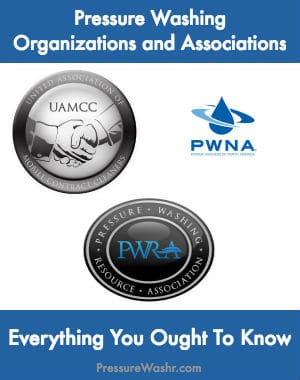 People that succeed with a pressure washing business do two things very well:
First, they identify marketing techniques that get them business.
Second, they put all their available resources into executing and scaling those techniques.
You want to know the easy way to find marketing techniques that attract customers?
Join a community of like-minded pressure washing business owners who share their experience.
In a professional organization or association of power washing contractors you can learn the strategies that work to launch, build and grow your pressure washing business in a fraction of the time and effort.
There are 3 total organizations + associations to know about and here you will learn which one is best for you – no matter if you're just curious or already in business.
Everything You Ought To Know About The 3 Most Popular Pressure Washing Organizations and Associations
What's the difference between an organization and association?
An organization is a structure of people with roles and functions designed to achieve a goal. UAMCC is a pressure washing nation-wide organization designed to promote the industry to the general public. By doing so the org believes it will improve the business climate for the contractor and enhance the industry overall. For example, there past motto was "contractors for contractors" and now it is "helping people succeed".
An association is a group of people with common interests. The PWRA exists as a resource to pressure washing businesses in the form of tested marketing material, an open chat forum and a huge convention once a year.
Let's take a look at the two popular organizations first: The UAMCC and PWNA.
The Most Popular Pressure Washing Organizations
Snapshot
> 1,549 Facebook likes on main organization page
> 638 Facebook members in contributing members closed group
> 1,500+ Facebook members in various other public and private groups
> $349 to be contributing member $459 to be associate member
> Offer regional events
Snapshot
> Original power washing industry organization
> 844 Facebook likes on main org page
> Yearly convention & trade show
> $350 membership
Now let's look at the most popular association: PWRA.
The Most Popular Pressure Washing Association
Snapshot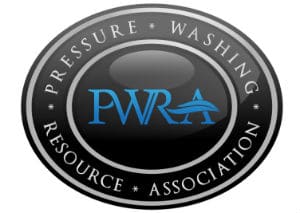 > 1,021 Facebook likes on main association page
> 2,523 Facebook members in private group
> Marketing templates, private forum, webinars, proven business systems, member discounts and myriad education materials
> The Huge Convention annual networking and trade show
> $150 initial fee + $199 annual fee
How To Choose The Best For You
Let's clarify what each is:
UAMCC is a united organization for all mobile contract cleaners: power washing, window cleaning, janitorial service, carpet cleaning and other general cleaning. UAMCC offers official UAMCC training certification to present to customers.
PWNA is a power washing specific trade organization. So exactly like UAMCC except with focus on power washing industry. PWNA offers official PWNA training certification to present to customers.
PWRA is a resource association for pressure washing business owners to grow their business with marketing templates and other business tools. PWRA does not aim to provide certification or industry "policing". PWRA only provide tools and resources for companies to grow.
Why not join all 3?
Many Directors of the UAMCC are also members of the PWNA. Lots of people use the resources found inside the PWRA and also attend the PWNA annual convention. You can absolutely join all 3 to reap the benefits of each.
A unique benefit of the UAMCC is regional events and local networking within the wider mobile cleaning industry. You can meet a carpet cleaner at an event, trade biz cards and refer work to each other when possible. Same thing with window cleaners etc.
Here's what a real UAMCC member has to say about the Organization's benefits to his business:

The best option is to request free membership trials for each and get a feel for what each offers before you decide to pay the fees.
3 Simple Ways To Leverage Your New Network For Maximum Profits
What's the point of joining these networks if they aren't growing your profit?
Here are 3 ways to take advantage of your new friendships:
1.) Cross Promotion Online and Offline
You want more profits?
Yes… Then you need more work, more paying customers. The best way is to increase your online and offline presence through cross promotion.
It's simple:
Meet cleaning contractors from other industries (carpet cleaning, window cleaning) at organization events
Become friends and talk website, marketing material and clientele
Write articles for their website with a mention of your business within and your offer for power washing (they do the same with your website)
If you power clean a house refer them your new window cleaner friend and get them to do the same.
That's it.
The online promotion helps grow leads you gain through your website and the offline (real life) referrals help increase your profits directly.
2.) Learn in Detail Marketing That Has Already Worked
At organization and association events a big focus will be on "what marketing is working for you?"
There will be speeches and roundtables and these will be invaluable. Take notes. Listen. Learn.
But the real secret is talking one-on-one with non-overlapping service area successful pressure washing contractors. Go deep. Find out what copywriting books they read. Find out the headline and offer that has worked best. Find out the lead generation software they use on their website.
Don't waste time failing learn from others who already failed.
3.) Waste Less Time Researching
A key part of owning and succeeding with your own pressure washing business is having great equipment and gear.
With your new network the knowledge of which is the best pressure washer is already known. Ask away and you shall find out – without wasting your own time and hassle researching online and with manufacturers.
Wrap Up
Although you don't have to, it is going to benefit you to join a pressure washing association or organization.
Joining up with like-minded business owners in the same industry will prove valuable to launch, build and grow your business the smart way.
Be sure to request a free trial of each organization/association.