How to Start a Pressure Washing Business
Everyone thinks a pressure washing business is super cheap and easy to start and be successful.
You buy the best pressure washer and next day business is booming, right?
That's what you've heard?
Why? Because there's more to it than just buying a pressure washer and cleaning all your neighbors' driveways for $150 bucks each.
Have you ever pressure washed before… What happens if you end up hating pressure cleaning?
Can a pressure washing business make you profit… Shouldn't you know before starting to spend money on equipment?
What happens if you're pressure washing and the water jet causes a rock to jump up and break a car window… Is there some sort of insurance needed?
What minimum equipment is required to get started and in business?
How do you get customers to start?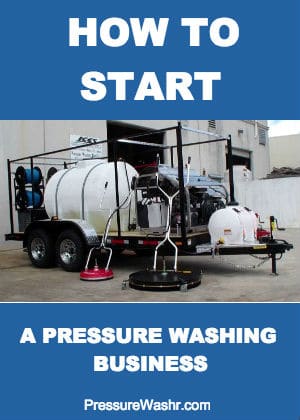 Well, all these questions have been thoroughly researched and the answers put together in this guide for you. Hopefully it helps you decide if you want to start a pressure washing business and gives you the first steps how-to.
1. First, You Should Learn How To Pressure Wash Like a Pro
There's 2 reasons to learn how to pressure wash like a pro before starting a power washing business:
To get experience so you not only clean your customers surfaces well but don't damage the surrounding area (high pressure water and flowers/plants don't like each other, flying debris etc.)
Do you enjoy doing the work? If you absolutely hate power cleaning why would you start a business doing it?
How To Learn To Powerwash
There's courses and guides on youtube.com (and a How-to section on this site) that you can watch and learn from all day but the best way to learn is to practice.
Borrow a friends or rent a pressure washer from Home Depot for a week and use it everyday to clean: your driveway, fence, house siding, car, boat, lawn mower, garbage bin, grill, patio furniture, back deck and tile patio.
Doing this won't make you an expert but it will give you a foundation to build on. Mistakes that you make you won't make again and you can go to youtube at this point to learn how to properly clean the more difficult surfaces like a driveway and wood deck. You'll also know at this stage if you hate doing the work.
Another option is to call up a pressure washing company in a neighbourhood a few miles away (not direct competition) and offer to work for them for free every Saturday for a month. Ask questions and learn.
2. Can The Pressure Washing Business Make Profit? Here's How To Know
"Profit for a company is like oxygen for a person. If you don't have enough of it, you're out of the game. But if you think your life is about breathing, you're really missing something." -Peter Drucker, Author of The Bestseller The Effective Executive
Making a lot of money is great but if your money out is more than your money in the company still loses money. You need to figure out if your power washer business can make profit and how quickly. Here's how to figure that out.
Money Out (Expenditures)
There's a reason so many startup businesses are software/digital companies – they have minimal upfront cash requirement. Services based businesses like power cleaning require more capital to start.
The 4 main upfront expenditure categories are:
Power washing gear including pressure washer, surface cleaner, nozzles, chemicals and trailer or equivalent.
Insurance costs, business permits and contractor license costs.
Cost to acquire your first few customers (Ads, pamphlets, flyers etc.)
Cost of your transportation to get to customers homes (truck, van etc.)
Of course there's also ongoing maintenance, fuel and marketing costs.
Money In (Revenues)
You make money by pressure cleaning for customers. What price you charge for your services should be high enough to earn your business a profit and low enough to be competitive with other service providers.
Putting It All Together – The Business Plan
Your business plan should be for you and no one else. It is so that you understand how the business will make money. It's an expanded version of this equation:
(Money In) – (Money Out) = (Profit)
Do some research for pressure washer gear prices, transportation cost that you want to use (truck or van?), insurance and permit costs etc. and expect to be getting your first customers by hustling door-to-door style.
As a guide you can use these very minimum starting prices:
Pressure washing gear to get started: $1,500
Transport costs like a used van or truck: $5,000
Insurance, permits and licenses etc: $500 upfront and $60 per month (both vary depending on your state)
Getting first 50 paying customers: $250 for tons of flyers and printing

Approximate total upfront cost: $7,250
3. Keep it Legal. The Ins and Outs of Pressure Washing Business Permits, Licenses and Insurance
To stay out of jail and avoid going bankrupt if you damage property or injure someone on the job be sure to get the proper licenses, permits and insurance. Here's what you need to know.
The gist is this: Go to Google.com and enter "[your town]+pressure washing business license and insurance"
Disclaimer: This is just a rough guide you should consult a business lawyer and do your own due-diligence to ensure you have your affairs in order to starting a pressure washing business.
Business Documents
Contact your city licensing office or county clerk's office to find out the requirements of your area because it varies widely state-by-state.
Business License – You'll need to register your business with the state
Bond – You may need to pay a bond before you can get a license to operate a pressure washing business in your area.
Sales Tax Registration – You'll need to register your business for tax purposes with the IRS.
Contractor Permit – You may need a specific permit for pressure washing in the area you pressure wash so be sure to contact the local licensing office for details. Just Google: "[your town]+pressure washing contractor license"
Environmental Permit – Some states require an enviro permit because you are discharging water to a storm drain in many instances.
Insurance
Your pressure washing business will probably need 3 different types of insurance. Be sure to visit many insurance agents to get quotes and advice.
Liability insurance to cover damage you may create while pressure cleaning.
Workers compensation to cover for injuries to you or others while on the job.
Equipment insurance to cover damage or if they are stolen.
Should You Join The Voluntary Pressure Washing Associations?
Yes because it's always good to be surrounded by a network. There's 3 prominent ones and you should visit each site to choose which to join (if not all?). They all have conferences yearly to network and many more events around the U.S.
UAMCC – United Association of Mobile Contract Cleaners
PWRA – Pressuring Washing Resource Association
PWNA – Power Washers of North America
Read our full report on the Top 3 Pressure Washing Associations and Organizations.
4. Why You Should Invest In Your Pressure Washing Equipment Instead Of Going Cheap
Yes, the best gear is the most expensive but it also acts to show you are serious about pressure washing. The customer instantly trusts you more and feels more inclined to recommend you to friends.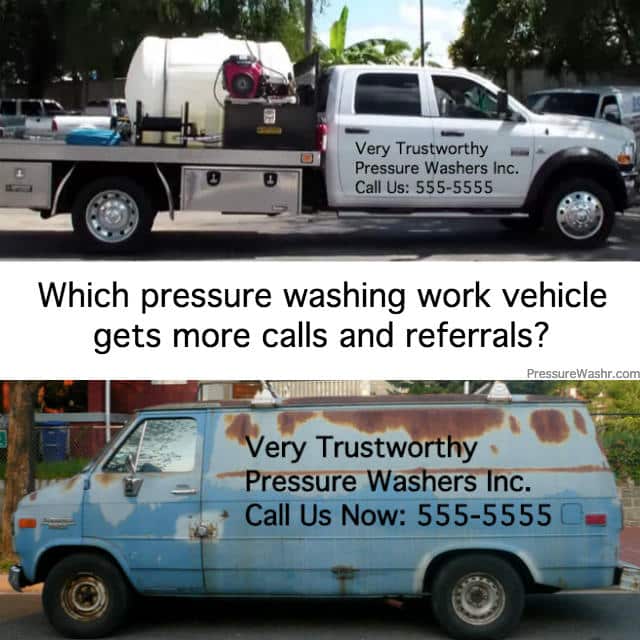 Who would you trust and recommend out of these two? Let's just assume both do a decent job.
Option A
The one that rolls up to your house with a clean Ford F150 (brand stickers prominent) pulling a nice looking trailer with the company name and phone number on the side with attached powerful looking pressure cleaning equipment, hose reel and water tank.
-Or-
Option B
The one that rolls up to your house to do power washer work in an old dirty van with 2 hubcaps missing, black smoke coming out the exhaust and a tiny little plastic electric pressure washer (not that they're bad they have their uses) that they grab out the sliding door to do the work you're paying $150 for.
It Gets The Job Done Right, Fast
Another advantage of good equipment is it's easier to do any work requested of you. From removing paint to fleet washing. You just can't do that work with a 1,400 PSI 1.4 GPM machine.
It's Free Business Marketing
Business is as much about perception as it is about quality. You can offer a great service but if it seems like you don't you won't succeed. First impressions just matter. A LOT.
If you're driving around in tough looking truck with your pressure washing equipment firmly attached to your truck bed and you have a phone number and what your service is on the side you will get calls. You won't get calls driving around in your Honda Civic with the same sign. It's human psychology – we can't help it.
It Gives You Trust and Authority
Like I mentioned above when you invest money in your business it shows you care. It also sets you apart from the 14-year old down the street offering the same service with his parents handheld pressure cleaner – not that theres anything wrong with doing that. The guy that owns a fleet of delivery trucks is going to hire you not the kid. You have made yourself a trustworthy authority by getting good gear.
You Save Money Longterm
"I am not rich enough to buy cheap things."
I couldn't find where that quote comes from but it rings true. Long term cheap things end up costing more due to maintenance and replacement costs. This is yet another reason to buy good pressure washer equipment upfront if you're serious about starting a pressure washing business.
5. The Secret To Getting Customers For Your Pressure Washing Business
The secret to getting new customers is getting their attention then giving them interest and desire to pay for your service. Let's say you're sending out flyers door-to-door, this is what you should write:
Headline With Your Offer: Free patio and front stoop cleaning with purchase of driveway cleaning
Get Their Interest With a Fact: Did you know your home's perceived value can increase by $10,000 by having a clean driveway?
Create Desire By Making Them Feel Left Out: 13 of your neighbours in the last 30 days have chosen to increase their home's curb appeal. What are YOU waiting for?
Get Action By Giving a Timeframe On Your Offer: This deal expires in 5 days so please call me on XXX-XXXX or email at some.email@someemailservice.com to book your service immediately.
That's it. You'll obviously need to experiment with different offers and flyer content but that's the gist. Give the customer a reason to call and book your service immediately. Your service framed as an expiring deal usually works well.
Sources