Ryobi pressure washers have been a consistently popular purchase for many pressure washer enthusiasts over the years. Doing a quick Google search, we can tell people have really become brand loyal to this company (no wonder – they have a tool for everything). With that being the case, we purchased our most recent Ryobi 2000 PSI 1.2 GPM Electric pressure washer in April 2022 for a full battery of tests. 
We want to see if the machine holds up to the hype.
The specific model we tested is RY142022 – It's listed as their 2000 psi, 1.2 GPM model, so let's see how it holds up to our working tests.
Ryobi is Home Depot's entry-level brand and while you can definitely buy it online, most people will end up driving to the store to purchase. Ryobi has been known to produce a solid product with one of the better warranty offers in the industry, so it's understandable why so many people like this company.
We had an older unit from several years ago that had an onboard hose reel and a different style cart. We actually came away from this test liking our older unit better and we think there are better choices today. Read on to find out why.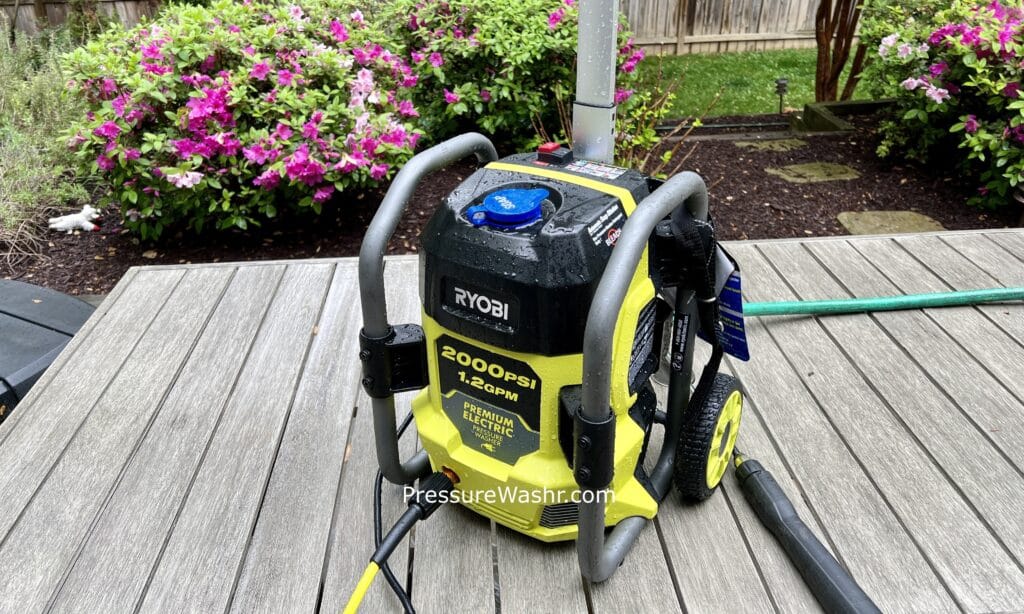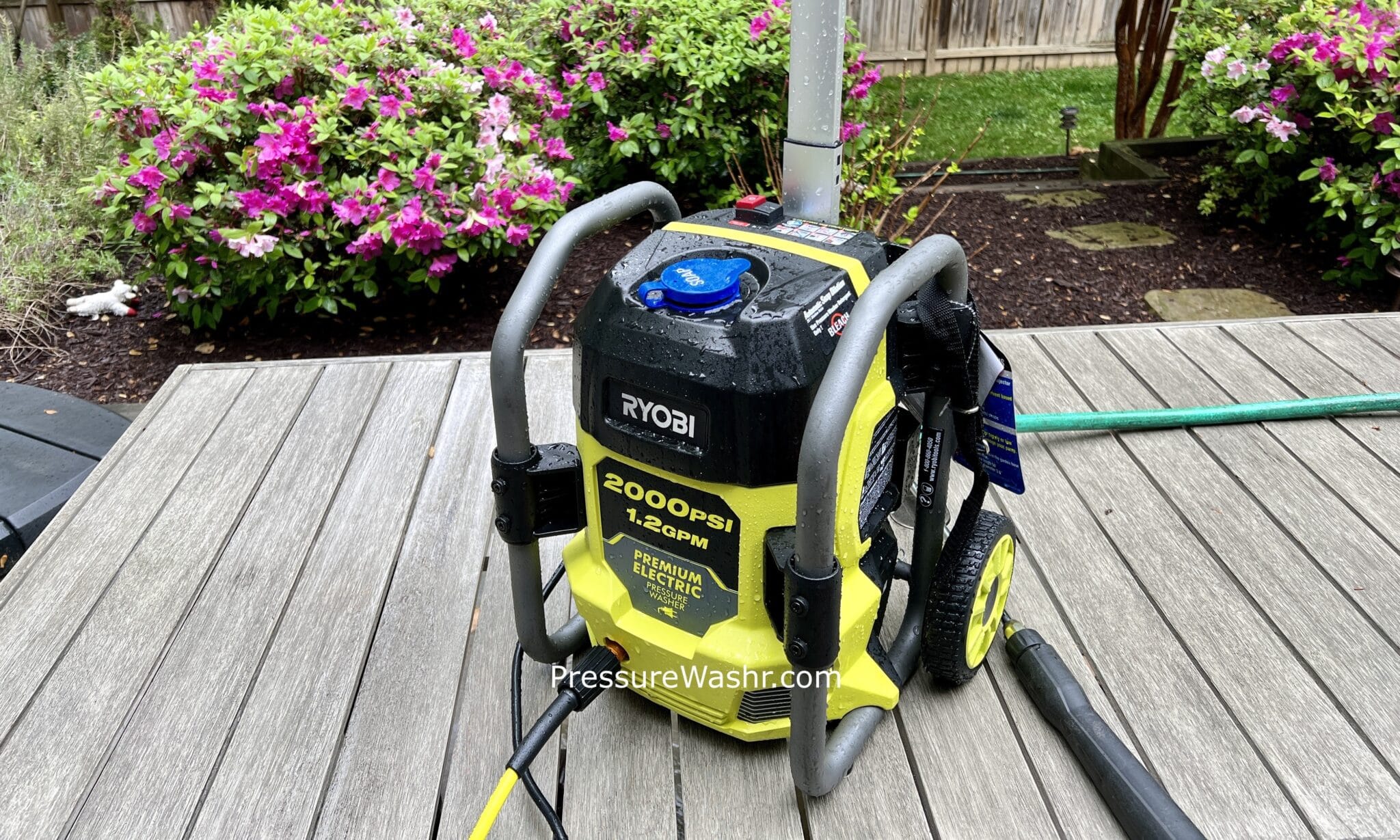 The Ryobi 2000 PSI 1.2 GPM Pressure Washer typically retails for around $200. It is the midpoint for Ryobi's corded electric pressure washers. They offer a few light-duty pressure washers and then one or two induction motor higher PSI / GPM pressure washers. Many potential buyers will end up buying this pressure washer precisely because it's in the middle (get a little more power than the cheaper models but save $100 over the bigger higher-powered units). As already stated, with this one you get 2000 PSI and 1.2 GPM for 2400 units of cleaning power. That is enough power for basic cleaning patio furniture, washing your car and smaller patios. 
The unit ships with 3 nozzles (turbo nozzle, 25 and soap dispenser). It also has a 25' hose and 35' power cord. It has a built-in single reservoir soap dispenser. The gun and wand are reasonable quality for a unit at this price point. 
We were interested in the newer compact format. It functions similar to a roller suitcase. It has a telescoping handle that retracts into the roll cage. It is extremely maneuverable and folds down into a small form factor for storage. However, this comes at the cost of user-friendly ways to store cords, hoses, and the gun/wand. 
Reasons to Buy
Hits the $200 electric pressure washer price point. Not too much but enough to expect good quality.

2000 PSI and 1.2 GPM is powerful enough to handle smaller jobs around the house and car washing. This is not enough power for larger projects. 

Well-known brand with a 3-year warranty generally sold at Home Depot which offers painless returns
Ryobi RY142022 Specifications
Below is a list of the specifications for the Ryobi 2000 PSI 1.2 GPM Electric Pressure Washer and the results we got in our backyard test. Scroll down to see more on our testing methodology:
| | Manufacturer Specs | Our test |
| --- | --- | --- |
| AMP/HP | 13 | 13.22 |
| PSI | 2000 | 1600 |
| GPM | 1.2 | 0.86 |
| Cleaning Power (psi x gpm) | 2400 | 1376 |
| Weight (lbs) | | 25.1 |
| Noise (db) | | 102 |
Usability
| | |
| --- | --- |
| Use | Residential |
| Power | Corded Electric |
| Water Temp | Cold |
| Form Factor | Cart with retractable handle |
| Built-in Cord Management | No, includes a velcro connector to attach hose and cord to the top of unit |
| Cord Length | 35 |
| Hose Reel | No |
| Hose | 25′ 1/4″ non marking |
| Spray Gun | Hard plastic with trigger safety |
| Wand | 16″ Metal |
| Nozzle(s) | 3. 25 degree, Soap, Turbo Nozzle |
| Built-in Nozzle Storage | 2 for 25 and Soap. No spot to store Turbo Nozzle |
| Built-in Gun/Wand Storage | Yes, requires that you disassemble gun and wand |
| Detergent Dispenser/Tank | Yes, one removable tank |
| Wheels | Hard plastic |
Purchase Experience
We purchased the RY142022VNM at Home Depot in April 2022 for $199. Home Depot carries Ryobi and Dewalt in store. The Ryobi 2000 PSI 1.2 GPM is one of their top sellers. People tend to benchmark off of the higher priced Ryobi pressure washers and then pick this middle of the road unit. Our purchase experience was very easy. Home Depot has all of the pressure washers merchandised together.
The box is easy to handle and will fit into all but the smallest trunks. 
Assembly
Assembling the pressure washer took about 10 minutes. The steps are well illustrated and required a screwdriver to attach the handle. You'll need to:
Attach the wheels with a bolt/axle and cotter pin. Compared to other units it was easy to get the cotter pin locked in place.

Attach the handle with a few screws and a phillips screwdriver

Assemble the gun and wand

Attach the hose to unit and gun

Start cleaning!
This is the RY142022 in its most compact form. The back has a place to store the disassembled gun and wand. There are two storage spots for the nozzles. We were able to place the turbo nozzle in the bin that also holds the wand. 
Overall, one of the nice features of this pressure washer was that it stores away in a nice form factor. It has a squat format allowing it be stored on larger shelves to save ground space in your garage or shed. While there is an upside to the small format, you lose cord management, assembled gun/wand storage and hose management that bigger formats include.
See more about our observations in the Storage Design section below.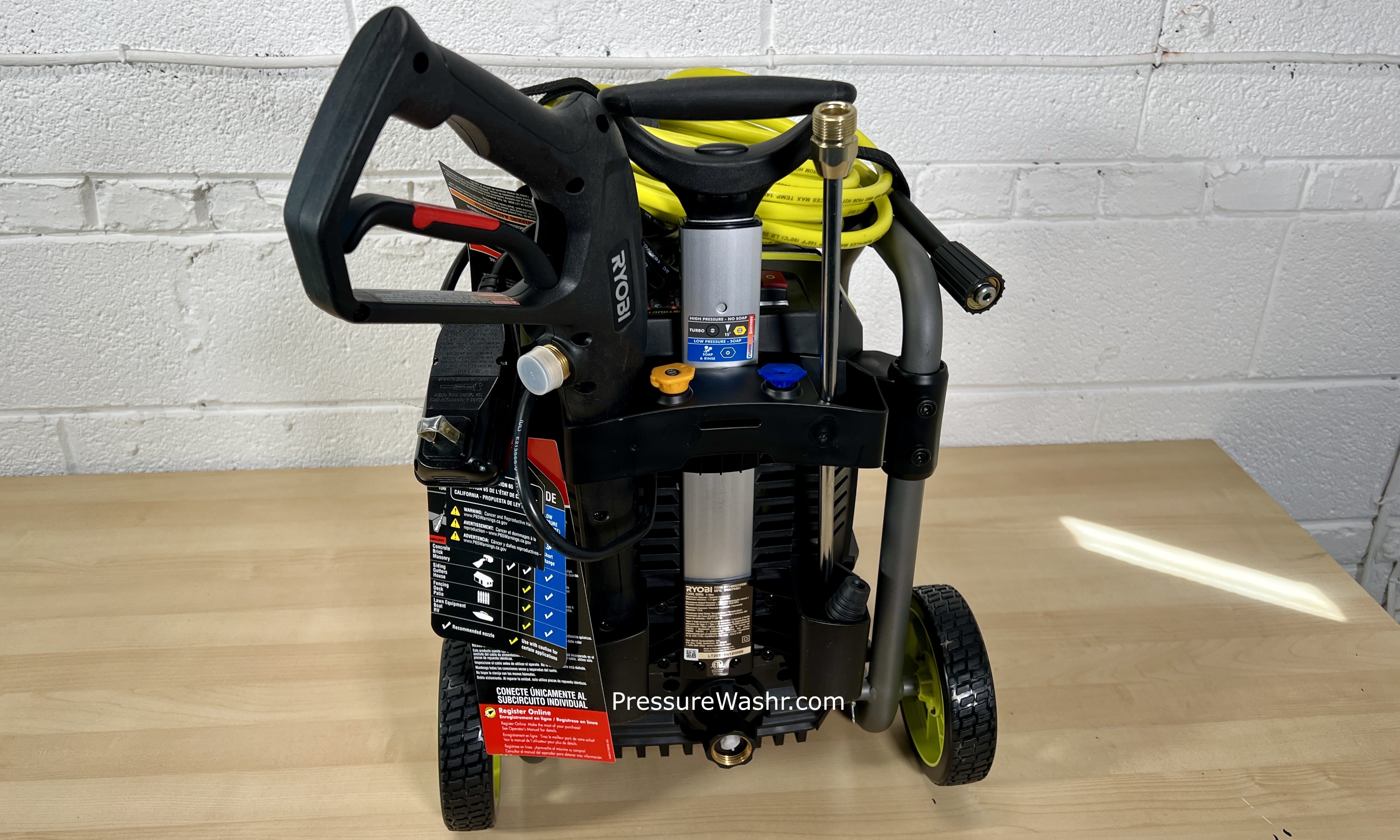 Accessories
The ​​RY142022 comes with a modest set of accessories. You get 3 nozzles (25 degree, Soap and Turbo) while many other pressure washer models include 5 or more nozzles. 
Ryobi has a wide range of other accessories that will work with the RY142022. If you have a smaller patio, we'd recommend that you get a surface cleaner because it makes cleaning patios much easier and you'll avoid streaking from uneven cleaning. 
Ryobi also sells:
A rolling under car cleaner

Wand extenders

Foam cannons
None of the accessories are proprietary to this pressure washer so you can always mix and match with other brands as long as they are designed for a lighter duty pressure washer like this one. 
Replacement Parts
Most of the parts on the RY142022 can be replaced with either Ryobi or other brands for hoses, wands, spray guns, nozzels and other wearable parts. You can also checkout Ryobi's online part store for parts that are unique to this pressure washer. 
Warranty
Ryobi offers a 3-year warranty if you use your pressure washer for normal residential purposes (90 days if you use it for commercial purposes). The warranty does not transfer if you sell it to someone else or buy one of these used.
Unfortunately, it doesn't cover any of these "wearable" items – Hoses, connector fittings, spray nozzles, trigger handle, spray wand, wheels, detergent bucket and detergent tank. So it pretty much covers the motor and pump. That's not all that uncommon in the industry, so it shouldn't come as a surprise to any potential buyers.
See the full warranty here.
Testing Results
Cleaning Power
GPM
Ryobi uses PWMA-101 (Pressure Washer Manufacturers' Association) for certifying the specs on the unit. We do our own backyard test for PSI/GPM and the motor size.
The specifications claim 2000 PSI and 1.2 GPM for cleaning power of 2400 units. 
To calculate GPM, we filled a bucket without a nozzle tip for 30 seconds. The Ryobi 2000 PSI Pressure Washer dispensed 7.1 pounds of water. That is 14.2 in one minute. A gallon of water is 8.3 pounds. Our test, therefore, shows a backyard GPM of 0.86 GPM.
| Manufacturer Spec | Our Test |
| --- | --- |
| 1.2 GPM | 0.86 GPM |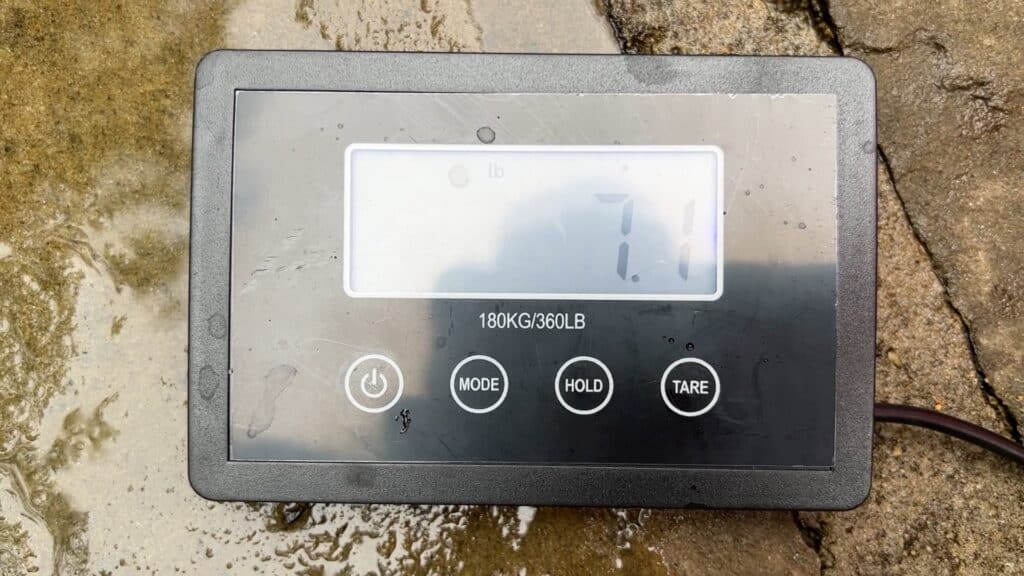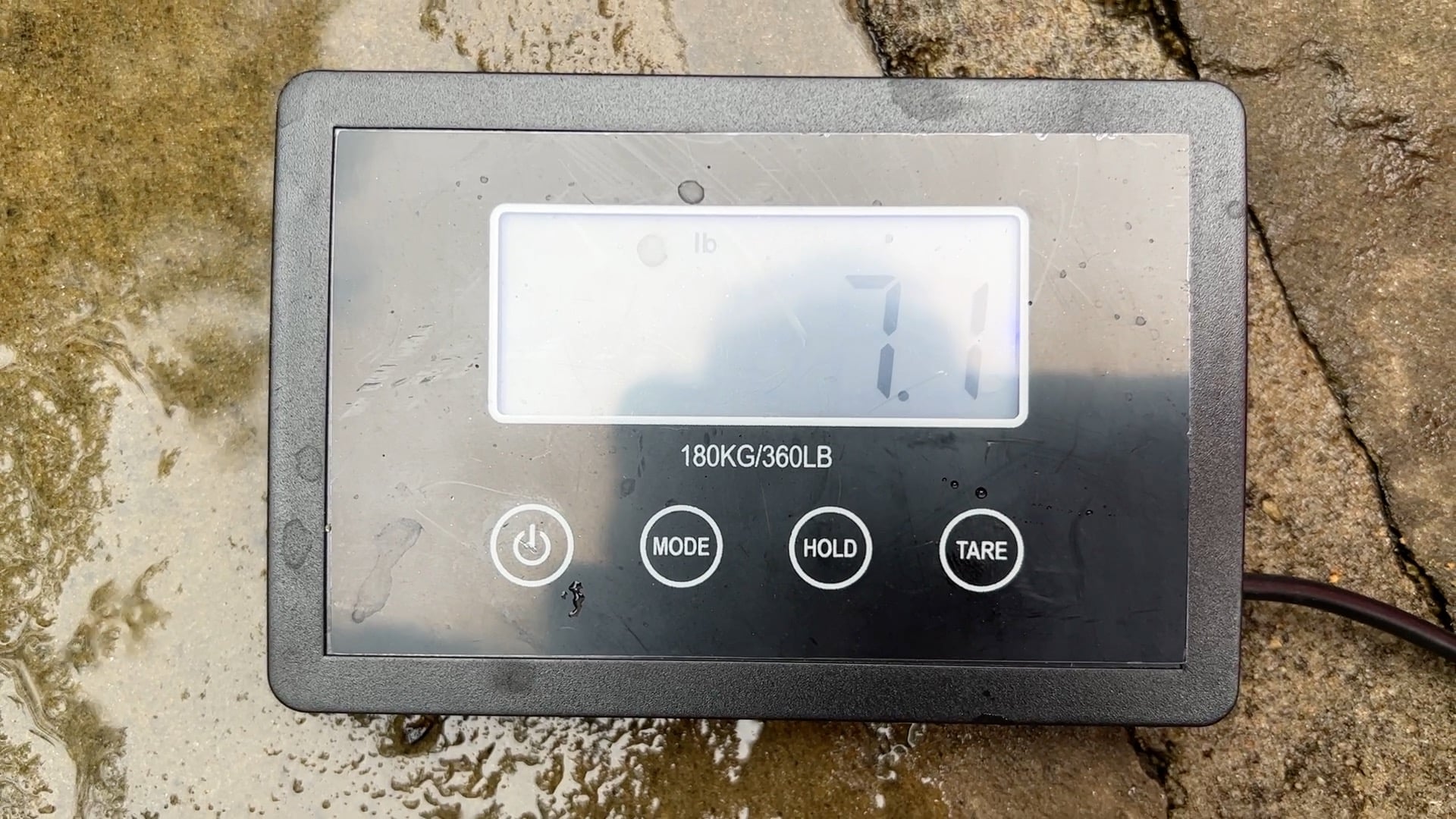 PSI
Ryobi's stated PSI for the RY142022 is 2000 PSI. These measurements are taken in a lab and are generally upstream from where we connect our pressure gauge. We use our PSI tests for head-to-head comparison purposes with other similar models.
In our test, we connect a pressure gauge between the hose and the unit. Then we use a 25-degree nozzle and begin pressure washing. In our backyard test, we were showing approximately 1600 PSI.
| Manufacturer Spec | Our Test |
| --- | --- |
| 2000 | 1600 |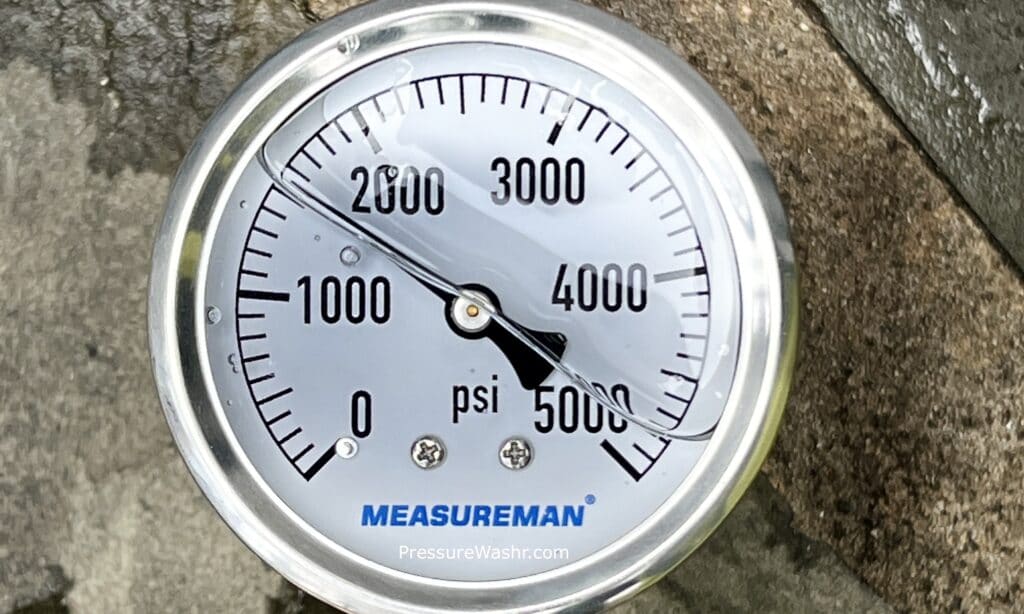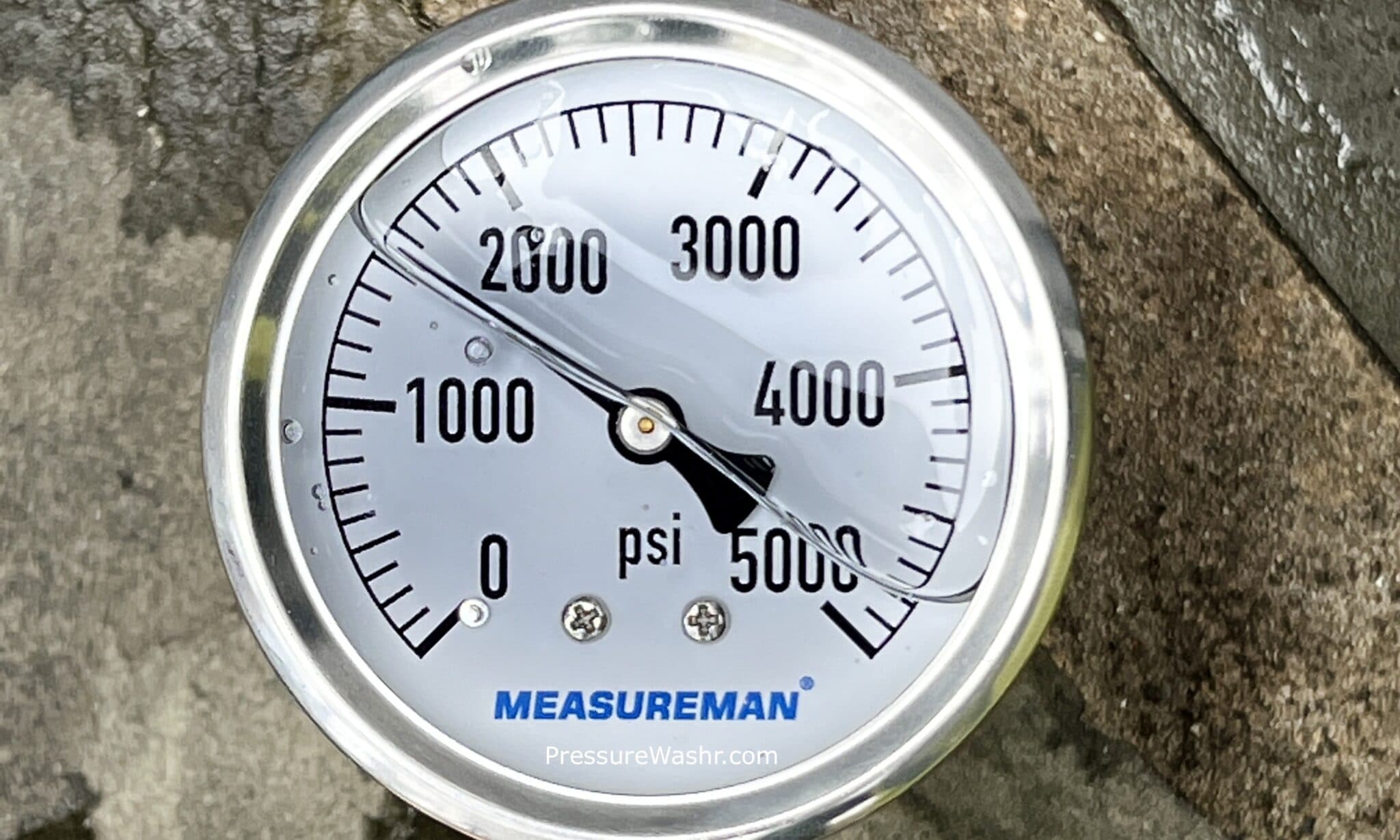 Motor
Most electric pressure washers market the size of their motors in amps. We run a load test using an energy meter and then convert the amps into a rough HP approximate. The Ryobi pulled 1455 watts or 13.22 amps. This converts to 1.95 HP. 
We also wanted to test how noisy the machine is when in use. When running, the motor and pump registers 102 db. This is above the threshold that the National Hearing Conservation Association notes that "sustained exposure may result in hearing loss." Make sure to wear appropriate ear protection when using the pressure washer for a sustained period of time (we're talking ~1.5 hours+ of continuous use).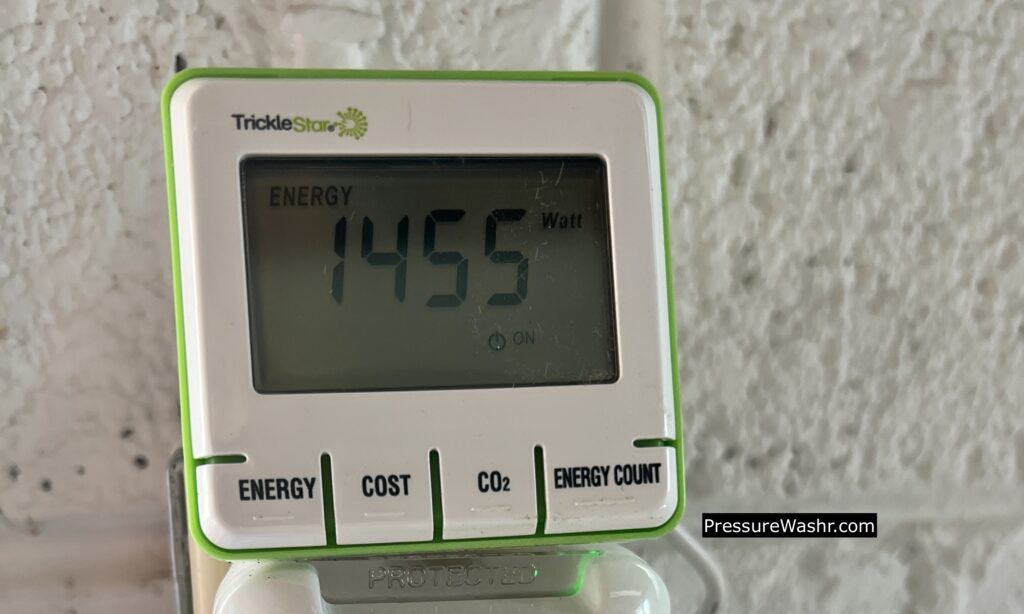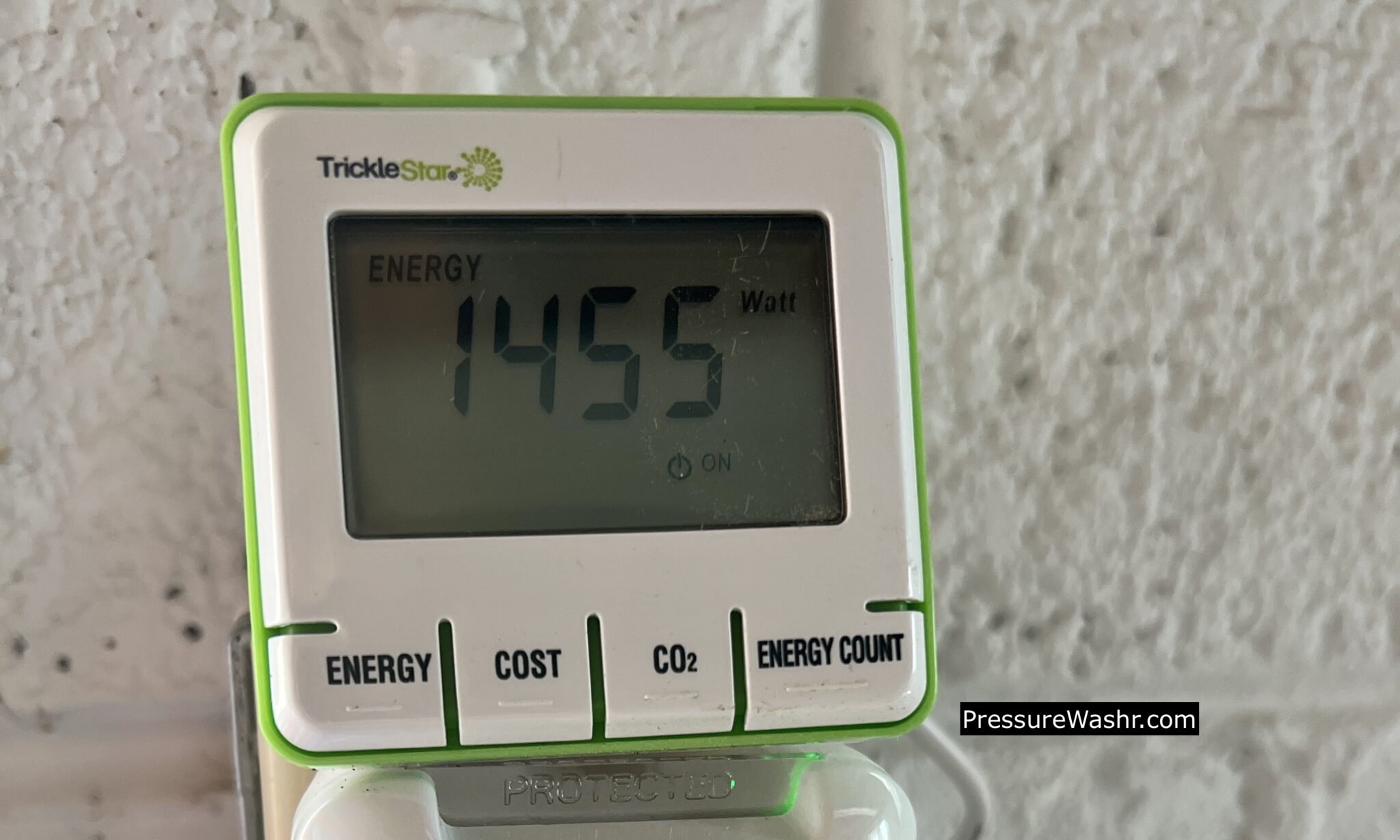 Usability
Once the Ryobi 2000 PSI 1.2 GPM pressure washer is setup it is easy to use. Simply attach your garden hose and push the red power button. We immediately loaned it to a neighbor who wanted to clean her grill and small patio area. The Ryobi 2000 PSI 1.2 GPM is perfect for this type of work. We used both the turbo nozzle and the 25 degree nozzle to clean the grill and remove bird droppings from the area around the grill.
The unit is quiet and automatically turns on and off depending when you release the gun handle. The gun itself is made of hard plastic but isn't as nice as some of the AR Blue Clean units we've worked with, which come with a rubberized gun for better grip, however it gets the job done.  
The center of gravity is low and the unit is very stable. The telescoping handle and cart design makes it very maneuverable. The wheels are made of hard plastic so it is bumpy to roll over uneven surfaces.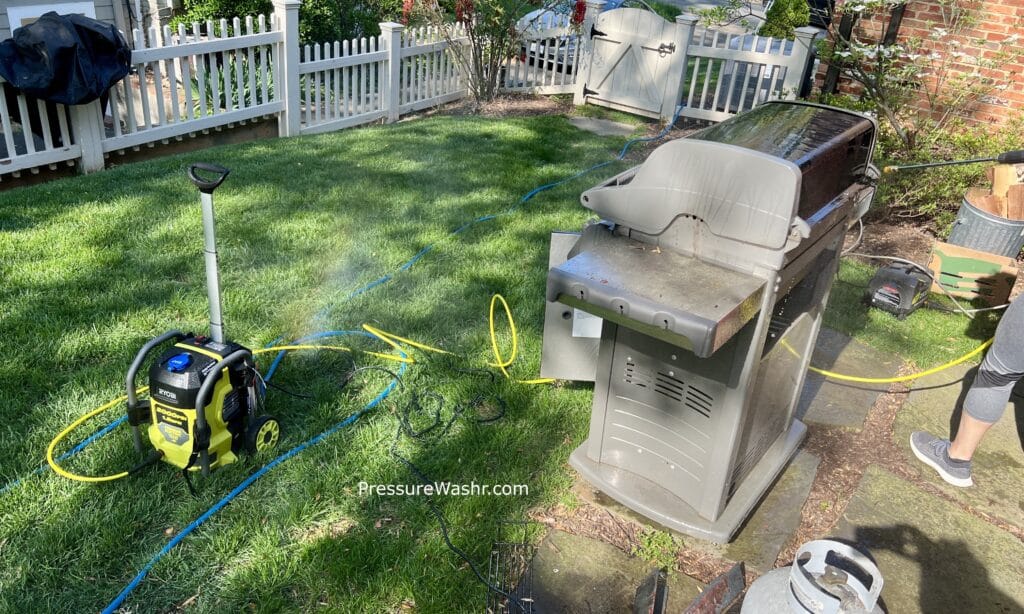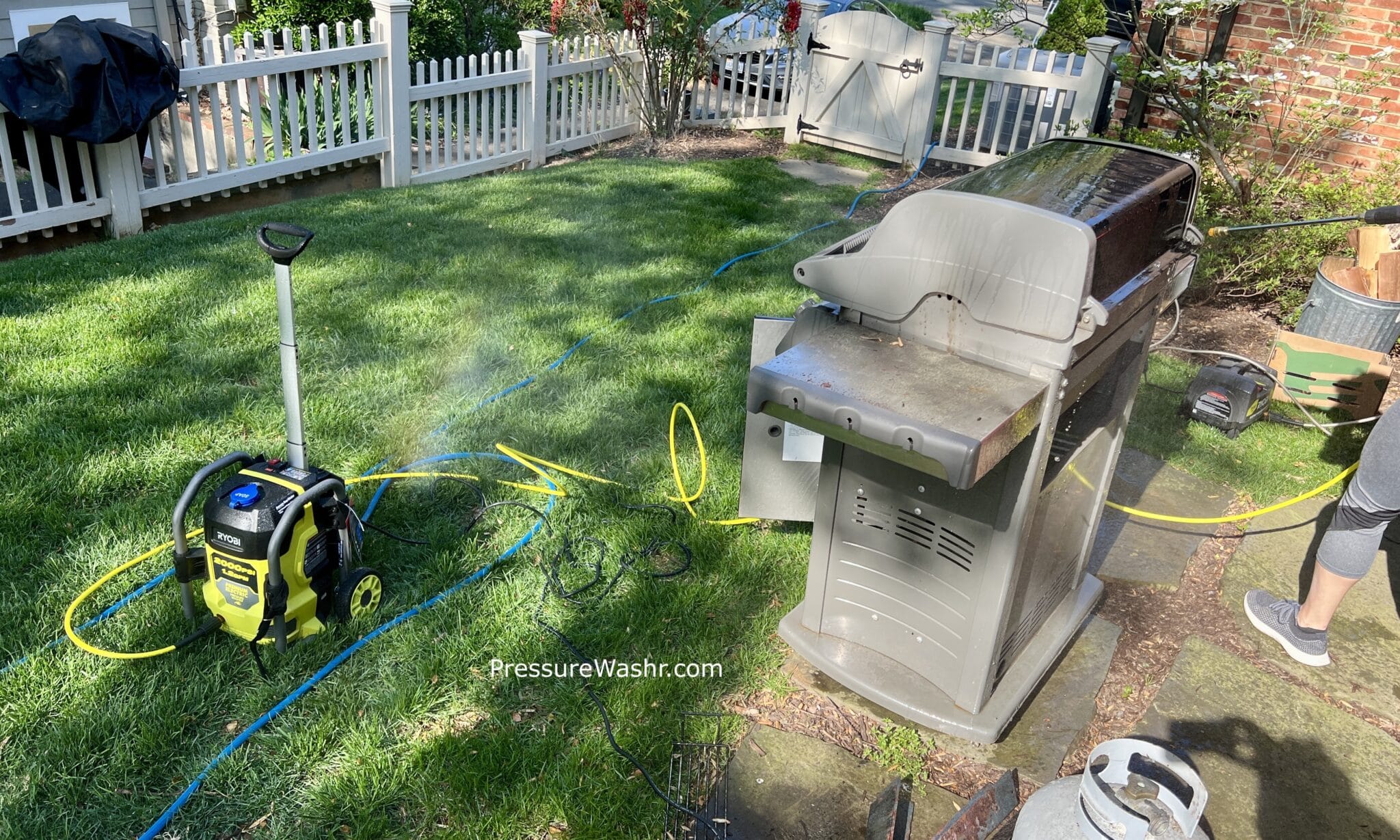 Storability
We really didn't like the storage setup for this pressure washer. We figure that most consumers will use this a few times a month (at the most), so most of the pressure washers' life will be stored away in a garage or shed. We think consumers are going to want something that looks neat and doesn't get in your way. We know that the hose and cord on this one will always be messy no matter how much effort you put into storage.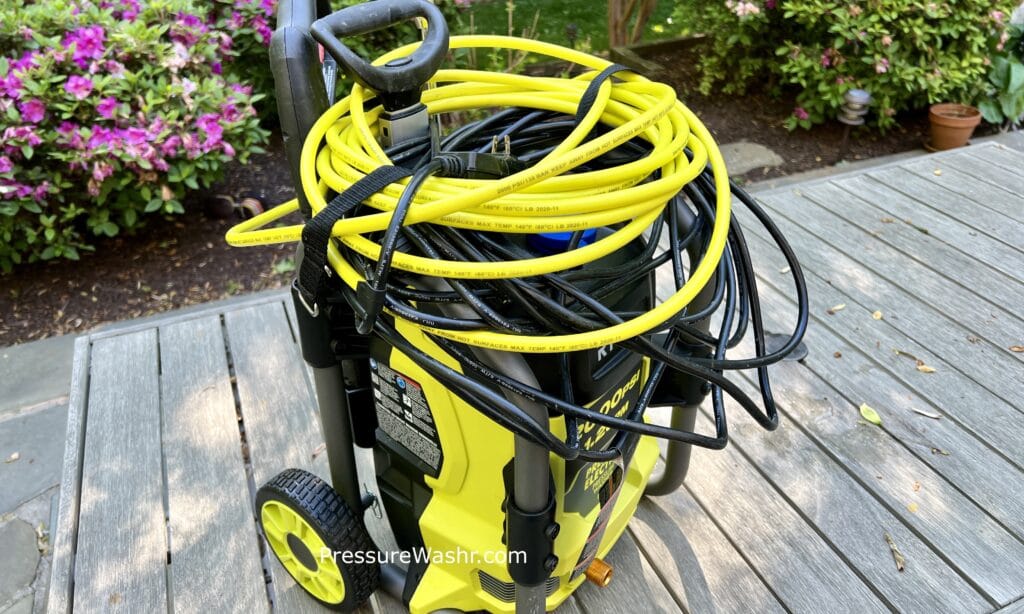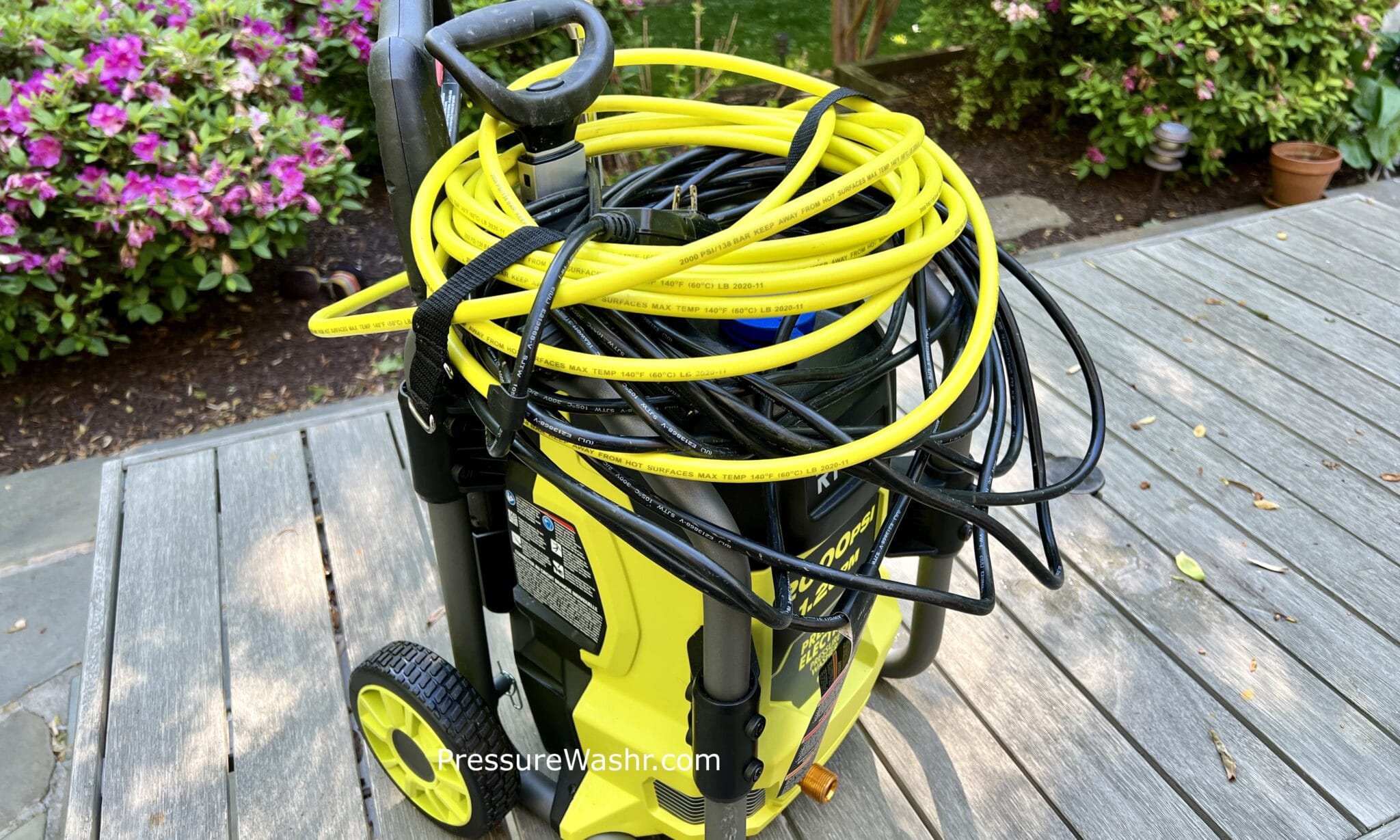 Durability
The Ryobi has a metal roll cage and all fittings seem well made. As noted, none of the plastics have the rubberized soft touch that AR Blue Clean uses. The wheels are easy to attach but end up being a little more wobbly than some of the other units we tested. We've owned similar Ryobi's in the past so we expect this one to be durable over the long run.
Pros & Cons
Pros
Available for immediate purchase at Home Depot

Good warranty

Compact footprint

Easy to maneuver
Cons
Hose, Cord, Wand/Gun storage is messy

Less cleaning power / dollar

2-prong (not grounded) plug
Value
Final Thoughts
If you are in a pinch and need a pressure washer ASAP, then go to Home Depot but consider bumping up your budget and getting the normally priced $299 Ryobi 2300 PSI 1.2 GPM unit that has much better storage features. If you have a bit more time and can wait for an Amazon delivery, I'd suggest that you consider the cheaper Sun Joe SPX 3000 with more cleaning power. 
Score
Videos