It's hard to argue the Sun Joe SPX3000 packs a lot of punch for its price. If you've spent any time looking around the Home & Garden section of Amazon you'll see this consistently listed as a top seller. They aren't in the big box stores like Home Depot or Lowes, so you'll need to plan ahead a few days and buy through Amazon or direct at sunjoe.com. Sun Joe doesn't have the same brand credibility as Ryobi or Karcher but the price and online reviews require a closer look.
Compared to some of the more premium brands, the fit and finish of the Sun Joe SPX3000 isn't as nice. This doesn't have the Ferrari feel of the AR Blue Clean (made in Italy) but if you want to save some money and get a great electric pressure washer for basic jobs around the house, look no further. This one gets our best overall for Home use.
Read on for a full review and be sure to check out the Durability and Storability sections for some of the most obvious cons to this pressure washer.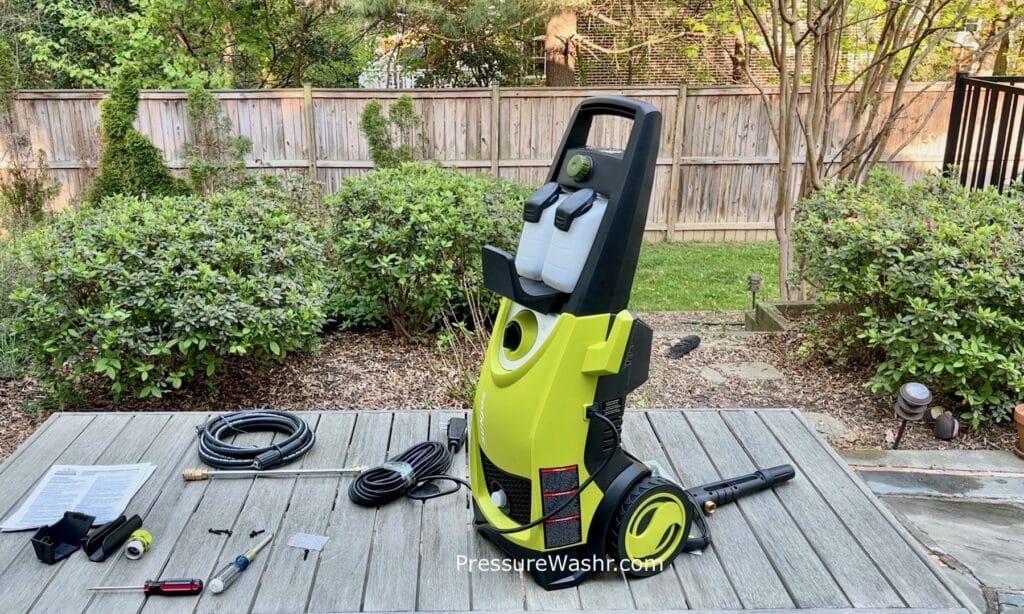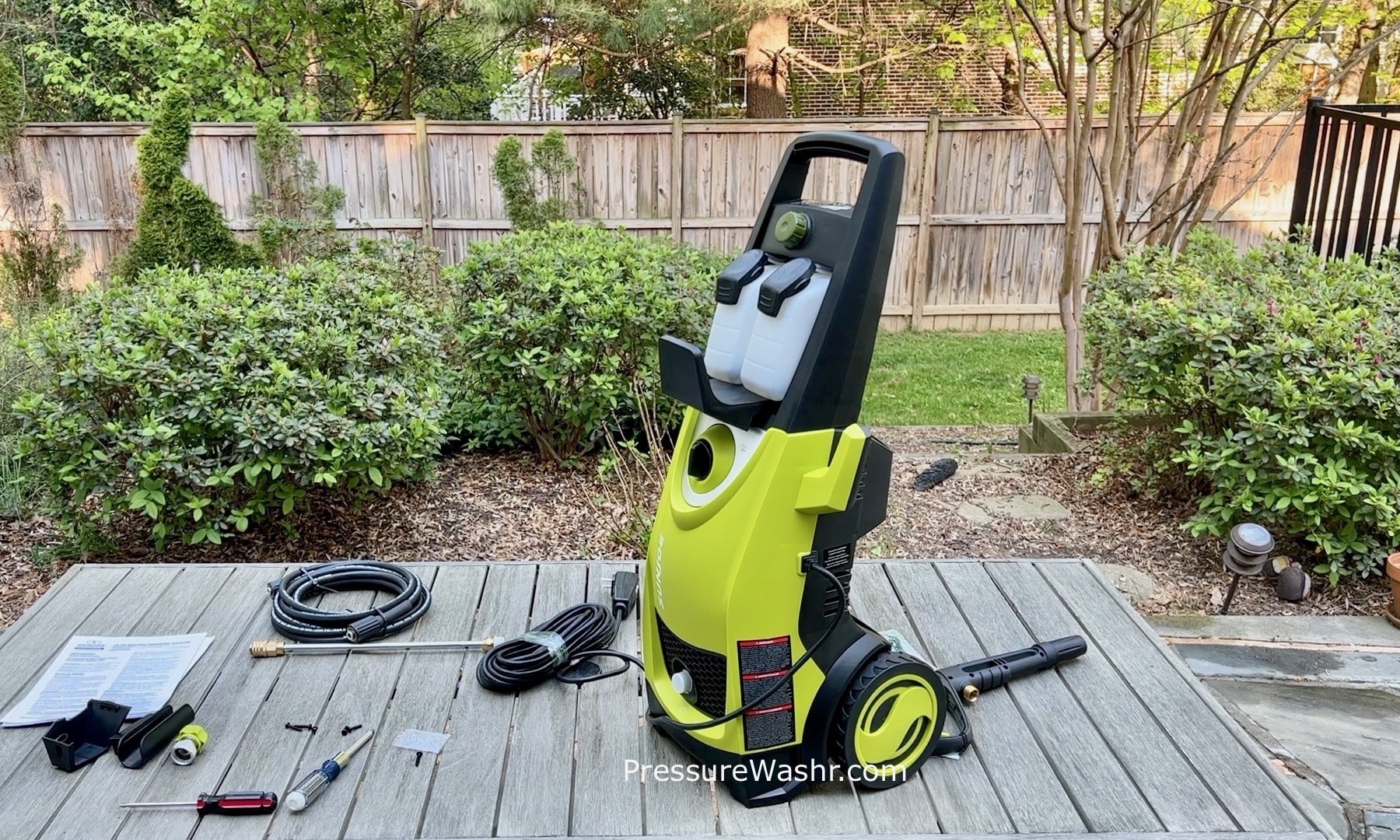 We purchased our most recent SPX3000 in April 2022 for $159 from Amazon. We have tested similar Sun Joe models in the past. We picked this unit for our review because it strikes a great balance of price and performance. We've been working on in-depth tests of ~$200 electric pressure washers. This unit has the specs of the Ryobi 2000 PSI Pressure Washer for 20% less.
The Sun Joe SPX3000 is designed for home use. It ships with five nozzles (0º, 15º, 25º, 40º and soap), two soap tanks, gun/wand. The model we picked did not have the hose reel because it requires that you completely detach the hose from the gun and unit. Plus top mounted hose reels make things top-heavy and less stable when moving around.
With 2030 PSI and 1.72 GPM, this pressure washer will handle most of the simple jobs around your house. If you plan on cleaning larger areas like driveways or large decks, we recommend moving up to an entry-level gas pressure washer like our top-rated Simpson PowerShot gas pressure washer.
Buy on Amazon or direct from Sun Joe.
Reasons to Buy
Great performance and value. 2030 PSI x 1.72 GPM = 3491. We bought ours for $159. That is 22 units of cleaning power per $. One of the best that we reviewed.
Good bundle – 5 nozzles (0º, 15º, 25º, 40º and soap), 2 soap tanks
2-year warranty when purchased from an authorized seller that covers all parts (unlike other warranties that exclude hoses)
Sun Joe SPX3000 Specifications
Below is a list of the specifications for the Ryobi 2000 PSI 1.2 GPM Electric Pressure Washer and the results we got in our backyard test. Scroll down to see more on our testing methodology:
| | Manufacturer Specs | Our test |
| --- | --- | --- |
| AMP/HP | | |
| PSI | 2030 | 1500 |
| GPM | 1.24 | 1.81 |
| Cleaning Power (psi x gpm) | 2517 | 2715 |
| Weight (lbs) | 27.6 | 27.2 |
| Noise (db) | | |
Usability
| | |
| --- | --- |
| Use | Residential |
| Power | Corded Electric |
| Water Temp | Cold |
| Form Factor | Cart |
| Built-in Cord Management | Single hook |
| Cord Length | 35 |
| Hose Reel | Hook on front. No reel. |
| Hose | 25 |
| Spray Gun | Yes, hard plastic with safety lock |
| Wand | |
| Nozzle(s) | 5 nozzles |
| Built-in Nozzle Storage | Yes, in handle |
| Built-in Gun/Wand Storage | Yes, allows storage of assembled wand. |
| Detergent Dispenser/Tank | 2 tanks. Downstream of pump. |
| Wheels | Hard plastic |
Purchase Experience
We purchased the SPX 3000 at Amazon in April 2022 for $159. Make sure you buy one where Sun Joe is the listed seller to get the full warranty. While we bought ours for $159, we've seen them discounted more depending on promotions. The SPX3000 arrived in a single corregated shipping box. Other pressure washers we have purchased come in a shipping box and then a full color retail box. This doesn't feel as premium but it creates less waste and who really cares what the box looks like.
Assembly
Unboxing and assembly was very easy. The Sun Joe SPX3000 is easy to unbox. You'll need a screwdriver for assembling. The steps are easy to follow:
Remove items from the box. The wheels are already assembled so that will save you a few minutes compared to other electric pressure washers.
Attach the handle/hose holder with 3 screws.
Attach the gun/wand holder.
Assemble the gun and wand the attach the hose.
Start cleaning!!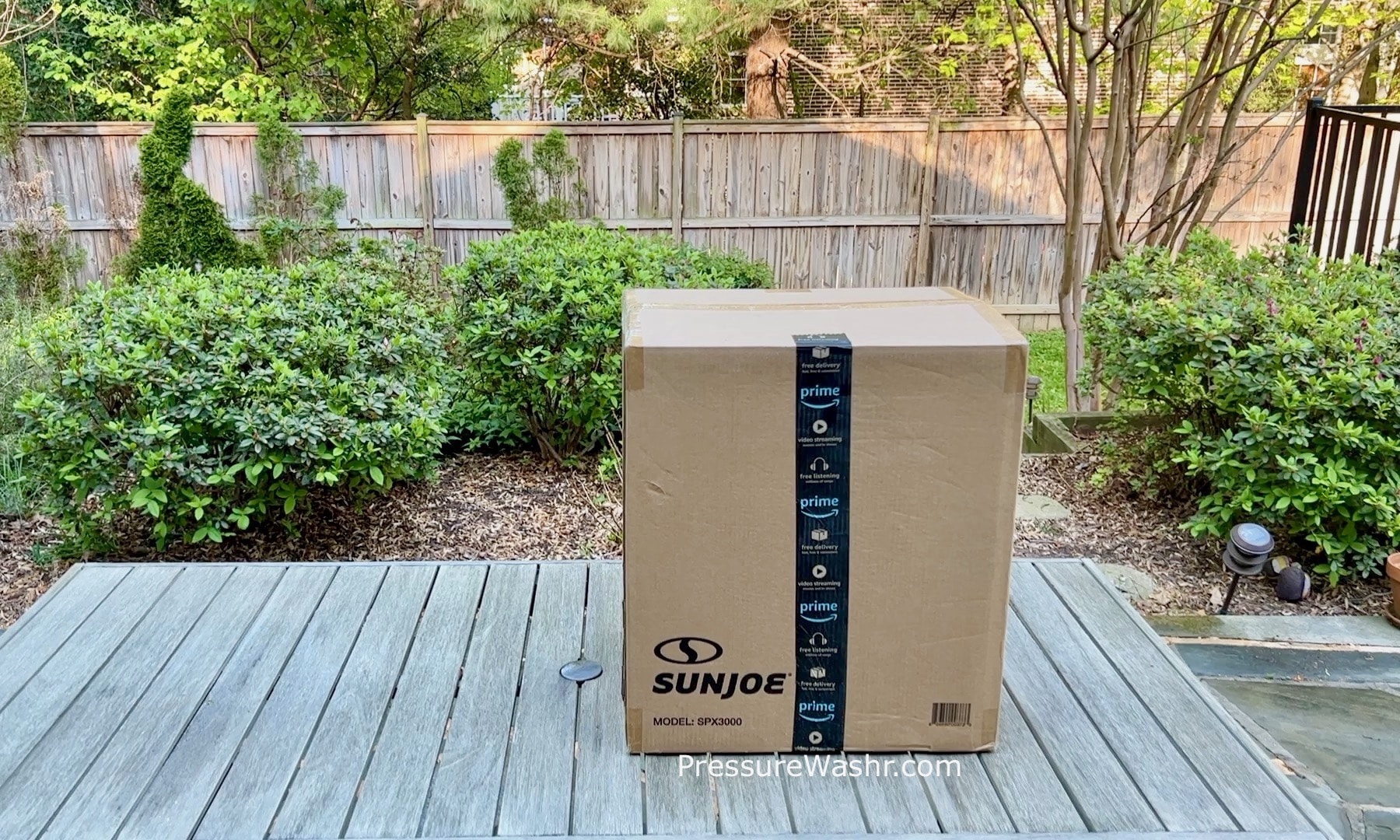 Accessories
Sun Joe sells the SPX3000 in various configurations. We bought the bare-bones unit but that still gets you everything you'll need. It has a hose, 5 nozzles, gun/wand and two soap dispensers. Sun Joe also has a full range of extra accessories that can be purchased. In general we recommend the following accessories depending on how you'll be using the pressure washer:
For cleaning driveways – surface cleaners make it easier to get a consistent clean without dirt streaks
For extra reach – get the wand extension for cleaning gutters and more
For car detailing – foam cannons are really nice for applying a thick base of detergent
You don't have to use Sun Joe branded accessories, most 1/4″ electric pressure washer accessories on Amazon will work just fine.
Replacement Parts
Sun Joe sells SPX3000 replacement parts directly on their website. At the time of our writing in April 2022, several parts were out of stock on their website. Parts like hoses, wands/guns are interchangeable with other 1/4″ hardware electric pressure brands that you'll find either online or in big-box retailers. Other items like replacement wheels and hardware kits would need to be purchased for this specific unit.
Warranty
Sun Joe has a straightforward 2-year warranty. If you are the original owner and use the pressure washer for household use, then you'll get full coverage for 2-years. In our experience, this is a generous warranty. Most other brands will cover the motor and pump but most other parts are not covered.
Read the Sun Joe warranty here.
Testing Results
Cleaning Power
GPM
The specifications claim 2030 PSI and 1.76 GPM for cleaning power of 3573 units.
To calculate GPM, we filled a bucket without a nozzle tip for 30 seconds. The Sun Joe SPX 3000 Pressure Washer dispensed 7.5 pounds of water. That is 15 in one minute. A gallon of water is 8.3 pounds. Our test, therefore, shows a backyard GPM of 1.81 GPM.
| Manufacturer Spec | Our Test |
| --- | --- |
| 1.24 GPM | 1.81 GPM |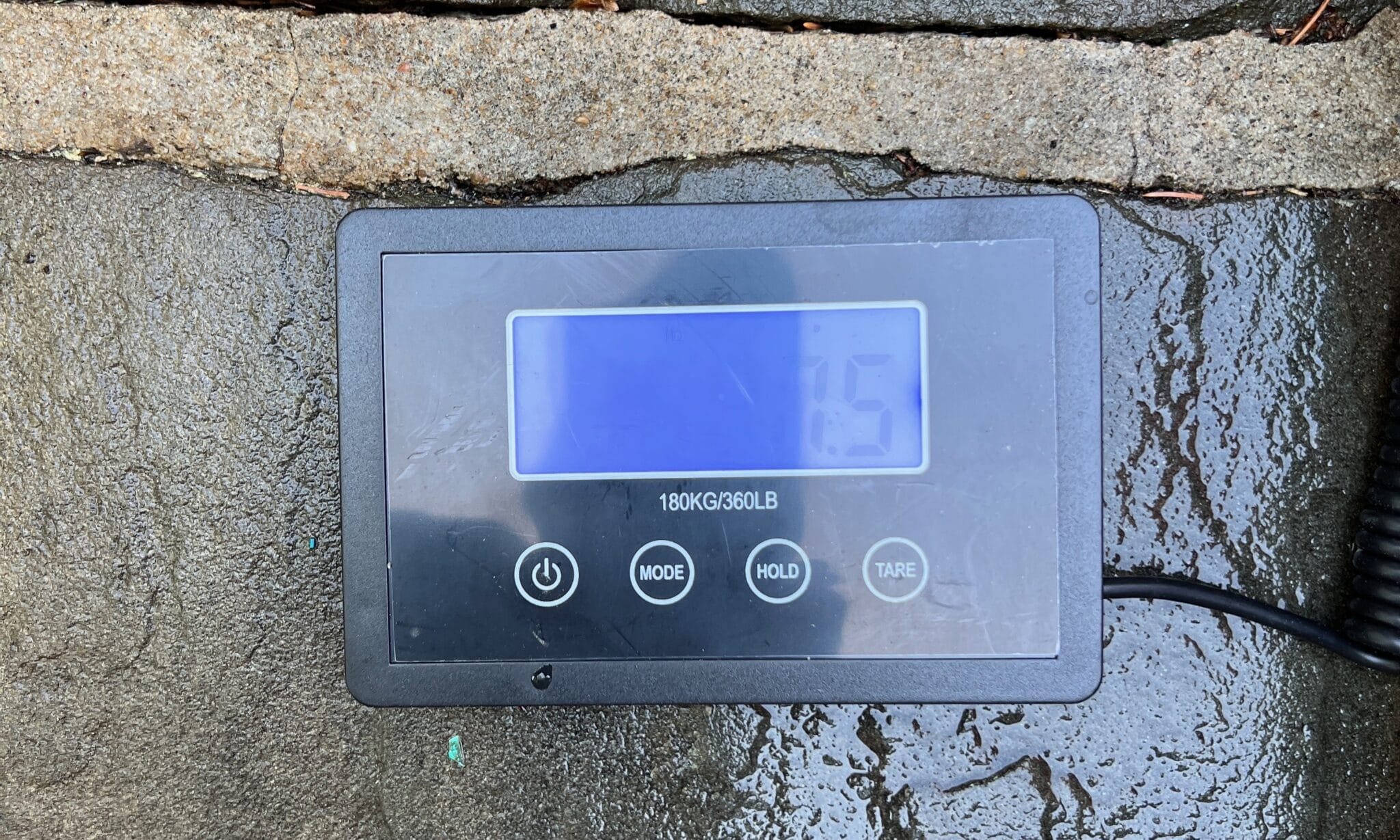 PSI
Most electric pressure washers market the size of their motors in amps. We run a load test using an energy meter and then convert the amps into a rough HP approximate. The Sun Joe SPX3000 pulled 1318 watts or 11 amps. This translates to roughly 1.77 HP. The advertised amps for the motor is 14.5. This is a bigger difference than we normally see.
| Manufacturer Spec | Our Test |
| --- | --- |
| 2030 | 1500 |
Motor
Usability
Usability is very good with the Sun Joe SPX3000. We found it easy to setup and get running. The hose, wand and gun were all good quality. The nozzle tips were easy to attach. We loaned it to a friend who was cleaning siding at his house. He used a larger tip and was able to remove dirt without any damage to the siding. The unit is relatively quiet and turns on and off when you depress the spray gun handle.
We found that the cleaning power (PSI and GPM) were impressive for the price point. Even though this was one of our cheaper test units, it has been our go-to unit when we have a quick job. It is light, powerful and a good value. Plus it is backed by a good warranty. What more could you want?
Storability
We like everything about the SPX3000 except the cord storage. You can see in the picture below that there is one plastic hook integrated into the side of the pressure washer. We tried several times to make this look nicer. The example below isn't our best or our worst attempt. Once you start rolling the pressure washer around the cord quickly comes off of the hook. We like units that have a full cord wrap with a quick release (wrap the cord then fold in one of the hooks to easily remove).
The weight of this unit is around 24 lbs. That is much lighter than the SPX3000 Max unit with an induction motor. 24 lbs is light enough to pick up and carry up stairs or move over boxes.
Other than the cord storage, this unit was easy to pack up. There is a hook on the front for the hose. The gun and wand easily fit on the side and do not need to be disassembled. The only other complaint we have is that this is a big and tall unit that will take up a good amount of space in your garage or shed. The Ryobi 2000 PSI pressure washer is far more compact but we still prefer this unit.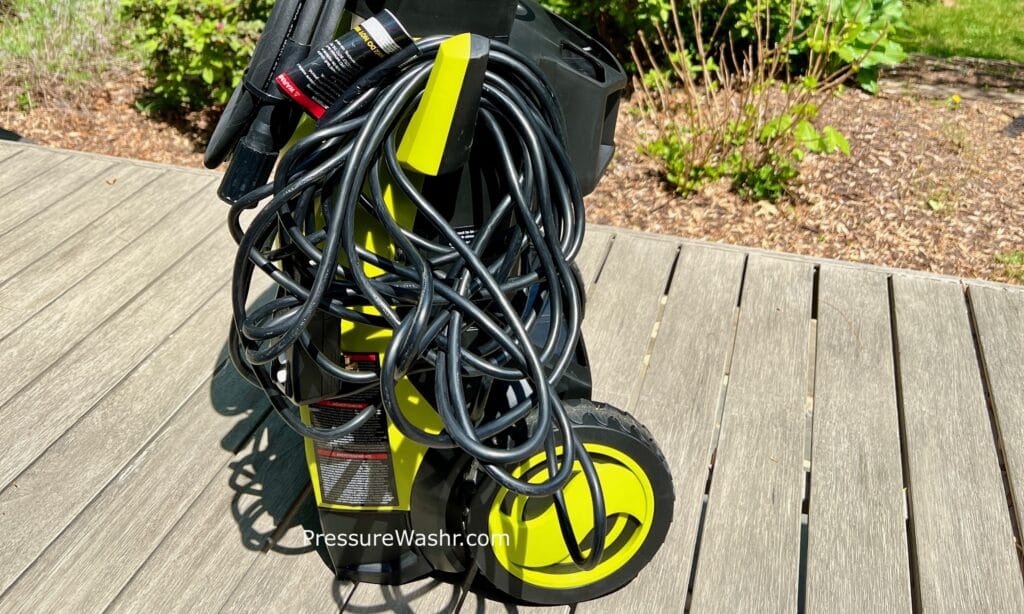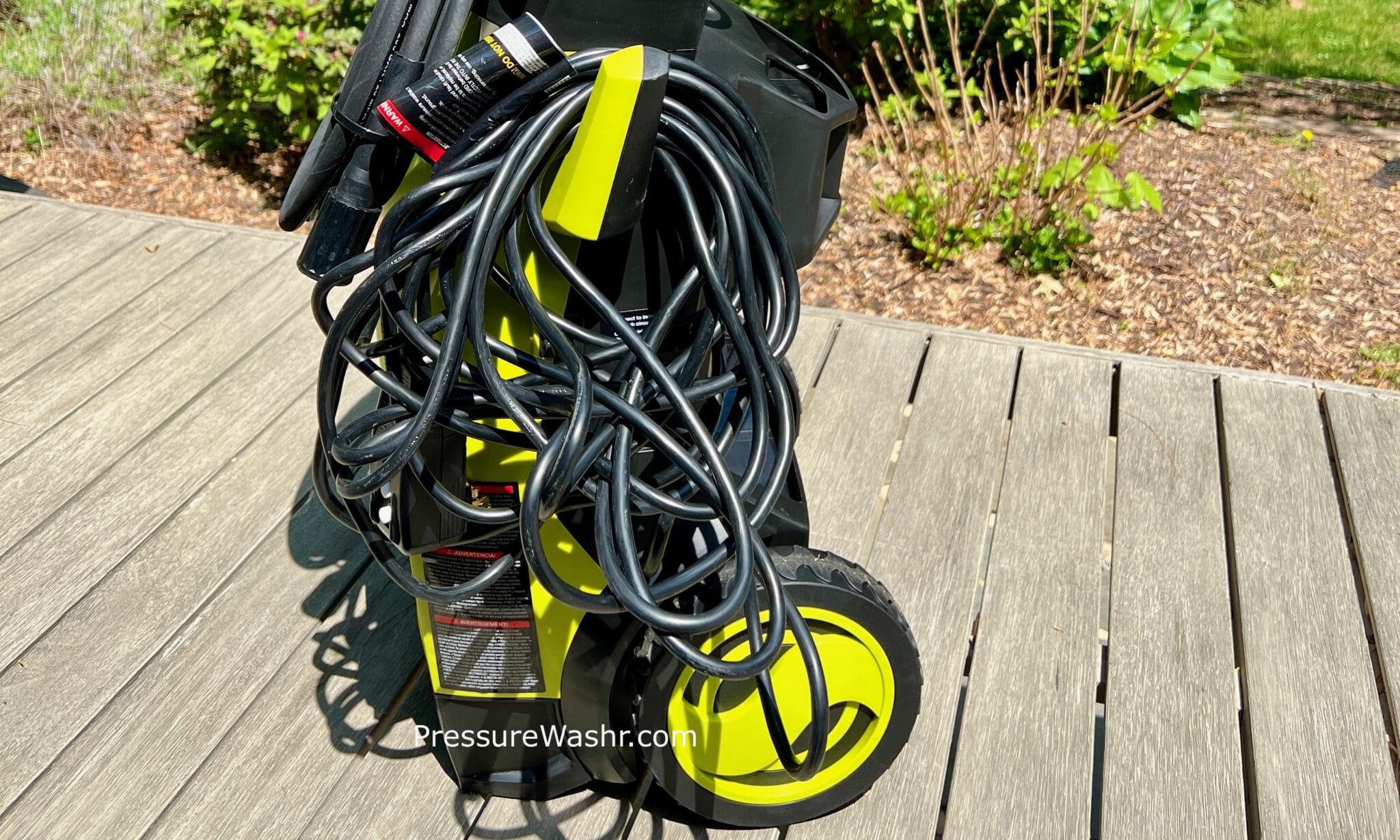 Durability
Overall, the SPX3000 doesn't have the fit and finish of the AR Blue Clean or even our Ryobi 2000 PSI pressure washers. It is 100% plastic on the outside. It doesn't have the roll cage like the Ryobi or the nicer rubberized wheels and spray gun like the AR Blue Clean. The power adaptor is a two-pronged plug not a three-pronged grounded plug. It looks like it is built to be cheap. And it is 20% less than similar better-known brands. With that said, in our experience plastic can last just as long as metal and it has a good 2-year warranty to back it up.
Pros & Cons
Pros
Good value. More cleaning power for the money.
Great warranty. Full 2-years household coverage. Can be extended when buying through sunjoe.com
Cons
Cord management isn't great.
Unit body is all plastic
Value
Final Thoughts
The Sun Joe SPX3000 is all the pressure washer that most homeowners will need. Sun Joe has done a great job of packing a lot of value in this unit. They didn't scrimp on the cleaning power but did cut a few corners on the design and durability of the unit. Our top two complaints are cord management and to a lesser degree, lots of hard plastic in the construction. None of that really prevents us from wholeheartedly recommending the SPX3000.
With all of this said, if you have bigger jobs or think you will be cleaning more frequently we highly recommend moving up to a gas pressure washer.
Score
Videos