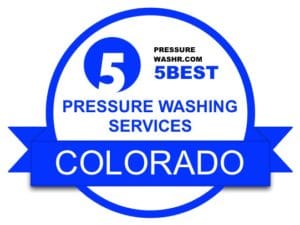 Did you know the road to Mount Evans, located 60 miles west of Denver, is the highest paved road in North America?
It reaches 14,130-feet (4,310 m). That makes it the 5th highest paved road in the world after roads in Bolivia (18,923-feet), India (18,640-feet and 17,582-feet) and Ethiopia (14,360-feet).
Colorado is also home to some of the strictest Environmental Protections when it comes to pressure washing. You can incur big fines if you get caught washing all your discharge down the storm drains. So if you're in need of pressure washing around the house or business why not hire a professional?
Here are the 5 best pressure washing services in 5 different areas of Colorado:
Best Pressure Washing Services in Denver
Company Name: Colorado Pro Wash
Website: www.ColoradoProWash.com
Contact: 303 – 518 – 3291
About The Company
Colorado Pro Wash is the recommended pressure washing contractor in the Denver area. The company maintains a close relationship with the largest and best setup industry associations. Attending the assocaiation conferences allows Colorado Pro Wash employees to stay at the forefront of pressure washing technology, techniques and federal regulations. They offer a free quote on their website and are fully licensed and insured to complete your cleaning job at home, around the workplace or within you industrial facility.
Company Location

Best Pressure Washing Services in Colorado Springs
Company Name: Top Gun Pressure Washing
Website: TGPWinc.com
Contact: (800) – 234- 5685
About The Company
If you live in the Colorado Spring area and need any form of residential or commercial pressure washing then Top Gun Pressure Washing Inc. are the guys to call. Since 1982 they've impressed customers with their professional attitude and outstanding quality of work. They are A+ certified with the Better Business Bureau and members of the PWNA (Power Washers of North America) professional association. And of course, they are fully licensed, bonded and insured.
Company Location

Best Pressure Washing Services in Aurora
Company Name: Wash On Wheels Pressure Washing
Website: WashOnWheels.net
Contact: 303 – 937 – 7181
About The Company
To get your buildings, parking lots, trucks, vans or heavy equipment power cleaned be sure to call Wash On Wheels. They have stayed in business for over 30 years by pleasing the customer and staying up to date with latest pressure washing technology and trends. For this reason they have a become a leading company in Colorado when it comes to wash water recovery. Wash water recovery is the act of not allowing dirty unapproved water to go down the storm drains (and risk huge fines from the EPA). Wash On Wheels offers job estimates if you call them or email them from their contact form on the website.
Company Location

Best Pressure Washing Services in Fort Collins
Company Name: Window King Professional Window Cleaning
Website: www.window-king.biz
Contact: 970 – 391 – 2223
About The Company
Window King is fully insured and A+ rated on Better Business Bureau. They focus on window cleaning but also do commercial pressure washing. Give them a call if you live in the Fort Collins area.
Company Location

Best Pressure Washing Services in Lakewood
Company Name: Sparkle Wash of Denver
Website: SparkleWashofDenver.com
Contact: 303 – 499 – 6722
About The Company
If you're in the Lakewood area give Sparkle Wash a call for your pressure washing needs. They are fully licensed, insured and are 100% environmentally friendly. Services offered are store fronts, graffiti removal, truck or van fleet washing, oil spill cleanup and more. Visit their website to get a quote.
Company Location

Useful Links
Also check out: Montana, North Dakota, South Dakota, Utah and Wyoming.