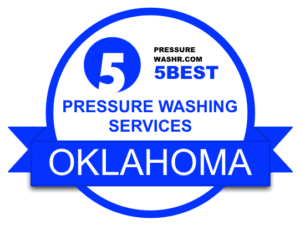 Did you know that Oklahoma's first hydroelectric power plant – built in 1938 – is still the world's longest multiple arch dam?
Check out a picture of the Pensacola Dam here. It's impressive length is 1.24 miles (2 km) and can now provide enough electrical power for between 10,000 and 25,000 homes.
Just for comparison sake: the Hoover Dam has 17 times that capacity.
Oklahoma's pressure washing industry is also substantial with lots of choice for you. We've done the research of companies for you…
Here are the 5 best pressure washing services in 5 different areas of Oklahoma:
Best Pressure Washing Services in Oklahoma City
Company Name: Morris Pressure Washing
Website: MorrisPressureWashing.com
Contact: 405 – 395 – 7190
About The Company
If you live in the Oklahoma City area then Morris Pressure Washing is a great option for your power cleaning needs. They can perform all types of pressure cleaning with the help of the best equipment and most skilled workers on your job. Fully licensed and insured you can rest easy knowing the workers and work is fully covered. Call the number above to find out the company rates and get a quote for your work.
Company Location

Best Pressure Washing Services in Tulsa
Company Name: Beautify Tulsa Pressure Cleaning Inc.
Website: BeautifyTulsa.com
Contact: 918 – 805 – 0362
About The Company
Beautify Tulsa is a full service power washing and cleaning company serving the area of Tulsa since 2013. It is a young company but they are well reviewed and professional.
Company Location

Best Pressure Washing Services in Norman
Company Name: Kennedy Restorations
Website: www.WashOKC.com
Contact: 405 – 761 – 5303
About The Company
Kennedy Restorations has been pressure cleaning properties in the Norman / Oklahoma City area since 2006. Their previous customers rate them on average 4.8 stars out of 5 because they always arrive on time and are professional. Give them a call to get your job priced.
Company Location

Best Pressure Washing Services in Broken Arrow
Company Name: Sapphire Window Cleaning LLC
Website: SapphireWindowCleaning.com
Contact: 888 – 815 – 6995
About The Company
Sapphire Window Cleaning is an over 10 year old company that can do the best job in the Broken Arrow area cleaning your windows, driveway, gutters, roof and house siding. Check out the website and fill out the free estimate form to find out how much your job will cost. And rest easy knowing they hold full insurance and are licensed to work in the state.
Company Location

Best Pressure Washing Services in Lawton
Company Name: Sparkling Clean Services
Website: www.SparklingClean.services
Contact: 580 – 699 – 2486
About The Company
Call Sparkling Cleaning Services if you're in the Lawton area and need pressure cleaning. They are licensed and insured and top rated in the area.
Company Location

Useful Links
Also check out these states in the same region: Arkansas, Louisiana, New Mexico, Texas.