Best Rhode Island Mobile Pressure Washing Specialist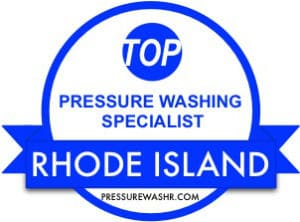 Did you know Rhode Island is the smallest state?
It's barely wide enough for a straight away marathon run…
But despite being small, it has more than 1 million people living within its borders making it the second most population dense behind only New Jersey.
Being so dense, on average people don't have as much outdoor surfaces that need cleaning – like driveways, pools and wood decks. In fact, this becomes more clear when you look at the Quarterly Census of Employment and Wages for Providence County. It shows there are (depending on the month) 90-120 people employed in the industry of pressure washing. That works out to around 0.019% of the county population – not a popular profession in the area.
Having such small sample to choose from for your power washing needs, you'll need to know the best…
Best Pressure Washing Company Offering Services in Providence, Warwick, Cranston and Pawtucket
Company Name: Springbrook Power Washing
Website: PowerWashRI.com
Contact: 401 – 742 – 2597 or 1 – 866 – 960 – 9607
About The Company
Let me just say these guys have one of the top 3 most clear, thought out and professional looking websites of any pressure washing company. During research to find the best mobile pressure wash companies in each large area of each state I've gone through and read 500+ websites and they range from near spam and totally incoherent, to 1998 looking, all the way up to SpringBrook Power Washing's website.
Anyways.
It just had to be said after going through so many, it's nice to see a company that takes such pride in their company to spend the money to get a professional website. This pride also shows in their onsite work power washing houses, roofs, decks, fences and your gutters.
Be sure to take advantage of their free estimate website form to find out what your required pressure washing will cost you.
It's no surprise they have a 4.9 star rating on Google off 30+ customer reviews.
Here's a few that stood out:
From Tim Killam: "Excellent, great communication, prompt service and excellent follow up. Highly recommended! 5 stars

Even the people knocking off a star on their rating had nothing but positive things to say…

From Stephanie Bernaba: Good communication, able to pay invoice online, and out roof looks great. Will be calling next year! Thank you! 4 stars
You get the idea.
If you have questions then be sure to check out their FAQ page and at the bottom of the page you can see the link for the free job quote.
Company Location


Useful Links
Mobile pressure washing contractors and service company's across the USA
Check out other EPA region 1 states: Connecticut, Maine, Massachusetts, New Hampshire and Vermont.