5 Best Vermont Mobile Pressure Washing Contractors & Services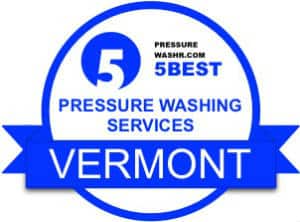 Did you know Vermont's capital, Montpelier, is the only state capital without a McDonalds?
Yup… The nearest one is 3 miles away – so an 8-minute drive or 32-minute bus ride… I guess it makes sense since it's also the smallest state capital with only 7,700 people.
Vermont as a whole has a small population and shorter pressure washing season than Florida or Texas making less people start a pressure washing company. With less choice there is great risk for you when shopping for power washing services in your area. We have done the research for you…
Here are the best mobile pressure washing service company's in 5 different areas of Vermont:
Best Pressure Washing Services in Burlington and South Burlington
Company Name: A1 Property Services
Website: A1PropertySRvc.com
Contact: 802 – 865 – 9990
About The Company
A1 Property Services offers pressure washing, painting, gutter cleaning and window cleaning home and commercial services. They have a high level of experience and are insured to perform the work in your area. Be sure to give them a call at the number above to have a look at and provide a no obligation quote for your project.
Company Location

Best Pressure Washing Services in Rutland
Company Name: Vermont Pressure Washing
Website: VTPressureWashing.com
Contact: 802 – 558 – 4336
About The Company
Vermont Pressure Washing is your full service company for paver and driveway cleaning, kitchen hood cleaning and general power washing. They are the pressure washing arm of Central Vermont Chimney Sweeping company.
Company Location

Best Pressure Washing Services in Barre and Montpelier
Company Name: XTreme Clean Wash Truck and Trailer Wash
Website: XtremeCleanWash.com
Contact: 802 – 257 – 2828
About The Company
If you require pressure washing services and are in the area of Barre/Montpelier then be sure to give the crew at XTreme Clean a call. They are primarily a truck and trailer wash and detail company but offer expert pressure washing services as well.
Useful Links
Mobile pressure washing service company's across the USA map.
Check other nearby states: Connecticut, Maine, Massachusetts, New Hampshire and Rhode Island.