Simoniz Pressure Washer Reviews
Let's take a look at the Simoniz pressure washer brand and talk about its history and how their pressure washers stack up to the likes of Karcher and AR Blue Clean.
Here's the deal:
Simoniz USA is a well known cleaning products company that has been around since 1910. They have licensed their branding to a company named Active Products for the sole use of the trademark in the Canadian Market.
Active Products manufacturers pressure washers and other car care products in China and sells them as Simoniz in Canadian Tire stores. Now this is normal. Very normal. It is called rebadging. It is exactly what Stanley Black & Decker does with their DeWalt trademark. Simpson Pressure Cleaning makes all DeWalt pressure washers and sells them at a premium. I mean Lexus is really just a marked up Toyota. Pretty genius marketing adds to the cost!
Anyways, back to the Simoniz pressure washers. Let's look at the different types Simoniz offers:
Types of Simoniz Pressure Washers
Here is the most entry level Simoniz pressure and the most advanced one. One is electric and $150. The other is powered by a Kohler gas engine and is about $700.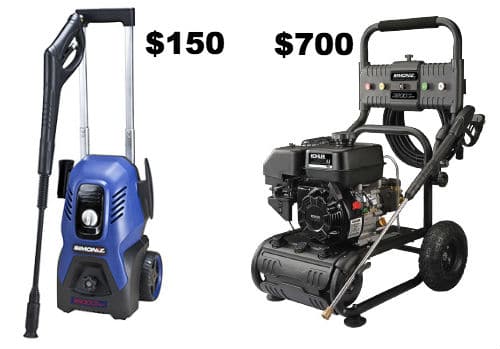 In total there are 5 different electric Simoniz power washers and 3 different gas powered Simoniz pressure cleaners. They come in the following pressures and flow rates (light-duty is less 1,700 PSI; medium-duty is 1,700 – 2,800 and heavy-duty is above 2,800):
Electric Power Simoniz Models:
1,600 PSI and 1.25 GPM. This is their entry level machine that is very portable and only weighs 19 lbs.
1,700 PSI and 1.4 GPM. This is another entry level machine from Simoniz that also has a hose reel and is 27 lbs.
1,800 PSI and 1.4 GPM. Simoniz's mid-range model. It sits low to the ground making it more stable. It's 31 lbs.
1,900 PSI and 1.4 GPM. 31 lbs and this model and all below have have plastic nozzles and wand.
2,000 PSI and 1.5 GPM. All metal nozzles and wand. 32 lbs.
Gas Power Simoniz Models:
2,600 PSI and 2.0 GPM. Simoniz's entry level gas powered machine. 69.5 lbs and comes with quick connect nozzles and zinc-coated steel wand to prevent rusting.
3,000 PSI and 2.3 GPM. 81.5 lbs with Kohler RH series engine.
3,200 PSI and 2.6 GPM. 81 lbs with Kohler SH series engine and all the premium components.
Simoniz gas power models use Kohler engines. They have a model for every situation
Best Simoniz Pressure Washer For Most People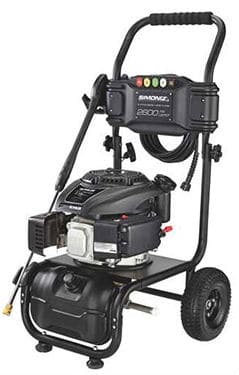 The best Simoniz pressure washer for most people is the 2,600 PSI and 2.0 GPM for $449 CAD from Canadian Tire. It is a great combination of power and price.
With a reliable Kohler 173cc engine and a sturdy axial cam pump you should have problems getting many years out of this machine with proper care. The $449 price tag is listed in Canadian dollars which is equivalent to about $340 USD so this machine is comparable in price to the Generac pressure washer prices.
If you live in Canada then Simoniz is an affordable option, with a Kohler engine and axial cam pump, so that you can do lots of cleaning around the house during summer.
Videos
There's a ton of video of Simoniz pressure washer reviews on youtube. There are good reviews and bad reviews so I want to give you a mix of both here.
And this video shows a man using the 1,900 PSI Simoniz pressure cleaner to clean his brick pavers in Canada:
And in this final video it shows a man who purchased the 1800 PSI Simoniz from Canadian Tire – hooked it up – and it leaks at the water connection points (which is a shame – but surprisingly common with entry level pressure washers of all brands):
Simoniz Pressure Washer Manuals
Simoniz pressure washer manuals tell you about the safety advice when using the machine. The parts list and assembly instructions. Everything to do with the petrol engine like adding oil and starting and stopping and winterizing it. How to operate the machine. The proper care and maintenance to perform on the pressure cleaner like cleaning the filters and nozzle tips and other attachments. The technical specifications and troubleshooting instructions in case anything goes wrong. The warranty information. And finally, it has a view of the pressure washer with numbers to point to each part and then a list of those parts names below it.
You can view each model's Manual at the Simoniz website here. Click on the pressure washer to see the manual link inside.
Simoniz Pressure Washer Parts
Simoniz.osirus.ca is the website store where you can buy Simoniz replacement parts. Once you find the part you need to can order them for delivery from their online store.
Wrap Up
Simoniz offers an alternative to Simpson and Generac, and is more affordable than Honda and Briggs and Stratton.
I love machines with Honda engines but Kohler is one of the largest small engine manufacturers on the planet so they are very good engines.
I would say choose Simoniz if you live in Canada and want a more affordable unit than one with a Honda engine.
Sources