Spring cleaning can suck.
But it doesn't have to.
Cleaning your gutters, patio furniture, deck, driveway and second-floor windows can be fun if you have a pressure washer.
It's like using a super soaker. You just hold the trigger and it shoots water at things.
Once you've read our pressure washer reviews and found your perfect pressure washer, you're ready for these 5 Spring Cleaning projects:
1. Gutter Cleaning and House Siding
Spring cleaning is the perfect time to make your house look new again. Whether you home exterior is stucco, vinyl or brick you can use a pressure washer to give it impressive curb appeal.
Pick up an extension wand to make the job even easier. With one you won't need a ladder to get to the gutters or the upper levels.
What's possible: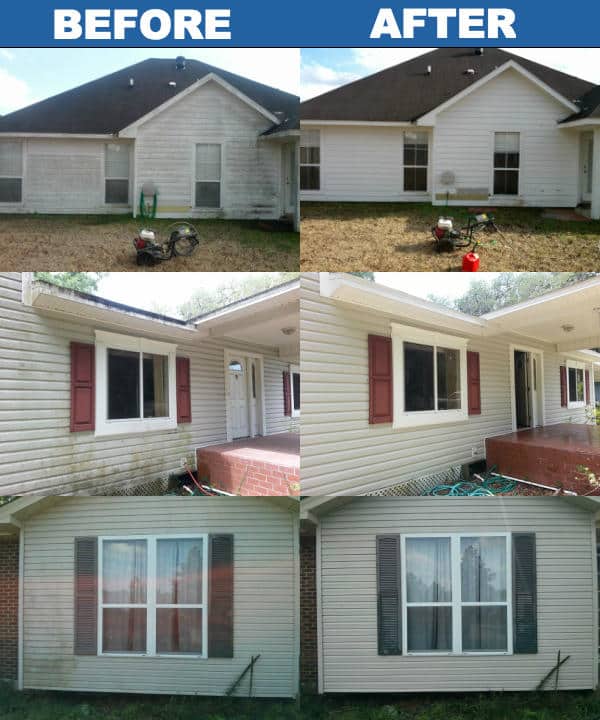 If you want results like that then be sure to read our in-depth guide by clicking the link below:
2. Patio Furniture Pressure Washing
Patio furniture is famously ignored during Spring Cleaning. But it often sits out all winter accumulating grime and mildew. No one wants to sit on them come Spring.
A pressure washer and some soap or detergent makes quick work of chairs and tables no matter what material they are.
What's possible: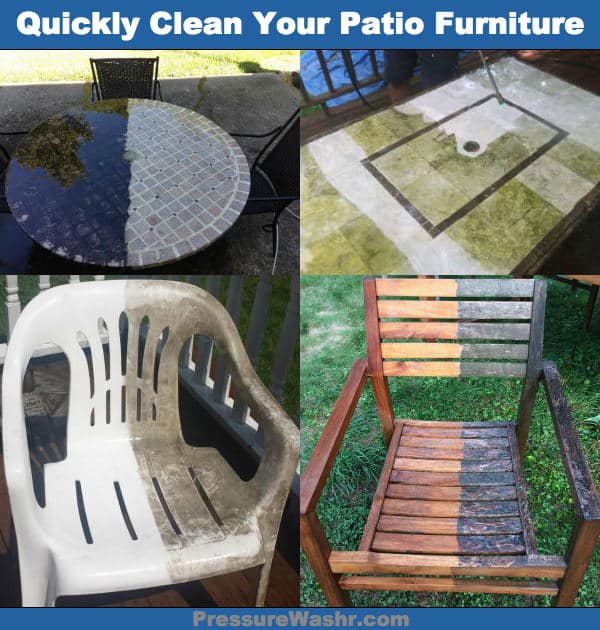 If you want to read more about pressure cleaning patio furniture be sure to check out the how-to article at the link here:
3. Wood Deck Cleaning
Pressure washing and staining your deck for Spring cleaning not only makes the deck look new again but it makes it healthy. Wood lasts longer if it is protected from the elements and kept clean from organic life like mold and mildew.[1]
You'll want to read up how to properly pressure clean and stain your deck because they are easy damage if you use too much pressure.
What does a pressure cleaned deck look like? This: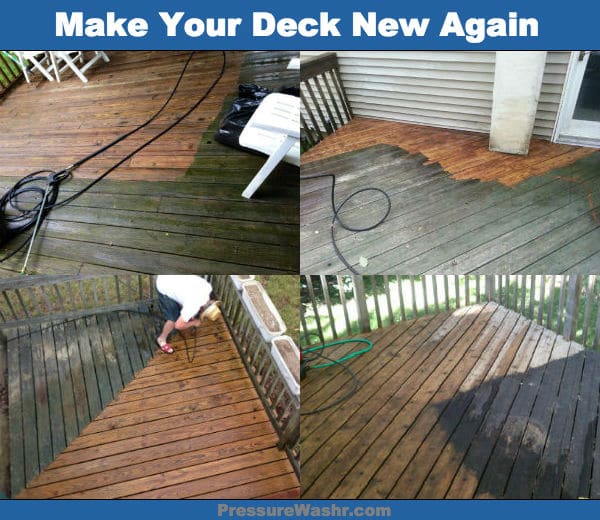 4. Driveway, Walkways and Front Steps
When it comes to curb appeal there isn't anything more important than a nice clean driveway. Make your driveway look brand new and your home is worth $10,000 more.
The good thing is Spring cleaning your driveway with a power washer is painless. You can make the job even easier with a surface cleaner which is the red accessory you see in the bottom left image.
Just check out the extraordinary results you can achieve this Spring cleaning: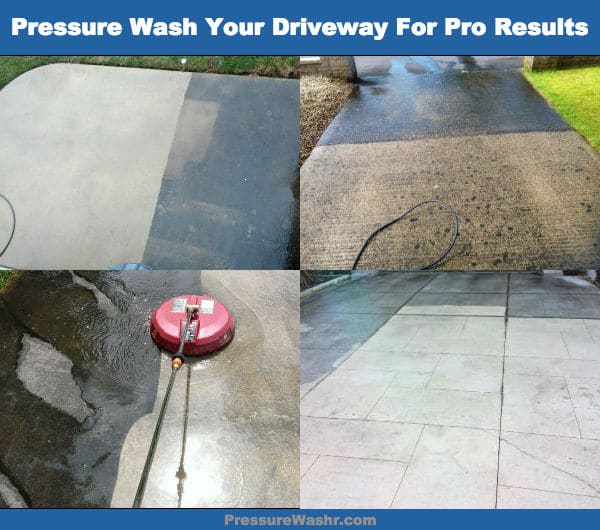 To find out the correct method and detergents to use be sure to read our how-to article here:
5. Second-floor Window Cleaning
Pressure cleaning your windows with the 40-degree nozzle is safe and effective. The nozzle fans out the water spray so the window isn't being hit with high force water.
Be sure to use some window cleaner detergent and the job will be done in no time.
Wrap-Up
Spring cleaning is important for more reasons than just making your home look pretty.
Cleaning is maintaining and a well looked after home won't be prone to damage and your investment will increase more over time.
And using a pressure washer is fun and easy so: why not reap the benefits?
If you don't already own one then be sure to check out the 7 best pressure washers to get your Spring Cleaning projects completed.
Sources
[1] Andy Engel, Does Stain Protect Decks?, Professional Deck Builder, July 1, 2011
---
More from PressureWashr
By now, you have probably heard about the three r's (reduce, reuse, and recycle) that represent the foundation of preserving…