5 Little Known Facts About Stanley Pressure Washers
Stanley pressure washers come in both electric and gas powered styles.
There's 5 electric and 5 gas models available for you to choose from.
Over the years, Stanley pressure washers have been manufactured by different companies…
Here's why:
The pressure washer manufacturing companies see the benefit of having the Stanley logo on their product and pay Stanley Black & Decker a licensing fee for the right to use the trademark logo and colors.
This licensing business has become one of Stanley's most important. You'll see the Stanley logo on everything from thermoses and home safes to battery chargers and wet/dry vacuums. Although these products all have the Stanley logo they are all made by companies otherwise unrelated to Stanley Black & Decker.
In this article, you'll learn 5 things about the history and current state of Stanley and Stanley electric and gas pressure washers.
1. The Stanley brand name emerged out of New Britain, Connecticut over 175 years ago.
The Stanley family consisting of brothers Frederick and William and cousins Henry, Augustus, Timothy and Gad had been manufacturing in various forms in New Britain, Connecticut since as early as 1831.
Frederick and Henry Stanley were the main forces.
The Early Days of Stanley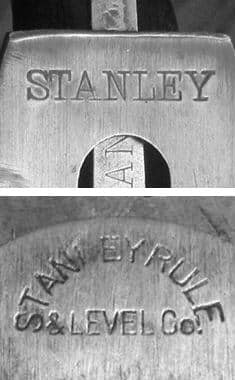 In 1843, Fredrick started Stanley Bolt Manufactory (later becoming The Stanley Works) to make hardware for doors. This is the company the current Stanley Black & Decker views as its founding.
In 1857, Henry started Stanley Rule and Level Company making planes, levels, squares and rules.
These two companies were separate but related by the Stanley name, Stanley bloodline, New Britain location and drive for innovation and doing things right.
Expansion while William H. Hart was President of Stanley Works from 1884 to 1919
As a 19 year old William H. Hart joined The Stanley Works and quickly became a board member and leader for the company. Under his leadership as President The Stanley Works annual revenues grew from ~$24,000 to ~$11 million.
He succeeded by improving and innovating on several fronts, including:
Moving machines in factory to strategic positions to speed up manufacture and decrease double handling of heavy wrought iron materials.
Marketing improvements including packaging of hinges with screws needed for install (instead of selling separately) and labelling of hardware shipping boxes to speed up logistics.
Expanding manufacturing plants in strategic locations like the steel belt in Ohio (instead of the cheapest locations).
The Merger of 1920
In 1920, The Stanley Works and Stanley Rule and Level Company joined to became "The Stanley Works". Stanley Rule and Level had ~$6 million revenue at the time (compared to Stanley Works ~$11 million) and became the hand tools division. It was a natural consolidation combining hardware with hand tools and measuring devices.
This merger/acquisition was successful and formed the basis for Stanley Works strategy for growth of buying or merging with competing companies… Both at home and abroad – entering the German, UK and Australian markets by 1963.
Massive Consolidation of 2009/2010
In 2009, The Stanley Works proposed an acquisition of Black & Decker for $4.5 billion. The deal was completed in 2010 and the combined company was called Stanley Black & Decker.
Now the company is the biggest tool maker in the world by revenue. And they own some of the most trusted tool brands: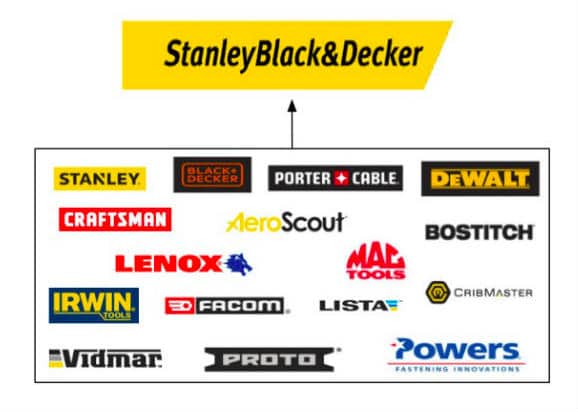 They profit off this impressive suite of brands through their own tool manufacturing business as well as licensing.
2. The Stanley brand's licensing business, which gives otherwise unrelated companies rights to slap the Stanley sticker on their product, is booming because the brand name is so trusted.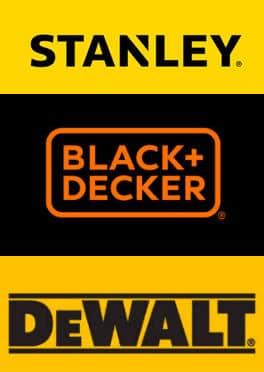 The Stanley Works company started licensing the Stanley brand in 1999.
Since the 2010 merger with Black & Decker, Stanley Black & Decker (as they are now called), have focussed on licensing three brands: Stanley, Black & Decker and DeWalt.
DeWalt is their main job site brand and Stanley and Black & Decker the more known home and garage brands.
According to the VP of brand Management and licensing, the main goal of their licensing efforts are to increase brand awareness and customer connection… And the licensing revenues are not significant compared to the total annual revenues of the company.
Let's check out what product categories they license at the present.
Stanley Branded Products Which Are Not Made By Stanley Black & Decker:
Battery chargers, jump starters, power inverters, spotlights, work lights and flashlights. Made by Baccus Global LLC.
Garden tools like shovels & rakes, garden hoses & adjustable nozzles and pruners & shears. Made by Bondco Enterprises and Bond Manufacturing Company.
Homeowner guides. Made by The Taunton Press, Inc.
Power strips, adaptors and extension cords. Made by The NCC NY, LLC.
Paint brushes and rollers. Made by World & Main (Cranbury), LLC.
Pressure washers. Electric style made by AR Blue Clean and gas style made by FNA Group.
Hard hats, safety glasses and hearing protection. Made by Honeywell Safety Products USA, Inc.
Work boots. Made by Golden Viking Sports, LLC.
Work gloves. Made by International Sourcing Company, Inc.
Toy tools for kids. Made by JAKKS Pacific, Inc.
Wet/dry vacuums. Made Alton Industry Ltd.
3. Stanley electric pressure washers are manufactured by AR Blue Clean.
AR Blue Clean is a brand of pressure washers by AR North America, the North American arm of Italian pump maker Annovi Reverberi. They pay Stanley a licensing fee to put the Stanley brandname and colors on their pressure washers.
The Stanley brand electric pressure washers on offer are the 5 different models pictured here: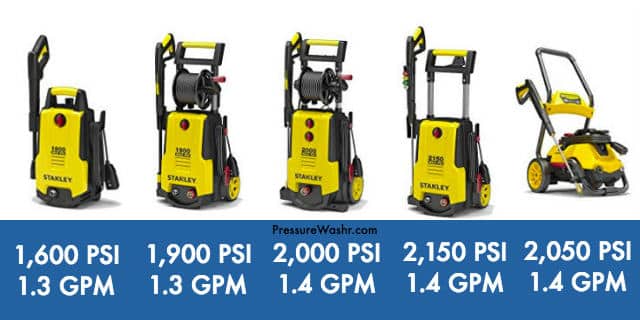 As you can see there are models ranging from 1,600 PSI to 2,150 PSI of pressure. This is the normal range for residential electric pressure cleaners and will take care of cleaning your patio furniture, car, back patio and more.
How Do The Stanley's Compare To The AR Blue Clean units?
Internally – motor, pump – they are identical.
And they look almost identical: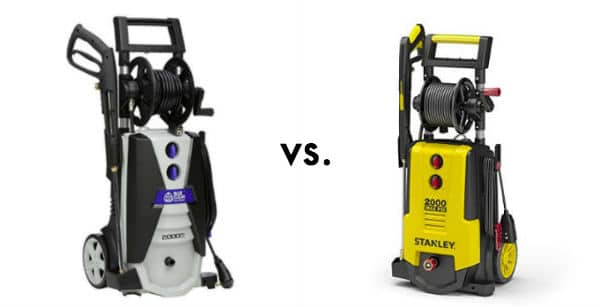 So the difference is minimal – cost and color.
To choose, decide which one you like the look of better.
The Best Stanley Electric Pressure Cleaner For Most People
Stanley Electric Power Washer SLP2050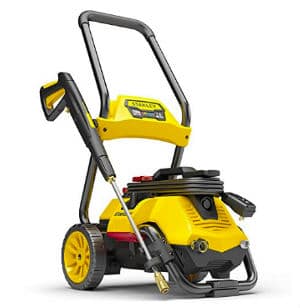 This 2-in-1 Stanley with 2,050 PSI and 1.4 GPM is the best unit for around your home, cabin and workshop.
Here's why:
It has the ability to detach from the carry cart so you can either wall mount it or save space when taking it in the trunk to your lake cabin for the weekend.
It has metric brass hose connections to make for zero leaks and easy ability to connect to hoses you already around your house.
It has a professional style metal lance with quick connect nozzles to make changing the cleaning force the surface feels quick and easy.
This pressure washer is new to the market and already loved. If you like the idea of being able to detach it from the carry cart to take it with you in the car or to wall mount it (temporarily) beside your work bench… Then check it out further at the this link:
What Parts and Accessories Go With This Stanley Pressure Washer?
To increase the cleaning capacity and efficiency you can use accessories or special parts. Here are the best ones.
Included out-of-the-box:
Rotary nozzle . This nozzle rotates a full blast spray to lift tough things like gum from concrete in record time.
O-ring replacement kit. The O-rings in your hoses are bound to fail at some stage so it is convenient it comes with a replacement kit.
Variable spray gun. You can adjust the pressure right at the gun with the twist of a dial to go from cleaning grease off metal to lightly spray cleaning your windows.
Sold separately:
Foam cannon. This attachment allows you to soap your car or windows before pressure cleaning it.
Wall mount kit. The advantage of this Stanley machine is it comes with a cart but can also be detached and mounted to your garage wall. If you find yourself only using it in one place this wall mount will save space.
4. Stanley gas pressure washers are manufactured by FNA Group, parent company of Simpson pressure washers.
FNA Group is the parent company of different pressure washer brands. The popular and highly rated Simpson Cleaning brand is manufactured by FNA Group.
The gas powered Stanley models are similar to the Simpson models and you can see the 5 different gas models available here: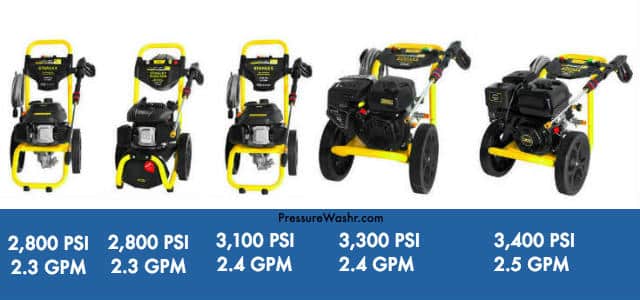 The Stanley gas models range from 2,800 PSI and 2.3 GPM up to 3,400 PSI and 2.5 GPM and the prices from $270 to $890.
How Do The Gas Engine Stanley's Compare To Simpson Cleaning Pressure Washers?
The Simpson and Stanley gas power washers are the same, for the most part.
Take a look: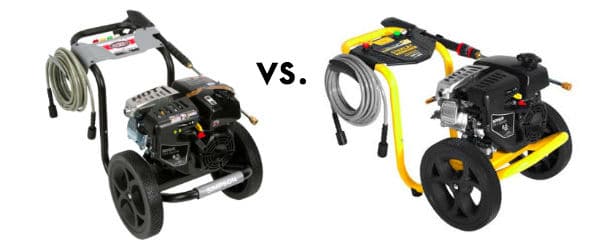 The only difference seems to be the adjustable pressure the Stanley has in its pressure gun, color and a few mods to where the nozzles are stored. Also, Simpson Cleaning offers models with Honda small engines and their Stanley's do not.
The Best Gas Powered Stanley For Around Your Home
Stanley FATMAX Gas Power Washer SXPW3425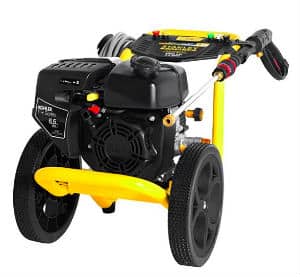 Considering cleaning power and cost, this Stanley FATMAX with a Stanley small engine is the best value for the money.
Here's why:
You're getting a reliable and durable Stanley engine, OEM Technologies axial pump on a wheelbarrow style cart for less than $500, which is a great price for a 3,400 PSI and 2.5 GPM machine.
You're getting an adjustable pressure dial built-in to the pressure washer wand so you can go from cleaning tough stains off the garage concrete floor to gentle cleaning of your car windows with the turn of the dial from max down to min. Simples.
You're getting a kink resistant pressure hose to make things less frustrating – nothing worse than troubleshooting a problem for 10 mins only to find out it was just a kink preventing water flow.
If you want one a powerful cleaning power machine without the ridiculous price tag then this is a great option.
5. If you have warranty issues you contact AR Blue Clean or Simpson (not Stanley) for customer support.
Because AR Blue Clean makes the Stanley electric pressure cleaners and Simpson Cleaning makes the gas powered ones you will need to contact their customer support (not Stanley's).
You can find the contact details in your user manual.
Here they are from the Stanley FATMAX gas powered User's Manual: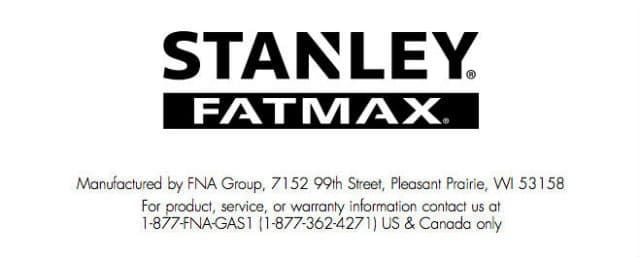 And here they are for the electric: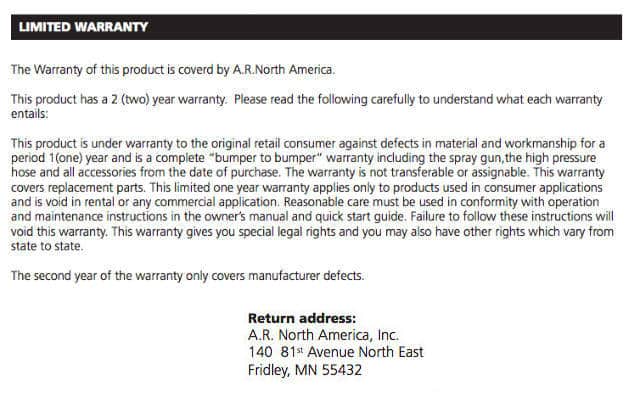 Sources