The Best Electric Pressure Washer: A Definitive Guide
PressureWashr is reader-supported. When you buy through links on our site, we may earn an affiliate commission.
When it comes to the best electric pressure washers – there's only 3 things you need to decide:
The cleaning power you need
The brand and its associated quality and warranty
Your budget
Today we'll guide you through those decisions, review the best electric pressure washers from the most-trusted brands and talk about the specific cleaning projects you can do with each cleaning power.
Jump to each section:
Quick Look at the Best
| Image | Product | Job Type | Price |
| --- | --- | --- | --- |
| Beginner Friendly | | | Check Price |
| | | | Check Price |
| | | | Check Price |
| | | | Check Price |
| | | | Check Price |
| Premium | | | Check Price |
Gas vs. Electric Powered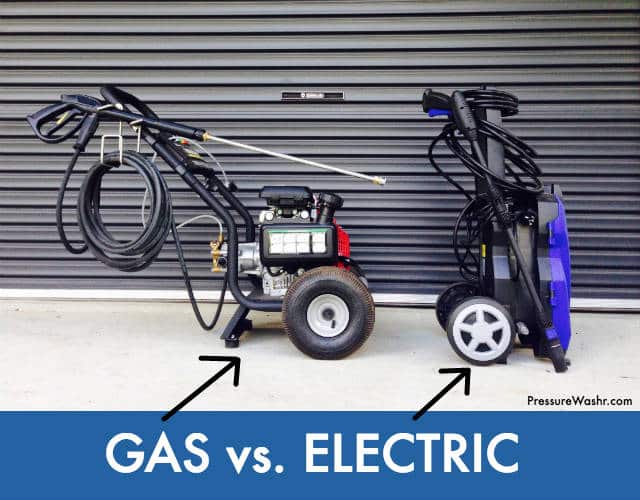 Gas pressure washers will to do the toughest jobs more quickly because they have more cleaning power. The best electric pressure washers can still do all the jobs – it'll just take longer. Most people choose between gas and electric power based on how often they will pressure wash. Every weekend? Gas is probably best. Once a month or less? Electric might be ideal.
What is Cleaning Power?
Cleaning power is the product of GPM (gallons per minute) and PSI (pounds per square inch) and means the machine has more water pressure to force more dirt and grime from the surface and more water flow per minute to flush that mildew and grime away. Basically, higher pressure means more cleaning power. This flow rate is typically listed in the tech specs.
Gas Powered Pros and Cons
One of the main perks of gas models is portability. Because gas engines carry their own supply of energy (gasoline), they are more portable. Gas models don't require an electric outlet to be nearby, while electric models will need a power source.
However, gas powered ones are louder, require gasoline fill-ups, can't be safely used indoors and need more maintenance.
Electric Powered Pros and Cons
An electric pressure washer is more affordable and can do most cleaning jobs around your home:
The only thing is these jobs will take longer because an electric models have less cleaning power than high power gas models. However, an electric pressure washer is quieter, nearly zero-maintenance and only around $100 – $150 for a residential-use (gas powered start at ~$275).
How to Decide?
Here's the gist:
Get a gas powered if you plan to do pressure washing each weekend because it will save you heaps of time
Get electric powered if you only plan to do very small cleaning tasks (like your car) regularly and larger jobs just once or twice a year.
The Different Electric Pressure Cleaning Powers On Offer
Great for small jobs around the house
Affordable and light
Limited power so range of cleaning jobs limited.
Most popular for residential pressure washing
Great for front stairs, back deck, patio furniture, vehicles, driveway etc.
Great value for money as you can pick these up for less than $150.
When it comes to electric, the price shoots up like a rocket once you get above 2,100 PSI and 1.8 GPM. So the heavy-duty electric units are above $1000.
Unless you're a contractor or purchaser for a warehouse/factory you'll probably be better off getting a gas powered pressured machine if you want heavy-duty.
The main advantage to electric heavy-duty pressure washer is you or your workers won't have to refill the fuel several times a day.
10 Features To Look For In Electric Pressure Washers
Does it come with extra nozzles? There's no doubt you'll need different nozzles to pressure clean different surfaces without damage. Make sure to only purchase one that comes with a set of spray tips out-of-the-box. The industry color codes for the different degree nozzle tips are shown here: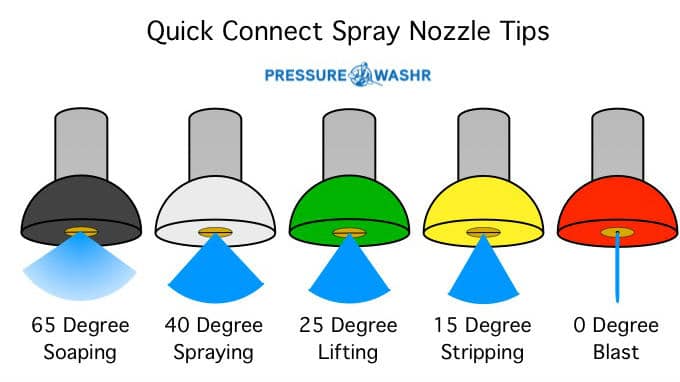 How much does it weigh? Most of the units are between 15 and 35 pounds. Take note if a unit is 35 pounds but doesn't come with wheels for easy maneuverability.
Does it have a detergent tank? A downstream (after the pump) detergent system is pretty hand to have. It allows you to use chemical to more effectively clean your vehicle or driveway.
A plastic or brass coupling to connect the garden hose? Without a doubt the most common complaint is the plastic coupling to connect the garden hose to the washer always breaks or leaks. Be sure to buy a brass coupling separate if it doesn't come stock.
Plastic or stainless wand? A stainless-steel spray wand is more durable.
What is the hose and electric cord length? Typically you'll see 20-foot hoses and 35-foot power cords with GFCI plugs. Be wary if the unit comes with anything less.
Does it have hose reel? This is a personal preference thing. Some people hate the hose reel because they think it kinks the hose and is cumbersome to use. Others like it. It's up to you – half have them half don't.
Wheels? Does your machine weight 35 pounds and not come with wheels? Most units above 20 pounds come stock with wheels anyways. Just be mindful.
Storage onboard for quick-connect nozzles? Not a must have but a nice to have.
What PSI/GPM do you need? When it comes to electric you're only limited by the price you are willing to pay when it comes to PSI/GPM. You can spend $2,000 and get heavy-duty power or you can spend ~$150 and get medium-duty, and even less for light-duty.
Typical Warranty
Here's a listing of what brands offer what warranties for their washers. Note that limited warranty means they are covered against substantial defect on material and workmanship which occur within the warranty period. What does "defect against material and workmanship" mean?
If you use the pressure washer as per the User Manual and the pump or motor fails within a year they'll fix it or replace the whole unit.
If any of the structural component break like the handle or frame it will be fixed or replaced so long as you haven't dropped it from a height or run it over with your car…
90-Days
All companies cover normal wear items like the hoses, seals, O-rings, valves, lances and nozzles against defect in material and workmanship for 90 days.
1-Year Limited Warranty
The brands that offer 1-year limited warranties on items like the pump and motor are:
Karcher
AR Blue Clean
Campbell Hausfeld
Greenworks
Be sure to read the manual because the warranty voids if User Manual instructions aren't followed.
2-Year Limited Warranty (3-Years With $29.99 Extended Warranty Purchase)
Sun Joe is the only brand to offer 2-year limited warranty out-of-the-box. Nice piece of mind!
They also offer 1-Year warranty on top of the stock 2-years for $29.99. You must purchase the extended warranty within 90-days of purchase.
Warranty Fine Print
If you decide to rent out or use your pressure washer for industrial or commercial purpose (see manual for intended use) the warranty will only be valid for 90 days.
What's The Most Powerful Electric Pressure Washer You Can Buy?
A pressure washers' cleaning power is defined as:
Cleaning power units (CUs) = PSI x GPM
A normal residential medium-duty is: 1900 PSI x 1.7 GPM = 3,230 CUs
The most powerful electric has 240,000 CUs…
Take a look: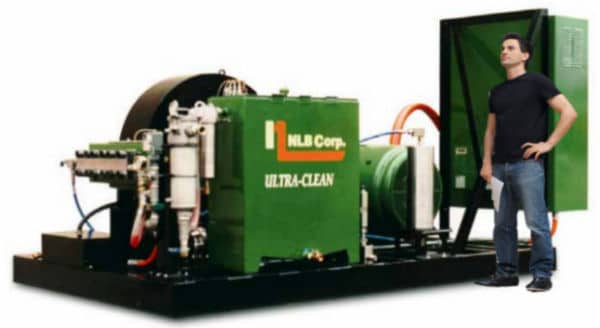 Now that thing is huge.
How much is it?
Well, first off, you need to request a quote for a price.
Second, once you confirm purchase with a purchase order (contract) you'll need to wait a first months for the manufacturer to put it all together.
It'll set you back somewhere in the high 5-figures to low 6-figures, depending on options and add-ons.
Learn more about the most powerful electric pressure washer you can buy here…
The Most-trusted Brands
Karcher
Karcher is one of the oldest, long-lasting pressure washer companies in the world for a reason. They innovate and improve their product continually. They offer gas and electric options. In the electric sector they have units ranging from light-duty up to 5,000 PSI and 5 GPM electric "Super Class" units. They have it all.
AR Blue Clean
AR Blue Clean is a brand of pressure cleaner created by the well-known Italian pump company, Annovi Reverberi. They offer medium and light-duty electric units at an affordable price. They are very popular because they match affordable with durable and reliable since their pumps are well-built and designed.
Greenworks
Greenworks is the lawn and garden equipment brand of Globe Tools Co. These unit are manufactured in China, but manufactured with enormous attention to quality control on the assembly line. They only offer electric power equipment ranging from lithium-ion battery powered lawn mowers to electric pressure washers.
Sun Joe
Sun Joe is part of the company Snow Joe which came into existence making a $100 snow thrower. They offer 20 products in the lawn and garden sector.
Ryobi
Ryobi is one of the many brands owned by TTi Group (they own Hoover, Dirt Devil, Milwaukee, Homelite). Ryobi offers gas and electric pressure washers in the residential-use space and people love them for their value for price.
Campbell Hausfeld
Campbell Hausfeld is a large company owned by the well-know Berkshire Hathaway Company. They offer all sorts of power tools and are especially well-know for their compressors. Their range of pressure washers includes 4x electric and 5x gas models.
Pressure-Pro
Pressure-Pro is a relatively small company based out of South Florida. They are extremely well-know to American pressure washing contractors due to the custom built skids and trailers they make. They stick to the professional market and do private label deals to increase profit. They have unmatched quality according to many contractors.

Where To Buy Your Electric Pressure Washer?
When we talk about the best place to buy your new electric pressure washer it is more than just selection. For example, in the below chart you will see PressureWashersDirect has a better selection than Home Depot.
However, we definitely recommend shopping Home Depot before PressureWashersDirect because of their customer service and simple return policy.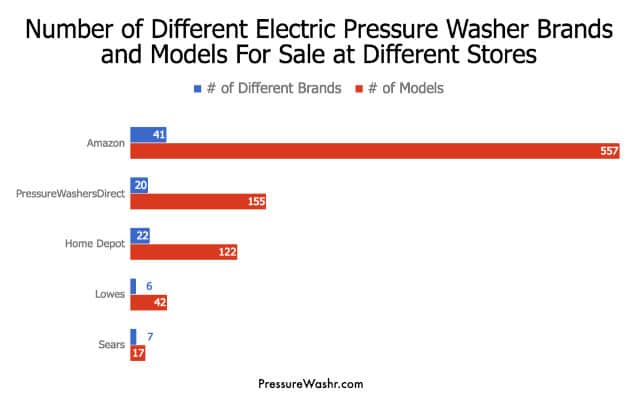 The below ranking of best places to buy your power washer is based on:
Selection
Customer service
Price (including deal frequency)
Shipping/location proximity
Return policy and ease.
Putting all the above together, here are the 6 best options (in order):
1. Amazon.com
Amazon is the best place to buy a pressure washer because they have the greatest selection (they have all the brands), fastest shipping and almost always the best price… And you never even have to leave your house.
2. Home Depot
Home Depot has online shopping, yes, but they have much smaller selection than Amazon. If you need to touch and feel your pressure cleaner before buying then The Home Depot is your best bet. They offer these electric power washer brands: Karcher, Sun Joe, AR Blue Clean, Ryobi, Briggs & Stratton, Stanley, Greenworks, Campbell Hausfeld and more.
3. Lowes
Lowes competes with Home Depot for the second best shopping experience but loses out because they have less stores overall. Lowes offers these brands: Greenworks, Sun Joe, AR Blue Clean and Karcher.
4. PressureWashersDirect.com
A pressure washers only online store with great selection and great prices. They are ranked #4 despite having more selection than Home Depot or Lowes because they are online only and will not be able to offer as good deals/fast shipping as Amazon. A great option though.
5. Sears
Sears offers the brands Karcher, Craftsman, Sun Joe, AR Blue Clean and Kranzle.
6. Costco (not included in chart above)
Costco doesn't compete with the above 4 because they don't even offer electric machines year-round. They tend to have seasonal sales. These sales are often quite good so that is the only reason Costco is included on this list.
The Best Electric Pressure Cleaner at Each Cleaning Power:
Here are some of our top picks for various electric pressure washer PSI ranges.
3 Affordable Light-duty Electric Options To Get You Started Pressure Washing
Powerful-Durable-Reliable
1) AR Blue Clean AR112S – 1,500 PSI Electric Pressure Washer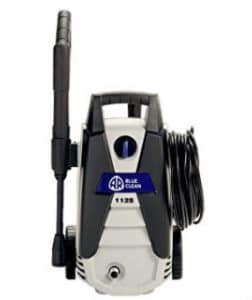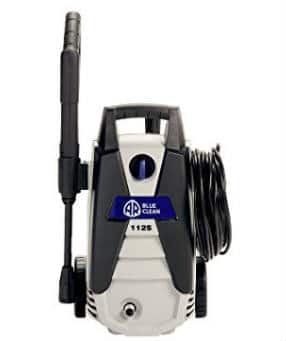 Here's one of the most affordable electric pressure cleaners on the market.
It's made by AR North America and features light-duty power and affordable price. If all you're pressure cleaning is patio furniture and your car then this is a great option.
It will save you water, time and hassle cleaning surfaces around the house.
This is a great option for light to medium duty projects around the house that require easy mobility.
Everything you need is included; no need to change nozzles with the variable nozzle lance, 14 oz. detergent bottle, and a lengthy 35′ power GFCI power cord.
Comes in 1500 & 1800 PSI Models
2) Greenworks GPW1501 – 1,500 PSI Electric Pressure Washer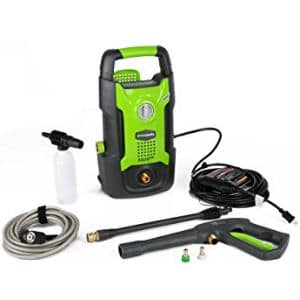 The Greenworks light-duty is a great starter machine for pressure cleaning around your house.
It won't clean your driveway efficiently but it will speed up your car washing and make it more enjoyable and less effort.
This one has a soap dispenser so next time you clean your car all you have to do is fill up the soap bottle, plug the machine in and pull the trigger. Easy.
Perfect Intro to Pressure Washing
3) Sun Joe SPX1000 – 1,450 PSI Electric Pressure Washer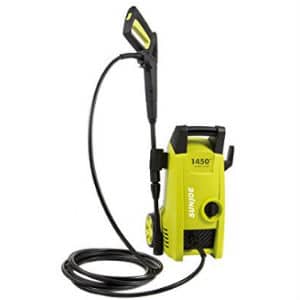 Sun Joe has emerged on the pressure cleaner market with a great range of machines for home use.
They are popular because of their value for money and are sold on Amazon and big-box retailers.
The brand is owned by Snow Joe, originally created to sell the most affordable electric snow blower, and now offering a wide-range of outdoor tools and equipment.
The 3 Best Medium-duty Electric Pressure Washer Options
Great Value & A Favorite
1) AR Blue Clean AR383 – Most Popular and Best Value – 1900 PSI Electric Pressure Washer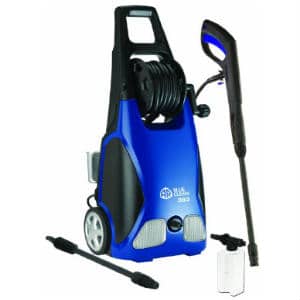 What's becoming a common theme is the recommendation of this pressure cleaner. It really hit the "sweet-spot" in most peoples' needs for an affordable yet powerful enough home-use pressure cleaner.
It's easy to store and move around. It's great for the most common jobs most homeowners have like vehicle washing, driveways, back decks and patios and front walkways and stairs.
The one area for improvement mentioned by many is the plastic garden hose connector. If you decide to purchase be sure to spend extra $8 and get the brass garden hose quick connect kit.
Reader Favorite
2) Sun Joe SPX3001 – 2030 PSI Electric Pressure Washer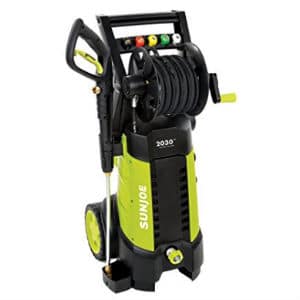 As you can see in the image this Sun Joe has nozzle holder and a hose reel. It also offers offers 2,000+ PSI & 1.76 GPM.
The extra large detergent tank is a one-up over the Sun Joe SPX3000, but only if you don't need multiple types of cleaner. The SPX3000 has two separate tanks, while the SPX3001 has a single 40.6 fl oz tank.
What I will tell you from experience: The hose reels on all these residential electrics are more hassle than convenience.
Why?
Because the hoses are too rigid to easily wind them up. All I'm saying is don't think you need a hose reel – wrapping the hose around the handle loosely is more convenient most of the time.
Premium Medium-Duty Electric Pressure Washer
3) Karcher K3, K4 and K5 Series – 2000 PSI Electric Pressure Washer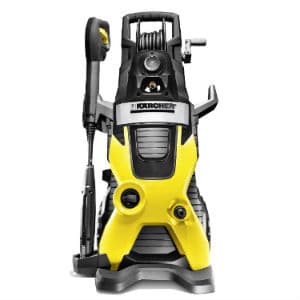 Karcher is without doubt the largest name in pressure washing. They sell the most worldwide and are well-known for their industrial cleaning equipment.
They also own the well-known commercial pressure cleaning brands Hotsy, Shark and Landa. So you can be sure they know how to make durable, long-lasting products.
When it comes to medium-duty power, Karcher is a little more expensive. But you get just as good value for money because they have longer lasting pump and induction motor (K4, K5 series).
Check out the different models on Amazon here…
High Performance – The Best Heavy-duty Electric For People Who Only Want The Best
Commercial-Use Electric
1) Pressure-Pro 3,000 PSI 3 GPM Electric Pressure Washer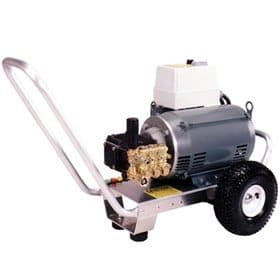 For around $2k you can get a heavy-duty portable electric pressure washer by Pressure-Pro.
It has an Annovi Reverberi (AR) triplex pump and 26-Amp induction motor. The machine weighs 235 pounds and aircraft-grade aluminum frame.
This thing is powerful – the kickback from the lance is huge so be careful when first using.
Sources