The Best Small and Portable Light-duty Pressure Washer
There's no better way to clean your vehicles, lawn equipment and patio furniture than with a small and portable pressure washer. A light-duty pressure cleaner is electric powered and has 25x the cleaning power of a garden hose. They cost $80 to $130 and are light, quiet and easy to get started using.
Each week for 2 years I cleaned my work truck with a bucket of soapy water and a broom. Given the dusty and muddy environment, each clean took 20 minutes.
That's 35 hours over 2 years.
Then I bought a light-duty electric cleaner.
No idea why I waited so long.
With my cleaner in hand the job became fun. Each clean took 1/2 the time and no longer did I have to break my back pushing the broom hard to remove the grime.
You save time, water and effort for only a small investment up front with a light-duty pressure cleaner. You just plug the cord in, connect your garden hose and pull the trigger to start cleaning.
Quick Look: Best 3 Light-duty Pressure Washers
Before getting into what a light-duty is and what it's used for… Here's a quick review of the top 3:
How People Use Their Small Pressure Cleaners
Washing your vehicles is the most obvious use… But you can also use light-duty instead of medium-duty for jobs like your driveway, it'll just take longer because it has less flow rate.
Here are 4 popular uses: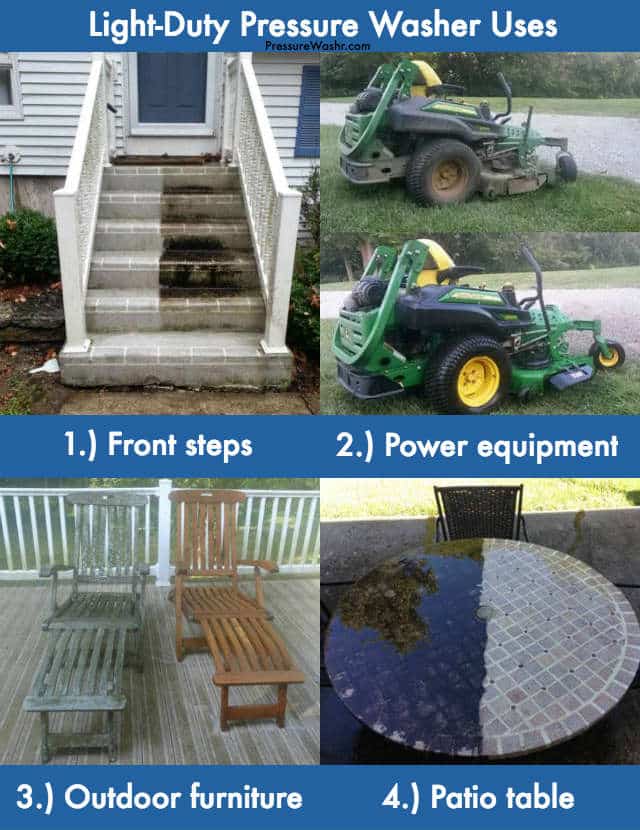 1.) Front steps
Clean front steps and driveway can increase the value of your home by $10,000 when selling. Realtors know this, and have power washing contractors on speed dial. A light-duty machine is perfect for the task. Grab one this weekend for less than $100 and increase the value of your home. It will take no more than twenty minutes of pressure cleaning – and it's fun pulling the trigger seeing the dirt be gone.
2.) Lawn mower and other lawn equipment
Clean your lawn equipment with your new lawn equipment. Just look at the John Deere ride-on mower. Used and dirty to new and sparkly in a just a few minutes with your new machine. Worth it.
Ever gone to a BBQ and the outdoor furniture had cob webs and looked green? I have. I prefer my patio furniture to be clean before inviting guests, but that's just me.
4.) Other patio stuff like table and BBQ
The uses of a light-duty unit are endless. You can turn old, weathered stuff new again. It really is magnificent. Removing surface debris from your driveway after a storm is .
Do you know How To Choose Which Pressure Washer To Buy From The 902 Available?
With all these cleaning jobs how will the light-duty pressure washer components and parts hold up?
Light-duty Power Cleaner Durability
Light-duty units are not just lower power and price. They are specifically designed for less usage than a heavy-duty unit. Their parts are not commercial quality.
If you plan to use your light-duty unit daily – like someone would at a car wash business – just know that this extended frequent use wear it down much quicker. You'll save money in the long-run if you invest more upfront on a unit designed to take a beating daily.
The power washers designed for daily use have triplex pumps and are designated commercial-use. You can get electric or gas powered commercial machines. They tend to cost $1,000 or more.
Picking The Best Light-duty For Most People
Small and Portable with Surprising Cleaning Power
1.) AR Blue Clean AR118 1,500 PSI 1.5 GPM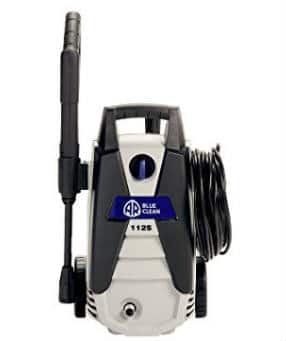 When it comes to value for money there is no better light-duty than the AR Blue Clean AR112s. It has 1500 PSI, 1.4 GPM and weighs 19 pounds.
This unit is great for small jobs around the house like washing your car and cleaning off patio furniture. Anything else would really become too daunting (e.g., deck or patio) because the machine is just too small for larger jobs.
It is the smallest, most portable unit out there without sacrificing cleaning power.
Lightest Light-duty (and it has wheels)
2.) Sun Joe SPX1000 1,450 PSI 1.45 GPM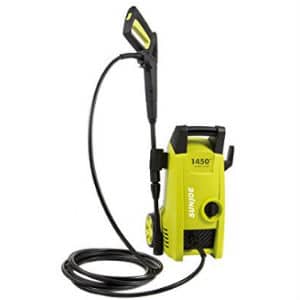 If you want to roll your pressure cleaner around instead of picking it up then the Sun Joe SPX1000 may be the better option.
It has 1450 PSI, 1.45 GPM and weighs 12 pounds. You'll notice in the picture how small and compact the unit is to easily find storage room in your garage.
Both washers come with a universal motor and wobble-plate axial pump. Choose this one if you want the wheels and yellow.
Another Great Option
3.) GreenWorks GPW1502 1,500 PSI 1.2 GPM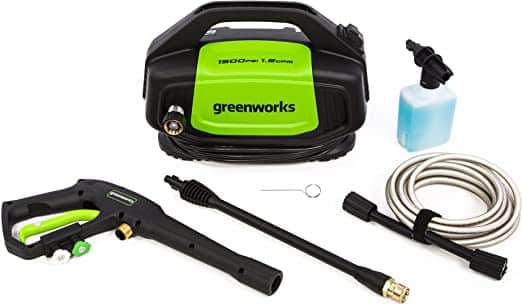 If you're not excited by the above two, maybe this one is the one.
It's made by GreenWorks, a Chinese manufacturer that only makes and sells electric power equipment. They sell mowers, pressure washers, leaf blowers, chainsaws and more – all corded electric and battery powered.
What do you think?
See current price on Amazon here…
Sources
The AR Blue Clean website explains the specs and features of their pressure washers. It also has the User Manual for each of their products online. This makes it handy for research purposes.
Sun Joe's website has a detailed FAQ for their SPX1000 cleaner, and also some good info on the motor and pump. In addition, there's a video showing them unbox the washer.
In addition to GreenWorks Tools page for their GPW1501 model, have a look at their environmental page to see what they stand for in their commitment to helping the environment.