The Best Simpson Pressure Washer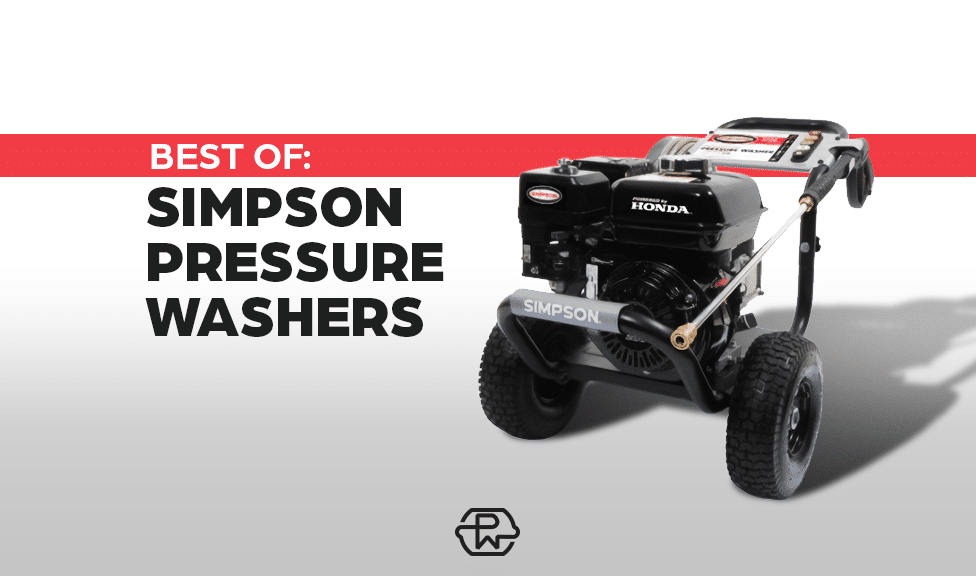 A startling fact about Simpson pressure washers is they were 100% handmade and assembled for the first 16 years of production. That's right, no power pneumatic tools…
It wasn't until 1985 that power tools were introduced to help workers satisfy the growing demand for Simpson pressure washers. It was this 16 years of extreme attention to detail that It wasn't until 1985 that power tools were introduced to help workers satisfy the growing demand for Simpson pressure washers. It was this 16 years of extreme attention to detail that created Simpson's culture of quality control that is still present today.
Simpson Cleaning company now use state-of-the-art tech to produce their machines in a 228,000 sq-ft (4 football fields large) manufacturing plant in Decatur, Arkansas.
They have demonstrated excellence so consistently that companies like DeWalt and Briggs & Stratton trust their stickers on Simpson machines.
You should also know: Simpson specializes in gas powered and heavy-duty cleaning power. They really focus on this corner of the market and so, if that's what you're after…
4 Best Simpson Pressure Washers Side-by-side
Image
Product
Features
Price

Honda GX390 premium engine
4200 PSI at 4.0 GPM
16,800 Cleaning Units

Check Price

HONDA GX200 engine
3300 PSI at 2.5 GPM
8,250 Cleaning Units

Check Price

Honda GC190 Premium residential engine
3200 PSI at 2.5 GPM
8,000 Cleaning Units

Check Price

Kohler RH265 Engine
3100 PSI at 2.4 GPM
7,440 Cleaning Units

Check Price
Also Read: Simoniz Pressure Washer Reviews
Simpson Pressure Washers Reviewed
The table above gives you an introduction to Simpson's power washer range… But here's the thing: 2 of the 4 in the table above really stand out.
Let's review the 2 in detail for you. Here are the 2 best value for money heavy-duty pressure washers on the market:
Top Simpson Pressure Washer For Most People
1) Simpson MegaShot 3,100 PSI 2.5 GPM
The best for most people is this MegaShot powered by Honda. It is one of the most affordable gas power washers on the market and offers reliability, power and style.
Our reasoning for giving it the title of "best for most" is because most people don't need an industrial grade triplex pump and Honda engine like the PowerShot model below. Most of us only need a durable (and more affordable) axial pump and residential grade Honda engine like this machine offers.
So if you are looking for a powerful yet affordable option to help make your outdoor home cleaning tasks a breeze this is your best bet. Be sure to check the price at the link below to see if it is on special.
Best Simpson Pressure Washer For High Performance Needs
1) Simpson PowerShot 3,300 PSI 2.5 GPM Pressure Washer
Simpson's PowerShot (this one) and MegaShot (other one that is 3,100 PSI 2.5 GPM) pressure washer models are both best-in-class.
Both would surely be the victor of best value machine – in their own right – were it any other brand. But since it's Simpson – the hard decision was the PowerShot is best high performance and MegaShot (above) best overall value for money.
Here's why the PowerShot is higher performance:
Commercial Engine – The PowerShot has a Honda GX200 engine with a 3.1 liter fuel tank (around 2 hours non-stop wash time). The engine alone retails for $359.
The MegaShot unit has a Honda GCV190 residential engine with a 0.91 liter fuel tank (which retails for $259)…
…So right there, immediately, you've justified the $100 extra you pay for the PowerShot unit. But that's not all:
Triplex Commercial Pump – The PowerShot has a triplex pump and the MegaShot has an axial pump.
You can expect a triplex pump's life to be much longer than an axial – no competition.
And the result of a better engine and better pump is the PowerShot has 16% more cleaning power and is more durable, reliable, and offers better performance for your heavy-duty pressure cleaning jobs, to help you clean every square inch of your home.
3 Benefits of Simpson Cleaning Brand Power Washers
Trusted By DeWalt and Briggs & Stratton
Simpson licenses the DeWalt brand name and sells some of their units with the DeWalt sticker. They've been doing this since 2009 – here's the press release giving the details. They also do the same with Briggs & Stratton industrial power washers.
This is all the more reason to buy a Simpson. DeWalt and Briggs & Stratton could license their name for use in the pressure washer vertical to ANYONE. Any company would be lucky to slap those stickers on their machine. But they both chose Simpson.
Why? Because their team of researchers, technicians and engineers in their Licensing and Product Development Divisions found Simpson to be up to their quality standards. Not bad!
Value For Money
Simpson is a well known brand in the cleaning industry. But when it comes to selling in stores like Home Depot, Lowes and Wal-Mart, DeWalt is much more trusted. They are known to offer premium products and people are willing to pay more, as well.
Simpson units with DeWalt badging are close to 2x the price (as Simpson's units with its own badging). So when you buy a Simpson: Know that people are paying 2x what you paid for the same unit with DeWalt's fancy yellow branding and sticker.
Will Be Around To Support You For A Long Time
Simpson Cleaning company was acquired by FNA Group in 2006. FNA Group is a world class manufacturing company with high 8-figure yearly revenues. You can rest easy knowing when you buy the Simpson brand they aren't going to go bankrupt and leave you high and dry for support issues. You can also register your product to activate its warranty. This warranty protects your purchase.
Buying Criteria You Need To Know About
Big Engine = Big Noise = More Fuel Use
To get an idea of the noise level check out this video of the Simpson PowerShot starting up. Notice how the 2 guys can still talk to each other while kneeling right beside it:
There's a reason the GX200 engine comes with a 3.1L fuel tank. It needs the fuel. After talking to a few painters who use a pressure washer with a GX200 engine the consensus is that it'll last about 2-3 hours of non-stop usage. That translates to at least 4-5 hours of pressure washing because there's no way you go non-stop with the kickback from the lance and the grip strength holding the trigger. You'll need rest…
…But still, a Jerry can of gas will be needed if you plan to wash all day.
Storing Gasoline
It's recommended that you only store gasoline season-to-season. That means 3-4 months is about as long as you'll want to store it. Be sure to dispose of it safely. Here's the American Petroleum Institute Guidelines.
Winterizing Your Power Washer
All pressure cleaners require you to follow certain steps before storing it for 30 days or more. Extra care needs to be taken storing gas engines over winter. Using a fuel stabilizer or emptying the fuel tank and putting new oil in are mandatory. In addition, the water system needs to be emptied of water to prevent expansion and cracking inside during cold weather. Read this guide how to winterize your pressure washer to get detailed instructions.
Why Owning a Simpson Pressure Washer is Smart
Not only do Simpson sell high quality machines at fair prices… They also support you during ownership.
With spare parts available around the country and a dealer network to assist in repair – Simpson Cleaning is doing it right.
Easy To Find and Use Simpson Pressure Washer Parts and Accessories
In-depth Owners Manual. The Simpson pressure washer Manuals are comprehensive and include all the information you need on your Simpson power washer including how to operate it safely, how to store it properly and how to perform maintenance and troubleshooting. Here is the full list of Simpson Manuals online. Be sure to read it before operating your new toy.
OEM Replacement Pumps. There's a few options of pumps you can buy to replace the original if required. Simpson's parent company manufactures their own brand of pumps under the brand name: AAA. As a general rule axial cam pumps are replaced not repaired and triplex plunger pumps are repaired not replaced.
Pump Saver. Pump saver is an essential accessory that will allow you to safely store the pressure washer in cold climates and over long periods. You can buy it for around $10 at any power equipment outlet. It goes into the pump and prevents seals from cracking.
O-Ring Kit. O-Ring kits are available for hose ends and wand connections. If you find your Simpson pressure washer leaks it is most likely a cracked o-ring. Refer to your User's Manual to find the type and size of O-ring you require.
Brass Coupler. To connect your high pressure hose or garden hose to the power washer you need a coupler. The go-to for heavy-duty machines is a brass coupler. Out-of-the-box Simpson comes with these but just in case you need a new one they are available at most hardware stores and online at replacement parts dealers. Just Google search for it.
Extension and Replacement Hoses. If you want to extend the hose by 50 feet or upgrade the original hose then you can choose from a variety of replacement and extension hoses. Simpson has a wide range on offer varying in material, length, diameter and PSI capability. No need to let a bad kink in the hose get in the way of your plans.
Wand Extension. If you find yourself cleaning second story windows you'll want to pickup a wand extension to avoid using a ladder. Wand extensions are the safer option and you can even get a gutter cleaning attachment to make cleaning your gutters with enough water pressure effortless from the ground.
Nozzles and Spray Tips. There are 7 nozzles to choose from including the standard out-of-the-box red, yellow, green, white and the black soaping tip. You can also pickup a turbo/rotary nozzle and adjustable/variable nozzle if you want that functionality.
Wrap-Up
Somehow Simpson Cleaning – the company – is able to offer such high performance power washers at low prices.
That is the reason they consistently have 1 of the 3 best sellers on Amazon – great value for the money. With a Honda engine powering your power washer you can feel at ease pulling it out the garage and it starting first try.
Be sure to read more customer reviews and the current best price at these links:
Sources
I learned the starting fact about Simpson Pressure Cleaning's originins in an industry magazine called Cleaner Times. Here's the PDF the story about Simpson is on page 40: Cleaner Times PDF.
Here's an official Simpson video for the MegaShot NOT the PowerShot. It gives insight in to the design and style of the Simpson brand.
---
More from PressureWashr