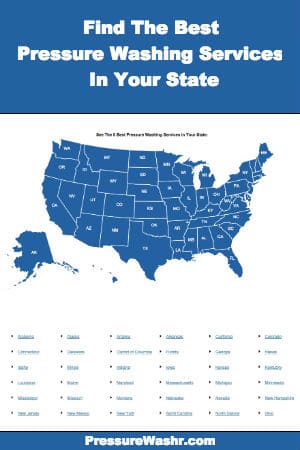 For 4 months now, I've received at least 5 e-mails a week from readers…
Who wanted me to tell them the best pressure washing service provider in their area.
You see, they read all the how-to articles and decided that instead of doing the work themselves they would just hire someone to take care of it.
No worries, this is easy to understand.
But the problem was I had no idea who they should hire – especially considering I was getting requests for advice from Seattle to Boston to Miami to Houston.
So finally, after many 8-hour days of searching, emailing, calling and creating pages…
Here it is:
I've created a clickable map of the United States.
When you click your state you will be taken to the best 5 pressure washing services in the 5 major areas of your state. Read: the 5 biggest cities by population.
Each company is licensed, insured and reputable. They are easy to contact and offer you a free quote.
Here are the direct links to the 14 states that have been completed:
Rest easy knowing that the pressure washing services company you hire from this database will do your project with professional quality and up to current standards.