How To Choose A Pressure Washer Hose (To Replace Or Extend Yours)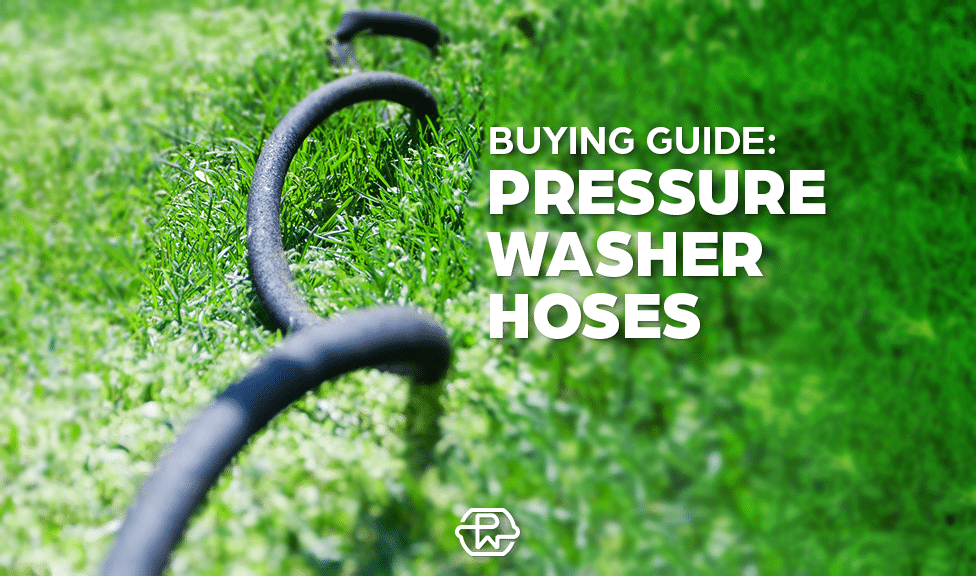 Your pressure washer hose is constantly under attack: It's being dragged, dropped, twisted, tugged and thrown so that you can easily pressure clean where you need to.
The result of this abuse is inevitable.
At some stage you WILL need to replace your hose.
The problem is there's many to choose from and the original hose was chosen for you (by the manufacturer). So you probably aren't familiar with your options…
Not a problem, here's the 4 choices you have when picking your pressure washer extension or replacement hose:
Pick Hose Diameter
Knowing which pressure washer hose diameter to get is easy – just copy your current hose diameter. If you don't know what it is, bring it with you to the store to get help. Otherwise, just check the User Manual. If you no longer have the manual just go online to find it.
You have 3 diameter hoses to choose from:
1/4-inch is by far the most common diameter used in pressure washers for around the home. Of the 10 bestselling pressure washer replacement and extension hoses online 8 were 1/4-inch diameter. And 2 were:
3/8-inch is the thickest diameter hose you'll see around. It's for pro machines because of the high volume flow requirement.
5/16-inch is not used as much as the other 2. The thing is light and medium-duty units use 1/4-inch hose and then the heavy-duty units jump to the 3/8-inch hose. 5/16-inch kinda' gets left out. There was 1 in the top 50 bestsellers.
Pick Hose Material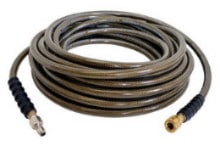 Hose material is important because it dictates the price, durability and flexibility of the hose.
Here's the 3 types:
Plastic hose is used in the light-duty and medium-duty electric pressure cleaners. It is the most affordable hose. It's flexible enough to be wound up into a reel, but you'll probably find yourself wishing you had more flex/give. A garden hose is typically made of plastic PVC.
Rubber hose or synthetic rubber hose is what really good garden hoses are made of. A 50-ft rubber high pressure hose will cost $50 or more.
Polyurethane hose is the most expensive for a reason. It offers the best of everything: flexibility, durability, weight etc…
Connection Type
No matter what type of connection your pressure washer and pressure gun/wand have… Or what connection type comes with the hose you're about to buy – just know: there's always an adaptor to make it work.
Here's what connections are out there:
Female and Male M22 threaded – Almost all replacement/extension hoses are M22 female on both ends out-of-the-box. So your gun will need to be M22 male. Simple.
Female and Male Quick-connect – The QC connections are usually included with your pressure washer. If you need extra order them at time of purchase.
Pick Hose Length
Do you want 25, 35 or 50-ft length? Take your pick.
Which are the recommended pressure washer hoses?
The 1/4-inch Pressure Washer Hose To Buy: Briggs and Stratton 25-foot 3000 PSI Hose
The 3/8-inch Pressure Washer Hose To Buy: Simpson 50-foot 4500 PSI Hose
Sources
The PressureWashersDirect.com hose buy guide was used to learn more about the typical connection types.
FamilyHandman.com's garden hose buying guide was read to find out what good garden is made of.
---
More from PressureWashr
By now, you have probably heard about the three r's (reduce, reuse, and recycle) that represent the foundation of preserving…