As the summer comes to a close you may be checking off the last few items on your home maintenance to-do list.
Many homeowners could have "pressure wash the fence" on their to-do list. The fence in your yard is pivotal in maintaining your privacy, and keeping your kids and pets in the yard, but it is exposed to the elements 24/7.
That means your fence has likely accumulated years of dirt and grime. It's time to blast that grime away and bring your fence back to life.
However, pressure washing a wood fence can be tricky. If you use the wrong amount of pressure you might damage your fence and spend thousands to repair and replace it.
While we are mainly talking about wood fences in this piece, the same ideas can be applied to vinyl fences as well. You still have to be careful, but don't need to worry about causing expensive damage to wood surfaces.
We've rounded up some tips and tricks to make power washing your fence a breeze.
Steps to Clean Your Fence with a Power Washer
First, it's important to make sure you prepare your fence to ensure optimal results.
Preparation
Preparation is arguably the most important step to wash a fence correctly. Before you start make sure to:
Clear loose debris from near and around the fence
Remove debris from your work area so you don't slip or fall over objects
Close doors and windows to prevent water from damaging the interior of your house
Cover plants, electrical outlets, light fixtures, deck furniture, and anything nearby with a tarp
Station your pressure washer in a safe area
Read your owner manual to determine the correct spray pattern to utilize
Applying Cleaner
The next step is to apply a cleaner to your fence. First, spray the soil and plants around your fence with water from the garden hose to create a barrier between the detergent and soil to prevent damage.
This technique will encourage runoff instead of soaking into the soil and causing damage.
Next, load up your pressure washer with a cleaning solution. Use a bottom-up approach when applying detergent to your fence to prevent streaking.
You will also want to work in sections. If you apply detergent to your entire fence before rinsing it off, the detergent will harden on the fence. Your job will become much harder!
Let the detergent sit on the fence for 5-10 minutes.
If you are running into troublesome areas or deep stains, attach a rotating scrub brush to your pressure washing wand. This will help break up troublesome stains, and best prepare the fence for dirt and grime removal.
Spraying off cleaner with Your Pressure Washer
Once the detergent has soaked on the fence for 5-10 minutes, use a 25-degree nozzle to spray off the detergent.
Remember: continue to work in sections! Alternate between applying detergent, letting it sit for 5-10 minutes, then rinsing it off as you work your way down the fence.
It is best to cover 1 to 2 boards at a time. This technique will get you optimal results when pressure washing your fence.
When rinsing apply a top down approach with the sprayer to prevent streaks. If you're going to apply stain, sealer, or paint after your job is complete, wait 48 hours to allow the fence to dry.
Ideal tools to use (ideal pressure washer & detergent)
Wood is soft so you have to choose your tools carefully. If you use the wrong type of water pressure, nozzle, or detergent you may be in for an expensive surprise.
Because pressure washers use such a high pressure, mistakes happen really fast. That's why it is important to nail down the correct tools ahead of time so your risk of damage is lower.
We've rounded up the best tools to use to complete your fence pressure washing successfully.
PSI & Nozzle selection
If you are familiar with pressure washers you may know that there are a variety of tips or nozzles that come with
You can't use just any nozzle because each nozzle is designed to do different things.
The wrong nozzle could cause serious damage to your fence. The ideal nozzle tip is the 25-degree tip – the green nozzle tip. Anything less will not deliver enough pressure to thoroughly clean your fence, and anything large could cause the damage we're trying to avoid.
The nozzle is only half the equation. Let's dive into PSI and determine what level is best for pressure washing your fence correctly.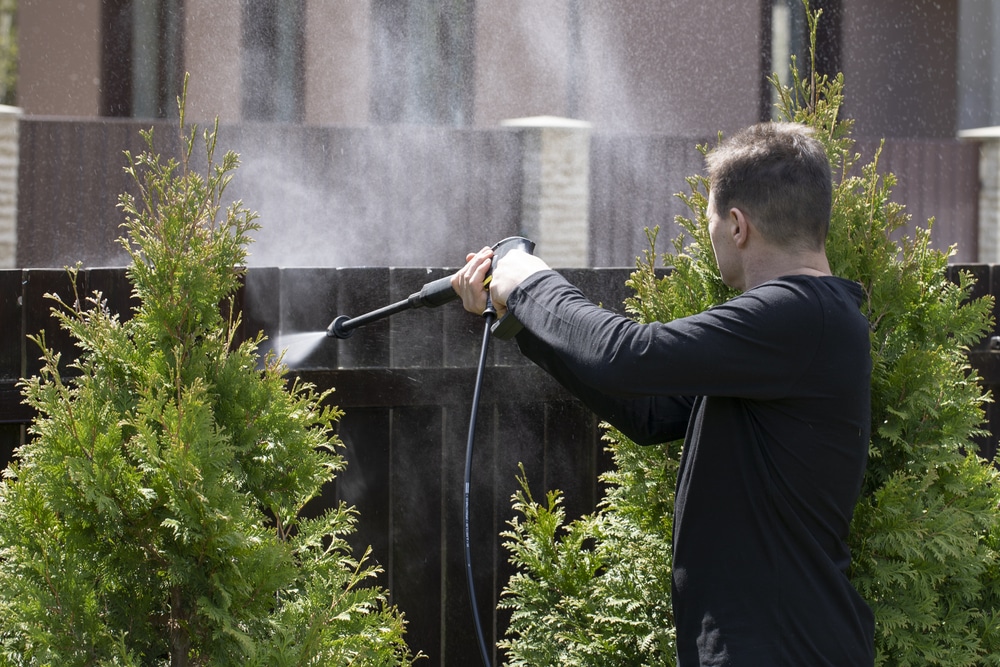 A PSI between 500 to 800 for softer woods should suffice for cleaning your fence. To determine what PSI works best with the type of wood you have, you can test it out on a small area before pressure washing the entire fence.
If you have a fence made of harder wood, you may need to use a PSI of 1200 to 1500 to clean your fence correctly.
Spray a small area with different PSI levels to see the effect of each PSI level on the fence and then choose the PSI that delivers the best results.
Testing out the effect of different PSI's is extremely important for preserving the integrity of your fence. This is the most critical step after preparing your fence correctly with detergent.
Best Gas Pressure Washer for Wooden Fences
It's important to have the right type of pressure washer when washing wood. There are two types of pressure washers on the market: gas or electric pressure washers.
Electric pressure washers are great for smaller projects that need low pressure to get the job done and are close to a nearby outlet (think: washing your car).
Gas pressure washers can be great for wood fences. They have a higher GPM output, and are not reliant on an outlet or extension cable.
We recommend the Simpson Cleaning MSH3125 MegaShot. It features a Honda engine, 10" large wheels for optimal movability, and a PSI of 3200 and GPM of 2.5.
The Simpson has enough power to thoroughly clean your fence and is also lightweight and easy to use.
If you're looking for a step-down, the Simpson Cleaning MS60763-S MegaShot is a great alternative. This model features a lower PSI and GPM than the MSH3125, coming in at 3100 PSI and 2.4 GPM. 
This gas pressure washer is designed for homeowners because it is lightweight and easy to transport. Either pressure washer you choose will work well for your fence pressure washing project.
Finally, you want to make sure that you are close to a hose or water source to fill up your pressure washer regularly. A 2-3 GPM pressure washer will run out of water fast depending on how big your fence project is.
Best detergent to use
The type of detergent you use will depend on the type of fence you have. However, Simple Green's Oxy Solve Deck and Fence cleaner is a great option. It is safe for the environment and tough enough to tackle moss, grime, mold, mildew, and anything else that is stuck on your fence.
If you're interested in learning more about different kinds of detergents, check out this great video that compares different detergents for your fence.
Safety Guidelines
Safety for homeowner
If you are not careful, you may get injured while pressure washing your fence. Injuries from your pressure washer can range from mild to severe. That's why it is important to take these precautions while pressure washing:
Wear the correct clothing while pressure washing
Never place your pressure washer on uneven surfaces
Never leave your pressure washing wand unattended
Wear eye protection at all times to prevent debris from injuring your eye
Handle pressure washer detergent carefully and follow manufacturer's specifications because the detergent contains chemicals that could damage your skin.
Never take your eyes off your pressure washing project while the pressure washing wand is employed
Get familiar with your pressure washer and where the on/off switch is in case of an emergency
Release any remaining pressure after turning your pressure washer off by squeezing the wand trigger before disconnecting your hoses or nozzles
Safety for wood
Always use the proper nozzle
Test the PSI with a small, hidden area first
Use wood safe detergent
We hope these tips and tricks will help you pressure wash your fence successfully. Let us know how your pressure washing project went! We love to hear any tips or tricks you may have picked up along the way.
---
More from PressureWashr
By now, you have probably heard about the three r's (reduce, reuse, and recycle) that represent the foundation of preserving…