Best Commercial Pressure Washer of Each Style
If you rely on a pressure washer to make a living you will want a commercial pressure washer. Why? Because they are designed to help you make profit by not breaking down during heavy use. A residential pressure washer is designed for weekend use.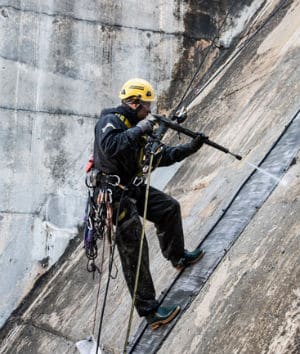 What defines a commercial pressure washer?
A commercial pressure washer is designed with daily use in mind. They have better engines, better pumps and better components everywhere. They avoid plastic. They come with high-grade hoses, stainless lances and brass connections.
Cleaning power is not a factor in whether a pressure washer is residential or commercial. There are residential machines with 3,500 PSI and 3 GPM. And there are commercial ones with less cleaning power (2,000 PSI and 2 GPM) that cost 3x more because they have better components.
Let's take a look at the options you have with commercial pressure washers.
Best DIRECT DRIVE GAS Commercial Pressure Washer
Simpson Powershot 4200 PSI 4.0 GPM With Honda GX390 Engine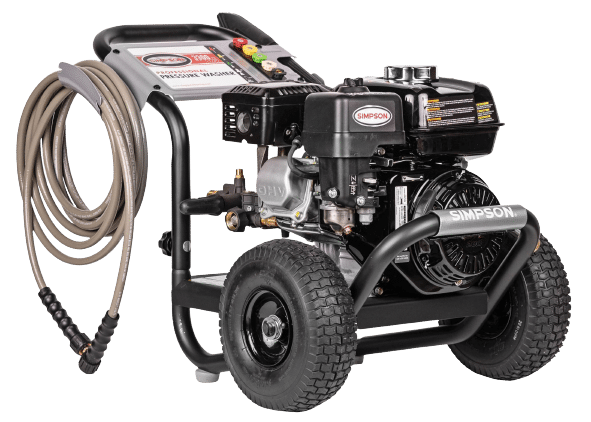 The best direct drive gas powered commercial pressure washer is the Simpson Powershot with the Honda GX390 commercial series engine and the AAA by Comet industrial triplex plunger pump with forged brass head and ceramic pistons. (See graphic of engine and pump details below).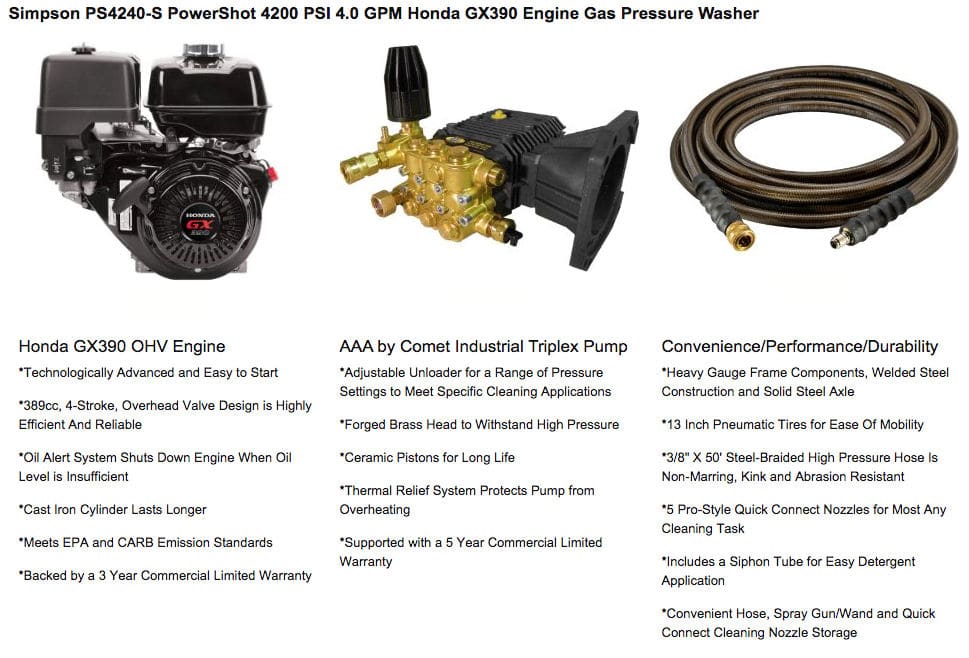 As you can see from the image the unit has a wheelbarrow stance to make it easy to push or pull. It also has never flat pneumatic tires to make moving over uneven surfaces and around a job site a cinch.
For the quality, cleaning power and price you will not find a better value direct drive gas commercial power washer.
BELT DRIVE GAS Commercial Pressure Washer
SIMPSON Cleaning ALWB60828 Water Blaster Series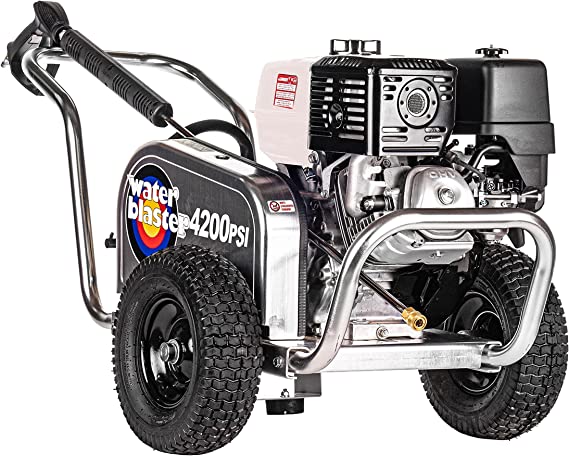 Sticking with one of our most recommended brands, we picked the Simpson ALWB60828 Water Blaster Series model as our pick for belt drive commercial pressure washer.
This model also comes with a Honda GX390 commercial series engine, and this is a great option for commercial projects.
Some of the great things about this model is the ability to hook up an external tank, which completely removes the "what if's" of using a customer's water hookup. Even if they don't have great water pressure, it won't matter if you brought your own supply.
Best DIRECT DRIVE ELECTRIC Commercial Pressure Washer
NorthStar Electric Cold Water Total Start/Stop Commercial Pressure Washer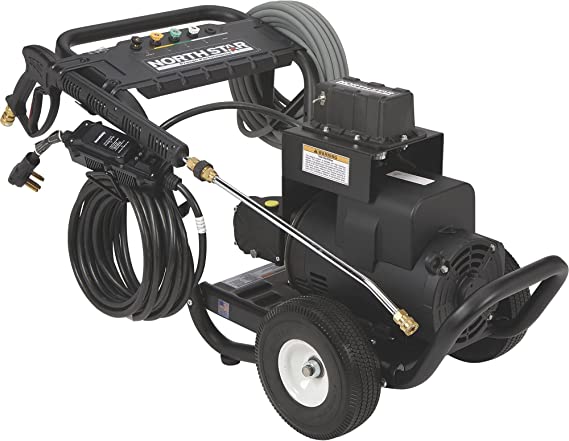 This heavy-duty Pressure Pro is great value for the money. It is constructed on a lifetime warranty aluminum frame, and the whole machine only weights 150 pounds.
It has an industrial-grade EP direct drive triplex plunger pump with thermal protection and a premium motor that draws 30A at 230V. If you're working indoors and sound and fumes are the buying criteria this is your best option.
BELT DRIVE ELECTRIC Commercial Pressure Washer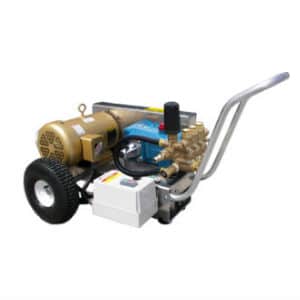 Out of all the commercial pressure washers, finding a belt drive electric is the hardest. They are basically only made by Pressure Pro in their Eagle Series. I guess the demand isn't high?
The Pressure Pro belt drive electric has 3000 PSI and 4 GPM at max. This is huge for an electric. It has a Baldor 7.5 hp motor and General Pump. Both are what you want in a commercial electric machine!
If you're in the market for this machine then look to pay upwards of $5000.
Best HOT WATER Commercial Pressure Washer
NorthStar Gas Wet Steam and Hot Water Pressure Power Washer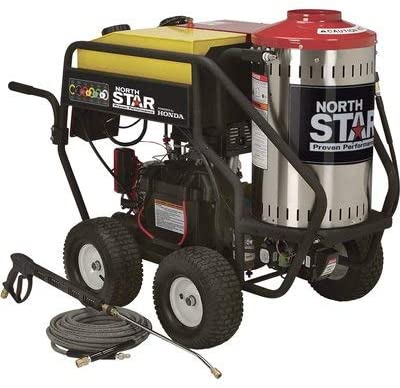 If you want a hot water power washer this one by NorthStar should be the first one you look at.
We're a big fan of Honda engines and this one comes with a Honda GX390, which is the same as one of our favorites (Simpson Powershot). We looked at a few others that were electric (Northstar and Easy-Kleen), but while the maintenance cost is much lower (time/energy and actual $$$) we like the versatility of a gas powered machine.
NorthStar is a great brand, quality parts that last the distance and a quality company to work with if anything goes wrong.
When you add hot water to this kind of cleaning power you get a machine that clean anything. Graffiti is now easy to remove, caked on grease at restaurants now easy and tough to clean semi-trucks now easy to clean.
You can see the pressure washer comes on a 4-wheel frame to make moving its 600-pound-self around not too hard. All this comes at a cost though.
How to Choose Your Commercial Power Washer
Direct Drive Pump
A direct drive pump is connected with a hollow shaft to the engine drive shaft. This means the pump runs at the same speed as the engine. It also means the pump sits very close to the hot engine. Both these factors cause the pump to run hotter, decreasing life span of the bearings and other parts.
However, due to the simplicity of the connection between pump and motor a direct drive pressure washer is less expensive and more compact compared to belt drive.
A direct drive is for you if: Pressure washing is part of your job but not the only part. Your pressure washer is a secondary tool not the main tool you use to earn money.
The good: Lower purchase cost, take up less space, more efficient.
The bad: Shorter pump life and prone to overheating and vibration. Also pump runs too fast to suction water from a tank reliably.
Belt Drive Pump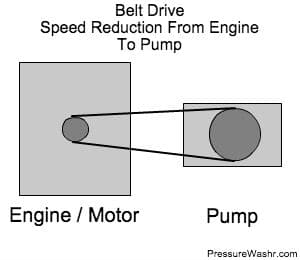 A belt drive pump is connected via a belt(s) and pulleys to the engine drive shaft. This system allows for the pump to turn at 1/3 the speed as the direct drive pump. It also allows the pump to sit further away from the hot engine. Both these factors allow the pump to run cooler, increasing the lifespan.
However, because of the added friction of the belt and pulleys it is not as efficient. And the added parts increase the maintenance requirement.
A belt drive is for you if: You're a full-time pressure washer and spend most of most days pressure cleaning.
The good: Longer life (pump runs cooler because lower rpm), belt absorbs vibration instead of the pump shaft.
The bad: More maintenance and less efficient (added belt friction).
Top Pump Brands
CAT – Their motto is "The Pumps With Nine Lives" and it could be true. CAT Pumps are the most sought after brand and you will pay the most for them. They specialize in positive displacement high pressure pumps (…they specialize in pressure washer pumps).
AR (Annovi Reverberi) – An Italian pump manufacturer with long history in providing piston pumps for industrial washing. Very well respected. Brands like Black + Decker, Michelin, Stanley and DeWalt trust AR pumps in their electric machines.
Comet – Comet is the North American arm of the Italian plunger pump brand, Comet Spa. They offer hundreds of different pump models of triplex and axial types for all industry applications.
General Pump – In the business of developing high quality plunger pumps since 1982, General Pump continues to provide the industry dependable long lasting pumps
AAA – Simpson Cleaning's home brand of triplex plunger pump. The premium Simpson machines will have CAT, Comet, AR or General Pump brand pumps.
Gas or Electric Powered?
Electric. If you will always be pressure washing near an electric outlet (like at a warehouse or factory) get electric. It requires less maintenance, is quieter and you can safely use it indoors. You also won't have to worry about refuelling. The downside is that it will have a higher acquisition cost for the cleaning power.
Gas. If you want the most portability get gas. So if you're a mobile contract cleaner then gas will be more practical because you won't have to go inside the customers house/establishment looking for electrical outlets. Gas also offers more power for less cost.
Hot Water or Cold Water?
Hot water definitely cleans faster because it "excites" the dirt and grime particles to get off the surface. Soap "pulls" the dirt and grime off the surface. The combination of exciting the dirt particles and pulling the dirt particles allows for the fastest most thorough clean.
However, sometimes dealing with the burner and burner fuel is a hassle. The hot water generating aspect of a pressure washer will also cost $1000 more (compared to the same cold water machine) because of the schedule 80 heating coil and other components.
9 Commercial Power Washers Uses
The life of an industrial power washing contractor:
Clean large areas fast
Work all-day everyday
Here are 9 images to show the results you can achieve with an industrial power washer:

1.) Sport courts
For safety reasons hard sporting courts – especially tennis and basketball – are cleaned with a surface cleaner powered by a bulky industrial power washer. The job requires a large area surface cleaner to complete in a timely manner.
2.) Buildings
Building exteriors are probably the most common scope of work for a commercial pressure cleaner. The jobs will require workers to hire an elevated work platform to reach the upper areas. Contractors need to be certified for operation of an EWP.
3.) Industrial facilities
Although smoke stacks are not a regular occurrence, general industrial facility cleaning is. I've personally cleaned out rendering plant receiving bins. It took several days to get the smell of rotting meat off me (but I got to use a 4,000 PSI, 5 GPM electric beast of a pressure washer).
4.) Parking garages
Very common job mobile power washers will see. Parking garages offer steady pay and little time wasted commuting from job to job.
5.) Ships
Had to include this one. Shipping vessels will be cleaned with onboard equipment by ship workers. I wonder if they have high pressure hookups throughout the ship?
6.) Malls
Mall parking lots, walking areas and other areas around the facility offer steady work for pressure washing businesses who can handle the capacity.
7.) Restaurant equipment
Restaurant kitchen exhaust hoods are nasty business. They can be tough to clean and end up getting really dirty. Once they get past a certain point the restaurant will call in a commercial pressure washing expert to clean the nasty grease and grime away.
8.) Building surrounds
Check out how dirty that office building entrance is in the image. Crazy negligence. Dirty areas like that are dangerous and can get very slippery when wet. At last, the building manager called in a commercial power washer to clean the area and you can see it looks much better already.
9.) City sidewalks
Heavily trafficked city sidewalks are a popular use of big power washers – especially hot water versions. Workers barricade the area off and get to work on a regular basis cleaning these areas to make them more safe during wet weather (grime is slippery).
Sources
A detailed explanation of direct drive and belt drive difference was found at the Hotsy.com page for belt vs direct. Also, check out 10 Little Known Hotsy Facts.
The image of the commercial pressure washer in the intro section was sourced from Karcher International Projects' page for their Chungju Dam project.