Why trust us to help you find the best pressure washer for you?
Because all we do is pressure washers.
We are the only online consumer guide laser-focused on pressure washers that actually buys and tests them.
Yes, there are other publications who buy and test pressure washers but to them it's just 1 of hundreds maybe thousands of product categories. To them pressure washers are one person's task for a day or week…
For
PressureWashr
pressure washers have been the focus for 7 years.
Our expertise was even recognized by Wirecutter (A New York Times Company) who contacted us to help them with their pressure washer buying guide. From their 'Why you should trust us' section:
"To learn more about pressure washers, we corresponded with Jamey, who runs PressureWashr, an online resource devoted to all things pressure washer."

Doug Mahoney, Senior Writer for Wirecutter (A New York Times Company)
Let's dive in to how we test, review and recommend.
No Brand Partnerships or Sponsorships
You see this disclosure everywhere these days:
"We got this product for free, but that in no way affects this review or our opinion of this product."
Maybe true, maybe not…
At PressureWashr:
We do not accept any free products
We do not take money to feature news about products
We do not partner with pressure washer brands in any way shape or form.
Why?
Because no doubt we can simply say, "We received $1000 and a free pressure washer to write this review."
But if we recommended the pressure washer and said it was great – would you believe it?
We don't want to risk losing your trust, so we buy all the products online and from big-box stores just like you.
Sound good?
Okay, so how do we choose which to buy?
Expert Research
The Gist:
We start by creating a vast spreadsheet of all the different brand models, specs and features
We read the reviews on Amazon, The Home Depot and PressureWashersDirect.com (to name a few)
We talk/interview friends, family, tool/hardware store employees, landscaping/painting/pressure washing contractors to see what their recommendations/like/dislikes are about the power washers they have used
We use an algorithm we created in the spreadsheet to rate all the pressure washers with a score from 1 – 50 (based on above information). This helps decide which ones to buy. The ones with rating 44 or 45, for example, are better in our eyes (and more worth buying to test) than the ones rated 32 or 33.
Online Research
A few years ago we made a comprehensive list of all the residential pressure washers available. There were 167 models to choose from 22 brands. The number of pressure washers available has grown 3x since then…
…But has it really?
We see 400+ different pressure washer available on Amazon, for example, but many are the same pressure washer labelled with a different brand.
Check it out (and this is just showing 5 of 11 of this pressure washer with different brand names all released on Amazon within days of each other):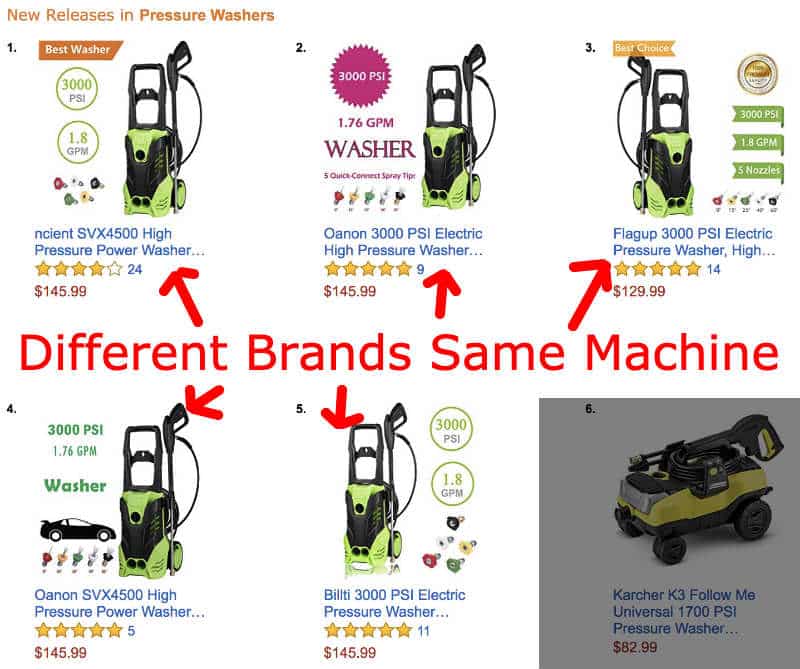 Because we keep a keen eye on the market it's easy to spot what is happening here. A manufacturer in China is flooding Amazon pressure washer category with their pressure washer and using 11 separate seller accounts (brands) to increase their coverage and get you to buy. In addition, they pay for fake positive reviews (more on that later).
Anyways – why should you care?
Because we are obsessed following the industry and have been doing this for 7 years. We are not swayed by this trickery (it's very obvious to spot now) and during research we immediately spot and ignore the junk.
Fake Reviews
Especially on Amazon, fake reviews are big business. Getting your power washer 5-star reviews is key to getting shown at the top of search pages (and making more sales).
During research we use tools to spot the fake reviews on Amazon.com. The tools are:
Reviewmeta.com
TheReviewIndex.com
You paste in the Amazon URL for the product and they rank the reviews A, B, C, D etc. A pressure cleaner with a D rating has many fake reviews.
Having done this pressure washer research for many years we have learned to focus on the 3-star and 4-star reviews as they tend to be the most thoughtful and useful. 1-star reviews are angry and usually an outlier, and 5-star are mostly singing praise.
Offline Research
Neighbors, friends, family. Anyone we know with a pressure washer we talk to about their experience and takes notes. Did they like the hose reel? Did they think it had enough power?
Tool, hardware and home improvement store employees. We walk into the stores and ask questions about the pressure washers they are selling. Which ones do they recommend and why. Simple as that.
Landscaping, pressure washing and painting contractors. We call and interview about the pressure washers they use and what they think of them – likes and dislikes and what surfaces and jobs they use them on.
Buying
We buy all the products we test just like you.
This insures we experience the same shopping experience and we receive a pressure washer in the box straight off the assembly line – no funny business.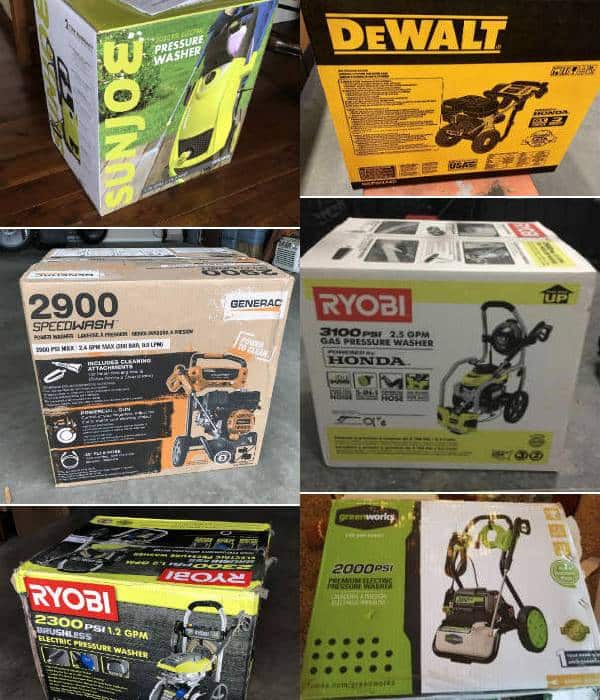 We'll also drive an hour to a different big-box branch so they don't recognize us.
So far we have bought from these places:
Amazon.com (16 pressure washers)
The Home Depot (9)
Amazon.ca (3)
Lowe's (3)
Walmart (2)
eBay.com (2)
Costco (1)
In the future we have plans to buy from:
Menards
PressureWashersDirect.com
Harbor Freight
Best Prices
The reason we have purchased from Amazon.com the most is because they have the best shopping experience, including a very simple return process. They also tend to have the best selection and best prices.
We use a tool called CamelCamelCamel.com to check price fluctuations on Amazon and help decide when is the best time to buy.
Customer Experiences
During buying the power washers just like you we take field notes of the customer experience and include it in the review and recommend phases. We go through the returns process to see how easy that is and we make customer service calls to rate it.
Testing
Scientific Testing
We measure the specifications in use. We measure the actual values of PSI, GPM etc. and input the values into our spreadsheet to compare actual values to marketing material listed values.
You can see how we measure actual pressure with a Bourdon Gauge in this picture: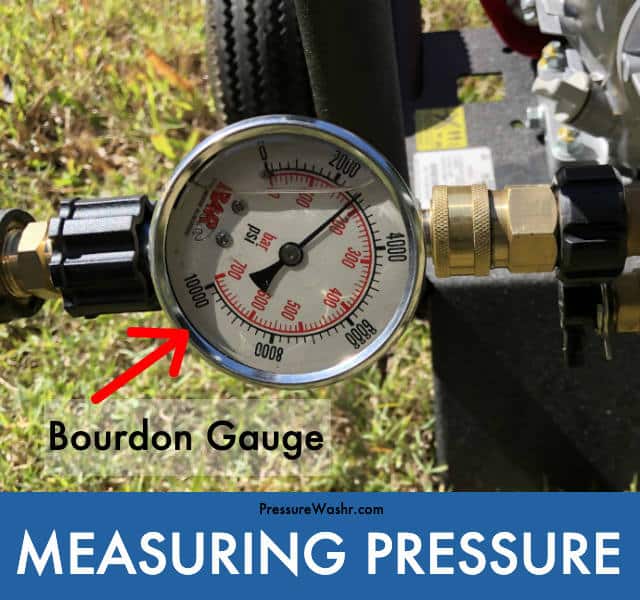 You can see how we measure flow rate with a bucket, stop watch and luggage scale in this picture: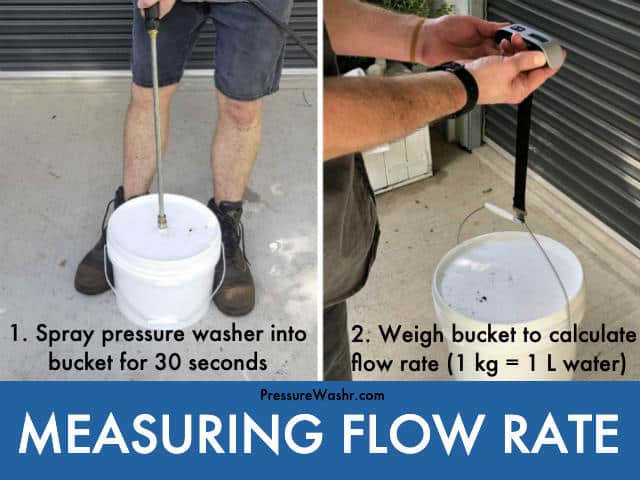 Testing While Pressure Washing
We make field notes how it feels to use on different surfaces – driveways, patios, decks, cars, fences (and more). We makes notes of pressure washers center of gravity (does it tip over easy), does it have storage for the hose, for the attachments. We use our extensive experience using residential and industrial power washers to spot the good and bad of each unit fast.
Here's a quick video we did testing on a wood retaining wall (it's sped up 4x):
Disassembling
Sometimes we take a pressure washer apart to take note of its parts. For example, to see the electric motor and pump brands and styles for different electric pressure washers that don't list that information in their manuals. This helps get an idea how durable the machine is.
Here's the first electric pressure washer we ever took apart about 3 years ago: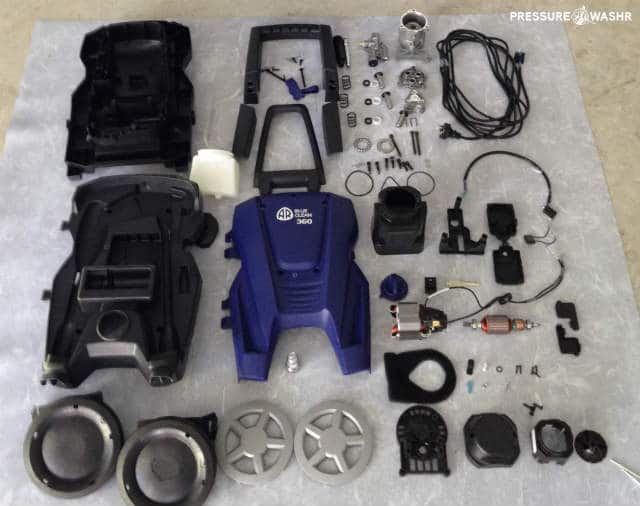 The same month as the electric teardown above, by popular demand we did it for a Briggs & Stratton gas powered pressure washer. We also tried to take better photos: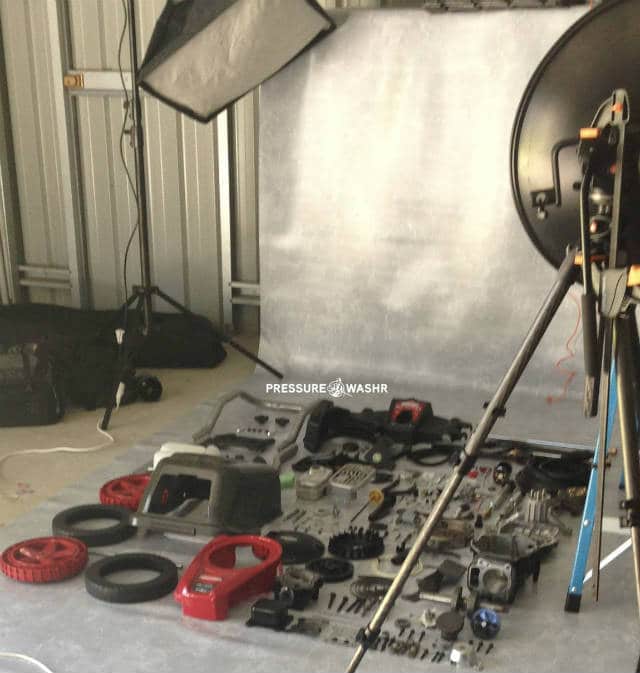 Comparing Measured Specifications
This table shows all the pressure washers tested. We have redacted the measured data because it took a lot of effort to get and we want to keep it for our use only.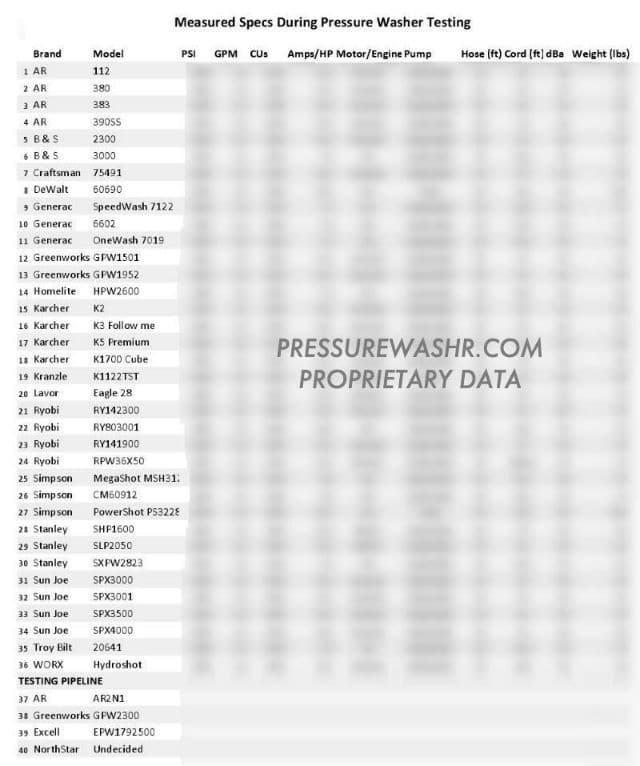 Reviewing
When we are writing a review we are talking about our field experience using the pressure washer to pressure wash surfaces.
A few examples of field notes:
Short hose. If we are using it on a car and notice the hose is not long enough to reach all sides of the car without moving the unit – we take note.
Unstable. If we notice a tiny tug on the hose causes the unit to fall down from high center of gravity – we take note.
Loud and vibrates. If it's a gas powered machine and it's extra loud and vibrates like crazy – we take note.
Smooth operation. We also take note if the operation and experience is flawless, of course.
We don't just talk about what the brands' marketing materials have told us the features and benefits are. We use 15+ years pressure cleaning different surfaces experience to make judgements.
In addition, we have noticed over the years producing pressurewashr.com that people simply don't care about the garbage pressure washers. For this reason, we make a point of showing you only the best pressure washers for certain uses and the best of each brand.
Metrics
Pump type and brand. Pump type determines usable life (in hours), and is usually the first or second most expensive part on a pressure washer.
Motor/engine type and brand. If electric there are universal and induction motors with pros and cons. If gas then brand and build quality are important. For example, Honda make GX and GC engines for commercial and residential-use respectively.
Manufacturing brand. You'll see Honda and Briggs engines on many different brand pressure washers: Troy-Bilt, Northern Tool, Simpson, BE, Pressure-Pro etc. So we take into account what manufacturing line the machine is coming from.
Part availability. Does it require a standard O-ring? Can you order the spare part direct from the brand website?
Hose quality. How annoying is the hose on a scale of 'drive me crazy' to 'I chuck it in the garbage first use'.
Spray gun and wand quality. All plastic with custom nozzles and connections or metal with quick nozzle standard nozzles?
Connections/fittings. Plastic, brass or stainless-steel? Quick or screw connect?
Included attachments. Does it come with a top-grade foam cannon? A surface cleaner? Soap injector?
Build quality. Is the machine all plastic parts – frame and all. Or is it built on a sturdy welded steel frame with bolt connections and heavy-duty large wheels.
Behind the Scenes Factors
Warranty. Is the brand warranty 1, 2 or 3 years? Is it only the pump? Is it easy to get the replacement parts or repair?
Price. Is the pressure washer correctly priced for its cleaning power and style?
Support. Is the customer support prompt and helpful? Or does requests/emails/calls go unreturned for weeks?
Recommending
Recommending a pressure washer for a mobile car detailer is different from recommending one for a 20 acre farm owner.
The recommending phase of the process is about matching a pressure washer to the use:
Best for home use. This pressure cleaner will need to be good for a variety of surfaces around the home – it will need enough cleaning power. It will need to be easily maintained and affordable upfront and over its lifetime. There will need to be a gas and electric option for choosing.
Best for driveways. Depending on the size of the driveway and how often you plan on cleaning it (yearly?) will determine the power washer recommended.
Best value for money. A popular choice for most is the one that gives them the best for the least. The problem with value for money is many people are only seeing the upfront value for money and not the lifetime value for money.
Decisions for which to recommend are based on everything listed above: research (online + offline), testing, reviewing and many years experience in the industry power washing rendering plants, parking lots and designing heavy-duty car wash bays for mining vehicles.
Always Updating
Every article, guide and chart on PressureWashr is maintained and updated as required – nothing is ever complete.
New pressure washers arrive on the market. Manufacturers make updates to assembly lines. OEMs license brand names. All these things are taken into account when updating guides and articles.
---
More from PressureWashr
By now, you have probably heard about the three r's (reduce, reuse, and recycle) that represent the foundation of preserving…