How To Pressure Wash a Deck Without Damaging It
There is no surface better looking when clean than wood…
Just check out the difference between clean and dirty in that picture. The dirty side hadn't been cleaned in 6 years.
Reddit.com user motown89 took the pic while pressure cleaning a wooden deck (in flip flops!). It's the back deck at his parents newly purchased home. I wonder how much more they would have payed if the deck looked like the clean side?
Are you getting ready to sell your home and want to add extra value?
Is summer fast approaching. The tantalizing smell of barbecue on your mind, but your back deck looks terrible and uninviting?
Well, you're in the right place. Let's check out the 6 steps to pressure washing your wood deck without damaging it.
This article is mainly covering the DIY treatment of wood decks and not composite decking. Power washing a composite deck involves cleaning without the need for a sealer.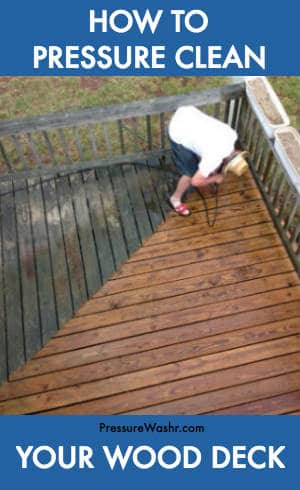 Here's an In-depth Instruction Video By Lowe's:
Here's a Summary of The Video:
A wood deck is an investment for homeowners. It adds value to your home by increasing living space
Protect that investment by cleaning a dirty deck occasionally and re-treating it every 2-3 years. This will not only make it look better but also extend its life by many years
Decks not cared for will look weathered and have stains from barbecue grease, grime, and mildew
Prevent these stains and weathering with a good treatment
So how do you know if it's time to pressure clean and treat? Check with water beading. Drip some plain water from a garden hose onto the deck, and if it soaks into the wood fibers it's time. If it beads forming droplets on the surface it is fine for now
What treatment or stain should you use?
Well, it's up to you as there are 4 types of stain:

Clear/natural transparent type
Toner (brings out the look of the grain)
Semi transparent (mostly masks grain)
Solid (covers it completely)

UV protection is greatest with solid and least with clear/transparent.
The type of stain to use depends on the grain of the wood on your deck. Are you trying to showcase a beautiful deck or hide imperfections?
Now you can start the process, there's 3 basic steps involved: Surface preparation, pressure cleaning and then staining. Here's the details:
The wood needs to be clean and dry before applying stain
Prepare the wood by using 80-grit sandpaper over the deck surface
Broom away all the dust and make sure the entire deck is clear
Now use your pressure cleaner with the low pressure 40-degree nozzle to apply a mist to wet the wood surface before applying the wood stripper. Use wood stripper and wood brightener in 2 separate steps to assist the pressure washing
Use products specific to type of wood your deck is
So get the surface all wet and then apply stripper and let sit for 15 minutes without letting it dry
Rinse with pressure washer on light spray
Now's time for the brightener and again, let sit for 15 minutes without letting dry
You can use a brush to deal with stubborn spots
After 15 minutes you can now use the pressure cleaner with the 25-degree nozzle to give the deck a final wash. Removing all the stains and the remaining brightener detergent in an even sweeping motion. On the vertical railing etc. rinse bottom up.
Almost time for staining…
Cover off your house with plastic, cover off anything you don't want to get stain on
Apply stain with paint roller with 2 thin coats over the surface use a paintbrush for the tight spots
That's it… Let it dry for 24 hours then have a celebratory party.
Do not treat the deck with Chlorine Bleach. It will strip the deck of its natural colors.
What Are the Best Pressure Washers for a Deck?
Here we'll tell you the best electric and best gas power washer to get to pressure wash your deck.
Electric
Take a look at the AR Blue Clean machines.
Here's why: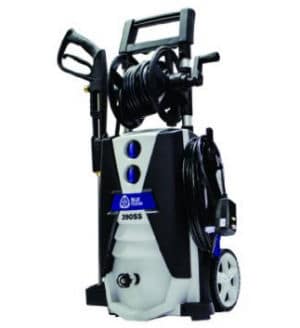 AR stands for Annovi Reverberi, which is an Italian pump maker with over 50 years experience making pumps for all types of end users.
The company also owns the electric motor maker, Ravel.
AR Blue Clean is their North American pressure washer brand.
So you have a company that specializes in electric motors and pumps making an electric pressure washer…
…Sounds like a great combo to me.
And many agree.
AR Blue Clean's pressure washer line is the most popular on Amazon and is highly reviewed. I own two of them and find myself using them more than my gas pressure washers.
Gas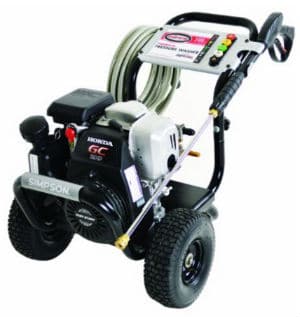 The Simpson Megashot with the correct nozzle will be the best value gas machine for pressure washing your deck.
It is high power compared to other brands in the price range and comes with a high quality hose to help avoid kinking and the hassle they bring.
Sporting a Honda small engine you can rest east knowing next time you need to use it it will start first try and be reliable and durable for a long long time.
3 Examples of Real World Wood Deck Pressure Washing Results
Take a look at this one.
The before image of the wood deck makes it look like it should be torn down and replaced. With a little pressure washing the deck looks brand new.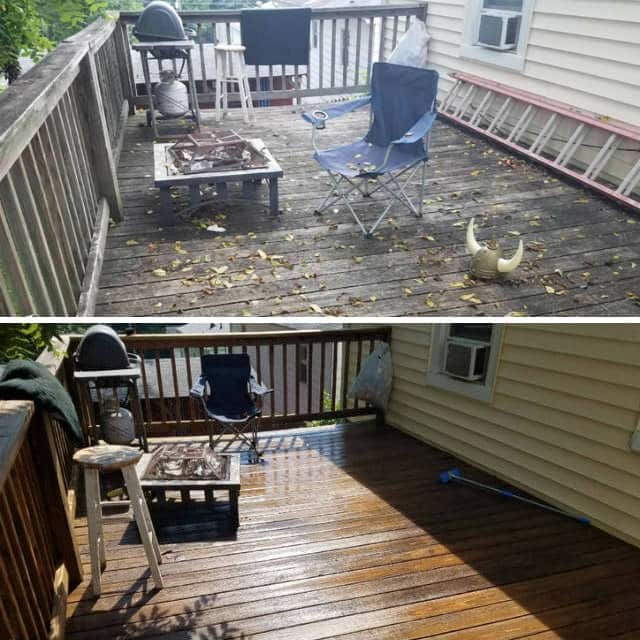 In this next one you see a half complete wood deck cleaning job. You can see how the newly washed deck boards look fresh and youthful, whereas the dirty side looks green and unhealthy.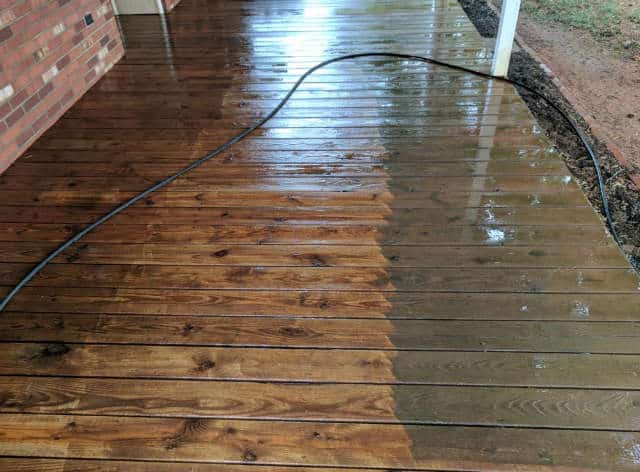 In this next one the wood deck is power washed after 15 years of never being cleaned. On the right you can see the clean deck looks like it was installed yesterday.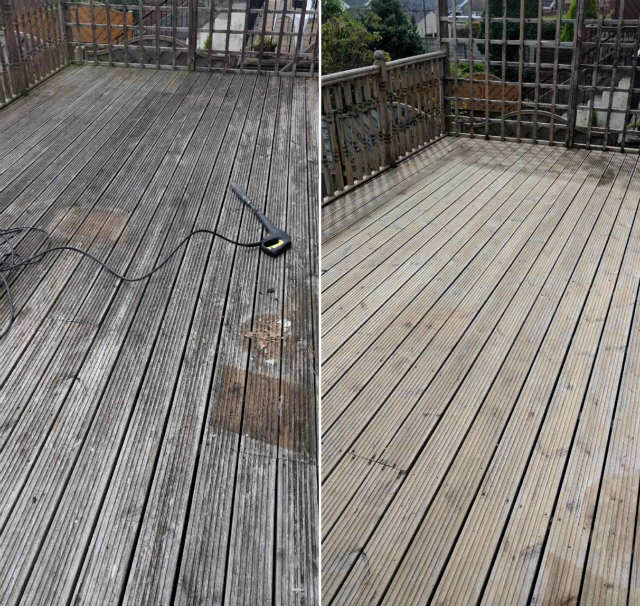 Grab yourself a pressure washer and wash a deck to restore it to glory. It's great fun.
Sources
Lowe's Home Improvement has a deck projects page that explains in summary how to clean your deck with a pressure washer. There's some decent info that was used when researching this article.
Decks.com advice on pressure washing your deck is more in-depth and includes specific details on pressure and risks of damaging wood.