Want a sure-fire way to keep your back patio free of friends and family?
Easy: Make sure your patio furniture has dirt, grime and mildew stains on it. At least you'll have a full cooler of drinks to yourself and less people to cook for.
In all seriousness, patio furniture is supposed to be inviting. If it's dirty you and your friends won't want to go near it. But hand washing and scrubbing is not only hard work but time consuming.
That's the thing about a pressure washer – it cleans fast, uses less water, is effortless and even fun.
Check out the how to video…
Watch this video to learn how to pressure wash your patio furniture
Steps To Pressure Washing Your Patio Furniture With Ease
Make sure to place your patio furniture on flat surface and spray away from your home's windows and doors.
Attach a low pressure spray 25 or 40-degree nozzle to your pressure washer lance/wand.
Unlike pressure washing your car or boat or grill, with patio furniture you want to pressure wash top down.
Usually no detergent required but if really bad you can use detergent on the plastic or harder surface of the furniture. If the cushions are being stubborn use a brush to spot clean by hand.
Rinse and flush away with low pressure spray.
You can use a higher pressure/turbo nozzle for the tables or iron furniture.
How Often Should You Pressure Clean Your Patio Furniture?
At the start of spring each year. It will depend on where you live and if you leave the patio furniture outside all year round but you will probably want to do a good pressure clean of them at the same time you do a first lawn mow. Around April would be a safe bet.
Of course, you can clean them every day if you want because cleaning with a pressure cleaner is so easy.
Which Pressure Washer Should You Use?
Medium-duty Electric is Your Best Bet.
Recommended model: AR Blue Clean AR390SS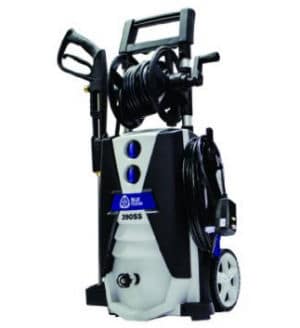 The best pressure washer for cleaning your outdoor patio furniture is the 2,000 PSI electric machine from Annovi Reverberi (AR Blue Clean).
It is their newest model and comes stock with hose reel, detergent tank and 4 different nozzles.
It will easily get the patio furniture clean in no time and be good for cleaning your car and grill and other surfaces around your home.
Also check out the 3 recommended more powerful gas pressure washers here. If you think you want to do lots of cleaning around the house then a gas machine is more durable and portable because no need for extension cords.
See What You Can Do – Patio Furniture Cleaning Results
1. Wood Chairs
Power washing wood patio chairs make them look inviting, new and beautiful. There is really nothing like freshly pressure cleaned wood surfaces. Just take a look how much better yours will look: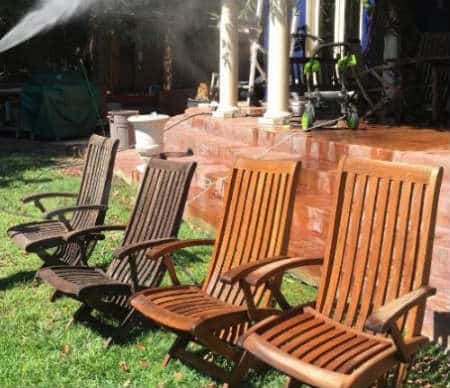 2. Plastic Chairs
This is the chair I grew up sitting in in the summer months enjoying barbecues and parties. These chairs have a tendency to attract dirt and grime and turn nasty real quick. Good thing they are easily cleaning with some high pressure water.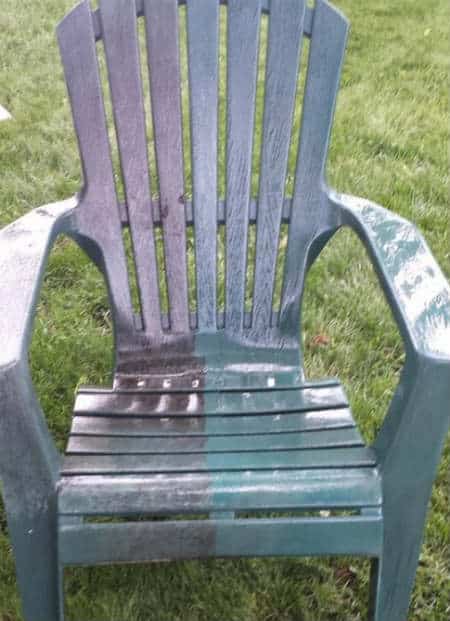 3. Vinyl or Other Material Chairs
These chairs get dirty and you don't notice until you half clean them. If you own these type be sure to use some detergent to make cleaning them easier.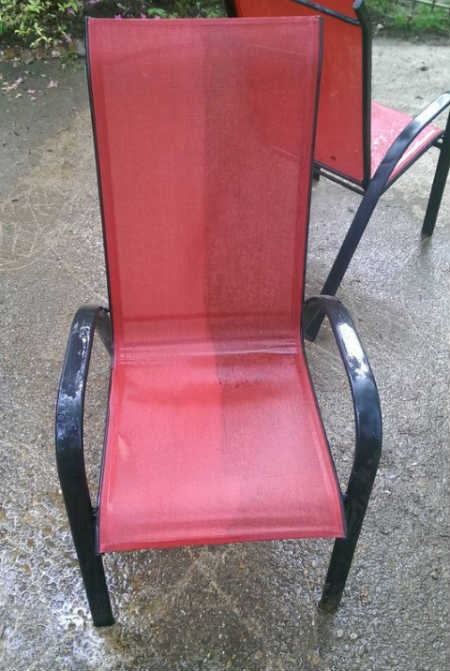 4. Tables
Just imagine having guests over and serving up a feast when this table dirty. Disgusting. But with a little power washer love you can make your patio table looking amazing – like when it was new.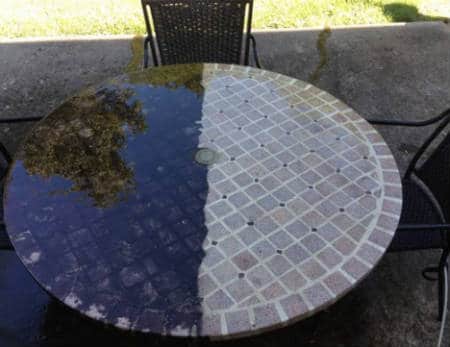 5. Picnic Table Bench
Do you have a picnic table in your backyard? If you do then like the wood chair example above you can freshen it up with ease to make it look shiny and alive again. Use your pressure cleaner with the correct nozzle to do this: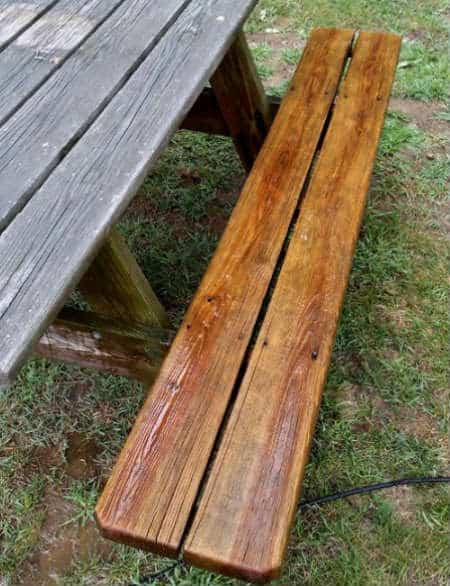 Other 'How-To' Guides For You To Look At
Pool – In this how to guide you will learn the proper way to quickly clean your concrete pool with a power cleaner. Note this is not for vinyl pool liner pools as you can cause damage and break the material if using high pressure water to clean them. Of course, you will need to empty and re-fill the pool so a good clean once a year is advisable (or less if not swam in too often).
Driveway – This guide has instructions how to pressure wash different types of driveways, what machine to use and the correct nozzle to avoid damaging the surface.
House Siding and Gutters – One of the most comprehensive guides on offer this one leads through cleaning your house siding and gutters the right, safe way.
You can view all the how-to guides here.
Should You Hire a Pro To Clean Your Patio Furniture?
It will be more affordable to buy or rent a pressure washer and do the clean yourself. A pressure washing service provider will cost over $150 to show up to your house and spend an hour or two cleaning your outdoor furniture. Plus, it is a low-risk job for you to learn the ropes before doing your house siding, driveway and back deck.
Have fun.
---
More from PressureWashr
By now, you have probably heard about the three r's (reduce, reuse, and recycle) that represent the foundation of preserving…