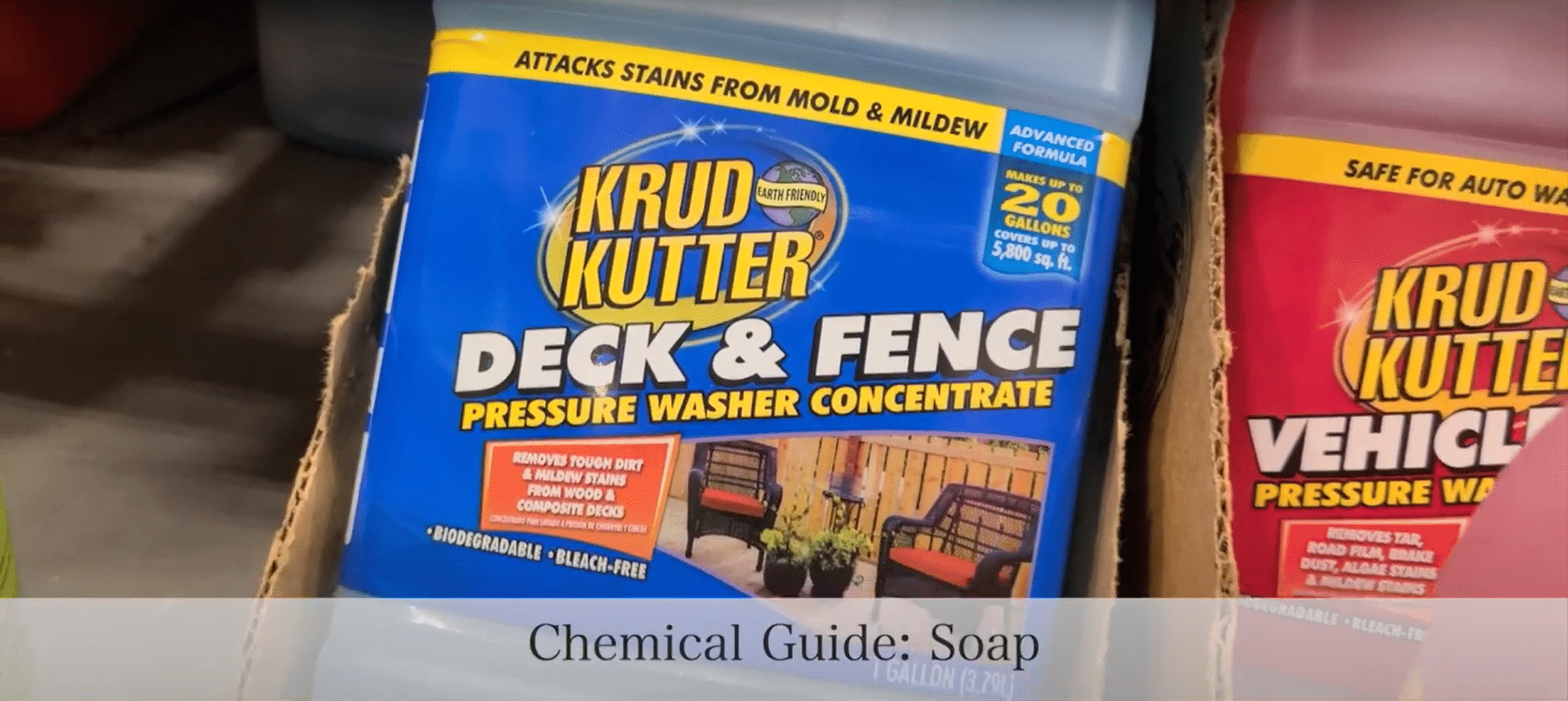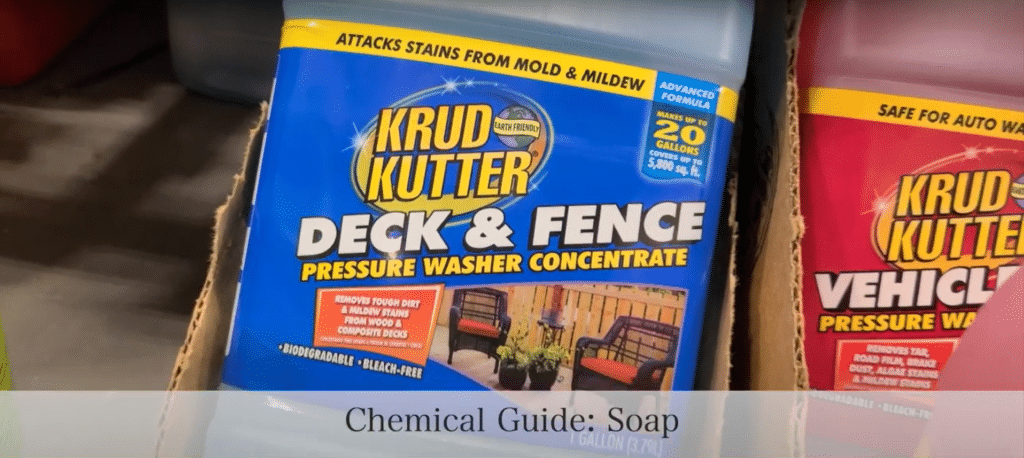 Can you guess the two best ways to speed up the pressure cleaning process?
Here's a hint: copy your dishwasher.
There's a reason your dishwasher uses hot water and soap detergent to clean your dishes instead of cold water and no soap.
The science tells us that hot water has more energy to push the dirt and grime off the surface… And the soap adds attractive forces to pull and wash away the grime and oils with the water.
Same goes with pressure washing. You can drastically speed up the cleaning process by using the best pressure washer soap, detergent and other cleaning solutions. Even if you don't have a hot water power washer, adding pressure washer detergent will make the job easier.
Before you start pressure washing with detergent or soap there are 10 things you need to know. Read through to become aware of risks and potential hazards to keep your garden alive and your pets safe while using pressure washer chemicals and cleaning solutions.
Video: Bleach vs Non-bleach Cleaner
10 Things to Know about Pressure Washer Soaps & Detergents
1. The difference between soap and detergent.
Soap is considered a type of detergent that uses natural products such as fats and oil from plants and animals. The raw products are combined with salts after being processed down to fatty acids and glycerine with steam. The result is soap.
Bar soap uses sodium as the salt and liquid soap uses potassium as the salt.
At a microscopic level this soap when mixed with water is able to break down and dissolve the dirt, grime or stain you are trying to clean.
Detergents are man-made from chemicals and not natural fats and oils.
You use detergents to clean your clothes.
When to use soap and when to use detergents pressure washing?
Soap, being natural, is biodegradable and can be washed down storm drains without worry. However you can't use pressure washer soap with un-treated water like collected rain water because that is hard water. Why? Because it will form a calcium carbonate solid that you don't want left on the surface.
Detergents do not have this problem. Detergents are also formulated to be more effective for specific surfaces like wood and concrete.
Natural soaps and synthetic detergents are often combined to form an efficient cleaning solution.
2. How a pressure washer soap nozzle, injector and dispenser work.
Soap detergent can be introduced to the pressure washer water flow before (upstream) or after (downstream) the pump.
Only some chemicals can be allowed through the pump so the downstream injectors allow you more options.
The downstream soap injectors need to be used with a soap nozzle. The soap nozzle allows the siphoning of the detergent solution from the detergent bottle into the pressure hose for application to the surface.
3. The difference between residential and professional pressure washer detergent, soap, chemicals and cleaning solutions.
Do you pressure wash around your home a few times a month or do you earn a living with pressure washing cleaning jobs?
The difference between residential and professional pressure cleaning chemicals is professionals save money buying the concentrated chemical in bulk form and do the mixing process themselves.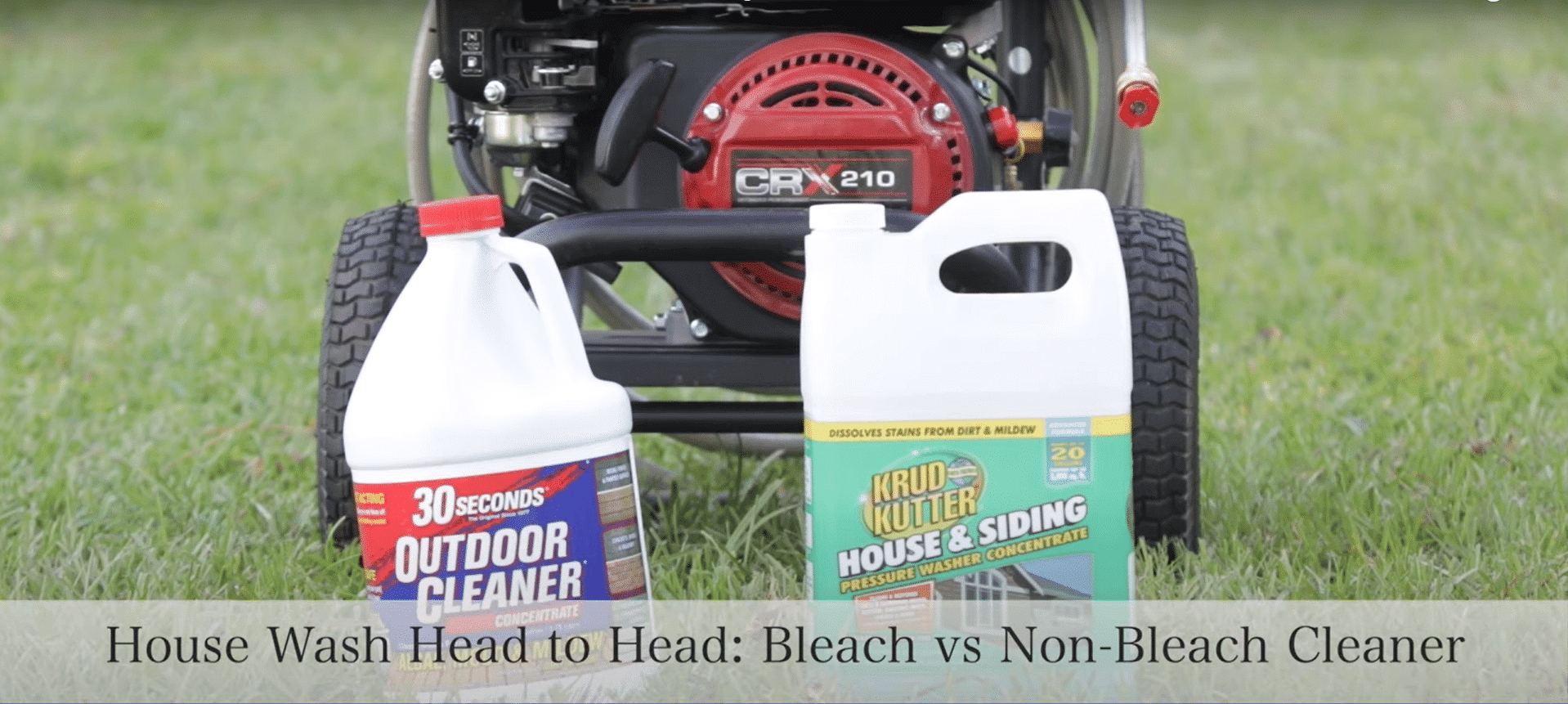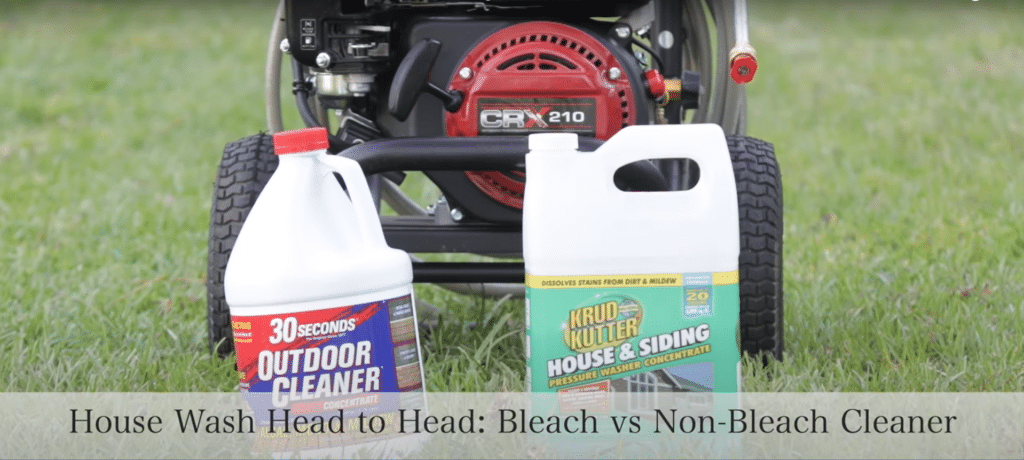 If you don't plan on using it everyday you probably just buy the gallon of pre-mixed solution from Home Depot. That one comes pre-mixed and you end up paying a more money per gallon of solution because you only need a little.
4. The types of chemicals used in the different types of power washer soaps and detergents.
Manufacturers label their chemicals based on their intended purpose and recommended surface. There are cleaners to remove dirt, sanitizers to kill most (99.999%) bacteria fast (less than 30 seconds) and disinfectants that kill all organisms slow (10 minutes).
Vinegar – Cleaning countertops, windows and produce… and polishing of surfaces from brass door handles to bronze heirlooms.
Citric Acid – Concrete driveway and wood deck cleaning and stain removal.
Oxalic Acid – Rust removal and other cleaning.
Bleach – Made of sodium hypochlorite and sodium hydroxide it is an aggressive sanitizer and disinfectant.
Sodium Hypochlorite – Stain removal and powerful disinfectant.
Sodium Hydroxide – Also known as caustic it readily dissolves grease, fats and is a degreaser for glass and steel.
Ammonia – Common glass cleaner and stainless steel cleaner.
Potassium Hydroxide – Used to make soft or liquid soap.
5. If pressure washing with soaps and detergents is harmful to your pet or garden.
All store bought pressure washer detergent soaps should be environmentally friendly for your pets and garden. Professionals in certain cases may use unsafe chemicals for humans and pets and will be aware of the risks.
Warning: Be sure to quiz your pressure washing service provider or check MSDS sheets and chemical labels before use.
6. If pressure washing with power washer soap and other cleaning solutions is harmful to the environment if let down storm drains.
To ensure the cleaning solutions are not harmful they should be biodegradable. The label will tell you this information.
7. How much easier it will be to pressure clean surfaces with soapy cleaning solutions compared to without.
Have you ever cooked lasagna at home in a Pyrex glass baking dish? The cheese cakes on to the side and bottom.
Now try cleaning it with nothing but cold water. Now try cleaning it with warm water and soap.
Cleaning with detergent and soap and high pressure water is the ideal way to clean any surface fast.
8. What everyone else is saying about using pressure washer detergent and soap.
There's a car wash/detailing shop on my walk to the train station. They have 4 professionals working there Mon-Sat and are busy round the clock. I stopped in this morning to talk about the cleaning products they use to clean their client's cars.
They offer a full service from general pressure washing of the car exterior to detailing and grooming of the interior. I snapped a quick image of their cleaning solution bottle rack. You can see they 10+ different products for different purposes.
Lachlan, the guy I was chatting with, laughed when I asked him if they attempted to do their job with just 1 or 2 solutions. He said, "Nope, we need all of them to make the job quick and easy."
If you want to speed up the pressure cleaning and ultimately do a more thorough clean then you need to use the right additive to your machine.
9. The best electric and gas pressure washer to buy out-of-the-box with the ability to add soaps and detergents easily.
Electric
Sun Joe SPX 3000 – 2030 PSI, 1.76 GPM
While we previously mentioned the AR Blue clean in this section, we've updated to the Sun Joe SPX3000.
It has one of the simplest soap/detergent tank designs on the market, and it's really just a no brainer for this category. We found this to be one of the easiest to work with and is great for any skill level of pressure washing.
Cleaning with this around your house you will save water and time. How? Because you can clean your driveway, house siding, back deck, shed roof and more with the detergent that suits the job and the water pressure to get the job done.
Gas
Simpson MegaShot 3,200 PSI 2.5 GPM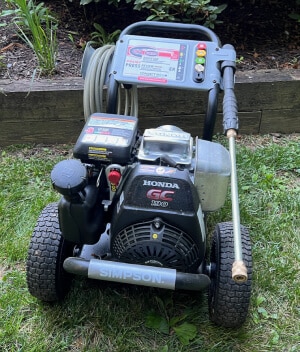 The best gas powered pressure washer with detergent injection system is the Simpson MegaShot 3,200 PSI.
It doesn't come with an onboard storage tank but you can use any old milk jug or water jug to hold the cleaning detergent solution.
The injection system that comes with the system is a siphon hose and black-tip soaping nozzle. You put the hose inside the cleaning solution and attach the black soap nozzle. Once you start spraying the soap will be injected into the system and you will be cleaning with it.
It is more expensive than the electric machine above but you're getting a Honda engine that delivers a lot more power.
10. The best pressure washer soap and detergent for each surface.
Best Boat, Car, Motorcycle or RV Vehicle Pressure Washer Soap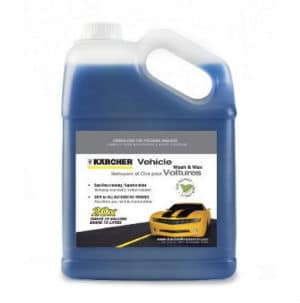 Karcher Pressure Washer Car Wash & Wax Cleaning Soap Concentrate
To wash your boat, car, motorcycle or clean your RV with the most efficiency, be sure to purchase this 1 Gallon bottle of pressure washer detergent.
It is recommended you mix about 1 cup of this detergent concentrate with about 10 cups (2.5 quarts) of water. You can get 20 washes out of this 1 bottle.
Prices fluctuate but Karcher's (manufacturers) recommended price is $24.99.
Best Concrete Power Washer Detergent Soap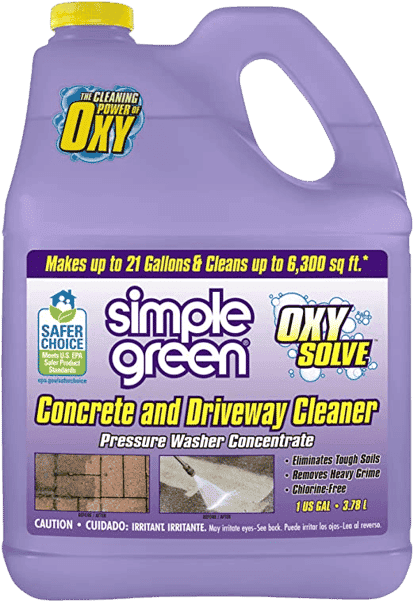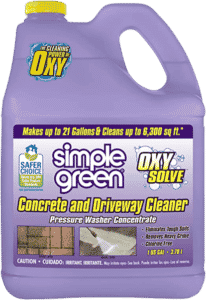 Simple Green Oxy Solve Concrete and Driveway Pressure Washer Cleaner
To make pressure cleaning your concrete areas like the driveway, patio, walkways a breeze here's the pressure washer soap to use.
It comes in a 1 Gallon jug and that makes enough for 11 washes depending on size of your concrete areas of course.
It is formulated to remove oil, grease and grime.
Best Wood Deck or Fence Pressure Washing Cleaning Solution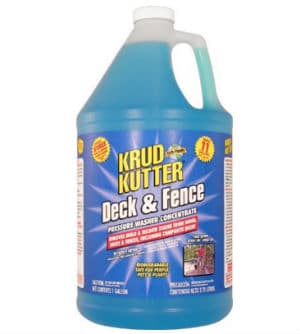 Krud Kutter DF01 Deck and Fence
This deck and fence cleaner contains no bleach or ammonia but instead"sporex" which is just a fancy term for a chemical that remove mildew, mold, algae and moss from wood surfaces.
After you wet the wood surface, spray it with the soapy water from adding Krud Kutter to the pressure washer detergent bottle and then let it sit for 5 minutes. Be sure to apply it top down on vertical surfaces. Now pressure clean it and you'll have brand new looking fence or deck.
Best House Siding Cleaner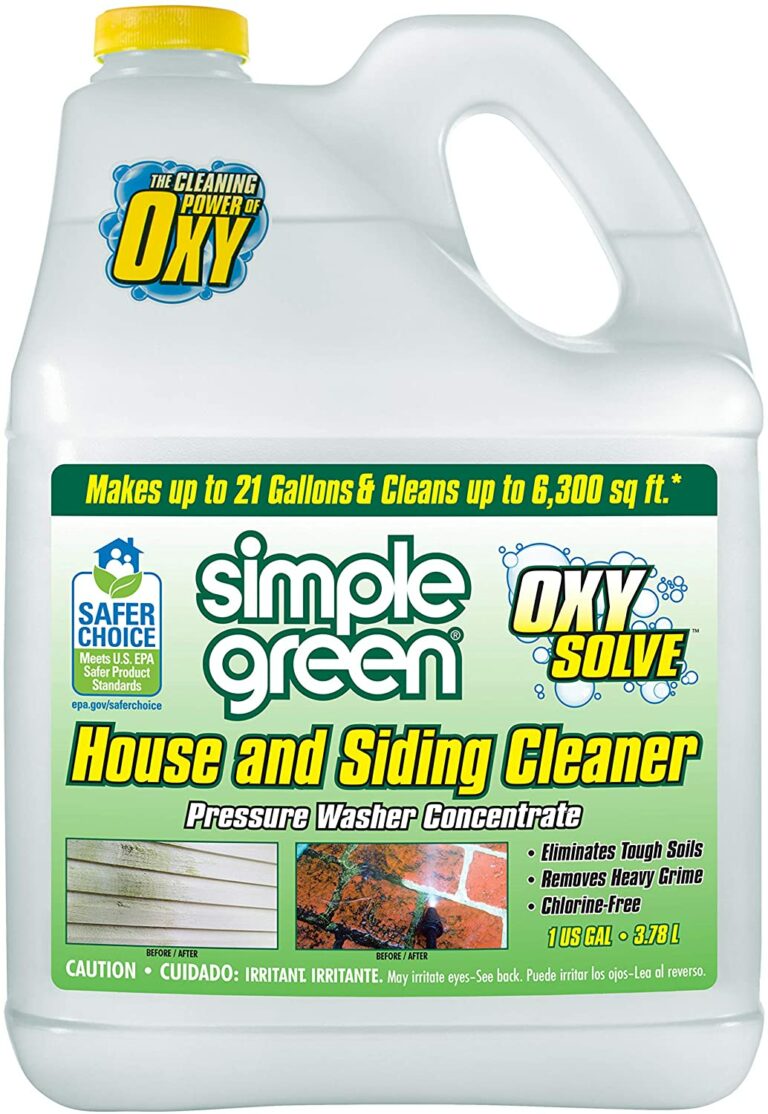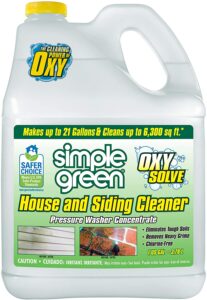 Oxy Solve House and Siding Pressure Washer Cleaner
Mix the Oxy Solve Simple Green concentrate with a 1:20 ratio of water and 1 bottle will let you clean around 6,000 sq.ft.
It is designed to slow down the return of mold and mildew while also getting rid of it immediately. This works wonders on vinyl siding!
This is an eco-friendly product and contains no petroleum solvents.
Best Multi-purpose Power Washer Soap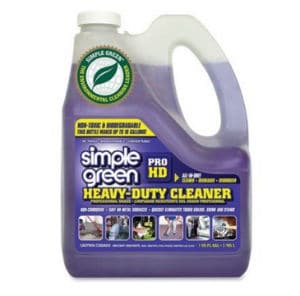 The best multi-purpose cleaner is this one by Simple Green. After cleaning my car and garage floor, it's clear why it's a best seller on Amazon.
It is suitable for use on cars, awnings, floors, walls and metal surfaces.
The reviews are glowing for this product and people love how it cleans their concrete, car and degreases their metal parts when fixing cars.
Pressure Washer Soap FAQs
Are pressure washer soap and detergent the same thing?
No, pressure washer soap and detergent are not the same thing. Pressure washer soap is specifically designed for use in pressure washers and is usually biodegradable. Detergent is a general term for any type of cleaning agent, so it can be used in pressure washers, but it is not as effective and can damage your pressure washer.
Can I use any type of soap in my pressure washer?
No, you should not use just any type of soap in your pressure washer. Only use soaps that are specifically designed for pressure washers. These soaps are usually biodegradable and will not damage your pressure washer.
What detergent is safe to use in my pressure washer?
Only use detergents that are specifically designed for pressure washers. These detergents are usually biodegradable and will not damage your pressure washer. Do not use general-purpose detergents, as they can damage your pressure washer.
How do you know your pressure washer soap/detergent is biodegradable?
Most pressure washer soaps and detergents will have a label that says they are biodegradable. You can also check the ingredients list to see if the soap or detergent is biodegradable. If you are unsure, you can contact the manufacturer of the soap or detergent to ask.
How do I know if my pressure washer is low on soap/detergent?
You can usually tell if your pressure washer is low on soap/detergent because the suds will start to decrease. If you notice that the suds are getting thinner, it's time to add more soap/detergent.
How do I add soap/detergent to my pressure washer?
Most pressure washers have a dispenser that you can fill with soap/detergent. Some models have a separate reservoir that you can fill. Consult your pressure washer's manual for specific instructions on how to add soap/detergent.
How does a pressure washer soap/detergent dispenser work?
Most pressure washer soap/detergent dispensers work by siphoning soap/detergent from a container and mixing it with water before it enters the pump. This allows the pump to run without being damaged by the soap/detergent suds.
Sources
Soaps and Detergents. AlgebraLab.org. Info Retrieved Feb 10, 2016.
Chemical Delivery Systems. www.ePowerWash.com. Info Retrieved Feb 10, 2016.
Bleach. en.Wikipedia.org. Info Retrieved Feb 10, 2016.
---
More from PressureWashr
By now, you have probably heard about the three r's (reduce, reuse, and recycle) that represent the foundation of preserving…