The Best Pressure Washers for 2023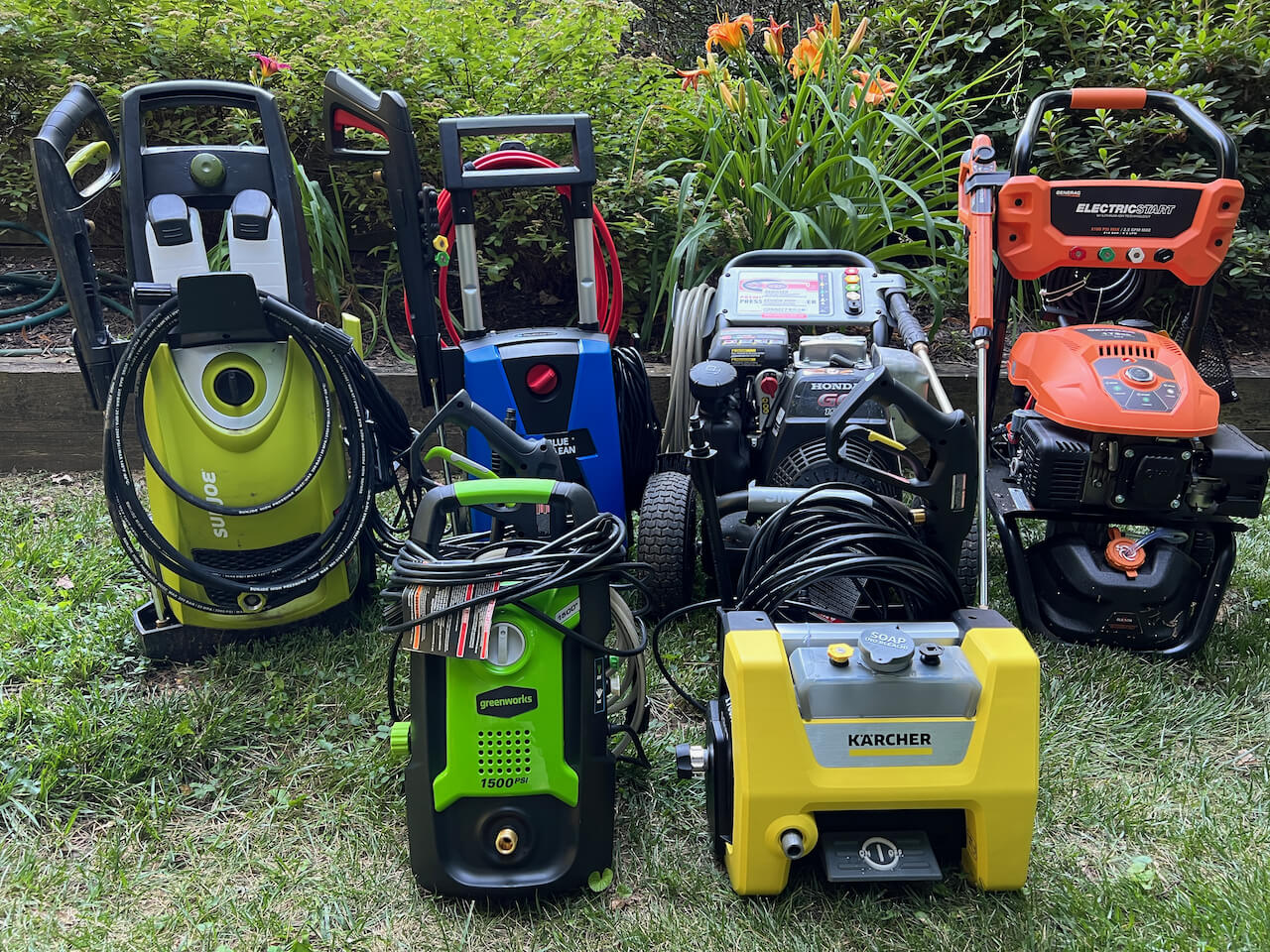 Our aim is to help you find the best pressure washer for your needs today.
Everyone has a different reason they need a pressure washer; whether it's occasional cleaning of patio furniture before a family cookout, or you need to clean driveways for hours.
Choosing the best pressure washer is all about the job you need it for!
If you're looking for a pressure washer that can help for jobs/chores around the house, you're in the right place. If you need more power for commercial jobs, see our commercial pressure washer page.
But if you want my single recommendation – right here and now – I would say go with the Simpson Megashot
Take a look, it's perfect:
And all this for an affordable price because you're not paying for heavy branding (like you would with DeWalt).
This opinion hasn't changed for years, because the machine is so well built.
If our favorite pressure washer isn't quite right for you, let's get into the full list and dive into the details.
Our Picks for Best Pressure Washer
If you want a quick rundown of the entire list, we made a short video to help explain each one. Ideally, you want to pick the pressure washer that is best for the types of jobs you will be working on most often.
See how the industry defines the categories below.
Best Pressure Washers for Biggest Jobs
Best Pressure Washers for Most Homeowners
Best Portable/Small Pressure Washers
What Are The Pressure Washer Categories?
We break the choices down by these categories, because they're likely to be the most common you'll find on the site (and in many cases around the internet).
If you're specifically looking for an electric pressure washer, then focus on the light and medium duty jobs. Electric pressure washers as higher PSIs are typically very expensive and really only for commercial/industrial jobs.
Gas pressure washers typically fall into the higher end of the medium duty category and are almost exclusively for heavy duty jobs.
Why should I trust this best pressure washer list?
Our Experience
Since March 2013, we have written 267 articles, taken 1,243 photos, and tested 37 pressure washers by cleaning homes, driveways, vehicles, patio furniture, lawn mowers, fences, concrete pools, heavy equipment and more. We are laser-focused on pressure washers and always will be. Read more about us and our testing process.
Our practical knowledge
Combine our team's commercial power washing and mechanical engineering experience with the hands-on real-life use testing for Pressure Washr and the benefits and downfalls of each pressure washer become easy to spot.
We also keep the pressure washers we buy – and test them after 20 hours-use and 50 hours-use – not just brand-new.
Our aim is to find your best pressure washer
To us, the best power washer isn't the most expensive highest performance one. It is the one that best matches your needs. So to help you find yours we break up the pressure washer buying advice as:
Best value for your money

The sweet spot in price, performance and quality.
Best for the occasional jobs around the house

Premium Performance

Best engine. Best pump. Still homeowner affordable.
Why Trust Us?
Since March 2013 we have spent 1,000s of hours researching, testing, disassembling and reviewing so we can recommend the best pressure washer to you.
We currently own and use 11 pressure washers. And we have bought and used 37 others ranging in price from $89 to $1,499. Countless driveways, cars, patios, and home siding are now clean because of us.
Our work has even been featured in
Deciding Between Gas and Electric Pressure Washers
The medium-duty type of pressure cleaner is unique because there are both electric and gas options to choose from. So how do you know which one is for you?
Electric – More affordable, quieter, less maintenance, doesn't require trips to the gas station. However, the cord can be annoying and limiting and although the machines are more affordable then are less durable. Get an electric style washer if you only plan to wash thing close to your home where an electric outlet is accessible and only plan to wash for a few hours a weekend at most.
Gas – More expensive, louder, smelly fumes, more maintenance and can't use machine in poorly ventilated indoor areas. Also it requires trips to the gas station for fuel refills. However, you free yourself from the electric cord and get a more powerful pressure washer that will last more years and hours usage than medium-duty electric. Get gas if you want the power and freedom, especially if you need to power wash a further distance from your home or need to wash around others homes and don't have access to electric outlet.
The Best Heavy-Duty Pressure Washers for the Biggest Jobs
Heavy-duty power washers give you more cleaning capacity than medium and light-duty. This is because they have higher PSI (2,800+) and GPM. They make quick work of large driveways and flat areas like tennis courts. Yet, with the right nozzle and technique can clean vehicles without damaging the surface. They are all gas powered and cost at least $370.
I was walking past a job-site a few weeks ago and noticed they were using a heavy-duty gas power washer to remove the single yellow lines in the parking lot they were building.
I have a pressure washer website, so of course I stopped to chat.
It turned out they had spaced the yellow lines too far and had to rent the cleaner for $80/day plus gas cost. I watched as the yellow paint peeled off the surface as they pressure washed it. Yes, they did apply paint stripper but it surprised me how easy it was.
A power washer as big as these may be overkill for around your house, but there's no doubt it makes any cleaning job faster and effortless.
Even the least powerful heavy-duty units have 2x and 3x the cleaning capacity of medium and light-duty pressure washers.
Contractors purchase them because they are built with tough, long-lasting industrial strength parts. If you're the type that buys the best because you see it as an investment for the long-term go with the heavy-duty.
Complete Any Job Faster Than Other Options
A heavy-duty unit can do light and medium-duty jobs more often and faster. It manages this because it has parts built to last.
Use the right nozzle and adjust spray distance to keep the ideal force for the surface being cleaned to avoid damage (wood: less force, caked on mud to steel: more force).
In general, a heavy duty residential machine can be used safely up to 20 hours per week. If you plan to start a pressure washing business and be using it 30+ hours per week, you'll want to upgrade to a commercial pressure washer.
Here are 4 common uses: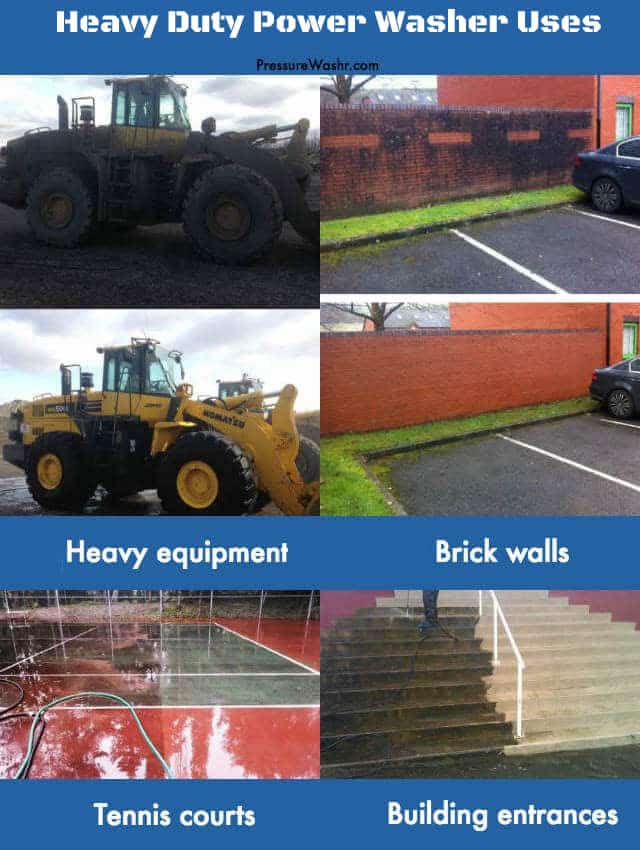 Heavy equipment
A big powerful pressure washer is ideal if you have caked on mud to hard steel surfaces. If you have some heavy equipment on the farm or job site, no problem.
But like mentioned above, if you plan on all-day-every-day pressure washing upgrade to commercial.
That's what pressure washing contractors with truck fleet washing contracts do. Some big shipping or other large companies can have 100s of trucks that need regular washing. And many prefer to hire contractors for the gig than hire internally.
Also Read about: 7 Essential Pressure Washer Safety Tips For Beginners
Vertical walls
Brick, concrete or other large flat wall areas are ideal for big flow rate power washers. The image above is of a parking lot wall divider and took a little more than one hour to properly clean. A light duty cleaner would take 2-3 hours with its lower GPM.
Tennis courts and basketball courts
A surface cleaner attached to a large power washer is the best way to clean tennis courts, outdoor basketball courts, large parking lots and other big flat areas.
Building entrances and large concrete areas
Clean building entrance stairs and courtyards with ease and efficiency. A light or medium duty can do the job, sure, but it will take longer and you'll get annoyed having to go back and redo an area.
Features That Matter
Every tool brands' version will have slightly different features. Here are the ones that matter: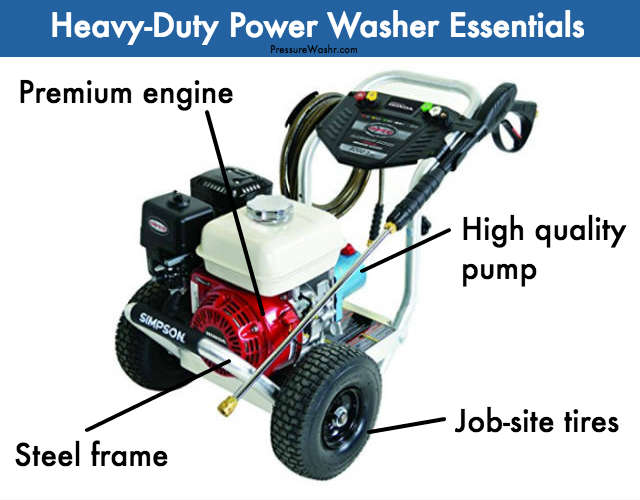 Sturdier Steel Carriage – A heavy-duty machine needs a stronger frame because it has a heavier larger engine and pump. If it didn't it would bend and deform quickly. This robust frame also makes it suitable for wheeling around a job site.
Job-site Tires – To support the big engine and pump the power equipment should have large pneumatic tires. If it didn't it would be tough to move around on uneven ground.
Commercial Series Engine – Although there exist heavy-duty washers with residential-grade engines and heavy duty tier power, you'll notice most of the heavy-duty's we recommend have the commercial engines. This is because a commercial engine in a pressure washer will have a bigger fuel tank and more long lasting components.
Longer Lasting Pump – The difference between operating life of an axial cam pump and a triplex plunger pump is astonishing. Not all heavy-duty units have crank driven triplex plungers but the best do.
Picking The Best Heavy-Duty Pressure Cleaner On The Market
Best Value for Your Money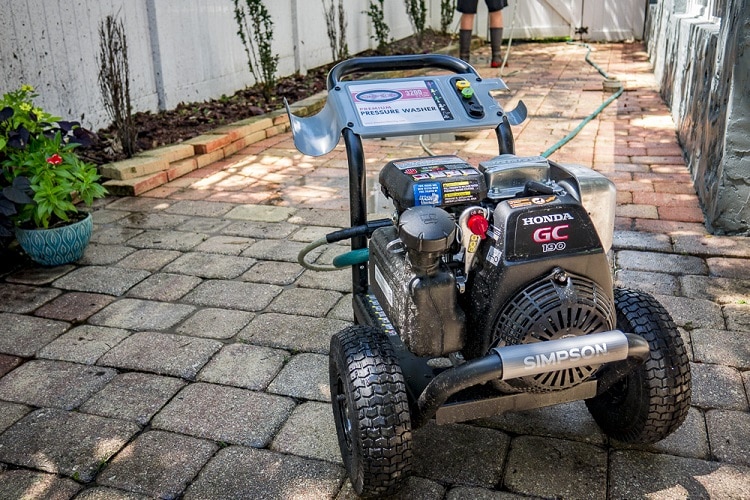 Like we mentioned in the beginning of the page, this is our favorite. For the price you just cannot find another pressure washer that can beat it. It can tackle any job that a homeowner needs to throw at it, and would be a great value option for someone looking to pick up a side-hustle a few times per month.
Runner Up – Best Value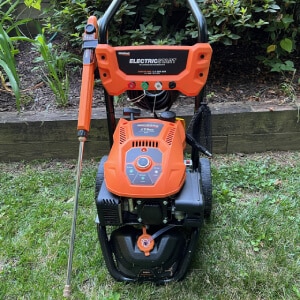 We still feel the Generac SpeedWash is a well-built pressure washer at a great price suited perfectly for homeowners.
It ranks below the Simpson MegaShot because it doesn't have a Honda engine, its wheels aren't as rugged and its frame is more upright and less robust compared to the wheelbarrow stance of the MegaShot.
However, it's the most user friendly. The second best gas power washer for most people allows you to adjust the pressure to 4 settings between 2,000 and 3,200 PSI, at the turn of a knob. This allows you to go from cleaning your car to washing your driveway – instantly – without having to change the nozzle.
This model has an electric start function, so if you are looking for simple starts without a pull cord this pressure washer could be a better fit.
Premium Performance
This is the upgraded model from the MegaShot. More power, higher cleaning units, but also a higher price point. This is great for heavy-duty users who are taking on larger driveways, steps, or handling brick walls.
If you're also thinking of starting a small freelance business, this could be a good starter option. It's powerful enough for a weekend warrior, but if you're thinking about something more serious then you might need to review our commercial pressure washer reviews.
The Best Pressure Washers for Most Homeowners – Medium Duty
Medium-duty pressure cleaners are the most popular. The most versatile. They hit a sweet spot with pressure ranging from 1,700 to 2,800 PSI (40x garden hose pressure) and prices ranging from $120 to $350. Some are electric. Some are gas. And – with the right nozzle – there's no reason why a medium-duty can't be used for light-duty jobs.
My friend makes $100 a driveway with his medium-duty gas pressure cleaner in Florida.
He also does decks, oil stained garage floors and other residential surfaces. All with a medium-duty. All in his free time outside of his regular job.
Why am I telling you this? Because you could easily pay off the pressure cleaner by charging to clean a few friends' driveways (be sure to read your unit's warranty conditions before doing this).
Regardless if you decide to do that or not, owning a medium-duty cleaner saves you money in the long run. And saves you time and effort in any cleaning efforts around the house.
What You Can Do With A Medium-Duty Pressure Washer
This size range is great because they do everything a light-duty does, just faster. As we move towards larger areas the more valuable a medium-duty becomes. What are these types of pressure washers best for?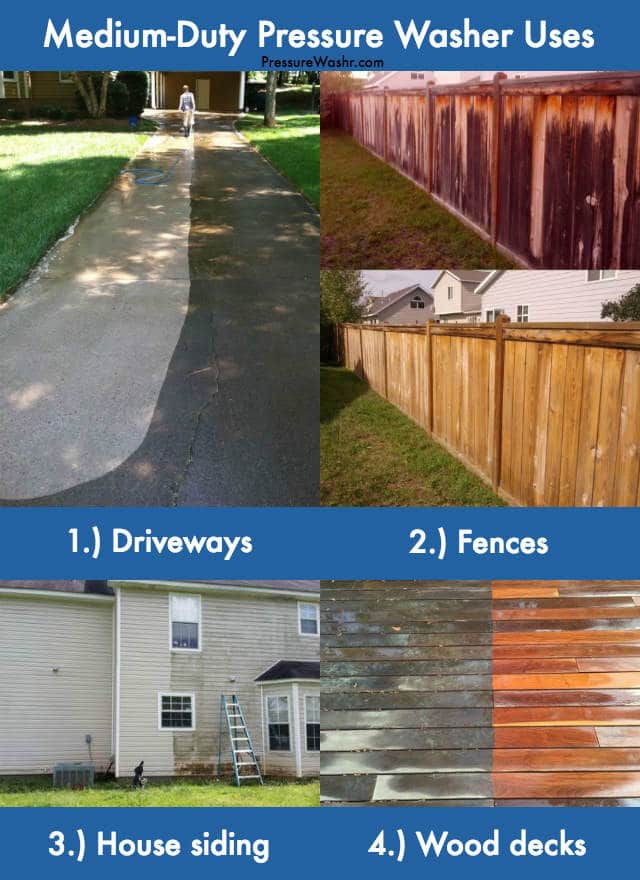 Great Option for Driveways
Just look how much better the driveway looks clean. And how long do you think that job took? It's a pretty long driveway, but with a surface cleaner and pressure washer it takes two hours done properly. You will want to use a surface cleaner attachment for large flat areas because they improve the efficiency.
Better Efficiency for Fences
You can pressure wash your wood fence with a light-duty pressure cleaner but it will take twice as long. A mid-tier machine has more flow rate and that means more cleaning capacity. You can visualize this principle by thinking about a fire hose. You don't see Firefighters putting out fires with garden hoses. They use big thick hoses because it handles more water volume.
Great for Cleaning House siding
A medium-duty power washer is great for a small one-story house siding clean but heavy-duty is recommended once you get to two-story bigger homes. This is because you'll need to use a telescoping extension wand to clean the upper level while staying safe on the ground. A heavy-duty can provide the needed flow rate for an extension wand to clean properly on the first pass so you don't spend your entire weekend pressure washing.
Easily Clean Wood decks
With the correct nozzle you can clean your wood deck with a medium duty in a few hours. However, if you use the red tip blasting nozzle it could start cutting into the wood. Pine will be damaged at 2,320 PSI. Be sure to not use the red tip and be sure to hold the spray a few feet back from the deck surface.
Our Picks for the Best Medium-Duty Pressure Washers & Why
Best Value for Your Money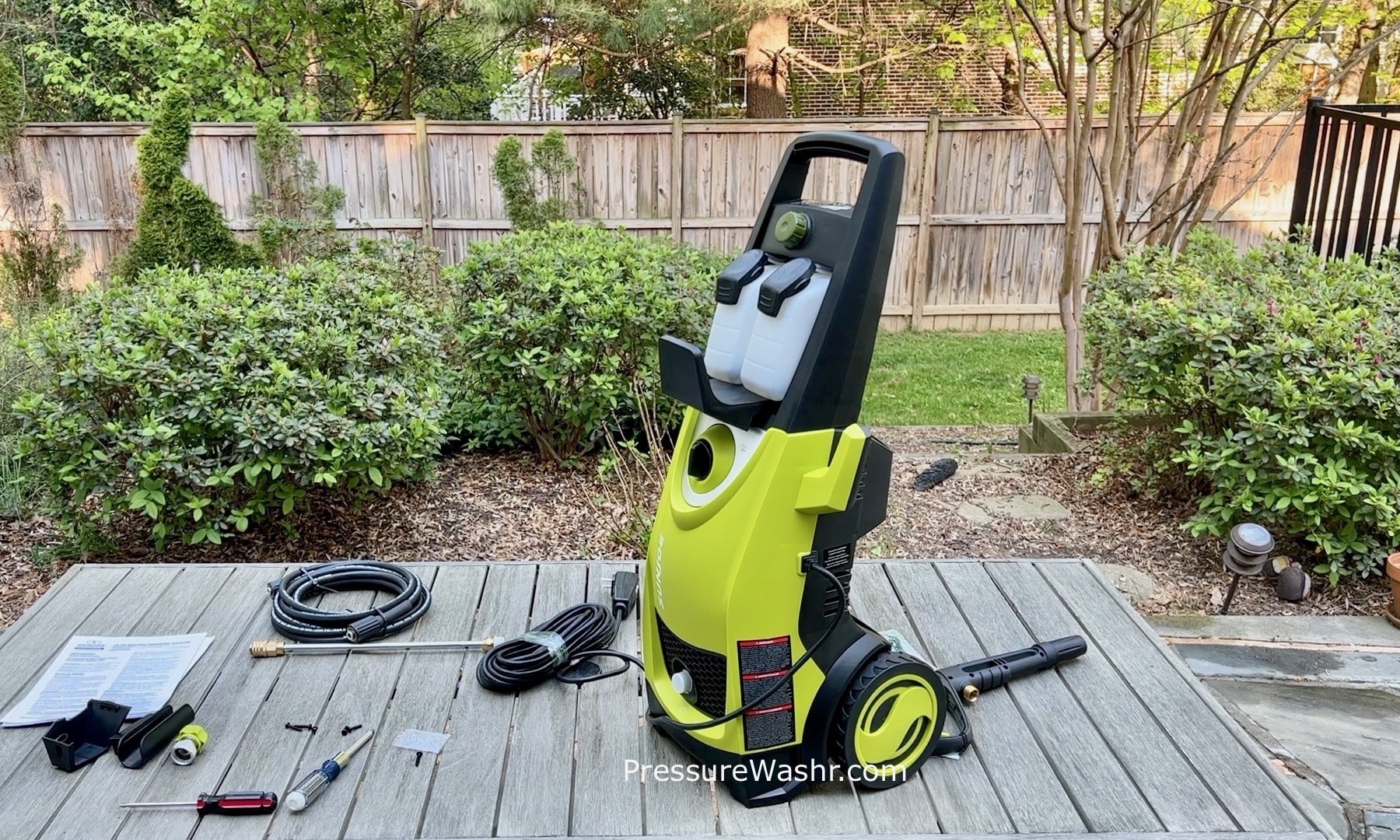 It's a good deal for what you get. It's on the lower end in terms of cleaning power, but the typical price point makes it a good value for many homeowners. While it's not recommended to tackle larger jobs (e.g., big driveway) because of the lower GPM, it's great if you're looking for a reliable electric.
Premium Performance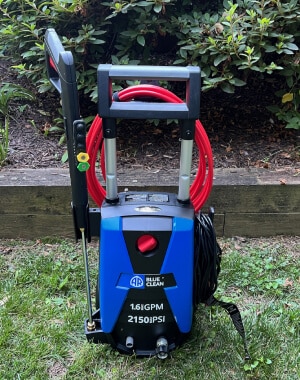 An upgrade from the legacy AR Blue Clean 383 sees a bump in PSI and GPM. This is basically the premium version of our mid range choices. Instead of basic plastic everything you see ergonomic design, accessory storage, and rubberized handle. More expensive than the Sun Joe, but it's because you get a more feature-packed machine.
Ultra Portable – Light Duty Pressure Washers for Small Chores
There's no better way to clean your vehicles, lawn equipment and patio furniture than with a small and portable pressure washer. A light-duty pressure cleaner is electric powered and has 25x the cleaning power of a garden hose. They cost $80 to $130 and are light, quiet and easy to get started using.
Light Duty (Less than or equal to 1,700 PSI) are great for smaller chores around the house, but anything larger would be underpowered.
Each week for 2 years I cleaned my work truck with a bucket of soapy water and a broom. Given the dusty and muddy environment, each clean took 20 minutes.
That's 35 hours over 2 years.
Then I bought a light-duty electric cleaner.
No idea why I waited so long.
With my pressure washer in hand the job of cleaning my vehicle actually became fun!
Each clean took 1/2 the time and no longer did I have to break my back pushing the broom hard to remove the grime.
You save time, water, and effort for only a small investment up front with a light-duty pressure cleaner. You just plug the cord in, connect your garden hose and pull the trigger to start cleaning.
Washing your vehicles is the most obvious use, but you can also use light-duty instead of medium-duty for jobs like your driveway, it'll just take longer because it has less flow rate.
Here are 4 popular uses for a light-duty pressure washer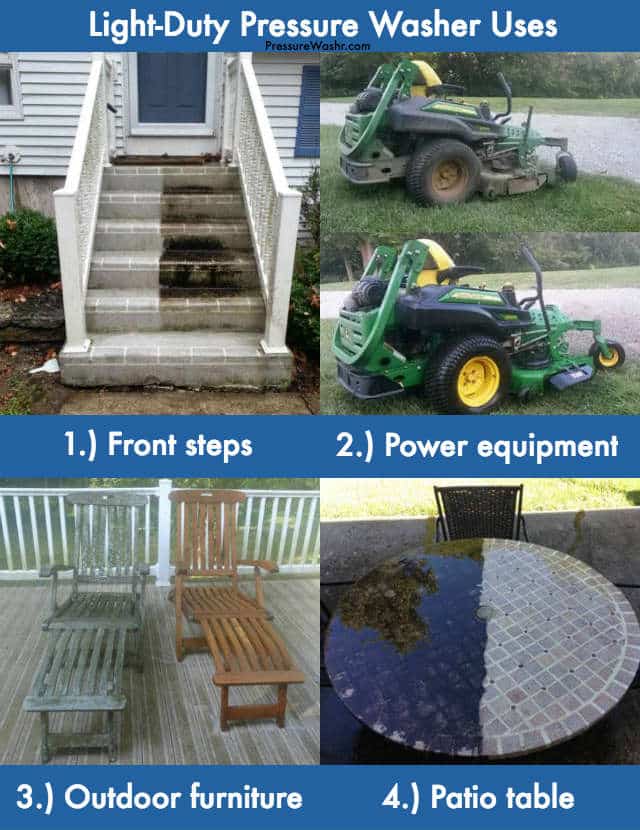 Front steps
Pressure washing the front steps and driveway can increase the value of your home by $10,000 when selling. Realtors know this, and have power washing contractors on speed dial.
A light-duty machine is perfect for the front steps (continue to the medium-duty to find the best for the driveway). Grab one this weekend for less than $100 and increase the value of your home.
It will take no more than twenty minutes of pressure cleaning – and it's fun pulling the trigger seeing the dirt be gone.
Lawn mower and other lawn equipment
Clean your lawn equipment with your new lawn equipment. Just look at the John Deere ride-on mower in the image above. Turn a used and dirty mower to new and sparkly in just a few minutes with your new pressure washer.
Patio furniture
Ever gone to a BBQ and the outdoor furniture had cobwebs and looked green? I have. I prefer my patio furniture to be clean before inviting guests, but that's just me.
Other patio stuff like table and BBQ
The uses of a light-duty unit are endless. You can turn old, weathered stuff new again. It really is magnificent. Removing surface debris from your driveway after a storm is as simple as using a leaf blower, but with more power.
With all these cleaning jobs how will the light-duty pressure washer components and parts hold up?
Light-duty Power Cleaner Durability
Light-duty units are not just lower power and price. They are specifically designed for less usage than a heavy-duty unit. Their parts are not commercial quality.
If you plan to use your light-duty unit daily – like someone would at a car wash business – just know that this extended frequent use wears it down much quicker.
You'll save money in the long-run if you invest more upfront on a unit designed to take a beating daily.
The power washers designed for daily use have triplex pumps and are designated commercial-use. You can get electric or gas powered commercial machines. They tend to cost $1,000 or more.
For the occasional use, a smaller light-duty pressure washer works well for homeowners looking to clean up patios, BBQs, or cars.
Our Picks for the Best Light-Duty Pressure Washers & Why
Best Value for Your Money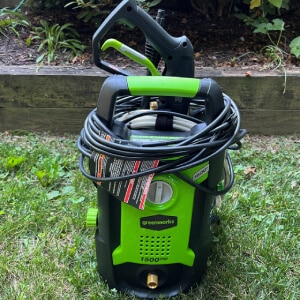 For the price, it will work well for many homeowners. The measured cleaning units came in at 1518 for us (1380 PSI measured, 1.1 GPM measured), which was impressive to see. Given that this is $20-$30 less expensive than other models, but only marginally lower cleaning units, it made our list for best light duty pressure washer for the money.
Premium Performance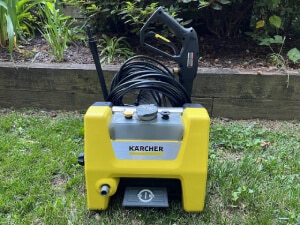 Portability and design are important for this machine. It's 5 pounds lighter than the K1700, so we're factoring in ease of use. They're basically the same specs, but with some of the bulk removed. .
Frequently Asked Questions
Should I buy or rent a pressure washer?
We recommend buying instead of renting.
A pressure washer makes quick work of all your big and small cleaning projects around the home, farm, business or job site. They use less water than a garden hose for cleaning and because they use a nozzle with a tiny orifice it generates at least 1,500 PSI to blast away mildew, grime, dirt, grease and whatever else you point it at (it works great cleaning the underside of a lawn mower).
You can rent them from Home Depot and Lowe's and local tool shops (for around $80 a day or $300 a week). So if you are only planning to do a seasonal clean of the driveway and back patio then you should probably just rent one.
However, after the rental day you will start finding other jobs and end up wishing you had just bought one.
In terms of prices there are two classes of pressure washer:
Residential (less than 5 – 10 hours use per week): The small electrics are around $100 – $200 and the bigger gas powered are $300 – $500
Professional (daily use no problem): Electrics anywhere from $500 to $2,000 and gas from $700 – $5,000
What should I look for when buying the best pressure washer for my needs?
The most important features we look at when performing our testing and reviews are:
Pump type and brand. The single most important and expensive part on a pressure washer is the pump. It determines how long the machine will work.
Motor/engine type and brand. The motor is either universal or induction in an electric machine. The engine is either residential or commercial in a gas machine. Each has their pros and cons. But always the induction and the commercial gas are longer lasting.
Manufacturing brand. Look for a reputable brand like Honda, Karcher, Kranzle, Northern Tool, Simpson Cleaning, BE, Generac, Ryobi, AR Blue Clean, Greenworks and DeWalt. There are many brands out there and you want a good one with warranty and customer service backing it up.
Part availability. You want to be able to order standard parts quick and easy.
Hose quality. Very important is hose quality. Look for steel braided and 50 foot length.
Spray gun and wand quality. Quick connect fittings and steel lances are the go-to.
Connection/fittings. Look for high quality brass or stainless steel with quick connects to make fitting together a cinch.
Included attachments. Does it come with a foam cannon to make washing your car much easier? What about a surface cleaner to make cleaning the driveway quick?
Build quality. Steel or plastic? Cheap wheels or strong never-flat tires?
What is a good PSI and GPM for my pressure washer?
GPM
The higher the GPM (water flow rate) the faster you can complete cleaning jobs.
Professionals prefer 5-8 GPM because it means they can make more money per day.
But for around the house the PSI and GPM you need depends on what you're using your pressure washer for.
PSI
PSI represents the force of water to knock the dirt/moss/mildew loose from the surface.
1,400 PSI – 2,500 PSI will do the trick for 90% of jobs since you adjust the pressure with a nozzle/orifice size and moving closer/further from the surface.
GPM vs. PSI
Professionals care more about GPM than PSI because GPM tells how much work can be done. A 4 GPM pressure washer will clean an area 2x faster than a 2 GPM machine.
For this reason pros like max GPM, which is generally 8 GPM.
Examples of ideal PSI for different surfaces:
Car pressure washing: 1,400 PSI
Outdoor furniture: 1,600 PSI
Driveways: 2,700 PSI
Home siding: 3,000 PSI
Heavy machinery: 3,300 PSI
So what is a "good" PSI and GPM?
1,400 PSI – 3,000 PSI and 1.5 GPM – 2.5 GPM is ideal for a homeowner
Spend more for higher GPM before higher PSI
Is the best pressure washer gas or electric powered?
If you're using it for big jobs (large driveways) every weekend – get a gas powered because the time you save will outweigh the extra money.
But both have pros and cons.
Gas powered
Good: More powerful because they are not limited by home electric outlet current and voltage. More portable because they are not tethered by electric cord. More bang for your buck.
Bad: Require re-fueling and periodic maintenance. Are loud and can't be used indoors because of the exhaust. Often bigger and heavier than their electric counterpart.
Electric powered
Good: Require little maintenance. Are more quiet. Can be used indoors. Have affordable light-duty options if that's all you need.
Bad: Have electric motors which need to be plugged in to an outlet – so they are limited in range and power. Generally, they have low cleaning power (unless you spend extra money on a professional one) so small tasks can take a long time.
What are the different pump types in pressure washers?
Axial/Swashplate Wobble
A wobble plate pump is directly connected to the drive shaft to push pistons back and forth creating suction and then pushing the water out. It has no seals moving back and forth with the piston and is self priming and can run dry. There are both low-end and high-end versions of the wobble pump in pressure washers and the main difference is ceramic vs. stainless steel plungers and low grade steel vs. solid brass pump head constructions.
Lifespan varies based on specific pump specs: 200 – 300 hours up to 3,000++ for the Kranzle wobble pumps
Crankshaft Triplex
The triplex plunger pump is the most advanced and efficient pump used in only the best pressure washers. It is connected to the drive shaft via a crankshaft with connecting rods that stroke 120 degrees apart from each other. This allows the pump to run cooler and more efficiently than the other pumps. It is easy to perform maintenance on, making its lifespan much longer.
How loud are the different types of pressure washers?
A gas pressure washer is louder than electrics and is about the same as a lawn mower.
There are two types of electric pressure washers with different loudness: universal motor and induction motor powered. The universal motors are louder and about as loud as a blender. The induction motors are quieter and about as loud as a vacuum.
Are battery powered cordless pressure washers available and useful?
There are a few battery-powered models but they are not practical at this time. The motor powering the pump requires too much power for them to be feasible. The one we have tested is a Ryobi cordless battery powered with space for 2x 5Ah, 36V batteries. Each battery lasted 12 minutes of pressure washing. And that was light-duty cleaning power 1,400 PSI and 1.3 GPM. Although it was a pleasure to use – very quiet and smooth.
---
More from PressureWashr
By now, you have probably heard about the three r's (reduce, reuse, and recycle) that represent the foundation of preserving…