This guide has everything you need to know about pressure washer spray guns.
If you're spray gun broke (or you simply want to upgrade) you'll see the best pressure washer replacement spray gun for the money here.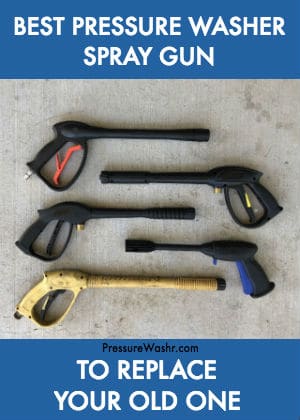 And we'll also show you the trigger gun professionals love most, just in case cost doesn't matter.
Let's get started.
Best Replacement Pressure Washer Spray Gun For Most People
After having used 30+ spray guns over the last 5 years (testing all the top power washers), including taking apart 2 and fixing 3 broken ones we like the Apache 99023802 4,000 PSI Spray Gun Kit as the best replacement spray gun for most because of its cost, build quality and included nozzles and connection fittings.
1.) Apache Replacement Pressure Cleaner Gun Kit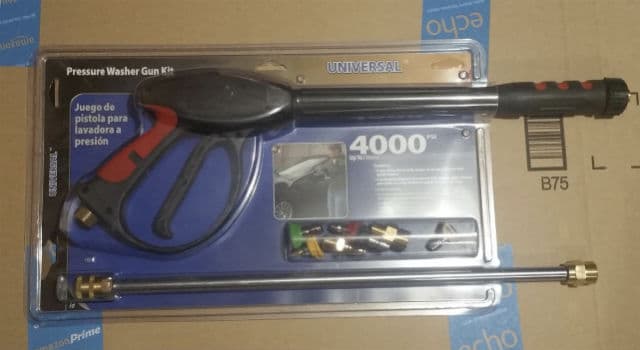 Apache is well known for their quality rubber hose & accessories for industries ranging from welding and food service to petroleum and high pressure. They also manufacture belting for food handling, grain handling and more.
Their accessories for pressure washers include nozzles, thread adaptors, connection adaptors, hose reels, soaps/chemicals, pumps, filters, wands and spray guns.
The spray gun we recommend, as pictured above, works with pressure washers of up to 4,000 PSI and 7 GPM and is for cold water machines only (fine up to temps of 140 F/60 C). It comes with the spray gun, a 19-inch wand, 5 nozzles and two hose adaptor connections to make sure that out of its packaging you can hook it up and use it straight away.
Anatomy of Pressure Washer Spray Guns
Pressure washer guns are engineered with minor differences…
…But they all operate around a trigger activated ball valve.
Here is a color coded diagram of a disassembled Briggs & Stratton spray gun so you can see the different parts: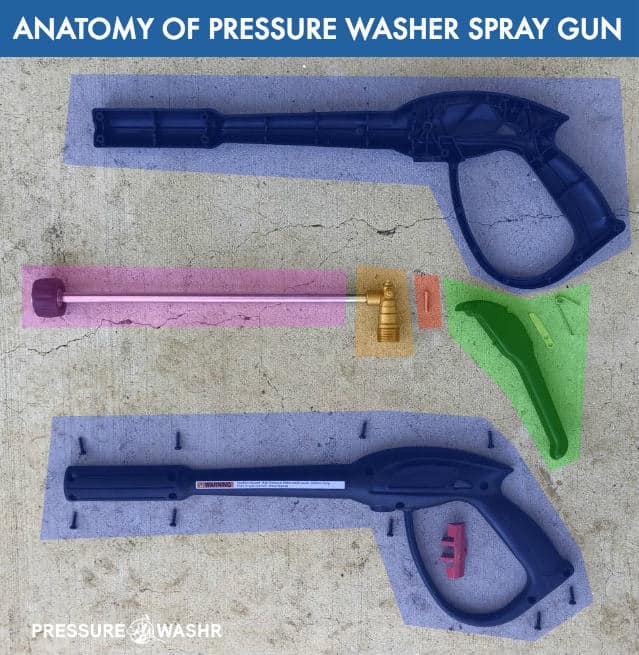 What Parts the Color Codes Refer to:
Blue – The outer plastic case of the spray gun
Green – The trigger parts
Red – The control pin. When you pull the trigger it pushes the ball in the valve allowing water to flow through to the nozzle
Orange – The ball valve that blocks water flow until you pull trigger
Purple – The internal (inside gun plastic case) steel tube lance. You will not connect the nozzle to this lance but instead connect another steel lance.
The pressure washing industry often uses different terms to describe the same thing when it comes to spray guns.
Industry Names for Spray Gun Kits
Most accurate is to call the part with the trigger the spray gun and the steel part with the nozzle the lance or wand. See this image for more detail: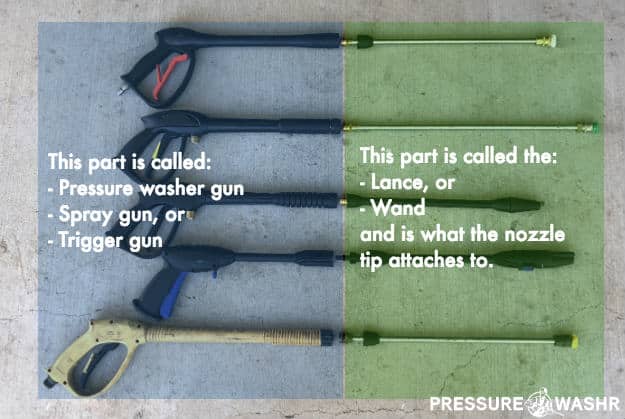 However, if your gun looks similar to this without the 1-foot long plastic casing (and internal steel tube lance) then it is often just called a trigger gun.
This is the trigger gun but can also be called spray gun: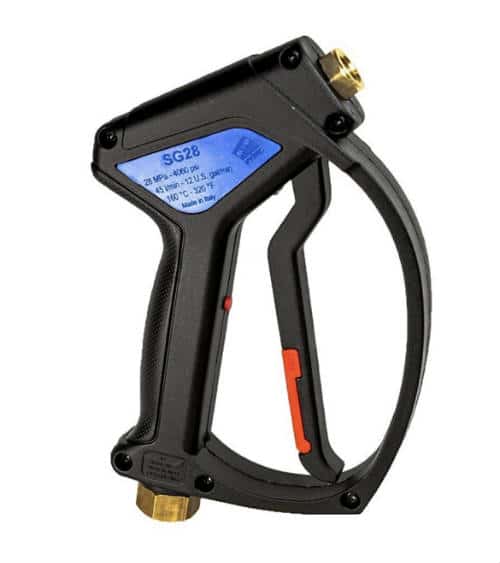 Now that you understand the parts and names for the guns let's show you how they come apart with this video disassembling one.
Also Read: The Beginner's Guide To Pressure Washer Hose Fittings, Couplers and Adapters
Time-lapse Video of Spray Gun Being Disassembled
And for even more detail, check out this time lapse of a spray gun being taken apart and put back together.
How the Trigger Gun Works
The main part of the spray gun is the valve and trigger interaction.
When the trigger is locked the ball inside the valve is sitting in place (being held by a spring) blocking the water from going through.
When you pull the trigger it rotates around an axis and pushes down on the control pin. You are pushing the ball against its spring and out of the way so the water can flow through the valve to the nozzle. When you release the trigger the spring pushes the ball back onto its seat blocking the flow of water again.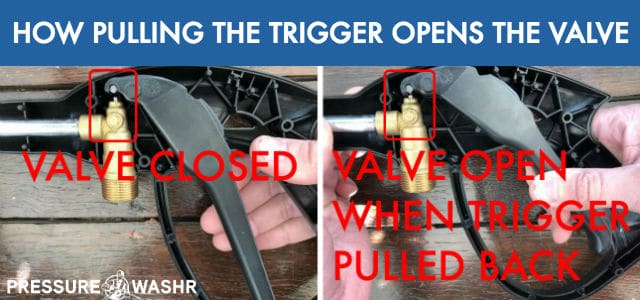 In addition to the valve and trigger interaction there is the interaction between the trigger gun ball valve and the unloader valve at the pump.
When the pressure washer is on but you have not pulled the trigger the unloader valve diverts water from the pump outlet back to the pump inlet so the pressure does not build too high. It knows to do this by sensing an increase in pressure or a change in flow.
When you pull the trigger to pressure wash the unloader senses the pressure or flow change (depending on type of unloader) and stops diverting flow through pump.
Two Main Styles of Replacement Guns
When you're buying a replacement spray gun you'll see two styles for sale:
Full kits that include the spray gun, lance, nozzles, connections and sometimes a hose.
Just the spray or trigger gun that does not include the lance, nozzles or connections.
The most common thing to break is the trigger gun assembly part so you may only need to replace it and not the rest.
It may however be easier to get the full kit to avoid the worry of the connections and everything fitting.
Are Replacement Guns Universal or Do I Need the Same Brand as My Pressure Washer?
With the correct arsenal of threaded and quick connection fittings you can make any spray gun 100% universal. You definitely don't need to buy a replacement or upgrade spray gun as the same brand as your pressure washer. But just note that if it breaks within warranty period it is an easy part for your machine manufacturer to replace.
What's the Difference: Industrial Spray Gun vs. Residential Medium-duty?
The easy way to explain it is industrial spray guns will work fine with specification you see on industrial power machines. Hot water, high flow rate and high pressures are fine with industrial trigger guns but can break residential spray guns not meant for those high specs. Also, for these higher specs the industrial guns will cost more with higher quality valve and material components.
Typical Industrial Spray Gun Specs
One of the most popular trigger guns is the ST-2700 made by Suttner with stainless steel components.
Here are its specs:
Flow: 12 GPM
Pressure: 5000 PSI
Temperature: 300 F (149 C)
Inlet: 3/8″ FPT
Outet: 1/4″ FPT
Weight: 1.24 lbs (562 g)
Cost: $100
Typical Residential Spray Gun Specs
These are the specs of the recommended Apache 99023802.
Here are its specs:
Flow: 7 GPM
Pressure: 4000 PSI
Temperature: 140 F (60 C)
Cost: $40
You can still use the industrial trigger gun with a residential electric pressure washer, for example, but not usually a residential gun with a commercial-duty power washer.
Our Picks for the Best Replacement and Upgrade Guns
Best Replacement Spray Gun
1.) Apache 99023802 4,000 PSI w/Kit
To replace your old and broken gun the best option is this one from Apache.
It is a little more expensive than the other replacement guns because it comes as a kit with 5 nozzles, a stainless lance and 2 adaptor connections to make getting started out-of-the-box a cinch.
Best Upgrade Trigger Gun and Wand
Our upgrade pick is this trigger gun with what the manufacturer, Suttner, calls "relax-action" trigger.
The purpose is to allow easier pressure washing for longer periods of time without tiring out your forearms. You know how crucial this is if you have ever pressure washed for longer than 20 minutes or so…
…It gets tiring and this spray gun helps reduce the fatigue.
As you can see it is only the trigger part and you'll need to pick a stainless steel lance/wand to connect to the gun for nozzles to attach to (see list on Amazon here). But yeah, there is advantage to having only the trigger gun too, for one, you can attach and use foam cannons better to make foaming your car easier.
And Just for Fun… Take a Look at the Most Expensive Trigger Gun (~$250+) on the Market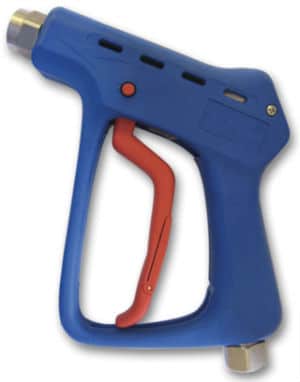 The Suttner ST-3000 is the most expensive on the market because it allows very high flow and has high chemical resistance.
How much flow?
A whopping 27 GPM at 2,170 PSI.
Professional mobile power washers love the chemical resistance too. It allows them worry free use of downstream chemical injection to clean surfaces as fast as possible.
Sources
How The Trigger Gun Works, Published March 18th, 2010. www.ePowerWash.com. Info retrieved June 1, 2018.
ST-2700 Spray Gun. https://Suttner.com. Info retrieved June 1, 2018.
4000 PSI Metric Replacement Pressure Washer Gun Kit. https://Apache-inc.com. Info retrieved June 1, 2018.
---
More from PressureWashr
By now, you have probably heard about the three r's (reduce, reuse, and recycle) that represent the foundation of preserving…