We researched and tested the best foam cannons and foam cannon soaps for 16 hours last week.
Why? Because we know two things about our audience…
If you're reading this, you like to clean.
And you probably have a car/truck/some sort of vehicle.
Our goal is to help you find the best pressure washer combo with a foam cannon:
to easily pre-soak and snow foam your car.
to decrease the risk of swirls and scratches by lubricating the surface area.
two-bucket wash method approved✔
Now, let's go over seven things everybody ought to know about the best foam cannon and foam cannon soap before using.
Top Three Best Foam Cannons
Here's the deal: All foamers will blanket your car in thick suds.
How thick and sudsy is what will vary. When you move up the budget ladder, you pay for build quality. Here are 3 of the best foam cannon options for different budgets.
| Image | Product | Features | Price |
| --- | --- | --- | --- |
| Best Money Can Buy | | High quality build and performance | Check Price |
| Also Good | | Large top for soap filling | Check Price |
| Best Budget | | Most affordable but still does the job | Check Price |
Now let's look at those 3 in more detail:
The Best Foam Cannon Money Can Buy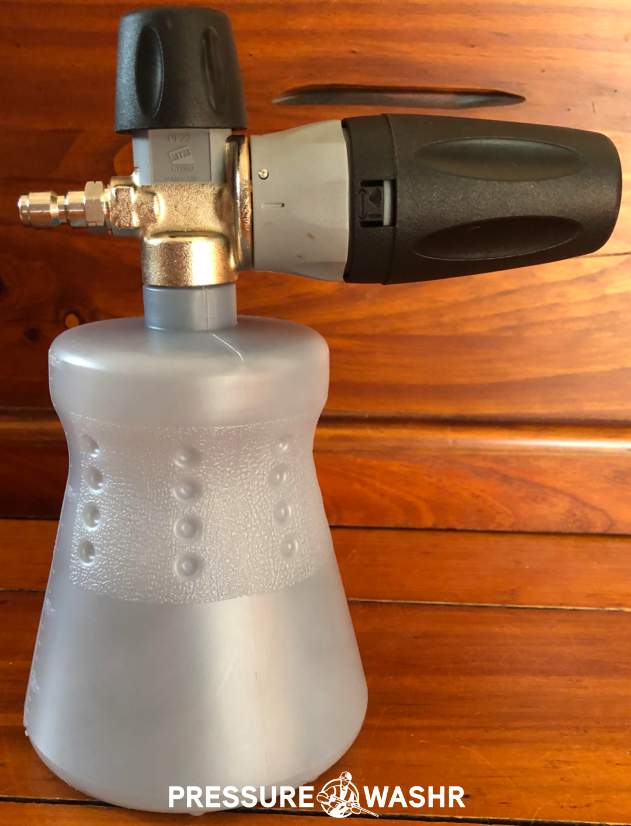 After foaming four cars and a campervan using 5 of the highest-rated snow foamers, we are confident in recommending the MTM Hydro PF22 foam cannon as the best money can buy.
Here are three reasons why:
1. Build quality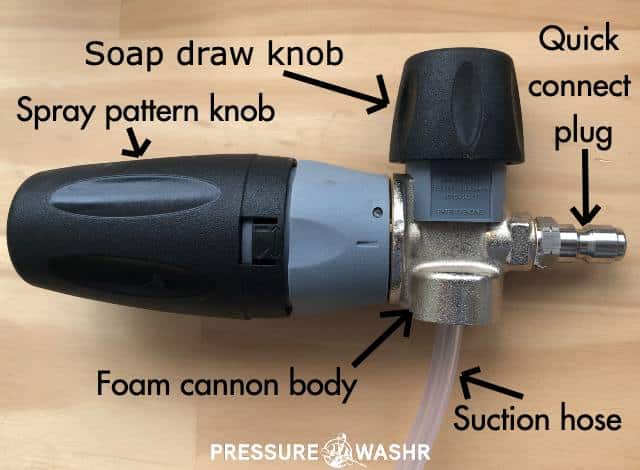 MTM Foam Cannon Head Assembly
All 21 parts inside the PF22 cannon 'head' piece are precision engineered and built with the product's durability in mind. Just look at the 'body' (the part that connects to the bottle) and how much more rugged it is than the other foam cannons on the market.
2. Precision to detail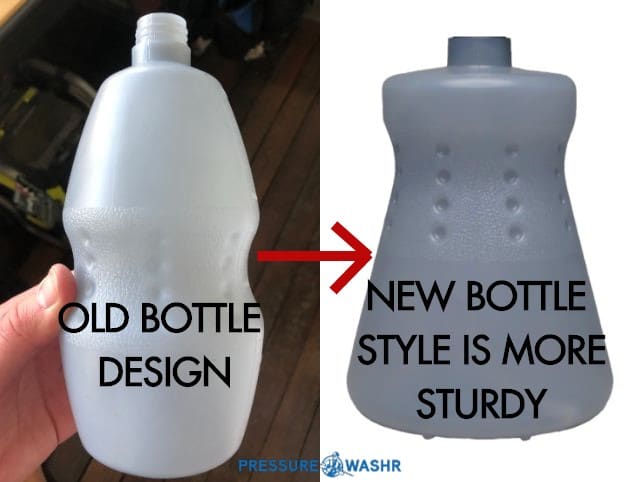 Comparison of the Original and New Bottle Design
Since hitting the market in 2017, the team behind the MTM Hydro PF22, Veloci Performance Products, has listened to customers and improved upon several aspects. The original bottle (pictured above) tends to tip over when no soap is in it. So they changed the design to a wider bottom, and it's now more sturdy. They also now provide a smaller orifice in the box to allow the PF22 to work with pressure washers down to 1.4 GPM and 1,100 PSI.
3. Quality of foam produced
Auto detailers will tell you the pillow of foam on the car should be shaving cream consistency. This dense foam stays on the car longer, allowing the chemical soap to work.
We found the MTM PF22 to have the thickest foam. This is important because if the foam is not thick, it falls off the car quickly and doesn't provide the lubrication layer needed between your wash mitt and the paint.
Can it be used with any pressure washer?
The MTM Hydro can be used with any electric pressure washer or gas-powered pressure washer with a PSI above 1,100 and a GPM above 1.4 GPM.
But, you need to know this:
Straight out of the box, the MTM foam cannon comes with a 1.25mm orifice nozzle (on the inlet side of the cannon). With this orifice size, the foamer works best with pressure washers starting from 1.8 GPM and 1,100 PSI (and up to 5,000 PSI and 5.3 GPM).
MTM also supplies a different orifice nozzle of 1.1mm that allows operation down to 1.4 GPM pressure washers. (They also have a 1.7mm sold separately if you have a pressure washer above 5.3 GPM).
Is it worth the premium price?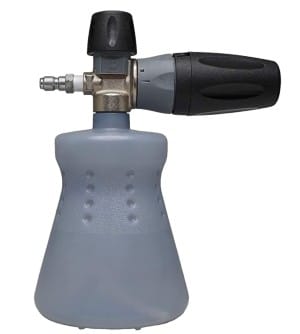 We researched the 12 best, then bought and tested 5. Those 5 can all get you 80 – 90% of a perfect thick foam coat on your car. It's not all that technical of a device, and that's why you can get the cheap one below for less than $20. But if you want the top-quality foam cannon to last you many years of daily/weekly use with no issues, then we feel the MTM Hydro PF22 is your best bet.
Best For Under $40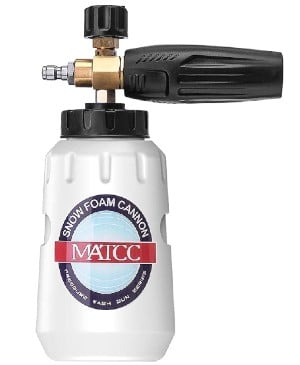 The thing with foam cannons is they all do the same thing: layer your car in thick suds.
So if they all achieve it, how do you justify paying $90 or even $35 when you can pay $15 for the same result?
The answer is: lifespan is the difference-maker.
The MATCC is the mid-range $30 – 40 price range and has a wide top to make pouring soap easier. It also has a wide base bottle for extra sturdiness.
Best Cheap Foam Cannon (For Under $20)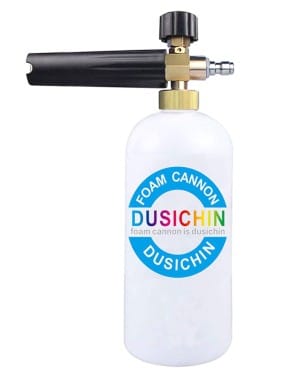 As is always the case, not everyone needs the best-of-the-best.
Do you?
If you prefer to stick to a budget, then this one from Dusichin for less than $20 is for you.
It does everything it should do:
Foams a car.
Can adjust foam spray pattern and suds.
Quick connect fitting to your pressure washer gun.
The only difference is that it seems to have many reviews saying the quick connect plug does not properly fit their pressure washer hose. This could be quality control issues at the factory in China – who knows?
We had no problems, and since Amazon has a 30-day refund policy and this cannon is only $15, it's still a no-brainer for the budget-friendly.
2. The Best Soap for Foam Cannons
| Image | Product | Features | Price |
| --- | --- | --- | --- |
| All Purpose Foam Cannon Soap | | | Check Price |
| Extra Foamy Foam Cannon Soap | | | Check Price |
What's The Deal With Foam Cannon Soap?
Let's keep things simple here – when it comes to the best foam cannon soap:
You want a pH neutral soap so it doesn't strip wax.
You want it to produce heaps of suds to get a nice lubrication layer all over the car.
You want it to be an all-purpose cleaner (APC) you can use on the tires, windows, headlights, etc., without a worry.
So which is the best foam cannon soap (brand and type)?
Let's take a look:
Best Foam Cannon Soap For Cars, RVs, and Big Rigs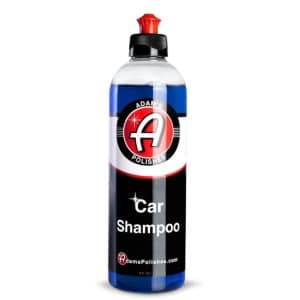 The best all-purpose soap is this car shampoo by Adam's Polishes.
You squirt a few ounces (100 – 150 ml) in your foam cannon bottle and fill it with water. After that, you're ready to foam the car.
It is pH neutral and won't strip the wax or be an issue using in the sun.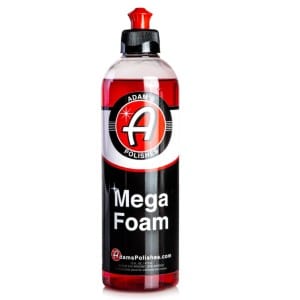 'Mega Foam' by Adam's Polishes will be your best bet if you want even more foam.
It is the same as the above car shampoo, just more concentrated and has a different smell.
Let's not complicate things: both these work great in foam cannons (pressure washer) and foam guns (standard garden hose) to get you the thick 'shaving cream' layer of suds on your car before using your wash mitt.
3. Requirements: Do All Foam Cannons Work With All Pressure Washers?
The gist: You need the foam cannon internal orifice nozzle size to match your pressure washer's GPM and PSI specs to work properly. They all come stock with the most commonly needed size orifice (3.0 or 1.25mm) installed.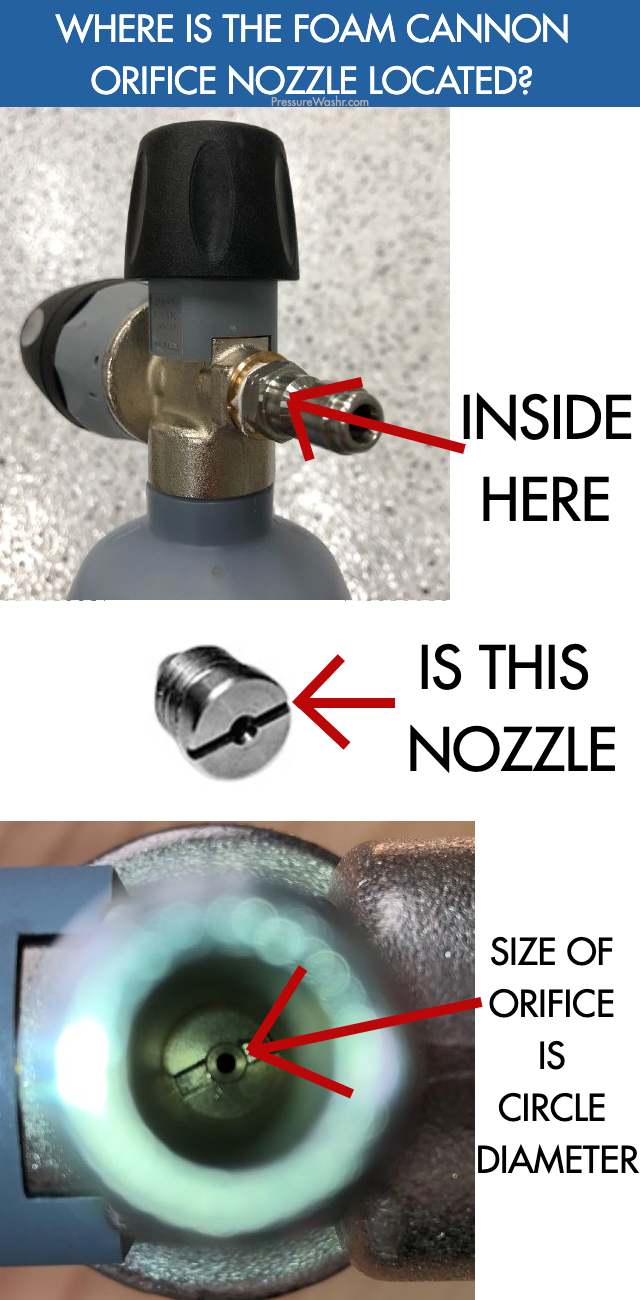 The snow foamer will always "work" but not 100% perfect if the specs don't match. You will have watery foam or a starting/stopping unloader causing pulsing foam if the orifice size is too small or big, respectively.
Here are some things to look for if you already own a pressure washer and need to know if a foam cannon will work with it.
Pressure Washer GPM & PSI
The gist: As long as you have the right orifice size nozzle inside the cannon inlet side, any pressure washer will work with any foam cannon.
The more powerful your pressure washer, the bigger you want the orifice to allow the most flow through.
Orifice size examples:
3.0 orifice (1.1mm) – For small electrics less than 1.8 GPM.
3.5 orifice (1.25mm) – Installed stock on most.
5.0 orifice (1.5mm) – For pressure washers with high flow rate or pressure but not both.
6.5 orifice (1.7mm) – For commercial gas pressure washers with relatively high flow rate and pressure.
Electric Circuit Amps Draw
If you use the correct orifice size based on your electric pressure washer's GPM and PSI, you will have no issue with your circuit breaker.
But if you are using too small an orifice size for the pressure washer specs, the electric pressure washer will have to work harder. This will spike the amperage draw and possibly cause your breaker to switch, and you'll lose power. This only becomes a problem if you use the smallest 3.0 orifice with a bigger electric pressure washer.
Flow Sensing Unloader Valves
Most pressure washers have pressure-sensitive unloader valves, but the ones that have flow actuated will have some problems using a foam cannon.
4. The Best Pressure Washers (for Car Washing) to Attach Your Foam Cannon to
Electric Pressure Washer: Weekend Warrior
Great Starter Machine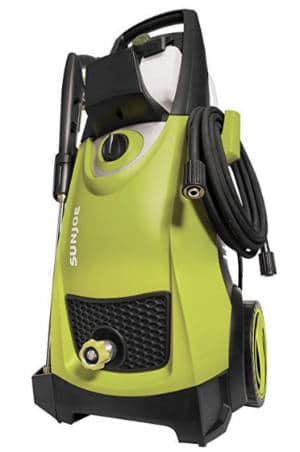 This is a popular electric pressure washer due to its cleaning power for the price.
It has all you will need to get started, and we've tested three versions of the Sun Joe and find nothing wrong with them for the price.
If you're just getting started pressure washing, then this would be a starter machine.
Electric Pressure Washer: Professional Detailer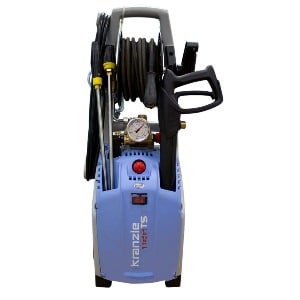 The best pressure washer to use with a foam cannon to clean your car is the 1122TST from Kranzle.
Why?
Because it has the perfect combination of flow and pressure for car cleaning and snow foaming.
Compared to other electric pressure washers, this one from Kranzle is high flow and perfect for foam cannon use.
It is also not cheap. At around $1,100, this is a buy-it-for-life pressure washer with all the premium features. Easily the most popular in auto detailing businesses.
Gas Pressure Washer: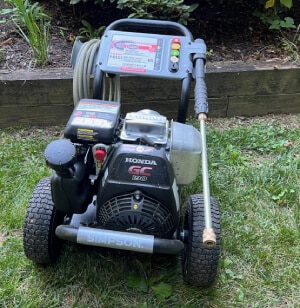 Our long recommended entry-level Honda-powered gas pressure washer is the Simpson Cleaning MegaShot because of its great value.
It has a residential-grade Honda small engine and an axial pump that requires zero maintenance. It also comes with a good hose, rugged tires, and on a sturdy wheelbarrow stance frame.
In addition, it is available on Amazon, which we find has the best returns policy online if you're not happy for some reason.
The foamers will all quick connect at the same place as the nozzles, or you can make some fitting/coupler/adapter adjustments to cut out the lance and connect it directly to the trigger gun.
5. Foam Cannon Effectiveness: Does it Replace the 2-Bucket Wash Car Wash Method?
What is the 2-bucket wash method?
You have one bucket with your soap and water solution
And one bucket with only clean water
You put your wash mitt in the soap bucket, wash the car, then rinse it in the clean water bucket before putting it in the clean soap bucket for use again on the car. It keeps most of the dirt from your car out of the clean soap/water solution bucket.
Does a foam cannon replace the 2-bucket wash method?
No, the purpose of using a foam cannon is not to replace the 2-bucket wash method. It is to create a layer (a lubrication layer) between the car and your wash mitt so your wash mitt does not scratch the surface or create swirls. In addition, the thick foam layer on the car will remove surface dirt during its dwell time on the car.
6. How to Setup and Use
Fill with soap. Squirt or fill the bottle with 150ml or 5oz (follow instructions) of the soap concentrate and then fill with water. Tighten bottle to cannon headpiece and shake to mix water and soap solution.
Adjust spray pattern and chemical draw knobs. Adjust the spray pattern knob to how you want it.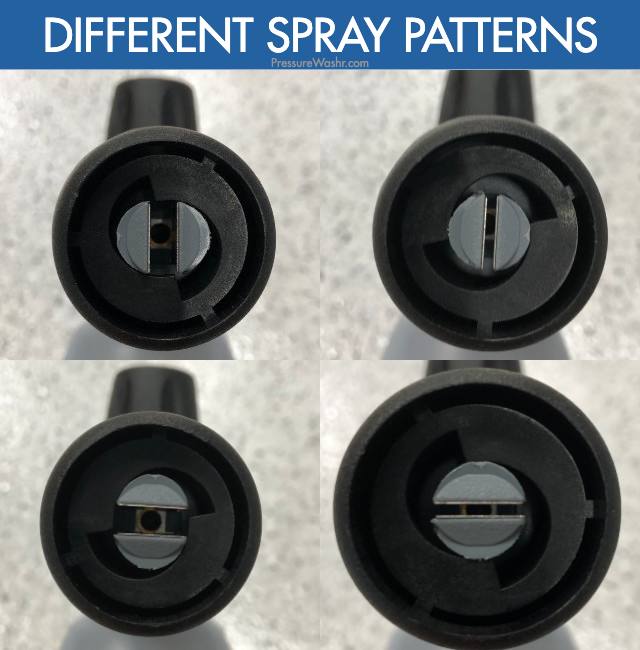 Attach foamer to end of lance or direct to trigger gun. Foamer cannons come with a quick connect plug so they fit into the end of your pressure washer wand/lance just like a nozzle. We find it easier to attach it directly to the trigger gun as it makes it easier to control.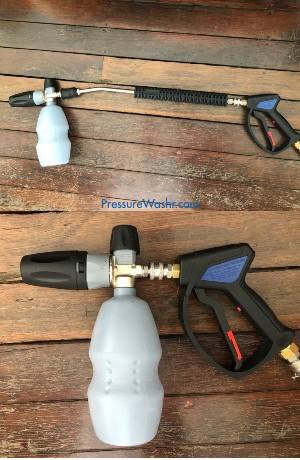 Cover car with foam. When spraying the car with foam, look for a shaving cream consistency. Let the foam dwell on the car while preparing your two buckets with soap and clean water.
Proceed with the 2-bucket wash method.
Enjoy your clean car.
7. The Difference Between a Foam Gun and a Foam Cannon
A foam gun hooks up to your standard garden hose.
A foam cannon hooks up to your pressure washer.
Pros and Cons of a Foam Gun
Pros: Cheaper and quicker to get started because you don't need a pressure washer – just your standard garden hose.
Cons: Doesn't provide as thick a foam. Plastic construction.
Best Foam Gun Garden Hose Foamer Attachment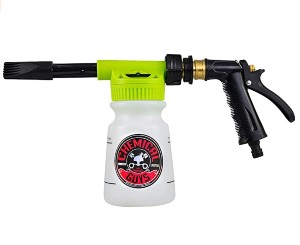 If you don't own a power washer, then this foam gun by Chemical Guys will get you a decent thick foam layer on your car before washing.
It works the same way as a foam cannon with the water flowing through the orifice creating a suction tube to suck up the soap solution into the water stream.
Sources
---
More from PressureWashr
By now, you have probably heard about the three r's (reduce, reuse, and recycle) that represent the foundation of preserving…